I adore cooking. I'm one of those people that does a cooking class in every country because there's something special about learning from a local. That secret ingredient, special way to blend spices, or discovering some weird vegetable I've never seen just makes me happy.
So, for me, one of the greatest joys of living abroad is learning traditional recipes from locals.
In Guatemala, it was how to cook and prepare loroco, a seasonal edible white flower. When mixed with cheese as the filling for an empanada it's amazing. My other favorite was from the remote Izabal region using glorious big red glossy piloy beans grown in the highlands.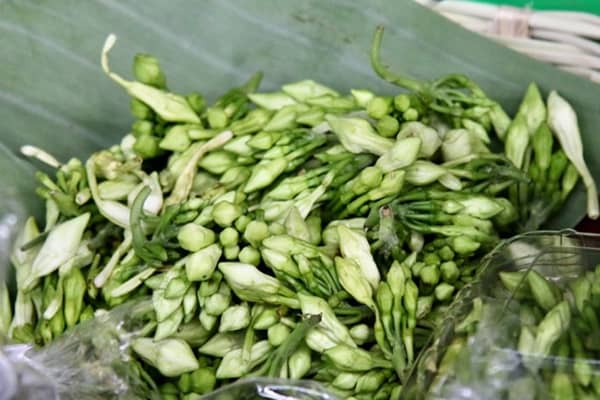 Now, I'm living in the Mexican Caribbean and want to share the wonderful family recipe of a dear friend and local chef Carlos. He came to my house to teach us how to make a Mexican staple: Sopa Tortilla, tortilla soup.
This recipe is the one he makes at home for his family, just as his mother made it for him and his abuela (grandmother) made for her. It's quick, easy, full of fresh flavors, and the best tortilla soup I've had in my life.
I love the way Mexicans cook. Everything fresh. Everything simple. They just let the natural flavors shine.
It's important as an expat to consider what the food will be like in your new country. After all, you eat three times a day so it's a bit part of life.
Sometimes people get a bit of a culture shock when they move to Mexico and try real  Mexican food. It is delicious, healthy, and made with the freshest ingredients daily. It is not like the Tex-Mex most of us have come to know and love.
Traditionally Mexicans make everything from scratch. Even their sauces, salsas. On just about every Mexican table you will find a green sauce, salsa verde, a red sauce, salsa roja,  and a habanero sauce, habenero.
All made from scratch, not bought in a bottle at the grocery store. They love sauces with their meals. Plus a soup.
So, what better way to see if you like real Mexican food than to try making this popular Mexican soup. It's my favorite and such an everyday staple I've eaten it in restaurants for breakfast.
Another Mexican friend caused me to laugh out loud as he told me he calls it sopa borracha—drunk soup. Because when Mexicans are hungover they head straight for the tortilla soup. Generally on a Monday after Sunday celebrations with family. It's comfort food. Warm, hearty, filling, and delicious. He says it makes everything better.
First, let's run through the ingredients. You will need:
Fresh tomatoes
White onion
Garlic
Fresh Cilantro
Guajillo chilies
Corn Tortillas – if you can't find fresh corn tortillas then plain unflavoured tortilla chips will do
Queso Fresco – a soft Mexican cheese.
Cream
Avocado
See video and recipe card for quantities. We made enough for eight people so there would be plenty of leftovers to share with friends.
One thing I will mention is that this mouth-watering soup can be as spicy or mild as you like.
The chili used—guajillo chili—is a dried chili. One of the workhorses in Mexican cooking, they're a large, long, red chili with a sweet slightly smoky flavor. Along with dried poblano chilis they are the most used in Mexican cuisine.
Guajillos are classed as mild heat so if you like it spicy you may have to add a few and leave the seeds in. Although incredibly abundant in Mexican supermarkets, they are available on Amazon if not readily available in your city.
I was fortunate because Carlos did all the shopping.
Watching all of the goodies come out of the bag was fun. Paper wrapped stacks of freshly made corn tortillas. Two big bags full of deep red tomatoes. A large container of white freshly crumbled queso fresco (fresh cheese) and a large bunch of aromatic deep green cilantro.
Plus cream, tomato sauce and let's not forget that bag of guajillo chilies.
Just unwrapping everything to wash it my kitchen smelt amazing.
After washing everything it was time to get cooking.
Whole tomatoes, cloves of garlic, and half a bunch of fresh cilantro went straight into the pot. No chopping required. Half a white onion was roughly cut into chunks and added along with two whole guajillo's chilis. Add the water and straight onto the stove to bring to a boil.
See what I mean about everything fresh? It doesn't get much fresher than that. Carlos says there is no need to chop them up, let your blender or food processor do all the work.
Next, it was time to make the tortilla chips and shredded crunchy bits that are added to the bottom of your bowl before the soup is poured over the top.
It was interesting to see how easy everything was. Vegetable oil heated in a large frying pan and we just added the tortilla strips and let them fry. They are ready in a few minutes and delicious just like that.
After they finished cooking, the wedges for tortilla chips were added and fried.
By this time the soup base had finished cooking. Over a medium heat it only takes about five minutes for the whole tomatoes to be cooked and start to peel. That is how you tell they're ready.
Then into the blender, it goes. Along with a dash of cream, some tomato sauce, and a few ripped-up fresh tortillas to really thicken it up.
Once blended together, it's easy to serve. Just add the crunchy tortilla strips to the bottom of your bowl and cover them with soup. Sprinkle some queso fresco on top, drizzle cream over it, and add some cut guajillo chili and avocado as garnish.
Serve immediately while the tortilla at the bottom of the bowl is still crunchy.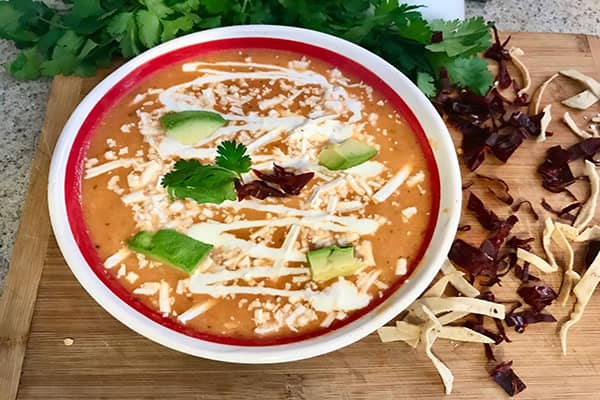 Congratulations! You have just made tortilla soup in true Mexican style.
¡Buen Provecho!
Get Your Free Mexico Report Here:
Learn more about Mexico and other countries in our daily postcard e-letter. Simply enter your email address below and we'll send you a free special report - Why Millions of Americans Are Moving to Mexico.
This special guide covers real estate, retirement and more in Mexico and is yours free when you sign up for our postcards below.
Related Articles
15-Minute Residency Renewal In The Mexican Caribbean
My Typical Day In The Mexican Caribbean
Popular Articles You May Also Like