Nearly all Japan's residents, both native and expat, at some point taste the ultimate in relaxation. Lolling in open-air baths by the sea while waves slap against stones, or lounging in pools by rivers under blossoming tree branches, the onsen bath is a staple of Japanese life. We savor summery mountains, golden autumn leaves, and spring greenery in almost every prefecture of the country, all from the vantage point of calming cypress-wood-scented baths. In Northern Japan, while jets of mineral-rich water massage our back muscles, we watch skiers zip down snowcapped volcanoes.
For chilling out in a hot bath, sweating out impurities, and revitalizing sore muscles, no country refreshes like Japan. Fighting off diseases and treating ailments by submersion in hot mineral water are Japanese values. If wellness travel sounds appealing, try hot spring hopping across Japan.
The archipelago of Japan was created by the Pacific Ring of Fire. But the same tectonic powers that birthed volcanic islands from the sea have a gentle side. Hot water springs flow on most of the nation's 7,000-plus islands. For thousands of years, the Japanese have channeled the geothermally heated mineral water of more than 25,000 hot springs to promote physical and mental wellbeing. They call it toji: "hot water cure."
You can find baths with ocean views all over Japan.
Japan's love affair with bathing runs deep. Prehistoric inhabitants settled near mineral springs, and in the medieval period Samurai clans maintained hot springs for healing battle wounds. The first Europeans to arrive in Japan wrote about the Japanese enthusiasm for bathing (which was an alien concept to the visitors), while monks in Buddhist temples constructed some of the first extensive public bathing facilities. And 52 generations of the Fujiwara family have continuously managed Japan's oldest traditional Japanese inn with hot springs since Mahito Fujiwara opened it in the year 705.
Like most people in this bath-crazed country, I immerse myself in onsen culture. It's both hooked and healed me. So far, I've enjoyed over 600 onsens—from free, shared community ones to luxurious private facilities at first-class inns.
The Bathing Basics
First, grasp the basics of Japanese bathing etiquette to avoid embarrassing mistakes. Wash and rinse in the space between the changing room and the bathing area. Using soap and shampoo in baths is taboo. Mixed-sex bathing exists, but most onsens today have separate male and female zones. Bathers usually bathe naked but some modern facilities require and provide swimsuits.
Bathing in Japan is about cleaning and healing the body and mind and, sometimes, social bonding. An expression that illustrates the Japanese perspective of bathing is hadaka no tsukiai, which roughly translated means "naked friendship." The concept is that naked, we're equal.
Coastal Baths
You can find baths with ocean views all over Japan. But the holy grail for Japanese onsen aficionados is a pilgrimage to Hirauchi Kaichu Onsen during low tides. At any other time, this hot spring lies beneath the sea that splashes Yakushima, a tiny island between Kyushu and Okinawa. My friends and I visited Hirauchi Kaisen after hiking cedar forests within a Japanese Natural World Heritage Site.
Centuries ago, locals arranged huge stones on the rocky beach to form tub-like pools where hot water gushes. After heating up, I dove into the cold blue sea, returned to the thermal water, and watched an orange sunset. Swimsuits are optional at this fee-free, mixed-sex bath. Residents say the mineral water helps with rheumatism and neuralgia.
Community Baths
To experience the life of ordinary Japanese people, try the community baths. Many neighborhood associations manage them. Ask at tourist information centers for recommendations and directions. They're homey, comfortable, and welcoming if you respect the customs and smile. When a regular misses a day, bath buddies check if their friend is OK. Regulars at community baths have invited me to eat and drink with them, and tipped me off about local attractions I would never have known otherwise.
The ski resort village of Nozawa Onsen is famous for its 13 community bathhouses, each with a unique feel and a variety of mineral waters. Strolling between them, you'll see rustic gardens, shrines, and homes. Be sure to try the delicious eggs, pickles, and yams cooked with onsen water from a hot spring affectionately nicknamed the "villagers' kitchen."
Sand Baths
I have soaked in numerous countries, but only in Japan have I found sand baths. The most renowned ones are located on the black-sand beaches of Ibusuki, near Kagoshima. The townsfolk practice a centuries-old relaxation therapy. An Ibusuki beach hotel provided me with a robe and an attendant to bury me, all for $10.
Just my head remained above the sand. A parasol protected my face from sunburn. I could see the grinning faces of other beach bathers and seagulls noisily catching fish off the coast. Steams moving through the sand warmed my torso, and after a therapeutic sweat, I showered off the sticky sand and then luxuriated in the hotel's community bath. The waters are said to heal various gynecological, neurological, and digestive disorders.
Salt, Herbal, and Aromatherapy Saunas
Some large spring facilities boast Finnish-style salt, herbal, and other saunas for detoxification, relaxation, improved blood circulation, and other benefits. Salt saunas are rare. Entering my first one, I saw clouds of steam and a mound of pearly-white salt in an old wooden bucket. One man grabbed a handful, which he rubbed over his body. I followed suit. A few paper cuts smarted, but afterward, my skin looked and felt glossy.
The Kanawa Steam Bath in Beppu City is the best-known herbal steam bath facility in Japan. Workers climb a nearby mountain to harvest long-stemmed wild grasses that sauna visitors lay upon. Geothermal steam circulating through the vegetation infuses the air with an earthy herbal essence.
Some saunas mix mint, lavender, and other invigorating oils with steam to produce fragrant, invigorating vapors. Steam baths and saunas usually cost between $3 and $5. They're wonderful in spring to clear hay fever congested sinuses.
For a heart-and mind-strengthening experience, after taking a sauna or steam bath, you should descend slowly into the iciness of cold-water baths. These are usually in front of the saunas or steam baths.
Bathing With Families, Close Friends, and Romantic Partners
To bathe with friends or family only, seek out a kashikiriburo (private rental bath) or kazokuburu (family bath). Prices usually range from $15 to $25 for an hour. Many ryokans (hot-spring inns) offer these in addition to shared baths.
Rooms With Private Onsens
A pricier option for private bathing is to stay in a hotel or ryokan with baths in the rooms or on balconies overlooking the gorgeous scenery. Prices range between $100 and $2,000 a night.
My wife and I recently scored a discounted internet rate of $300 to celebrate my 60th birthday at a suite-like bungalow with both an indoor bath and a veranda bath. Takanosou (meaning eagle's nest) is an exceptional ryokan in the countryside of Niigata Prefecture. Sitting in the veranda bath, we watched flocks of birds crossing a vast sky and heard eagles proclaiming their territory. Standing on the veranda, we looked downward onto pine trees clinging to the banks of a deep, curving river.
The river provided background music as we feasted on an elaborate, artistically presented Japanese cuisine that the ryokan's staff carried to our private dining room. UNESCO lists Japanese cuisine as an Intangible Cultural Heritage, and at fine ryokans, you quickly understand the quality and the taste of one of the world's healthiest cuisines, while appreciating Japanese interior design.
Mud, Tea, and Other Surprising Baths
Squishing around in hot mineral-laden mud and laying in the thick water while a mud mask dries on your face is dirty but healthy fun. The 1,200 year-old sulfur-scented Doroyu Onsen is one of Japan's best locations for relaxing in murky grey mud. Mud bath experts claim that the water alleviates muscle pains, inflammation, psoriasis, and rosacea.
Before soaking, explore the nearby mountainous hiking trails. One such trail leads to a rare hot mineral-water waterfall called Kawarage Jigoku Oyu.
Wipe your body with the tea bags provided.
Bathe in green tea and smell like fresh Japanese tea. The Warakuen Hotel in Saga, a tea-growing region, adds pounds of the leaf to its baths each day. This is an unusual practice. While bathing, gently wipe your body with the tea bags provided. Definitely taste the saga beef (a wagyu variety) with tea, tea sushi, tea ice cream, and other tea dishes that Warakuen and nearby restaurants prepare.
Fans of the treatment say the antioxidant, anti-inflammatory, and anti-microbial properties of green tea protect and heal the skin. Local spas even provide green tea face masks.
At numerous hot spring facilities around Japan, you may discover herbal mixtures in cloth bags soaking in the baths. On occasion, citrus, apples, and other fruits will be bobbing in the water. Workers at a hot spring on the Echigo Yuzawa Train Station premises pour sake into the mineral water each day. These are all believed to be good for the skin.
Outdoor Winter Bathing
Bathing outdoors in below-freezing temperatures with views of snowy woods is magical. Karatsu in Gunma (usually included in lists of the three best Japanese onsen towns) is lovely year-round, but winter amplifies the onsen experience. After snowshoeing one freezing December day, the emerald mineral water of Sainokawara Onsen's outdoor pool rejuvenated me. My exposed head and chest hairs froze, but my lobster-red body felt nimble.
Another must-bathe experience in Kusatsu is Otakinoyu Onsen, which offers indoor baths ranging from a warm 100 F to a challenging 118 F. Start at the coolest, take a break, and bathe upwards till you discover your comfort level. Japanese visitors rave about the Kusatsu variation of onsen-manju, or onsen-steamed buns.
From Tokyo to Hokkaido to Okinawa, travelers in Japan are never far from onsens. Perhaps the hot springs are one big reason that the Japanese have one of the world's highest life expectancies. That's a good excuse, if you need one, to dive deep into the onsen culture of Japan.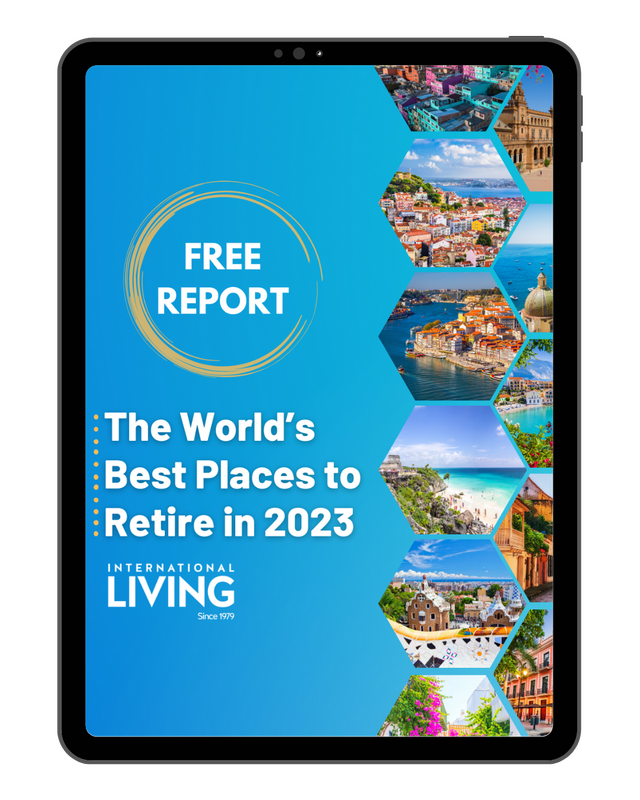 Get Your Free Report on the World's Best Places to Retire:
Learn more about the best places in the world to retire in our daily postcard e-letter.
Simply enter your email address below to sign up for our free daily postcards and we'll also send you a FREE report on The World's Top 10 Retirement Havens, plus access to over 10 more free reports. Our gift to you, on our favorite destinations.
Related Articles
The Best Towns and Cities to Retire in Southeast Asia
The World's Best Places to Retire
5 Great Places to Retire Where it's Easy to Fit In
Popular Articles You May Also Like