Known for its perfect beaches, low prices, and excellent scuba diving, Southeast Asia usually conjures up images of young globe-trotting backpackers and sultry nights spent at a beach bar.
But this region is also a vast cultural melting pot…with something to appeal to everyone, these fabled lands of Southeast Asia still beckon with the promise and rewards of an exciting life overseas.
Whether you're looking for tall, arching waves for surfing, or tranquil, cool waters for paddling; deserted and peaceful sands for relaxing, or crowded shorelines for partying; Southeast Asia has a beach for you—and they come in every shade of sand imaginable.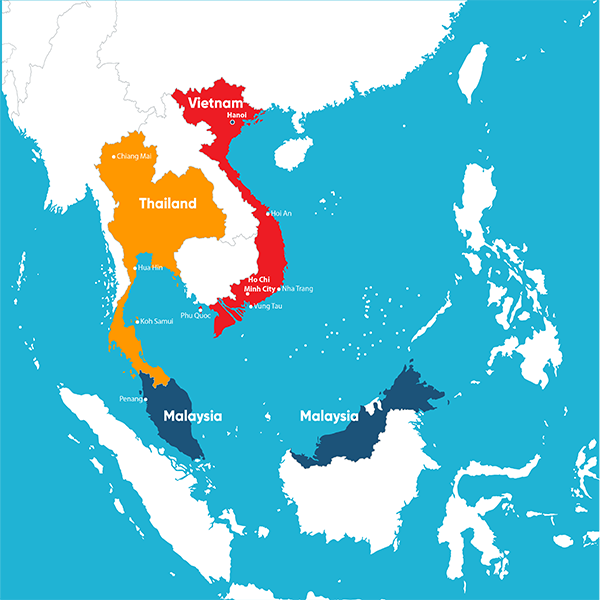 To help you find your perfect Southeast Asian beach destination, we have compiled some of what we think are the region's best towns and cities. Not only do these destinations offer breath-taking coastlines, but they also come with an affordable cost of living.
Tinkling with bronze wind chimes and fragrant with jasmine, Thailand lies at the heart of Southeast Asia. Bordered by Burma to the west and north, Laos to the northeast, Cambodia to the east, and Malaysia to the south, for centuries it was known as the "Kingdom of Siam."
One of the most exotic and diverse places on earth, Thailand is a country whose ethos seems to be combining pleasure with harmony. And whether you're thinking of investing in a permanent home, a holiday home, or if you just want to enjoy an amazing break, it offers both value for money and a more-than-civilized lifestyle.
Low cost, warm, friendly—Thailand has it all. But if you have a spirit of adventure, its appeal becomes enormous. In recent years, a number of low-cost airlines have set up operations, making all parts of this fascinating country easy to explore without breaking the bank. If you have thought about moving overseas and had Thailand as one of your possible destinations, now is a good time to check it out in more detail.
You can live well in Thailand for just under $2,000 per month.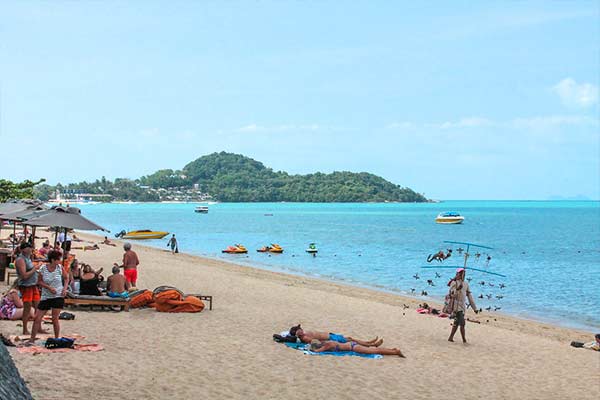 Although only 13 miles wide and over 15 miles long, Koh Samui is the country's second largest island after Phuket. It lies off the eastern coast in the Gulf of Thailand, around 400 miles south of Bangkok.
On the loveliness scale, Samui is flawless. High-rise development is almost absent. From Big Buddha Beach to Chaweng Beach's four miles of perfection, Samui's silver sands are its major draw. The sea is warm and mostly crystal-clear, with lots of opportunities for kayaking, sailing, and boating. Samui is one of an archipelago of 80 smaller islands—those of Ang Thong National Marine Park are prime locations for scuba diving and snorkeling.
If relaxation tops your priority list, it's hard finding fault with it. Away from the beaches, the forested interior offers treks on foot or by elephant to waterfalls and natural rock swimming pools curtained with emerald ferns. The expat population here is thriving; you'll never be short of a chance to meet like-minded people. And with everything going for Koh Samui, there is no surprise so many people chose this beautiful island as their place to live.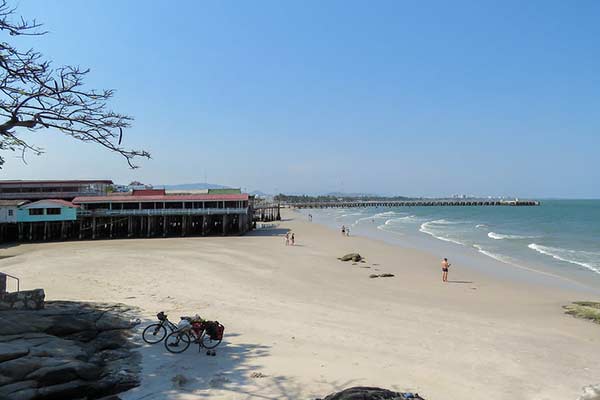 Once a quiet fishing village, Hua Hin became a popular summer getaway destination for Thais in the 1920s, when the Royal Family built their summer palaces there. Located on the eastern coast of the country and the shores of the Gulf of Thailand, it has year-round temperatures in the mid-80s F, making it a perfect beach getaway.
The city itself runs parallel to the beach, with fancy hotels and seafood restaurants lining it. The restaurant scene has benefitted from Hua Hin's international expats. Along the waterfront is a web of restaurants serving everything from fresh, right-off-the-boat seafood, to Indian and Greek food, and it's easy to find a delicious dinner and a beer for about $10. Peppered in between the great restaurants are tons of bars and lounges, some with live music nightly.
But even though this is a resort town, Hua Hin doesn't have the same level of hustle and bustle that you might usually see in other tourist hotspots. Its population is only about 85,000, so it's laidback enough to feel like a beach town, but still has all the modern conveniences of any Western city. Many of the Thai holidaymakers will only visit Hua Hin at the weekends, meaning that the beach is practically empty throughout the week.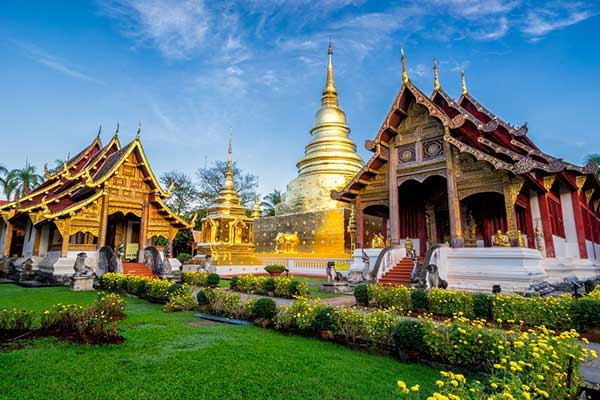 Chiang Mai means "New City" and was so named when it became the capital of the Lanna kingdom in 1296, succeeding the former capital of Chiang Rai. Its geographic beauty comes from two main mountain ranges that have steep valleys and a series of rivers that also support the irrigation of Thailand's agricultural economy. Plains of rice paddies, teakwood houses, and temples (Wats) are the typical pastoral scenes of Northern Thailand.
Chiang Mai, often called the "Rose of the North," is the largest city in Northern Thailand. The metropolitan area has a population of nearly 1 million people, and it is said that 20,000 to 40,000 expats live in Chiang Mai currently.
With five vast Western-style shopping centers—including cinemas, ice rinks, theatres, hairdressers, well-stocked supermarkets, inexpensive food courts, and even cosmetic surgeons—you can get nearly anything you need. Around the city, many Thai markets offer delicious fresh fruits, vegetables, and salad ingredients, seafood, and ready-to-eat meals—and it's all extremely inexpensive.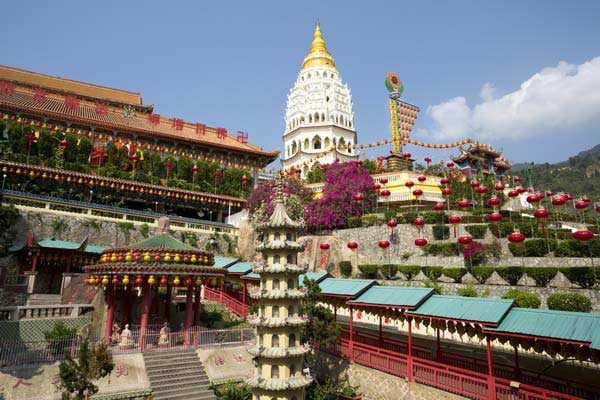 Conjuring up all the mysteries of Asia, Malaysia is a former British colony that remains as colorful as ever. Beyond the lofty skyscrapers of the capital, Kuala Lumpur, its dramatic canvas is embroidered with tropical beaches, mountains, dense rainforest, and vividly green tea plantations.
Malaysia has great infrastructure and foreigners are allowed to own properties freehold. It also has no inheritance tax, and places no tax on income repatriated from overseas.
Malaysia also has a fascinating history. The UNESCO heritage city of Malacca was conquered by the Portuguese in 1511, and the first Englishman to set foot on a beach on the island of Penang (also UNESCO listed) did so in 1593.
When you sprinkle the stunning beaches the country has to offer into the mix, and then throw in unbeatable healthcare at super low prices, you have a country like no other in Southeast Asia. The fact that most Malaysians also speak English is the icing on the cake.
The cost of living in Malaysia is cheap. A couple can easily live on just over $1,500 a month and a budget of $3,000 or more will have you living in luxury.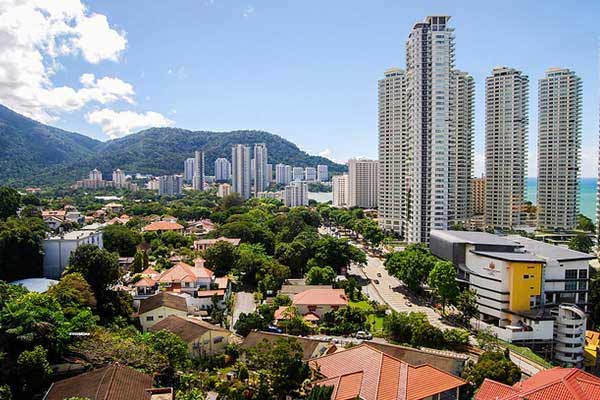 One of the oldest outposts of the former British Empire, Penang delivers 110 square miles of tropical treasures. A lush, mountainous island oozing history and heritage, Victorians christened it "the Pearl of the Orient." It lies anchored on the Spice Route, just off Malaysia's west coast, a mere two-hour drive from the borders of southern Thailand.
George Town is Penang's capital. A UNESCO World Heritage Site since 2008, it's one of Southeast Asia's most likable cities. Blending old and new, modern high-rises encircle streets packed with mansions, shop-houses, and Chinese clan houses.
On the island's northwest tip is the Penang National Park. Even though it is the world's smallest national park—at just over 6,178 acres of jungle and wetlands—the biodiversity is rich. Within the park are hiking trails, a canopy walk, a meromictic lake (the lake's surface and bottom layers of water don't mix), eight beaches, and over 1,000 species of flora and fauna.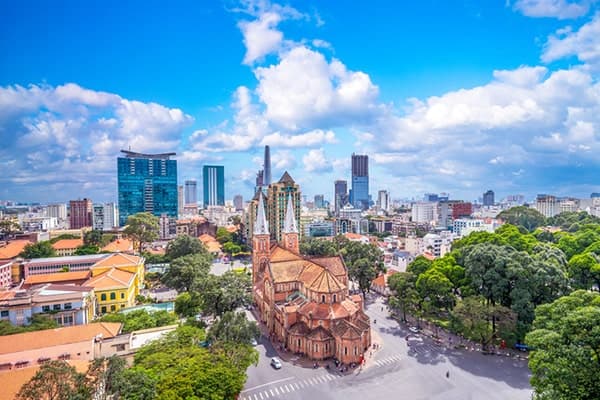 Vietnam is a young and energetic country that has a lot to offer.
Expats enjoy a high quality of life at almost unbelievably low prices. Cell phone and internet coverage is excellent and extremely affordable. Rents can vary considerably, but even a five-star luxury lifestyle will cost far less than you might expect.
Vietnam is a long country that stretches from China in the north to the Gulf of Thailand in the south. Beach lovers will enjoy exploring more than 2,000 miles of coastline. It is also a mountainous country, with many stunning waterfalls, mighty rivers, extensive cave systems, mysterious karst towers, verdant terraced rice paddies, and spectacular scenery.
The Vietnamese people provide the most compelling reason to live in Vietnam. They are hard-working and determined, but above all, they are unfailingly polite and welcoming. Earnest and curious, they will often approach foreigners in the hopes of practicing their English skills or learning about the outside world. It is not difficult to integrate into the Vietnamese culture, as these interactions seem to have a way of turning into lifelong friendships.
Vietnam's exceptionally low cost of living is a major incentive for living here. Wherever you are in Vietnam, you'll find that the cost of living is low. Even in the most expensive cities—Ho Chi Minh City and Hanoi—two people can live well for less than $1,500 per month.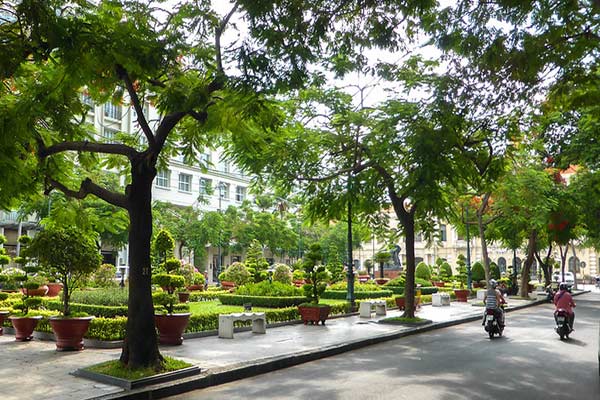 Ho Chi Minh City is not only the largest city in Vietnam, but it's the country's capital of commerce. From the choicest boutiques to the darkest corners of cavernous markets, the classiest restaurants to an endless procession of street stalls, the most luxurious hotels to the humblest of guesthouses, Ho Chi Minh City is a city that refuses to be ignored.
Nowhere is Vietnam's thriving economy more visible than in Ho Chi Minh City. The city is dotted with ultramodern skyscrapers and chic designer malls, and it seems as if everyone is in a hurry to make money, to shop, to be seen, and to make the most of their precious leisure time.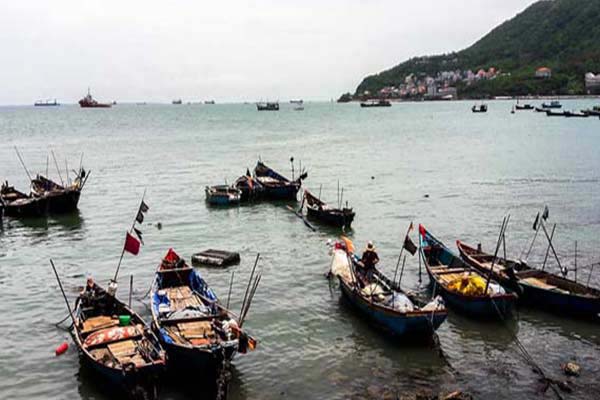 The pretty city of Vung Tau has been welcoming sun worshipers to its beaches since 1870. It's close enough to Ho Chi Minh City to play host to a good number of weekend visitors who come here to frolic in the water, play in the sand, fly their kites, and enjoy the ocean breezes. Surfers come here to take advantage of the waves, and joggers like the area for its nearly perfect year-round weather. Seafood aficionados love the many outstanding restaurants, and everyone adores the laidback, beach town vibe.
Vung Tau's population of about 527,000 people includes several thousand westerners who have made the city their home. Americans and Australians make up the bulk of expatriates. Though many of them are retired, a few expats have opened small restaurants, bars, and other businesses.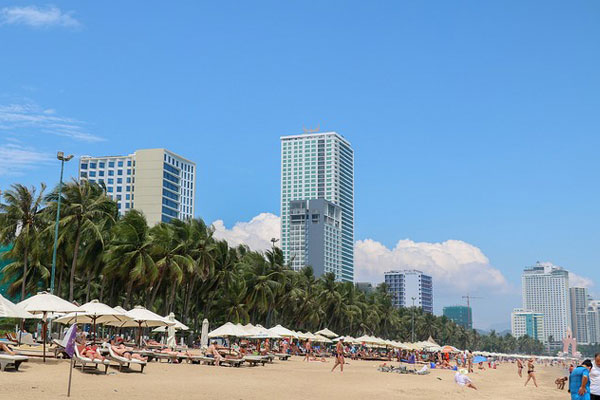 Nha Trang lies on southeastern Vietnam's Nha Trang Bay, about 275 miles northeast of Ho Chi Minh City. It's a popular Vietnamese vacation destination, with more than four miles of beaches. And it's home to 400,000 people, including hundreds of expats. The city has a tropical climate, with high temperatures ranging from 82 F to 91 F and lows in the high 60s F.
Best of all, Nha Trang has a long dry season, which runs from January to August. It experiences its heaviest rainfall in October and November. Mountains surround three sides of the city, and a large island just off the coast shelters Nha Trang during heavy storms.
As well as walking along, or just lazing on one Nha Trang's many beaches, expats also enjoy a low cost of living.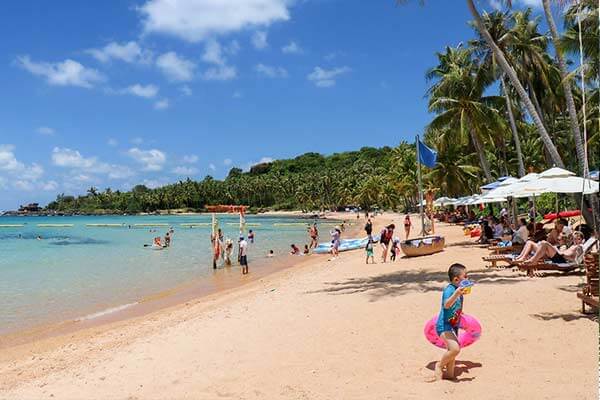 Pretty Phu Quoc is an island on the western side of the Mekong Delta in southern Vietnam, just south of the Cambodian coast. Though it's only about the size of Chicago, with barely 100,000 full-time residents, Phu Quoc is Vietnam's largest island. Although it is historically known for producing fine black pepper and what many Vietnamese consider the country's best fish sauce, its economy has grown primarily from tourism.
Over half of the island is contained within a national park featuring mountains nearly 610 meters high and lush tropical rainforest. It's the beach that is Phu Quoc's main attraction, though; soft silky sand, spectacular picture-postcard sunsets, coral reefs, and excellent restaurants have made this one of the premier beach destinations in Vietnam. Several hundred expats have settled in Phu Quoc and describe it as a paradise. Phu Quoc has an international airport, and there is now even a Vinmec International Hospital on the island.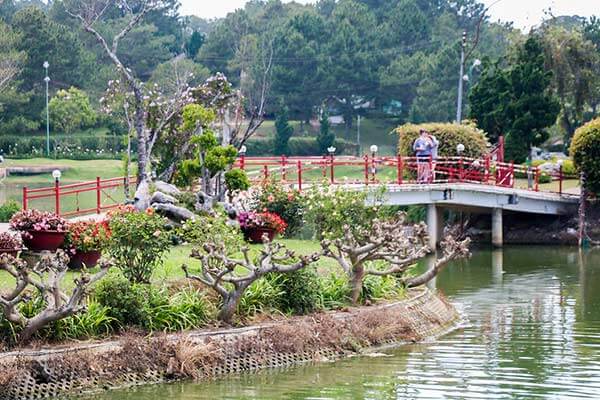 If you are intrigued by the low cost of living in Vietnam but don't like living in a hot climate, consider Dalat (or Da Lat), a small city surrounded by mountains, waterfalls, and pine forests high in the southern part of the lofty Central Highlands.
Dalat was originally developed by the French in the early 19th century as a cool weather retreat from the steamy plantations and cities of the lowlands. It's an attractive place, full of parks, lakes, and flowers. Many of the buildings in the city showcase that early French colonial style, while others are designed like Swiss chalets.
It's known as "the City of Flowers," and you'll see them everywhere you go—on nearly every street and on display in every city park. Flower fields outside of town stretch into the distance, bursting with the radiant colors of lilies, chrysanthemums, and roses.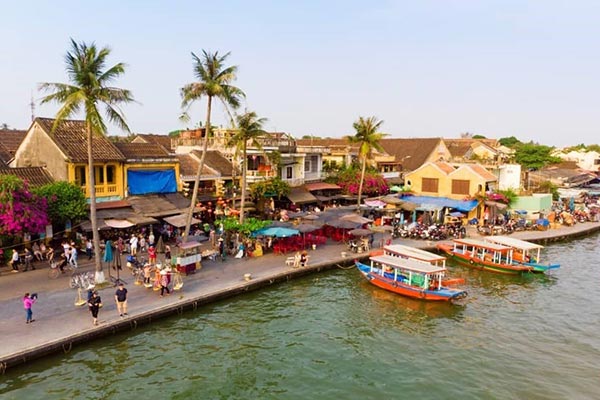 Hoi An is a town oozing with charm and history. Once a sleepy riverside village, it's now a tourist town, with hotels, restaurants, bars, tailors, and souvenir shops dominating the old center. Despite all of this, Hoi An's charisma prevails.
Now a UNESCO World Heritage site, the old town core has immaculately preserved architecture from its time as an important port, from the 15th to 19th centuries. Tourists flock to see the honey-colored, timber-framed buildings, and to pick out the Japanese, Chinese, and European influences. They also come to have couture clothing and shoes made for a fraction of the price it would cost to buy them back home.
But the old town is not where the slow trickle of expats has settled. Rather, the 300 or so foreigners living here are in neighborhoods close to Hoi An's long stretch of breathtaking beach, where 18 miles of brilliant, golden sands fringe warm, tropical waters. About 12 miles out are eight small islands, which form a biosphere reserve where you can dive on coral reefs and exp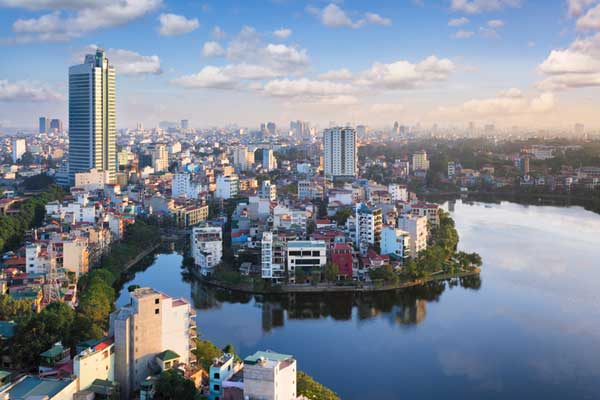 Hanoi is Vietnam's capital city. It's the political hub of the country, as well as the cultural and historical center. Founded more than 1,000 years ago, the city remains steeped in tradition. Hanoi was occupied by the Chinlore the ruins of an ancient civilization.
ese for much of its early history, and later by the French. Both countries left a lasting cultural imprint. Centuries-old Buddhist temples are scattered throughout the city, often set alongside hundred-year-old French colonial mansions and an ever-increasing number of modern skyscrapers. It's an eclectic mix of East and West, old and new.
Wherever you live in Hanoi, you'll find an eclectic, chaotic hodgepodge of activity that never seems to slow down. Bustling markets, bicycle vendors hawking their products, people whiling away the hours in outdoor beer halls and sidewalk cafés, and children playing in the streets as their mother's chase after them with bowls of food—it's all part of the unique Hanoi experience.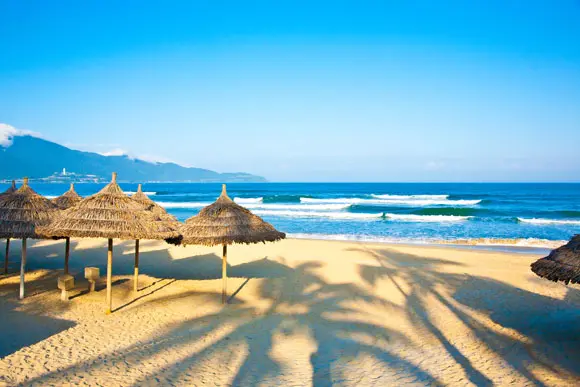 Da Nang is the largest city along Vietnam's central coast and it's also Vietnam's most progressive city. It is a modern and dynamic destination that has set its sights on becoming the "Singapore of Vietnam." The growing skyline includes a new city administration building that bears a close resemblance to London's futuristic bullet building, and the entire downtown has a decidedly cosmopolitan flair.
Surprisingly, given its population of about a million, there is little hustle and bustle in Da Nang. There are, however, lovely parks, riverside promenades, and a long, uncrowded, powdery sand beach. Da Nang residents are relaxed and social. It might be the easiest place to meet people and make new friends in all of Vietnam.
Click here to return to Home Page for The World's Best Towns and Cities For Retirement, or click on the Previous or Next buttons below to explore more regions…
Previous
Next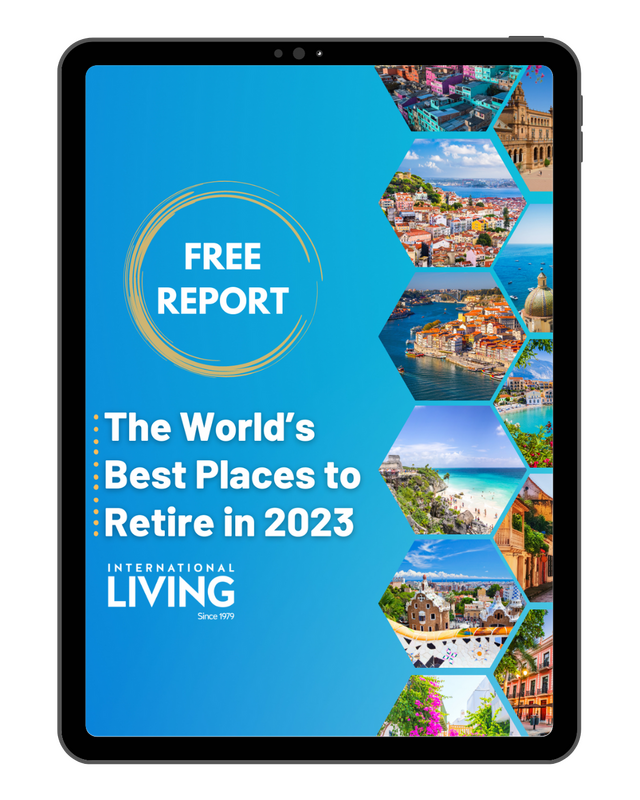 Get Your Free Report on the World's Best Places to Retire:
Learn more about the best places in the world to retire in our daily postcard e-letter.
Simply enter your email address below to sign up for our free daily postcards and we'll also send you a FREE report on The World's Top 10 Retirement Havens, plus access to over 10 more free reports. Our gift to you, on our favorite destinations.