Phu Quoc, Vietnam
By Wendy Justice
Though it's only about the size of Chicago, with barely 100,000 full-time residents, Phu Quoc is Vietnam's largest island. It's a lovely place for adventurous retirees. Over half of the island is protected parks and reserves. Over 20 beaches dot the coastline, with many more on the 27 nearby islands that make up the Phu Quoc Archipelago.
About 200 expats live on the island; the majority of them stay in Duong Dong, the commercial center of Phu Quoc with a population of roughly 20,000. They come from all over the world, but wherever they're from, everyone, both local and expat, seem to know each other. Phu Quoc is a laidback place to live, with plenty of small town hospitality and a delightfully low cost of living.
Retire in Phu Quoc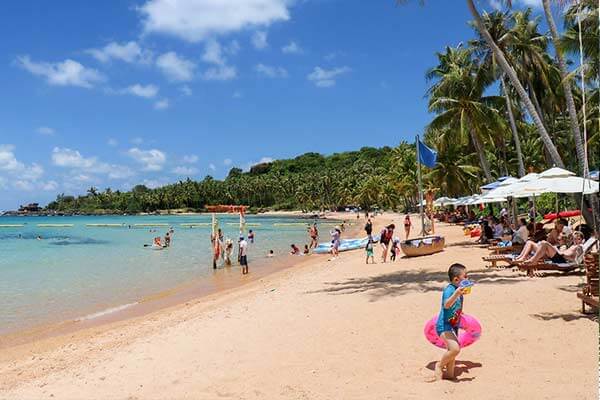 Phu Quoc offers everything needed in a retirement haven. The island is full of natural beauty, with mountains, trails through lush jungle forests, coral reefs, and intriguing beaches. A leisurely drive around the circumference of the island takes about a day, but discovering its many hidden gems could take years.
Adequate healthcare is available locally through Vinmec International Hospital. English-speaking doctors and translators are available around the clock. For complicated or life-threatening emergencies, excellent medical care is available in Ho Chi Minh City (HCMC) and Bangkok; flights to either city take less than two hours.
A few intrepid expats have settled in the interior or along the less developed east coast, but services are limited. Most foreigners stay in or near Duong Dong. This is where the widest variety of restaurants, entertainment, and shopping are, and it's centrally located near the main beaches, the airport and roads leading north, south, and east of town.
Since there aren't yet any rental property agents in Phu Quoc, finding a long-term rental requires a bit of ingenuity and networking. The easiest way is to find temporary housing either at a hotel or guesthouse, or a place through Airbnb, then take your time to find the perfect spot. Many landlords are willing to offer significant discounts for long-term stays. Craigslist occasionally lists housing in Duong Dong and elsewhere on the island, and the two Facebook groups, Phu Quoc Expats & Locals @ Social Society and Phu Quoc Expats, frequently have housing posts—or you can join the groups and make your own "housing wanted" post, too. Another option is to attend a get-together hosted by the Chamber of Commerce; each meet-up generally attracts more than 100 locals and foreigners, and attendees are often quite willing to share their housing tips and other local knowledge with newcomers.
The roads are better here than you'll find in much of Vietnam, which makes getting out and exploring a safe and pleasant adventure. A four-lane divided highway runs along the west side of the island and a second highway goes from the southern tip of the island along the coast to the Mui Da Chong ferry dock on the northeast side. Wide, newly surfaced roads connect the international airport to Duong Dong and the interior.
Internet is reasonably good around Duong Dong and other towns on the southwest coast. Elsewhere on the island, your cell phone with a local data plan will give you access through 3G or 4G networks.
Phu Quoc has a sub-tropical monsoonal climate. The best weather is between November and April, when most days are dry and sunny, and the warm waters of the Gulf of Thailand beckon snorkelers and divers. Typical days are slightly breezy, with year-round temperatures between 77 F and 90 F.
Phu Quoc International Airport receives direct flights from several Asian and European destinations. It's generally easier to fly from HCMC, however, which is Vietnam's largest transportation hub. Daily ferries also connect the island to the mainland.
Lifestyle in Phu Quoc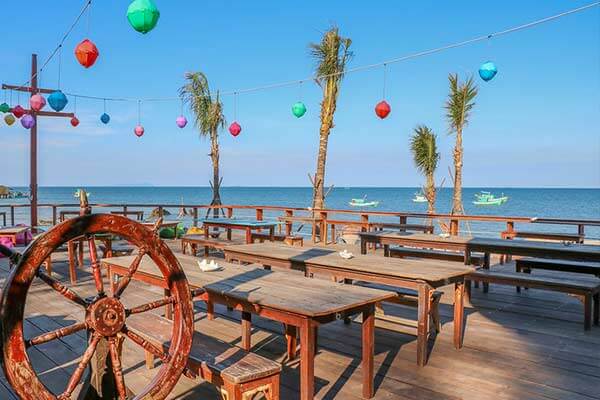 Phu Quoc is a beach lover's paradise. Beaches north and south of Duong Dong may be full of sun worshippers, while on the other side of the island, quiet and secluded stretches of sand offer a different experience. Most resorts along the coast have their own well-maintained private beaches. It is generally not necessary to be a guest at the resort to enjoy their facilities.
Bai Truong (Long Beach) is one of the most photogenic public beaches on the island. The wide expanse of sand is perfect for sunbathing or volleyball, and a stage is set up for live music. Just offshore, four Daliesque sculptures of improbably long-legged elephants provide an arresting sight during the day and create a surreal vista as the sun sets.
Bai Sao (Star Beach) is the most popular beach on the southeast side of the island. The beach's fine-grained, silky white sand is gorgeous, there's plenty of shade, and the warm turquoise water is inviting. The beach becomes a kitesurfing mecca between late October and early May, when the waves are higher. Snorkelers can explore coral formations at either end of the beach, while beachcombers might spot starfish or sea urchins along the shore.
Phu Quoc's economy has traditionally relied on its fishing industry, and even though tourism is now the dominant economic force, small fishing villages still dot the island. Every hamlet of any size has at least one seafood restaurant, where ocean delicacies are served almost straight from the boat to the table. A meal for two at most local restaurants, including several dishes of fish, shrimp, crab, squid, shells, sides, and beverages won't cost more than $30. You'll also find a varied selection of restaurants serving delicious Vietnamese and international fare.
Phu Quoc has many small minimarkets and a few traditional markets, though many imported foods are not available on the island. Many expats travel to HCMC once or twice a year to stock up on hard to find items.
Cost of Living in Phu Quoc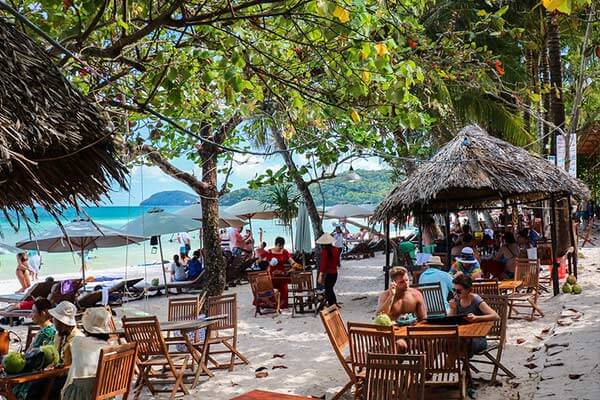 Since most goods have to be shipped from the mainland, prices in Phu Quoc tend to be slightly higher than in other parts of Vietnam, though it's still a bargain by western standards.
Here's an example of a monthly budget for two people living comfortably in Phu Quoc:
House rental (one or two-bedroom home):

$500

Electricity:

$50

Gas & water:

$5

Housekeeper (four hours a week):

$50

Prepaid cell phone plan with unlimited data (two):

$6

Internet, fiber-optic:

$12

Cable TV:

$7

Groceries:

$200

Transportation (motorbike rental and gasoline):

$80

Entertainment (eating out several times a week,
including beer or soft drinks):

$300

Monthly total:                                                                                                         

$1,210
The Takeaway
If you're contemplating spending your retirement on a postcard-perfect tropical island, why not discover the charms of Phu Quoc for yourself? It's a welcoming place, full of small-town charm, beautiful scenery, and some of Southeast Asia's most gorgeous beaches.