By Wendy Justice
Quy Nhon is a charming coastal city about halfway between Da Nang, to the north, and Nha Trang, in the south. It's surrounded by mountains on three sides, and some of the most attractive beaches in Vietnam to the east along the South China Sea.
It is known as the "Happy City." Life is slow and laidback, people are friendly, and the weather is nearly perfect. Quy Nhon is a relatively prosperous city, too, with surprisingly good infrastructure and an impressive amount of parks and plazas.
The population—just over 457,000—includes around 100 expats, though pre-pandemic, the number was closer to 300. The close-knit expat community includes folks from the U.S., U.K., Australia, Canada, and Europe.
Retire in Quy Nhon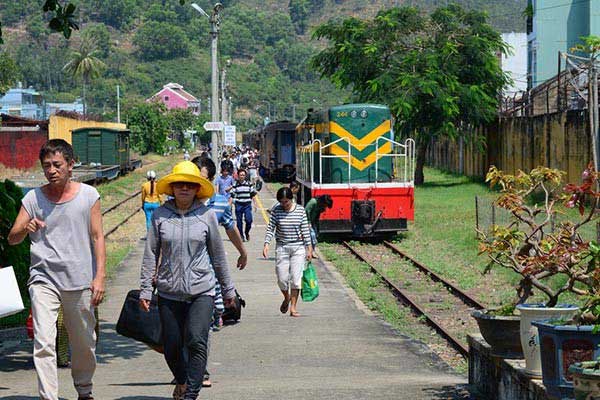 Quy Nhon hasn't made it onto the radar for many expats, even ones who have spent years in Vietnam. In many ways, it's a traditional Vietnamese city, yet a recent flurry of development is slowly transforming it into a major destination. Distinctive Art-Deco buildings rub shoulders with modern new resorts, and traditional markets continue to thrive despite the supermarkets sprouting up throughout town. Residential areas tend to be quiet and comfortable; you'll know who your neighbors are in Quy Nhon and the owners in the many mom and pop stores in your neighborhood will be delighted to serve you.
Quy Nhon has an excellent climate. It often avoids the typhoons and flooding that occur farther north. It's also less humid than many places in coastal Vietnam. Temperatures between May and August are usually in the mid-80s F, though for a few days each year, temperatures may exceed 100 F. September through April are cooler, with most days in the mid-70s F. More than half of the annual precipitation occurs in just two months: October and November. Frequent breezes, especially near the coastline, make even the hottest days reasonably comfortable. You won't need a heater in Quy Nhon, but air conditioning, during summer nights, is a luxury you'll welcome.
Medical care is quite good for a small Vietnamese city. Expats give glowing reports about the Quyhoa National Leprosy Dermatology Hospital. They offer services for foreigners, with some English-speaking staff and translators, and can treat all medical conditions—not just skin diseases. Good dental care is also available at several clinics in the city.
Public transportation is limited in Quy Nhon. City buses are available, but there is Grab Taxi or Grab Bike (a ride-hailing company similar to Uber or Lyft that offers fixed-fare rides) or public metered taxis. Quy Nhon has wide sidewalks perfect for walking; bicycling is also a good option here if you don't want to drive. As you'll find everywhere in Vietnam, motorbikes rule the roads in Quy Nhon, and many foreigners own their own bikes. Owning a 50cc or smaller motorbike or electric bike is a good way to get around, and no driver's license is required.
Lifestyle in Quy Nhon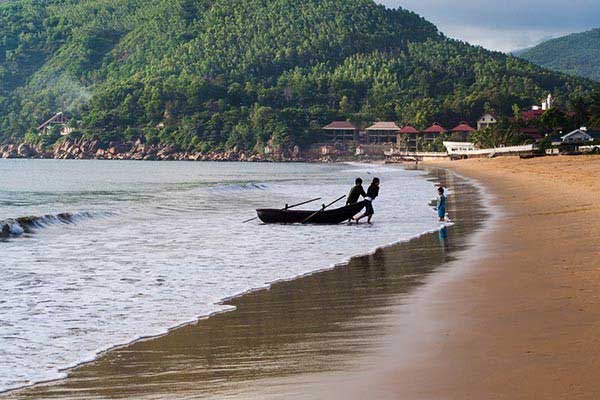 Situated along a horseshoe-shaped bay, Quy Nhon has a fairly compact downtown and a sizeable suburban area. The development sprouting up along the coastline and north of the city hasn't had much of an effect on downtown; most buildings in the center are older and set along shady tree-lined streets.
There might be more public parks in Quy Nhon than in any other Vietnamese city, and it's one of the delights of living here. The entire coast, stretching nearly from the marina in the north to the southern end of town, is one long park and promenade. Parks and plazas line most of the opposite side of the coast road, too, with more scattered through every neighborhood in the city. Some have exercise equipment, others have playgrounds; some are for cycling or hiking, and others for relaxation. All of them are maintained and clean. Many of the parks and plazas come alive in the evenings, when families are out enjoying the cool air and vendors line the sidewalks selling ice cream, cotton candy, and local treats. The large Nguyễn Tất Thành Plaza, on the coast near the center of Quy Nhon, is busy every evening; the dramatic golden statue that serves as the park's centerpiece is of Vietnam's founding father, Ho Chi Minh, and his father.
You'll see postings for live music, community events, jobs, housing, restaurant promotions, and other things of interest for the foreign community in Quy Nhon's two Facebook groups, Expats and Locals in Quy Nhon (City) and Quy Nhon Expats. Posting in these groups is the easiest way to find long-term housing, as well as to keep abreast of what's happening in town.
Quy Nhon doesn't have a large community of expats, but they do have several excellent western-style restaurants and coffee shops. The Quy Nhon Sports Bar is a popular place south of downtown; they occasionally have live music and attract a mostly expat crowd. The personable Australian owner is happy to share her considerable knowledge of the city with customers. Just past the Sports Bar is the Blue House, another popular expat-owned western restaurant and bar that serves up an amazingly good breakfast.
The city is known for its cheap and delicious street food. Two people can feast on perfectly prepared bánh xèo (Vietnamese rice crepes filled with bean sprouts and shrimp, squid, or pork) for less than $2. The area near the traditional Chợ Khu 6 market downtown and the atmospheric Minh Tinh Pagoda is good for street food enthusiasts. Other local specialties include grill-it-yourself barbecue restaurants and fresh-caught seafood of all types.
Cost of Living in Quy Nhon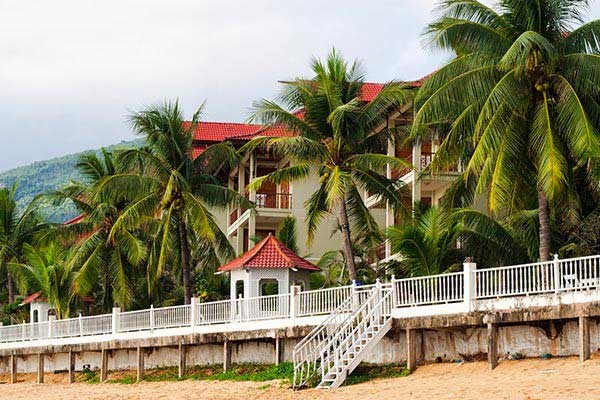 Housing in Quy Nhon is inexpensive by any standard. Monthly rents for small, furnished apartments start at less than $250, while spacious two-bedroom, unfurnished single-family houses rent for less than $400.
Quy Nhon doesn't appear to have any properties authorized for purchase by foreigners, though several large projects are under construction that might offer foreign buyers opportunities in the future. However, rents are so low here that there would be little advantage to owning a home anyway.
Given the high quality of life in Quy Nhon, the cost of living is surprisingly affordable. Two people can live comfortably on a budget of $1,000 per month or less.
Here's an example of a monthly budget for two people living comfortably in Quy Nhon:
Expense
U.S. $
House rental (one-bedroom)
$350
Electricity
$50
Gas and water
$5
Prepaid cell phone plan with unlimited data (2)
$6
Internet, fiber-optic
$12
Cable TV
$7
Housekeeper (four hours a week)
$46
Transportation (own motorbike and gasoline)
$20
Groceries
$150
Entertainment (eating out five nights a week,
including beer or soft drinks)
$275
Monthly Total:
$921
The Takeaway
If you prefer a big city with a large, established expat community—somewhere with glittering shopping malls and trend-setting restaurants—you might find that Quy Nhon won't offer enough excitement. It's laidback and social, and is likely to remain that way for years to come.
Quy Nhon is a lovely, green city with a small-town ambiance, ideal weather, and a beautiful beach. Its low cost of living and high-quality healthcare are additional benefits. If spending your days on the beach and going for evening strolls in the parks and plazas after a good meal with friends sounds like paradise, then you'll love Quy Nhon.
5 Best Things to Do in Quy Nhon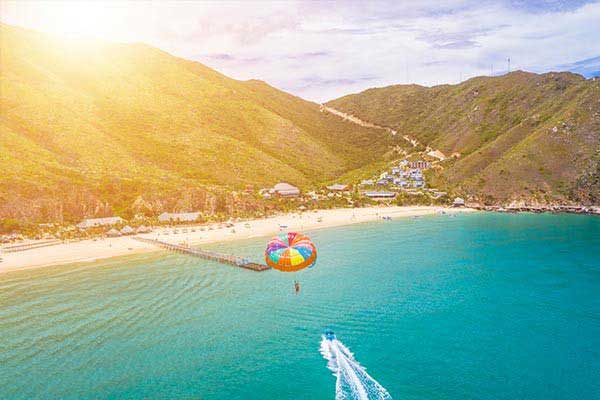 By Wendy Justice
Laidback Quy Nhon is gradually becoming a known tourist destination. It wasn't long ago that few travelers, even Vietnamese, had ever heard of it. This hidden gem, tucked along a horseshoe-shaped bay roughly midway between its better-known neighbors Da Nang and Nha Trang, has some of Vietnam's best beaches, tastiest street food, and friendliest people.
There are plenty of things to do in the area if you have a few days to spare. Here are a few of my favorite spots in and around this charming city.
1. A Long and Beautiful Beach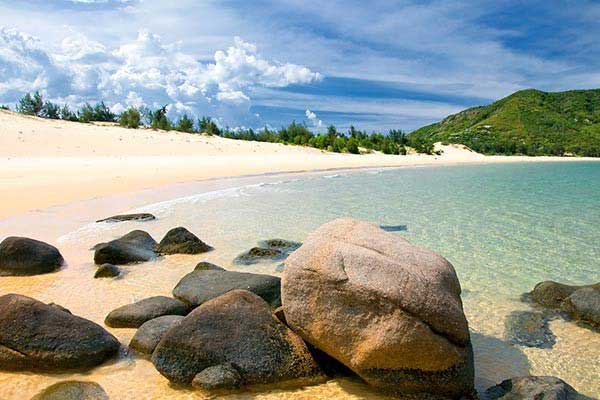 Powdery sand, the subdued colors of a milky latte, appears to stretch on forever. It borders the entire city—three unbroken miles—from near the marina and port in the north to the rocky outcrops at the southernmost end. There's enough beach here to satisfy any sun worshipper, and the dry climate and sunny skies present for most of the year certainly contribute to the charm. Quy Nhon Beach, near the central part of the city, receives the most visitors. As you travel farther from the center, it's easy to find a mostly empty stretch of sand.
The beaches in Quy Nhon aren't nearly as developed as many that are found in Vietnam's beach towns. Aside from a few beachside establishments near the town center, they are uncluttered, and it's unlikely that you'll run across any pushy vendors hawking souvenirs or snacks. The few resorts in town are clustered near the center and north of the beach.
Aside from a brief wet monsoon season that runs from October through November, the warm waters of the South China Sea are usually quite calm here.
2. Parks and Plazas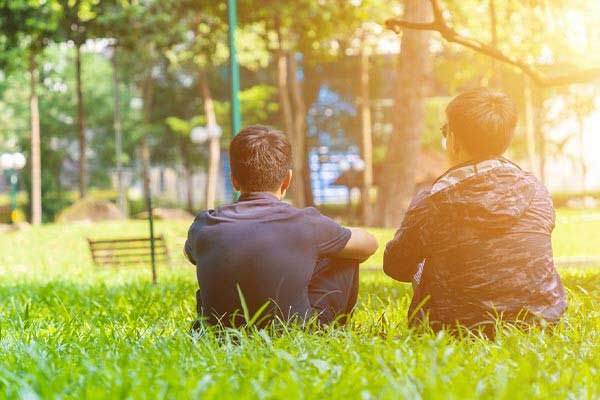 There may be few, if any, cities in Vietnam that have more public places than Quy Nhon. It seems that no matter where in the city you are, you'll be within a short walk of a park, public garden, or plaza. A promenade stretches along the entire beach and, for most of the opposite side of the street from the beach, as well. The city's parks and promenade are clean and well maintained, with relaxing benches, playgrounds, amusement parks, topiary, statues, exercise areas, and plazas. Though the promenade and parks are mostly deserted during the day when the sun is out, they are busy every evening, when locals enjoy going for strolls in the cooler evening air, patronizing the many vendors selling cotton candy, ice cream, local treats, and cold beverages.
The huge Nguyễn Tất Thành plaza is right in the center of the city opposite Quy Nhon Beach, the city's most popular stretch of sand; an impressive statue of Vietnam's founding father, Ho Chi Minh, and his father, serve as the park's centerpiece. It's a grand plaza, and you're sure to see it if you spend more than a few minutes checking out the town. As with the beaches, this plaza comes alive at night, and people watching is at its best.
You'll find more parks along every major road in town, around every lake and pond, and in the mountains to the west and south of the city. Some have playgrounds, soccer fields, basketball courts, or tennis courts, while others are just quiet places to relax.
3. Ancient Cham Towers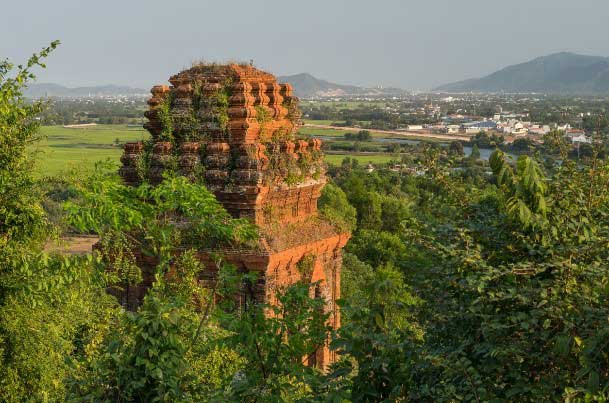 Most of Vietnam's south-central coast, including Quy Nhon, was once ruled by the Champa Kingdom, which flourished between the 2nd and 15th centuries. The devoutly Hindu Cham people built several distinctive terracotta-colored brick and stone towers and temples around what is now Quy Nhon. If you're flying into Quy Nhon through Phu Cat Airport, you'll be able to see the Banh It Cham Temples on the top of a hill to the east as you drive to the city; witnessing the sunrise from the summit is spectacular. The Twin Towers are right in Quy Nhon. Neither site receives many visitors at any time of day. If you've always wanted to see the temples in Cambodia's Angkor Wat but haven't had the opportunity to do so, this is a good minor alternative.
4. Delicious (and Cheap!) Cuisine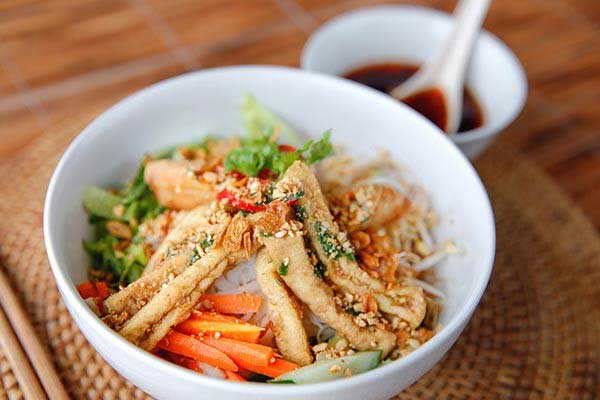 Quy Nhon still has an active fishing industry; if you go to the port around 5 a.m., you can watch the night's catch being unloaded and distributed. By that evening, the many seafood restaurants in the city are selling the goods.
The cuisine in Quy Nhon is typical of that enjoyed throughout the central coast. The bánh xèo (rice-flour crepes filled with seafood and mung bean sprouts) and bún thịt nướng (delicate rice vermicelli served with char-grilled pork and fresh, leafy greens) are especially good. You'll have no problem finding busy restaurants selling these and other local delights, but the best places are often on the street. The area around the Chợ Khu 6 traditional market and the atmospheric Minh Tinh Buddhist Pagoda is especially good for street food aficionados.
Another local favorite is nướng—grill-it-yourself barbecue. The Happy Nuong Restaurant does this very well. Pick your meats, seafood, and vegetables first. The waiter will bring a charcoal brazier and a curved ceramic tile to your table along with a bowl of butter and a spoon. Place your food choices onto the hot tile over the brazier, then sauté them with the butter, which drips down the tile into another bowl for reuse throughout your meal. Pair your barbeque with 50-cent bottles of local beer for an inexpensive feast.
5. Beach Hopping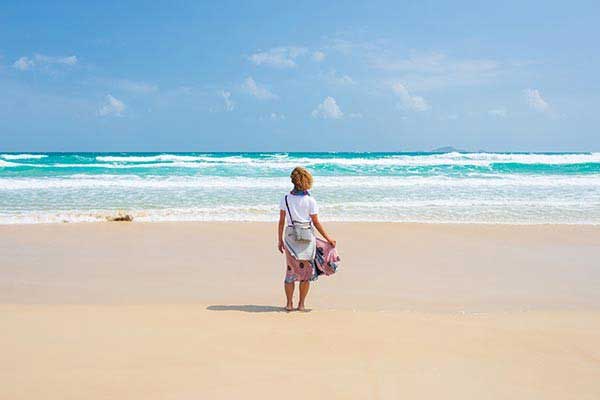 The beaches don't stop in Quy Nhon, and some of the most interesting ones are only a short drive from the city. Queen's Beach, also known as Stone Egg Beach, is popular for its many egg-shaped pebbles and rocks, as well as for its dramatic views of the rugged coastline. It's in the Ghenh Rang tourist area, less than a mile south of Quy Nhon Beach.
Quy Hoa Beach gets high marks from Quy Nhon's long-time expats. This secluded, sandy beach hardly ever gets busy, and it offers spectacular views of rocky coastline in both directions. A leper hospital also shares the grounds; it still has a few patients, but mostly the descendants of affected families who continue to live together. It's less than a mile south of Queen's Beach.
Eo Gio Beach and Mui Dien Cape, which also has a scenic lighthouse, are other notable beaches within a short drive of the city.
Video Tour of Quy Nhon
Video Transcript
Hi, this is Wendy Justice Southeast Asia correspondent for International Living. I'm reporting to you from the town of Quy Nhon, Vietnam. This is a town of about 457,000. A small city by Southeast Asia standards. Located roughly between Da Nang to the north and Nha Trang in the south. I've just been amazed at how many parks are in this city and there have to be hundreds of them and they're scattered practically everywhere. You're going to be within a five, 10 minute walk maximum to a park.
I'm taking this video from the very north end of Quy Nhon the north end of the beach. And here's a pretty little park we've stumbled across. And you can see they have some very nice little statues here. You can see the little cone hat called nón lá that Vietnamese people are very fond of wearing. And then as I walk through, it is just a small little park. Here's another little statue of some flowers and somebody wearing another nón lá. The roads here are really exceptionally good, especially for Vietnam, they are wide they don't get a lot of traffic. And you see a lot of stoplights and stop signs and things like that. So it's a pretty safe place to drive.
Right across the street here I'm overlooking the South China Sea. A little place here at the end where you can get a refreshing beverage if you like. And then just a beautiful beach and it stretches all the way from one side of town to the other. Quy Nhon is actually along a Horseshoe Bay, so they don't get the heavy winds and big surf that you might get farther north or farther south. On the other side of this bay. You see a lot of plazas like this one too, a statue of one of the Vietnamese heroes or somebody that they're honoring here.
It's a pretty beautiful city. Still exploring it and still discovering some places that are quite exceptionally scenic.
I'm now in Quy Nhon near the center of the city, and I'm here at Buddhist pagoda. You can kind of hear the music playing in the background. I haven't eaten here, but I've heard they have a wonderful vegetarian buffet for 25,000 dong, which is about a $1.05 U.S.. Seems a popular place for the locals to go to. Just look at this wonderful pagoda here. The temples you get in central and southern Vietnam actually look quite different from the ones in the north. And this is a fairly typical style for the Southern style of pagoda. OK, I'll be back soon and take a walk through the market, which is just around the corner from here.
Now here I am in central Quy Nhon city actually just a block and a half from the pagoda that you just looked at. We do have some large supermarkets in town. There's a mega mart, which is kind of like a Costco, a big C, which is a supercenter, and two other large chain markets. But a lot of people prefer going to the traditional markets like this one. You can see you can buy all different types of noodles here, crackers, and bread. A lot of clothing that's being sold across the street here you see 35,000 for a pair of shorts. That's not quite $2 . And there are Mango's, grapes, pomelos, oranges. And all kinds of dried food and tasty snacks. So it looks pretty good to me. Hope you've enjoyed this walking trip through Quy Nhon city.
Featured Image Copyright: ©iStock.com/trangiap