Da Nang, Vietnam
Da Nang is the largest city in Central Vietnam, but even with a population of about a million people, it's managed to retain a small-town feel. It's a progressive city that is clean, modern, and growing.
The Han River flows right through the middle of the city. To the west, you'll find the cosmopolitan city center. Along the river, the streets are full of trendy bistros, restaurants, and bars, and farther west toward the mountains there are thriving commercial areas, quiet tree-lined neighborhoods, and innumerable little mom-and-pop shops and cafés. The east side of the river feels more like a beach town than a city. The long, uncrowded beaches and warm waters of the South China Sea are always close by.
Parks and promenades line both banks of the river and provide perfect respite from the city streets. They fill up every evening as locals socialize or take strolls along the statue gardens and topiary, watching the stream of small boats making their way up and down the river from the South China Sea.
Several architecturally stunning bridges cross the Han River. Animated rainbows of colored lights dance across their spans every night. During the day, you can see the full length of the yellow-gold Dragon Bridge, which is designed to look like its namesake. It starts on the west side of the river and ends clear on the other side. The bridge draws crowds every Friday and Saturday night when the dragon's head spouts fire and steam from its huge mouth.
Da Nang has the distinction of being one of the cleanest cities in Vietnam. There is very little litter anywhere in the city and anti-littering laws are enforced. It also has an active recycling program. People love the 18-mile long beach with its pretty promenade and numerous parks, and they appreciate Da Nang's lack of corruption and business-friendly attitude. In fact, Da Nang is the best place in Vietnam to do business, according to the recent report by the Vietnam Provincial Competitiveness Index. A strong sense of civic pride and capable leadership have ensured that growth does not come at the cost of quality of life.
For years, Da Nang went relatively unnoticed, overshadowed by the neighboring town of Hoi An, a historical gem located just a 30-minute drive south. People would fly into Da Nang's international airport or arrive at the train station, then immediately take a taxi to Hoi An, never giving Da Nang a second thought. In recent years, though, Da Nang has become a destination in its own right. This dynamic city has so much to offer, with beaches to the east, mountains to the west, two world-class golf courses, and unfailingly friendly residents, it's no surprise that Da Nang is considered to be the most livable city in Vietnam.
Lifestyle in Da Nang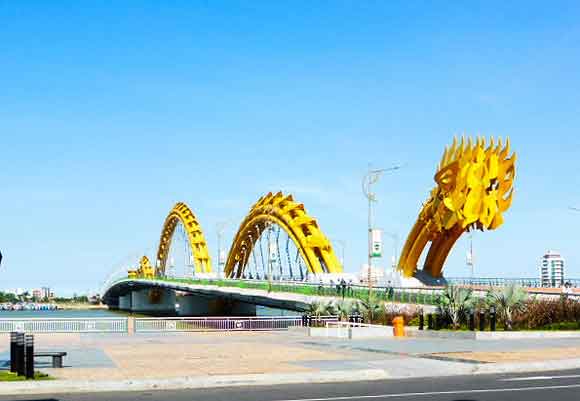 Although Da Nang's picture-perfect beach is one of its main attractions, it isn't a typical beach town. Even on the nicest days, the palm-lined beach is surprisingly uncrowded. In the winter, the waves are occasionally large enough for surfing, and in the summer, the soft, powdery sand is just right for sun bathing. The water in this part of the South China Sea is warm and inviting.
There are many seafood restaurants that stretch along the beach and there has been a lot of beachside resort development south of town. Practically the entire beach in the city of Da Nang is open to the public.
Heading south toward Hoi An, there are two world-class golf clubs located almost across the street from each other—Montgomerie Links and Danang Golf Resort.
Da Nang offers enough diversions to fill your days even if you're not a beach person. The riverfront promenade extends along the Han for the entire length of the city center. Whether you're in the mood for fine dining or simple fare, you'll find plenty of good food along this stretch. Da Nang has a wide selection of restaurants, offering delicious and distinctive Central Coast-style Vietnamese cuisine, as well as American, Italian, Japanese, Mexican, and European fare.
Shopping is also a popular pastime. The new Vincom Mall on the east side of the river has a movie theater and ice skating rink in addition to four floors of shops. There are several large supermarkets and department stores, as well as several busy traditional markets. The markets are the place to go to stock up on fresh and inexpensive local fruits and vegetables.
Considering that a 12-ounce glass of local draft beer costs less than $0.50, it's not surprising that socializing over a few glasses is a popular pastime. You'll see popular bia hoi's—open-air restaurants and beer gardens that sell keg beer and good Vietnamese food—throughout the city. These places tend to be easy on the budget, and they are lively places to not only eat and drink, but to get into the local scene, too.
Cost of Living in Da Nang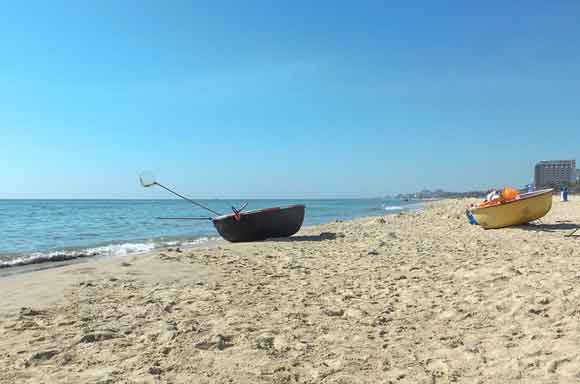 Living in this city does not come with a big price tag. Da Nang offers residents a high standard of living for a fraction of the price that you would find in almost any other country. A head of lettuce costs about $0.30, and locally grown potatoes and vine-ripe tomatoes cost less than $0.40 a pound.
Furnished apartments or houses in attractive neighborhoods within walking distance of the riverfront or beach start at less than $400 per month. High-speed internet costs less than $10 per month, and housekeepers are happy to earn just $2 or $3 per hour.
Eating out can often cost less than cooking at home. Just a dollar or two will buy a hearty bowl of mì quảng, the popular turmeric-infused noodle dish, or a bánh mì ốp la, a Vietnamese omelet sandwich on a French baguette. On the high end, there are several seafood buffets that cost around $20 per person, and a top-end meal of imported steak or seafood, with drinks, won't cost more than $50 for a couple.
Two people could live comfortably in Da Nang on a budget of around $1,000 per month, including rent, utilities, food, frequent meals out, and all incidentals.