Nha Trang, Vietnam
By Wendy Justice
Nha Trang is a true beach retirement haven. It's a popular stop along the Hanoi to Ho Chi Minh City (HCMC) tourist route, and many foreigners visiting Vietnam for the first time break up their trip here. Its friendly and laidback, with a gorgeous beach on one of the most beautiful bays in the world. Many visitors return to Nha Trang eventually and settle here, enjoying lazy, sunny days at the beach and fun-filled nights on the town. It's a place where, once you stay a few months, you may never want to leave.
It's also an easy town in which to make friends, with an expat community of around 4,000 people. You'll find Americans, Australians, Canadians, Europeans, and Asians. A few expats own small businesses, many volunteer, and others simply enjoy the pleasures of retiring in a relaxing, stress-free environment.
Retire in Nha Trang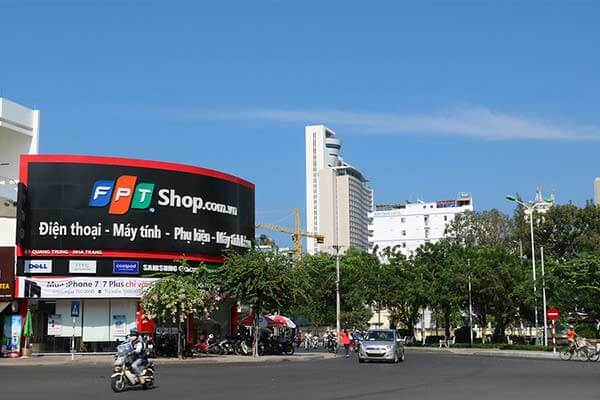 Nha Trang has been a popular resort town for nearly a century. French colonialists turned this small fishing village into a resort town after discovering its crystal-clear waters and warm, sunny weather. Later, the town became a popular R&R spot for American troops. As a result, the local Vietnamese are used to having foreigners in their city; they're friendly and curious, and many speak excellent English. Spend a few months here, and you'll likely find that you have as many Vietnamese friends as you do expats.
The coastal area consists of dramatic bays and golden-sand beaches separated by rocky headlands. Picturesque islands dot the bays. High-end resorts and spas rub shoulders with simple guesthouses and humble cafés. A lively beach scene is the norm throughout the year.
Nha Trang has one of the best beach climates in all of Vietnam. The average temperature is 79 F. Temperatures rarely dip below 68 F or rise above 90 F. The winter months from November through February are cooler and drier, though rain, when it does occur, is often at night. Pleasant sea breezes moderate the hot summer weather and there is minimal air pollution.
Vietnam's top-tier hospitals are an hour-long flight away in HCMC, but two hospitals in Nha Trang provide healthcare adequate for most medical conditions. Vinmec International Hospital and Tam Tri Hospital both get high marks from Nha Trang's expats. Most western medicines are available over-the-counter. Prices for both medical care and medication are considerably less in Vietnam. Several English-speaking dental clinics cater to an expat clientele. Dental care is affordable and the quality tends to be as good, or better, than in the States.
Many foreigners living in Nha Trang own or rent small motorbikes to get around, though if you live in the tourist area and don't plan on exploring the outskirts much, you can get by with walking, a bicycle, or the occasional taxi. The city streets get a lot of traffic on weekends and holidays when tourists from HCMC descend on the city; on other days, driving is quite manageable. There are some public buses, but routes are limited, service is erratic, and expats rarely use them.
Findinga place to live is easy. Because it's a resort-oriented city, many owners will accept renters for a week, a month, or a season. Many places also offer long-term leases that offer even better value. Comfortable studio apartments in good locations start at less than $350 per month, while one and two-bedroom apartments with ocean views can be found for less than $600 per month.
Foreigners are likely to live anywhere in Nha Trang, though the majority live in one of two areas. The most popular part of town, commonly referred to as the tourist area, is located slightly south of the city center along the most popular section of beach, where you'll also find the largest concentration of shops, restaurants, and bars.
The part of town about two miles north of central Nha Trang, just past the Cai River, is also a popular place for expats. Living here offers a more local experience, yet it's still convenient to all the amenities.
Nha Trang has properties on the market that foreigners can purchase, and prices are lower here than in Vietnam's larger cities. Most listings are for homes with ocean views. There are a few places right on the town's coastal road, though most of the available housing is south of the city near the Vinpearl cable car station.
Lifestyle in Nha Trang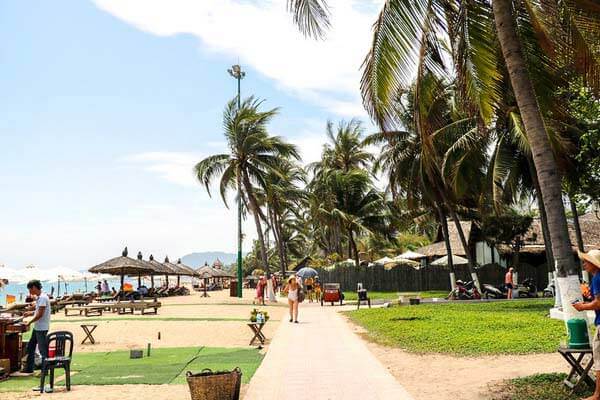 Since Nha Trang is a well-established tourist destination, you'll find no shortage of restaurants, bars, and activities.
When they're not diving, snorkeling, or sunbathing, many expats spend their time socializing at one of the bars and restaurants in the tourist area, such as Cheers, the Sailing Club, or the Louisiana Brewhouse.Dozens of seafood restaurants, ranging from local-style mom and pop cafés to elegant buffets, serve up fresh shrimp and squid, shellfish, crab, and boatloads of just-caught fish.
Some of the larger hotels, like the Amiana, offer extravagant buffet packages on the weekends that include alcohol and use of their pool and resort facilities. These are quite popular with expats, who come with friends and make a day of it.
Nha Trang has some excellent traditional markets, as well as several large, modern western-style supermarkets and malls. Three movie theaters play the latest English language films, and Nha Trang Center has a bowling alley. There's even a Costco-like MM Mega Market that sells bulk and wholesale groceries, housewares, and clothing, for when you need to do some serious shopping.
Festivals and regular beach cleanups attract locals and foreigners alike, while other expats stay active volunteering in the community or at nearby orphanages, and hosting fundraisers for charities.
Cost of Living in Nha Trang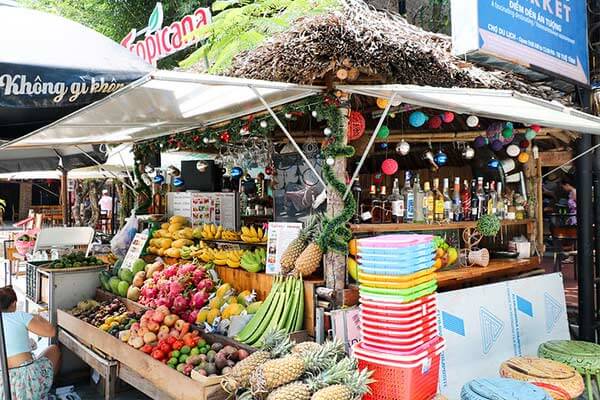 Nha Trang is one of the most beautiful places in Vietnam. There's stunning scenery, a thriving expat community, well-developed infrastructure, and all the western amenities you could want. Yet the cost of living is amazingly low. Two people can easily live in a well-appointed house or apartment within walking distance of the beach, eat every meal out, and live a solid middle-class lifestyle for around $1,100 per month.
Here's an example of a monthly budget for two people living comfortably in Nha Trang:
Apartment rental (one bedroom), housekeeping, cable TV, and internet:

$500

Electricity:

$40

Gas and water:

$5

Prepaid cell phone plan with unlimited data X2

$6

Groceries

$125

Transportation (motorbike rental and gasoline)

$80

Entertainment (eating out five nights a week,
including beer or soft drinks):

$350
                                                      Total                                                                              
$1,106
The Takeaway
Living in Nha Trang is like being on a never-ending vacation. Most socializing within the expat community occurs in the abundant coffee shops, pubs, and nightclubs rather than in organized meetups. It's an easy way to meet others, but it may not be for everyone.
You'll love Nha Trang if having a nearly perfect climate, a gorgeous beach, a wide variety of restaurants guaranteed to please every palate, a low cost of living, and a well-established community of expats is important to you. Local cinemas offer the latest Hollywood blockbusters, fancy shopping malls stock trendy fashions and gadgets, and the quality of healthcare is above average.
Things to Do in Nha Trang
By Wendy Justice
Nha Trang—an attractive seaside resort town set along Vietnam's sunny, south-central coast—has been widely cited as having one of the most beautiful bays in the world. Best Beaches in Asia referred to Nha Trang as "the Vietnamese Riviera." Travel and Leisure Magazine picked Nha Trang's bay as one of their favorites for two consecutive years, and both Kiplinger and US News and World Report agree that Nha Trang is one of the best places in the world to retire. Rough Guides says that Nha Trang is "generally recognized as Vietnam's premier beach destination."
Nha Trang has been welcoming foreigners to its wide, golden-sand beaches since the mid-1800s. First the French colonialists, and later American soldiers, chose Nha Trang as one of their favorite go-to places in Southeast Asia for rest and relaxation. The local people were happy to accommodate them, and resorts, restaurants, shops, and bars proliferated.
Nha Trang's population of approximately 327,000 has increased over the years, as people—both foreign and Vietnamese—have migrated to the area, many arriving through its international airport, to partake of its small-town friendliness, thriving restaurant and nightlife scene, idyllic tropical weather, and endless recreational opportunities.
Here are a few of my favorite things to do in Nha Trang.
The Beach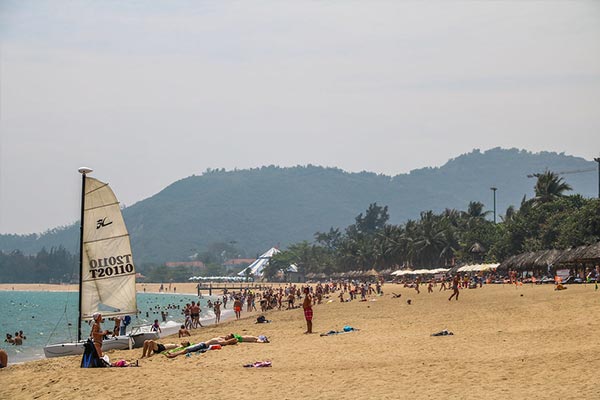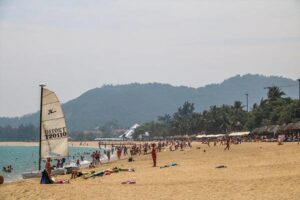 The powdery golden sand of Nha Trang Beach runs nearly the entire distance of the city, starting just south of the Cua Dai River and continuing to the southern outskirts of town. The wide beach and nine-mile long pedestrian promenade overlook several shimmering islands set in the blue waters of the bay. Sculpture parks and ornamental landscaping offset the turquoise water and swaying palm trees to complete a picture-perfect scene. Vendors walk up and down the beach offering sunbathers everything from cold drinks, lobster, and dried squid to handicrafts, hats, and massages.
Nha Trang Beach can get quite busy on weekends, especially during the warmest months between May and December when Ho Chi Minh City residents flock to the area for sun and fun. Bai Dai Beach is a quieter and more relaxing option. It's a few miles south of Nha Trang on the way to Cam Ranh International Airport. The clean water, pretty scenery, and a handful of simple restaurants makes this one of the more idyllic beaches near Nha Trang.
Dining Out and Nightlife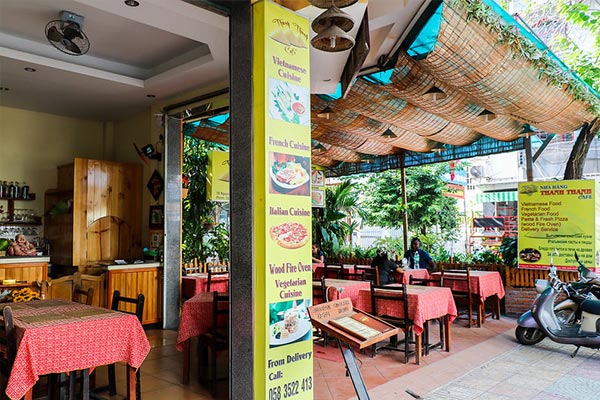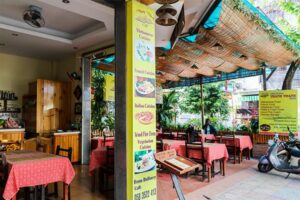 Eating and drinking establishments in Nha Trang abound—just what you would expect in a popular beach town. Seafood restaurants are everywhere, with many offering fish straight from the boat to your table. Whether you're looking for a hearty meal on a tight budget, or a top-end extravaganza with linen tablecloths, live music, and an ocean view, you'll be spoiled for choice. Restaurants near the beach offer an excellent array of dining opportunities, including outstanding Vietnamese, Russian, French, and Italian cuisine, British pub food, and American steaks.
Nha Trang comes alive at night, with bars along the beach and in the tourist area attracting plenty of revelers looking for a good time. At least 20 bars and clubs cater to tourists and foreigners, and scores of others attract a mainly Vietnamese crowd. For a city of this size, Nha Trang has the best nightlife in Vietnam.
Spas and Hot Springs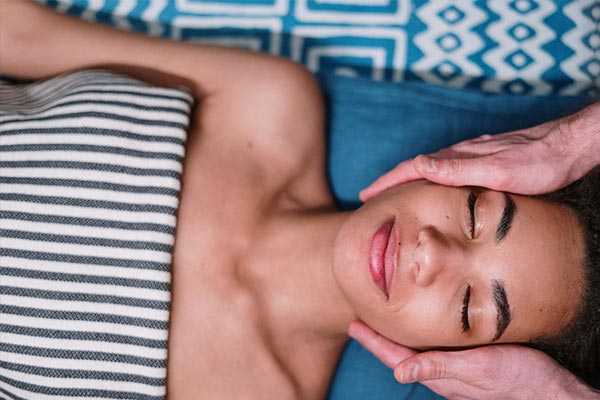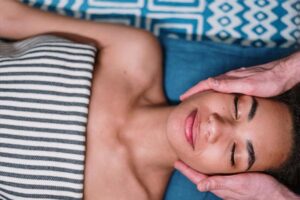 Several geothermal spas around Nha Trang offer mud baths, soaking, swimming, and massage. The natural heated mineral water in these spas is said to have healing qualities, and the staff are trained to do everything possible to provide you with a truly relaxing experience. My favorite, Thap Ba Spa, is the oldest hot spring spa in Nha Trang, with large swimming pools, a naturally heated waterfall, mud baths, and private hot pools. Several other hot spring resorts have opened in recent years, including 100 Egg Mud Baths, where you can wander through a fanciful egg forest or soak in an egg-shaped geothermal tub.
Snorkeling and Diving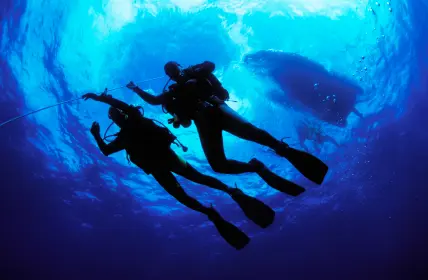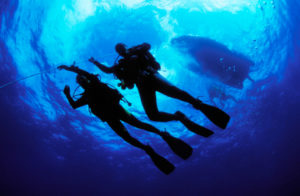 Nha Trang is a popular place for deep sea diving and snorkeling, with several small islands and coral reefs offering plenty of underwater variety. Several well-regarded diving outfits offer PADI and NDL certification classes. Serious snorkelers can accompany divers to reefs and islands, while those interested in a bit of snorkeling and a party can take a package trip that includes island hopping, swimming, and plenty of drinks.
Entertainment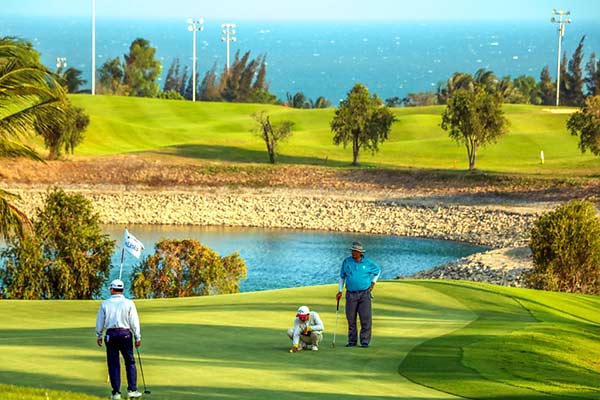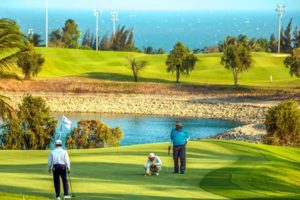 Vinpearl on Hon Tre (Tre Island) is the largest commercial tourist attraction in Nha Trang, and it receives many visitors from all over Vietnam and the world. The island, which is located just off the mainland and is accessible by either speedboat or cable car, hosts a five-star luxury resort, a spa, a water park, a shopping arcade, an aquarium, and an amusement park. Various shows, included in the admission package, are held throughout the day. The 18-hole Vinpearl Golf Club is another one of Vinpearl's major attractions.
Diamond Bay Golf and Villas, a short drive south of the city along the South China Sea coast, also has a well-maintained 18-hole golf course.
The ancient Po Nagar Cham Temples—remnants of the great Cham civilization—are right in town. Built between the 7th and 12th centuries, the temple complex is still an active place of worship for Vietnamese, Cham, and Chinese Buddhists.
Festivals and Events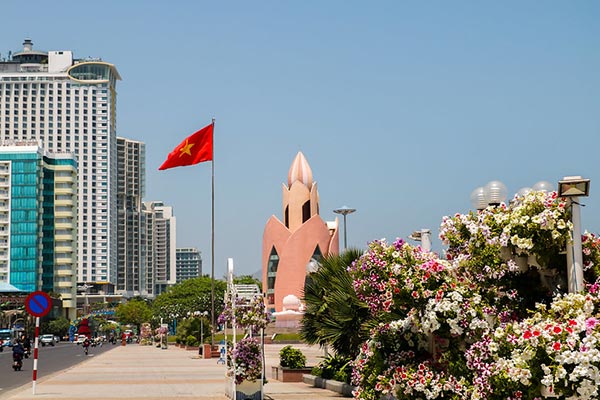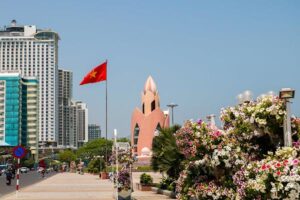 The Nha Trang Sea Festival is a big event held every two years. Thousands of people come to watch or participate in various sport activities, kite flying, traditional Vietnamese art and handicraft fairs, workshops, a flower parade, and fireworks.
Smaller festivals celebrating local arts, culture, and regional flowers are held at various venues around the city throughout the year.
Explore Further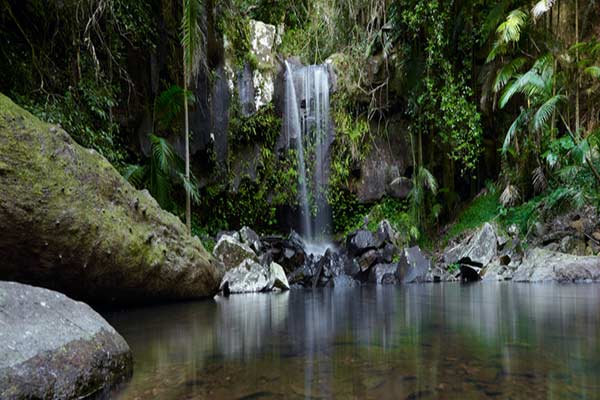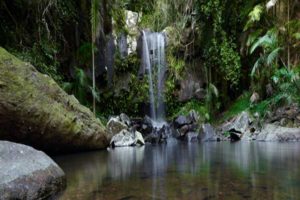 Yang Bay Waterfall is a popular spot for recreation; two picturesque waterfalls drain into a large, developed swimming area. Driving from Nha Trang, you'll pass through some beautiful countryside, as well as a Raglai ethnic minority village, where ox-drawn carts are more common than motorized vehicles.
It's also worth a visit to the less developed Ba Ho Falls and Fairy Falls, both within an hour's drive of Nha Trang.