By Wendy Justice
Mui Ne is a resort village on Vietnam's south-central coast; it's actually a part of the larger city of Phan Thiet, though everything from the weather to the ambiance is quite unique. Mui Ne's expat community has the best of both worlds: a beautiful, laidback town to call home and easy access to the amenities of a larger city just ten minutes away.
Mui Ne extends along a scenic stretch of the South China Sea coastline. The popular resort city of Nha Trang is a four-hour drive north, while Vietnam's largest metropolis, Ho Chi Minh City (Saigon), lies about five hours south of town. Sand dunes—some fiery red and others bone-white—stretch inland as much as 20 miles. The land is dotted with prickly pear and other cactus, including fields of dragon fruit that stretch across the land to the distant western mountains; the delicately sweet fruit is delicious and refreshing on a hot day.
Mui Ne might have the best weather in Vietnam, with an average of 310 sunny days a year, relatively low humidity, and breezes nearly every day. Light winds coming from the ocean, mixing with hot, dry air rising from the dunes, create a unique microclimate. The skies are often blue here when it's pouring in Phan Thiet. This is one of the sunniest and least humid places on the entire Southeast Asian peninsula.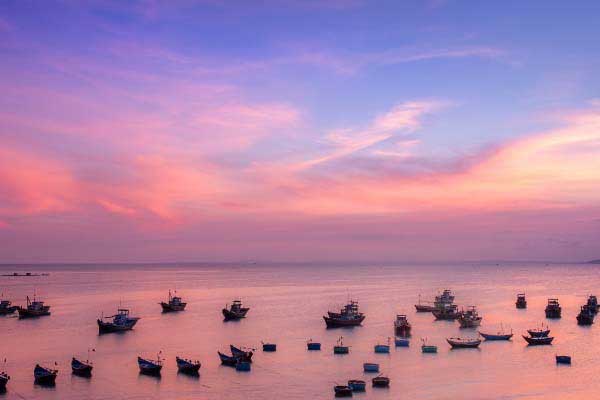 The average annual temperature is a balmy 79 F. It can occasionally get above 100 F during the summer months. June through October are the wettest months, but there may not be a single drop of rain from December through April. You won't need a heater living here, and some expats say that they live comfortably with just a fan, taking advantage of the cooling ocean breezes during the hot season.
Mui Ne is a well-known kitesurfing destination. Other popular sports include board surfing and kite flying. The comfortably warm climate allows for watersports year-round, though the best surf is generally between October and May.
Take a small town, add a gorgeous beach, good waves, and a thriving tourism-based economy, and you have a recipe for good times. Mui Ne's expat community is small, but those who live here describe feeling as if they're on a permanent vacation.
Retire in Mui Ne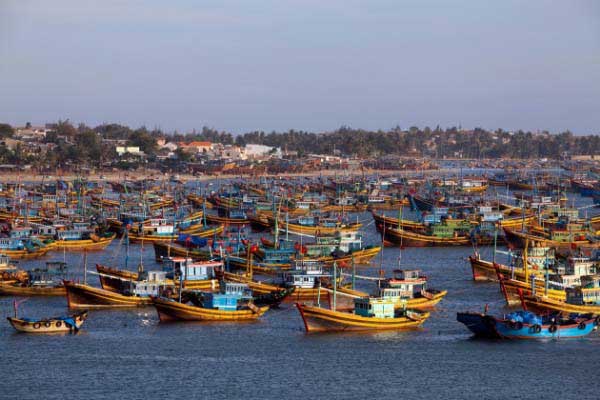 Nearly all of Mui Ne is built along one main road that stretches about 10 miles along the coast. The Sea Links Golf Country Club is at the westernmost edge of the village, while the old original fishing village of Mui Ne and the Red Sand Dunes (Đồi Cát Đỏ) lie at the eastern end of town. The street is lined with private homes, hotels and resorts, restaurants, mini-markets, and other businesses that serve tourists.
It's a festive town but you don't have to be a 20-something to enjoy it. Most expats who live here are in their 50s and 60s. Like the majority of foreigners currently living in Vietnam, Mui Ne's expats tend to be small business owners who are enjoying a semi-retired lifestyle. They come from around the world—Americans, Canadians, Australians, Russians, British, and Europeans of all nationalities.
Once you stay here for a few weeks, you'll know who your neighbors are and they'll know you. The city of Phan Thiet (population: 335,212, including Mui Ne) serves local residents with modern supermarkets, decent medical care, and even cinemas showing the latest Hollywood blockbusters with Vietnamese subtitles. Unless you can be content eating entirely in restaurants or living off the limited selection of minimarket food in Mui Ne, you'll be making occasional shopping trips into the city.
If you need to see a doctor, An Phuoc General Hospital in Phan Thiet can handle most medical needs. Pharmacies in both Phan Thiet and Mui Ne carry good selections of over-the-counter medications, including medications that would require a prescription in the U.S. and Canada. If you have a serious or complicated medical emergency, Ho Chi Minh City has the best healthcare in the country; it's only a five-hour drive away. Good dental care is available in both Phan Thiet and Mui Ne.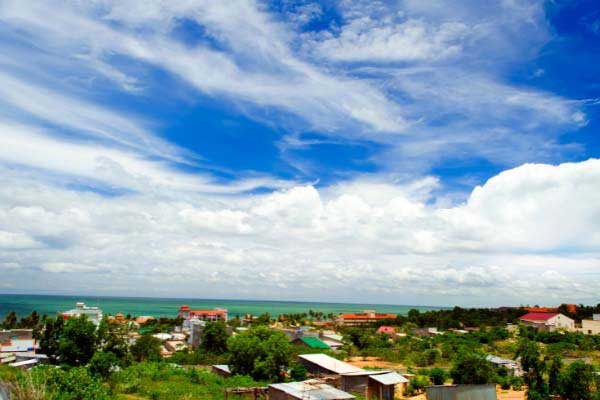 Bicycles are a convenient way to get around Mui Ne. Almost all shops and businesses are located along Nguyen Dinh Chieu Street, which runs along the coast; if you live near the center (Joe's Café Muine is a good landmark), most of the town will be within walking distance. It's easy to hail either a car taxi or motorbike taxi from anywhere along the main road. Fares are reasonable, both for trips around Mui Ne and into Phan Thiet. Mui Ne does not have a public bus system.
Many foreigners own small motorbikes that range from 100cc to 150cc. Helmets and a Vietnamese driver's license are required to drive any motorbike that is 50cc or larger. Drivers with smaller bikes and electric bikes are exempt from both of these requirements.
The best way to find housing is either through word of mouth or on the Expats in Mui Ne and Mui Ne Buy & Sell Facebook groups. Renting a short-term place through Airbnb is another good option.
Lifestyle in Mui Ne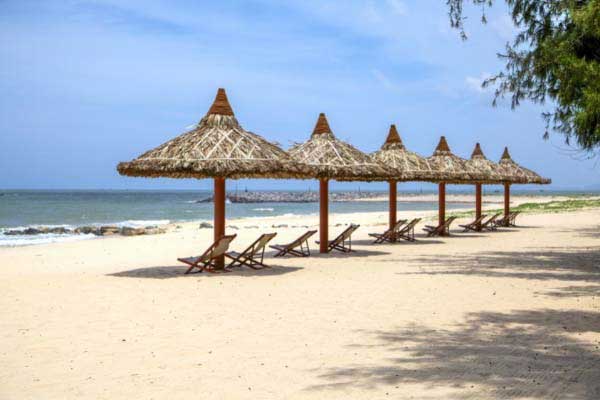 Life in Mui Ne centers on the beach and in the water. Mui Ne's nearly rock-free shoreline, warm waters, consistent breezes, and sunny weather all but ensures good board surfing, kitesurfing, and kite flying conditions. Kitesurfing enthusiasts come here from all over the world; many of them return yearly to take advantage of the excellent conditions and low prices. The wide, sandy beaches on the west end of Mui Ne are best for kite flying. Some kites are quite elaborate; even if you don't fly your own kite, it's still fun to watch.
Sea Links City, on the western edge of town nearest Phan Thiet, has an 18-hole golf course with spectacular views of the ocean. The Red Sand Dunes on the east end of Mui Ne are worth a visit, as are the White Sand Dunes 25 miles farther up the coast.
Mui Ne is one of the only places in Vietnam where you can tour in a hot air balloon. You'll get a birds-eye view of the White Sand Dunes, the intriguing geometry of dragon fruit plantations, and the country's largest solar power installation. Floating in near silence, 1,800 feet above the ground, you'll look down upon gliding sea birds, copses of coastal pine trees, pristine desert landscapes, mysterious roads and tracks, and the glory of the sun rising over the South China Sea. These tours begin about an hour before sunrise—it takes 45 minutes or so by van to reach the lift-off point—and they finish with a champagne toast.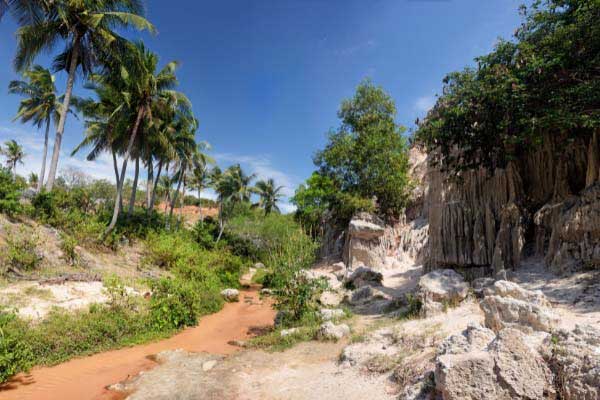 For a small village, Mui Ne has an outsize number of restaurants, and many of Mui Ne's expats have at least one meal out every day. Some of the larger resorts offer upscale buffets, while several restaurants and pubs cater to a mainly foreign crowd. The many bờ kè" restaurants along the main road specialize in fresh seafood at incredibly low prices. They're popular with Vietnamese holidaymakers, but hungry foreigners love them, too. Other choices include French, Italian, German, Russian, and American cuisine—and of course, delicious Vietnamese fare, too.
Joe's Café Muine offers American and Mexican food, accompanied by live music every night. The only other "live" music in town comes from karaoke-loving Vietnamese.
The entire coast is open to the public. Relax in a chaise lounge with a cold drink and soak up the sun, join a volleyball game, or listen to music while sipping cool drinks.
Cost of Living in Mui Ne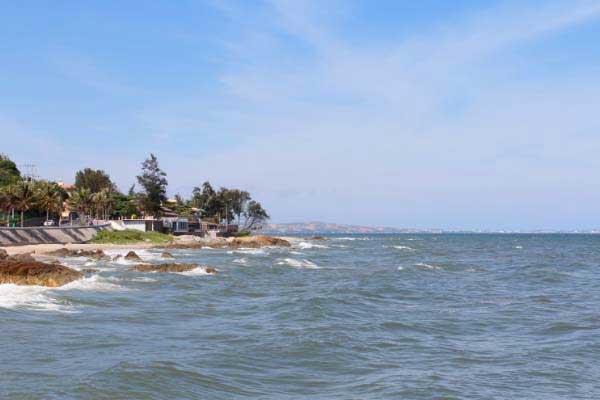 Here's an example of a monthly budget for two people living a comfortable middle-class lifestyle in Mui Ne:
| | |
| --- | --- |
| Expense | U.S. $ |
| House rental (one-bedroom) | $250 – $350 |
| Electricity | $50 |
| Gas and water | $5 |
| Prepaid cell phone plan with unlimited data (2) | $6 |
| Internet, fiber-optic | $12 |
| Cable TV | $7 |
| Housekeeper (four hours a week) | $46 |
| Transportation (own motorbike and gasoline) | $20 |
| Groceries | $150 |
| Entertainment (eating out five nights a week, including beer or soft drinks) | $275 |
| Monthly Total: | $821-$921 |
The Takeaway
If spending your days soaking up the sun and your evenings socializing with friends sounds like your ideal retirement lifestyle, Mui Ne might be a perfect choice. It's convenient to the city of Phan Thiet for shopping, and an easy drive to Vietnam's largest city to access world-class healthcare. Mui Ne still retains the charm of a humble fishing village, yet it has all the amenities that you'd expect to find in a resort community. It's a small and welcoming hamlet with a beautiful beach, superb kitesurfing, paddle boarding, surfing, kite flying, and golf. The diverse expat community is welcoming to newcomers. Expats will enjoy a high quality of life here on a very low budget.
Featured Image Copyright: ©iStock.com/GNNick