Vietnam is one of the most welcoming, exotic, and interesting countries in Southeast Asia. It has more than 2,000 miles of coastline, and much of that has seen little or no development. There are deserted sandy beaches, tiny fishing villages, and rocky headlands all along the coast. Some of the most livable cities in the country are also located along its shores. The north is full of mountains, caves, waterfalls, and exotic ethnic minorities whose lives have changed little over the last century, while the Mekong Delta in the south has endless rice paddies, winding waterways, and a slow, tranquil way of life. Mountains form the backbone of the country, where high altitude towns offer cool weather year-round. Vibrant cities complete the picture—modern, progressive cities like Da Nang; cities rich in history and culture such as Hoi An, Hue, and Hanoi; beach resort towns such as Nha Trang and Vung Tau; and busy, cosmopolitan centers of commerce like Ho Chi Minh City.
The Vietnamese people are passionate about their food. You'll love the fresh fruits and vegetables that are found at every market in the country. Vietnamese cuisine is low-fat, balanced, healthy, and delicious. It's also a bargain. Eating at a local restaurant often costs less than cooking at home, while affordable gourmet dining and international cuisine is available in every tourist area, large town, and city.
Products and services tend to cost less in Vietnam than they do in the West. Utilities cost a fraction of the price that you may be accustomed to paying, public transportation is cheap, and even in the biggest cities, you'll be impressed by the low cost of living. There has been a significant improvement in medical services over the past few years, and Vietnam now has several hospitals with international accreditation; care in these hospitals costs about 20% of what is charged in the U.S.
Many Vietnamese people also speak English, and they are often fluent.
Who is Moving to Vietnam?
Foreigners from around the world have settled in Vietnam. You'll find a diverse assortment of expats, including English teachers, embassy staff, multinational executives, entrepreneurs, retirees, and digital nomads drawn by the low cost of living. The bigger urban areas, such as Hanoi, Da Nang, and Ho Chi Minh City, have a large number of working and self-employed expats, while the smaller towns and resort areas tend to attract more retirees. Wherever you go, you'll meet people from North America, the U.K., Europe, Australia, and the Far East.
How to Move to Vietnam
Vietnam does not offer retirement visas, but there are several options available for people who want to live here long-term. American citizens can apply for visas that are valid for periods of one month up to one year. The six-month and one-year visas allow continuous stays for up to three months at a time, and traveling abroad and returning at any time after leaving the country is legal and permissible within the visa period.
Citizens from most other countries are eligible for tourist visas that are valid for up to three months. Making a visa run abroad is legal and permissible, though you will need to obtain a new three-month visa for re-entry.
Visas can be extended from within Vietnam, but the costs tend to be quite high. From a practical standpoint, it is less expensive to leave and re-enter the country.
Business visas are available to citizens of all Western countries for periods ranging from one month to one year. Business visas are valid for a continuous stay covering the duration of the visa—no visa runs are required.
You can apply for a visa through any Vietnamese embassy, but if you plan to enter the country by air, it is easier, less expensive, and just as reliable to use a Vietnamese-based visa agent. For a nominal fee, they will obtain a visa approval letter from the Department of Immigration for you. Present the letter to the immigration counter when you arrive at the airport. You'll pay a stamping fee to immigration—single-entry one and three-month visas cost $25, while multiple-entry visas cost up to $135, depending on their duration. In most cases, if you are applying for a six or 12-month business visa, you'll need to use a visa agent.
"I think I'm ready to leave the U.S."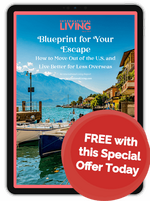 If that sounds like you, we can help—we'll show you, step-by-step how to move out of the U.S.
In lots of safe, warm, friendly spots abroad, a couple can live well for around $2,000 a month. Hundreds of thousands of Americans are already doing it—and you could, too.
We'll give you a Blueprint for Your Escape—FREE—with your discounted IL membership today, here.
Free Workshop: How to Move Out of the U.S.—Get the Experts' Guidance
If you know where to go, you can live better, spend less, and enjoy life more. Get the scoop with International Living's How to Move Out of the US Workshop-on-Demand, yours when you sign up for IL's free daily Postcards e-letter. In lots of safe, warm, friendly spots abroad, a couple can live well from $2,000 a month (all in, housing included). Find out where—and how...
Why I Moved to Vietnam
By Wendy Justice