Hoi An, Vietnam
By Wendy Justice
Hoi An, a town of about 120,000 people on Vietnam's central coast, is one of the most visited tourist destinations in Vietnam. It's also home to one of Vietnam's fastest growing expat communities.
You'll find one of the prettiest beaches in Southeast Asia—An Bang Beach—in Hoi An. The Ancient Town, built by merchants from China, Japan, and Europe, was once a thriving port of call. Entrepreneurs came to trade everything from delicate glass to heavy weaponry, while warehouses packed alongside the Thu Bon River were stacked full of porcelain, spices, silk and mother-of-pearl. In the early 1800s, the river—the lifeblood of Hoi An—silted up, becoming too shallow to navigate. Traders went elsewhere and Hoi An became a forgotten backwater.
Hoi An wasn't rediscovered until about 20 years ago, when the remarkably well-preserved Chinese and Japanese architecture caught the attention of UNESCO.
Since that time, Hoi An has become one of Vietnam's most prosperous towns. Visitors come to explore the many ancient Chinese-style shophouses, temples, community halls, and pagodas, the delightful Japanese bridge, the distinctive regional cuisine, and the sandy, palm-fringed beaches.
Retire in Hoi An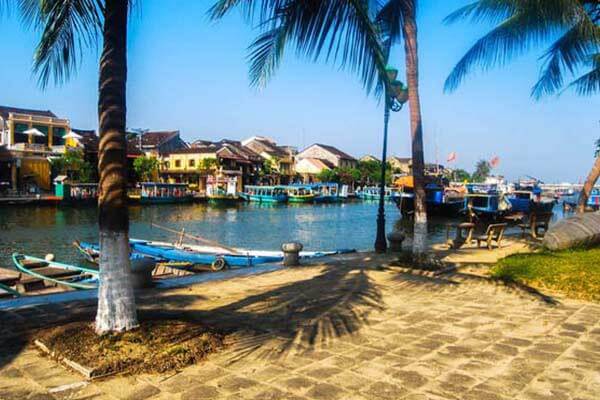 Hoi An's expat community has grown from less than 50 to more than 1,000 over the past decade. It's a livable town; it's close enough to the city of Da Nang, where you can find all the amenities you need, yet small enough to attract expat families, digital nomads, and retirees who prefer a more laidback, less urban experience.
Most expats live outside of the Ancient Town. Though it's the best part of Hoi An to look at, it's susceptible to flooding during the September to November wet season. Hoi An is small enough, though, that you can live in areas less prone to flooding and still be within a few minutes of the historic district. Cam Chau District, which is located east of the Ancient Town between the Thu Bon River and the ocean, is higher in elevation that the surrounding area, so flooding—which seems to occur at least once every wet season—isn't a problem. Other areas away from the river and close to the beach include Cam An and Cua Dai Districts, and An Bang Beach, which is a few minutes north of Hoi An.
Considering the popularity of the town, renting a home in Hoi An is surprisingly affordable. Most homes are single-family houses, though there are a few apartments scattered throughout the city, and condominiums in resort developments along the beachfront. Studio and one-bedroom houses in town start at less than $300 per month, while you can find homes a short walk from the beach for $450 per month and up. A few properties near the coast are available for purchase, too; prices in these luxury resort developments start at around $350,000.
Da Nang, which is about 40 minutes north of Hoi An, is the largest city on Vietnam's central coast. This is where you'll find the international airport and the train station, as well as the region's best hospitals, supermarkets, and shopping centers.
Many expats find that the roads in Hoi An roads are perfect for bicycling, though renting or buying a small motorbike is ideal for exploring the rural lanes and backroads. Hoi An is compact enough that you can get by with walking and the occasional use of taxis, but there isn't much in the way of buses or other public transportation within town. Buses do run frequently between Hoi An and Da Nang, though.
Lifestyle in Hoi An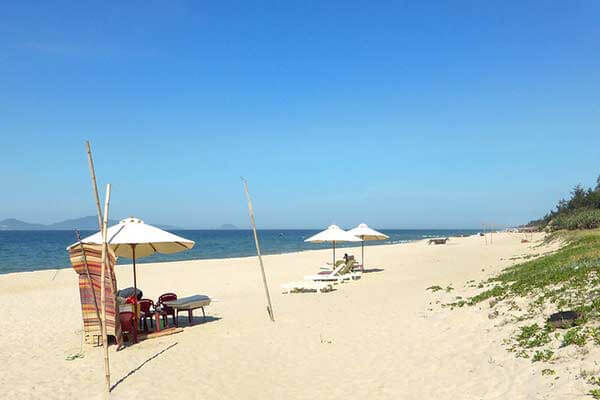 Though Hoi An's main claims to fame are its historic architecture and beaches, it's almost as well known for the scores of tailors and shoemakers who have shops in the city. It's a great place to order custom-made suits, dresses, silks, and shoes. The turnaround time for most items is within 24 hours of placing your order.
Since it's a major tourist destination, Hoi An has many more restaurants than you'd expect to find in a city of this size. Its unique cuisine includes several dishes that you won't find anywhere else in the world: cao lầu (grilled pork over rice noodles), bánh baovạc (delicate shrimp dumplings), and bánh xèo (rice-flour crepes filled with seafood or meat and bean sprouts)are a few of the mouthwatering regional dishes available at practically every restaurant in town.
You'll also find several shops selling imported foods, an international school, several lively traditional markets, and excellent shopping, especially for clothing. The town is also known for its many luxury spas; most of these are near Cua Dai Beach and along the road heading north toward Da Nang. Two world-class golf courses are a few minutes north of town: Montgomerie Links and Danang Golf Club.
Cost of Living in Hoi An
Your cost of living in Hoi An will depend on your lifestyle. If you want to live like a local, rather than a tourist, you can get by quite comfortably on a budget of less than $1,000. A meal for two at a cheap restaurant will cost $5 or less, including a couple of beers, while you can find a perfectly decent place to live for $300 month, including utilities. If you prefer a more upscale lifestyle, you'll have no problem finding plenty of ways to splurge. For most people who fall somewhere in the middle, plan to spend around $1,100 per month.
Here's an example of a monthly budget for two people living comfortably in Hoi An:
House rental (one or two-bedroom):
$450
Electricity:
$50
Gas & water:
$5
Housekeeper (4 hours a week):
$50
Prepaid cell phone plan with unlimited data (two):
$6
Internet, fiber-optic:
$12
Cable TV:
$7
Groceries:
$125
Transportation (motorbike rental and gasoline):
$80
Entertainment (eating out five nights a week,
including beer or soft drinks):
$330
Monthly total:                                                                                                         
$1,115
The Takeaway
It's easy to see why so many foreigners choose to live in Hoi An. It's a friendly, welcoming place, perfect for playing on the gorgeous beaches, exploring the hidden gems of the countryside, or taking evening strolls among the lantern-lit streets of the Ancient City. The warm, tropical weather, low cost of living, and exquisite cuisine offer even more reasons to live in this historic gem of a town.
Video of An Bang Beach
Best Things to Do in Hoi An
By Wendy Justice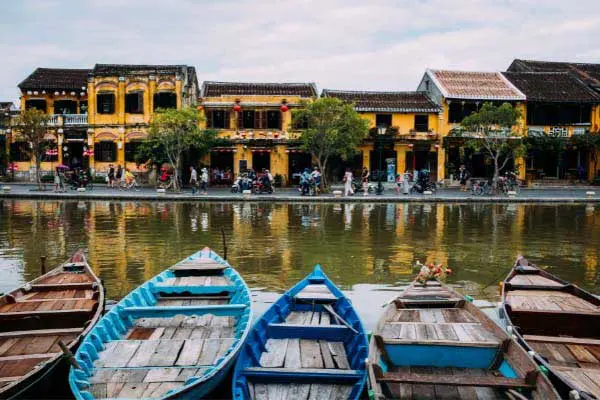 The small central coast city of Hoi An is one of the prettiest towns in Vietnam. Its 800 historic Chinese, Japanese, and French-styled buildings—many of them hundreds of years old—are so impressive that the entire old city has been designated a UNESCO World Heritage Site. Walking along the ancient brick streets, past timbered shophouses and ornate Chinese temples, feels like stepping back to an earlier time.
You'll find plenty to do in Hoi An. Explore tranquil rice fields, sleepy hamlets, and glorious beaches during the day, then indulge in the incredible food scene in the evening.
Here are a few of my favorite things to do in Hoi An:
1. Explore the Ancient Town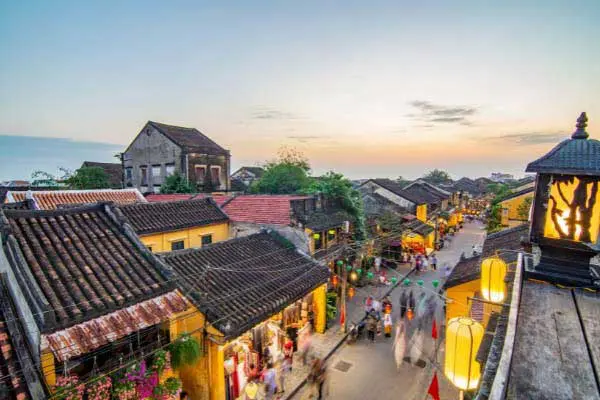 Hoi An was originally one of Asia's busiest ports. Merchants came from Japan, China, India, and Europe to trade everything from spices to silk, and wood to weapons. When silt clogged the Thu Bon River, which runs through Hoi An on its way to the South China Sea, Hoi An became a forgotten backwater. Traders packed up their goods and relocated north to the deep-water port of Da Nang, leaving behind a legacy of shophouses, temples, community halls, and warehouses. Two centuries later, the remarkably preserved town of Hoi An caught the attention of UNESCO, and the town was brought back to life as a World Heritage Site. Stroll through the Ancient Town and explore the ancient yellow houses with their ceramic-tiled rooftops, wooden shutters, and beamed ceilings, ornate Chinese-style Buddhist temples, and the many museums and assembly halls.
2. Step Back in Time on the Japanese Covered Bridge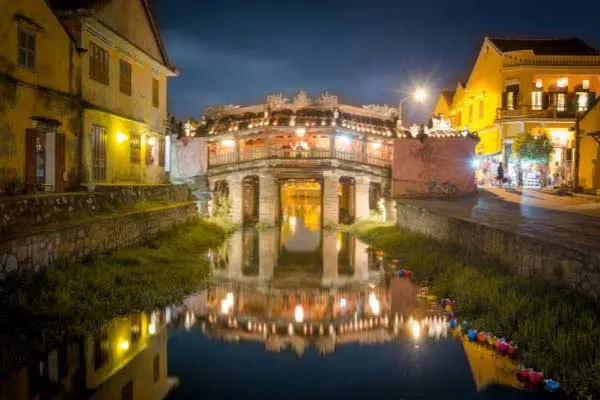 Take a walk through the Japanese Covered Bridge, which was constructed in 1590. It connected the Japanese and Chinese quarters of the old town. Check out the many ornate carvings of monkeys and dogs, as well as the busy small temple and gallery inside the bridge. It's a popular spot for newlyweds to have their wedding photographs taken, too.
3. Visit the Tan Ky Family House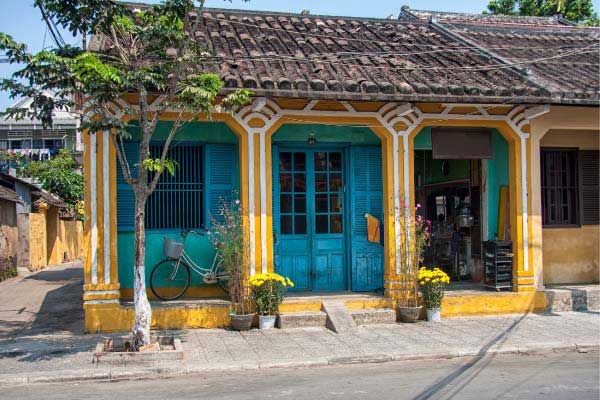 Many of the old homes in the Ancient City are open to visitors, and this is one of the best ones. This 18th-century home's architecture is a mix of Chinese, Japanese, and Vietnamese styles; the interior still has much of the original furniture and memorabilia. Seven generations of merchants lived in this home, and their descendants still maintain this perfectly preserved property.
4. Relax on Hoi An's Best Beach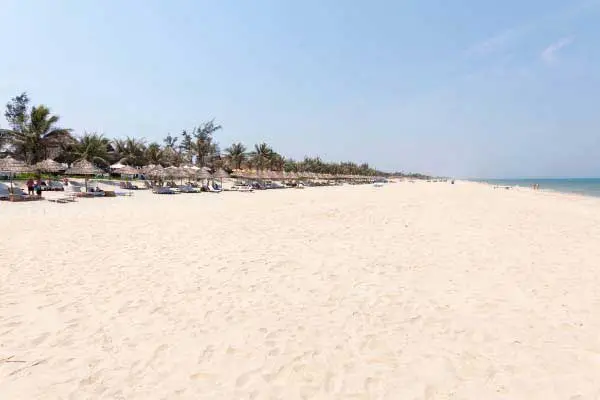 You'll find the best stretch of soft, powdery sand at An Bang Beach. Take a swim in the warm water, soak up the sun on a chaise lounge, or relax at one of the many charming beachside restaurants over a cold drink or a fresh seafood lunch. The views of the vast horizon and the Cham Islands shimmering in the distance makes this one of Vietnam's most scenic beaches. Many visitors make the short, two-mile trip by bicycle from Hoi An.
5. Take an Excursion to the Cham Islands Biosphere Reserve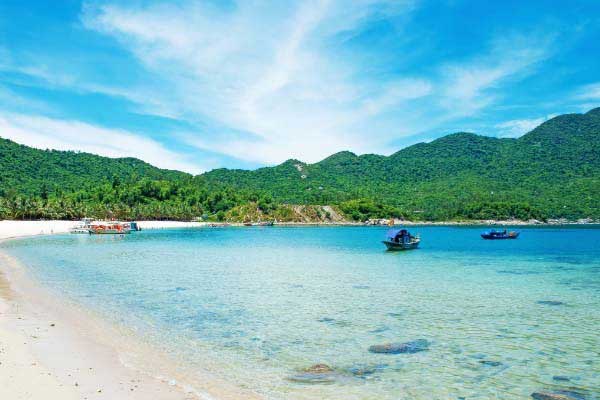 This cluster of eight small islands about 11 miles off the coast of Hoi An has a lot to offer day-trippers and even those who want to spend a night. Snorkelers and divers can view an assortment of 135 species of soft and hard corals. You can also swim or fish, explore hidden caves, or enjoy an island lunch at one of the many restaurants near the pier.
6. Ride a Bicycle in the Countryside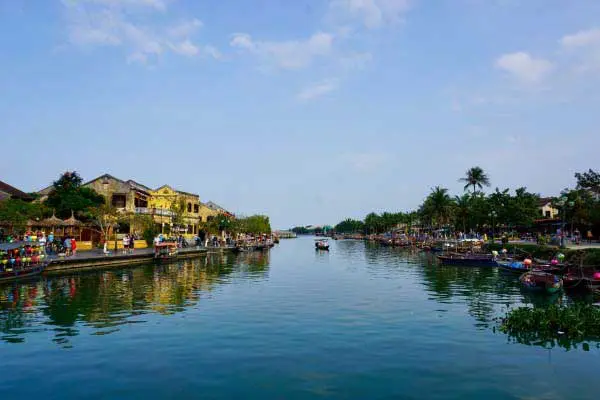 It takes just a few minutes to ride a bicycle from the center of busy Hoi An into the countryside, and you'll discover a different way of life when you do. Riding along quiet country lanes, you'll pass through emerald-green rice paddies and charming villages where life is traditional and slow. You might cross from island to island across the Thu Bon River on floating or bamboo bridges, or visit a handicraft village where residents are devoted to crafting woven fishing boats, silk products, lanterns, or other traditional wares.
7. Buy a Tailored Suit at a Rock-bottom Price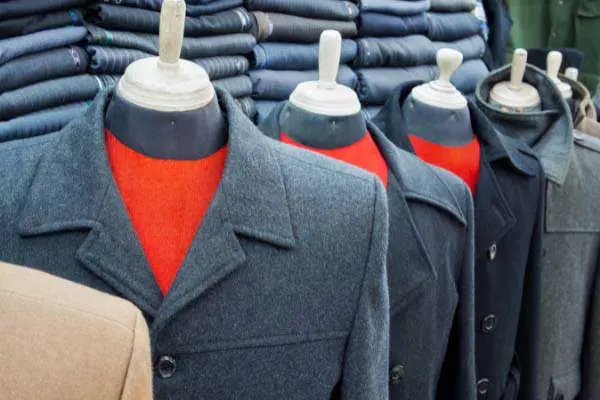 Hoi An is famous for its textile industry, and people come from all over to have custom-made suits, dresses, and other clothing created by the many tailors in town. If your favorite dress is too small or your slacks are worn out, bring them with you; many of Hoi An's tailors are experts at copying clothing. It generally takes only a day or two until your clothes are ready to wear. It pays to shop around for the best prices and most skilled tailors; if possible, get recommendations from satisfied customers.
8. Take a Cooking Class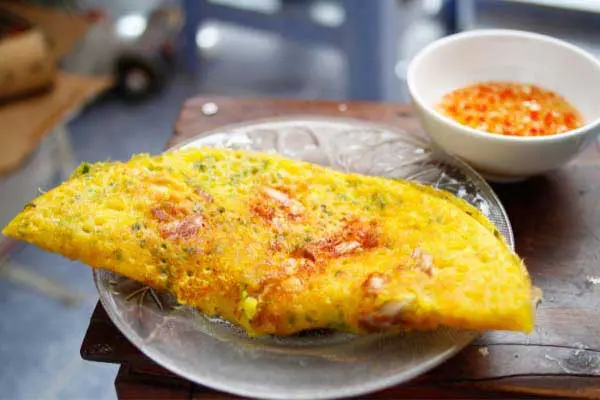 Vietnamese food is light, healthy, and delightfully complex. Learn how to prepare popular local dishes in a cooking class at one of several restaurants and cooking schools in Hoi An. Most classes start out with a trip to the local market, where a guide will explain the ingredients used in various Vietnamese dishes. Then, you'll return to the kitchen, where you'll have the opportunity to prepare various dishes such as goi cuon (Vietnamese fresh spring rolls), pho (Vietnamese noodle soup), and banh xeo (a crispy crepe made with rice flour, bean sprouts, and ingredients such as shrimp, pork, and squid).
9. Delight in the Local Cuisine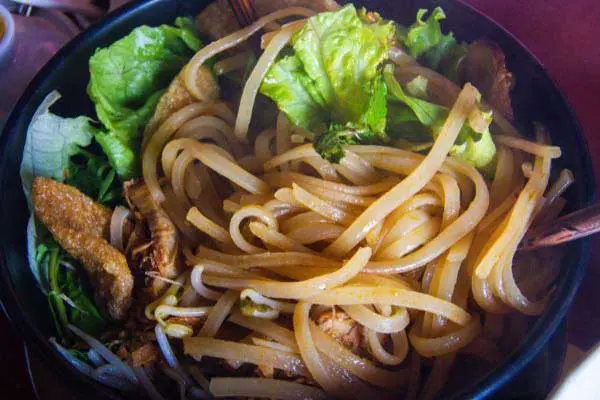 Hoi An has its own distinctive cuisine, and some of the specialties prepared here can't be found anywhere else in Vietnam. Savor a bowl of cao lau, made from thick, hand-cut brown rice noodles topped with pork or shrimp, bean sprouts, leafy greens, flavorful herbs, and enhanced with a dash of distinctive broth. Don't miss trying some delicate White Rose steamed dumplings, made from translucent rice flour dough wrapped around seasoned minced shrimp or pork, then topped with crispy fried shallots and served with a tangy dipping sauce.
10. Take Part in a Unique Full Moon Festival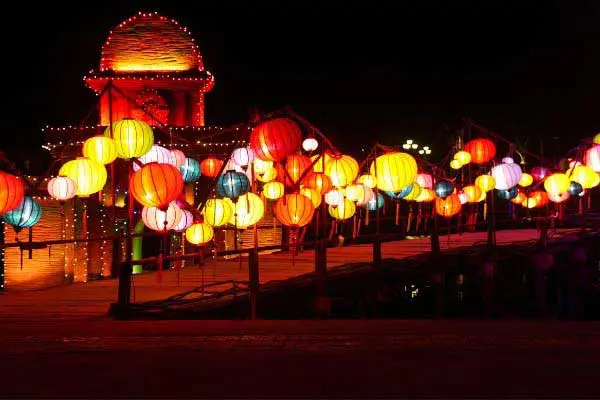 Every month on the night of the full moon, people light candles and place them in colorful paper lanterns. Each lantern, which contains a prayer to the town's ancestors and guardian spirits, is reverently set onto the river, and carries its wishes to the sea. The electric lights in the ancient town are all turned off, leaving the streets illuminated by hundreds of the colorful handcrafted paper and silk lanterns that Hoi An is famous for. Most festivities take place along the banks of the river near the Japanese Bridge; there are also folk performances and poetry readings to entertain passersby.