South America fits the bill for many expats when it comes to looking for the perfect retirement haven. In many countries in the region, you'll enjoy a relaxed lifestyle, established expat communities, friendly, welcoming natives, good healthcare, and an ideal climate.
But one of the main concerns of expats is what it will cost them to live overseas. This is where South America comes out on top. In many of the towns and cities featured below, you to live out your dream retirement, and only rely on your Social Security to fund it.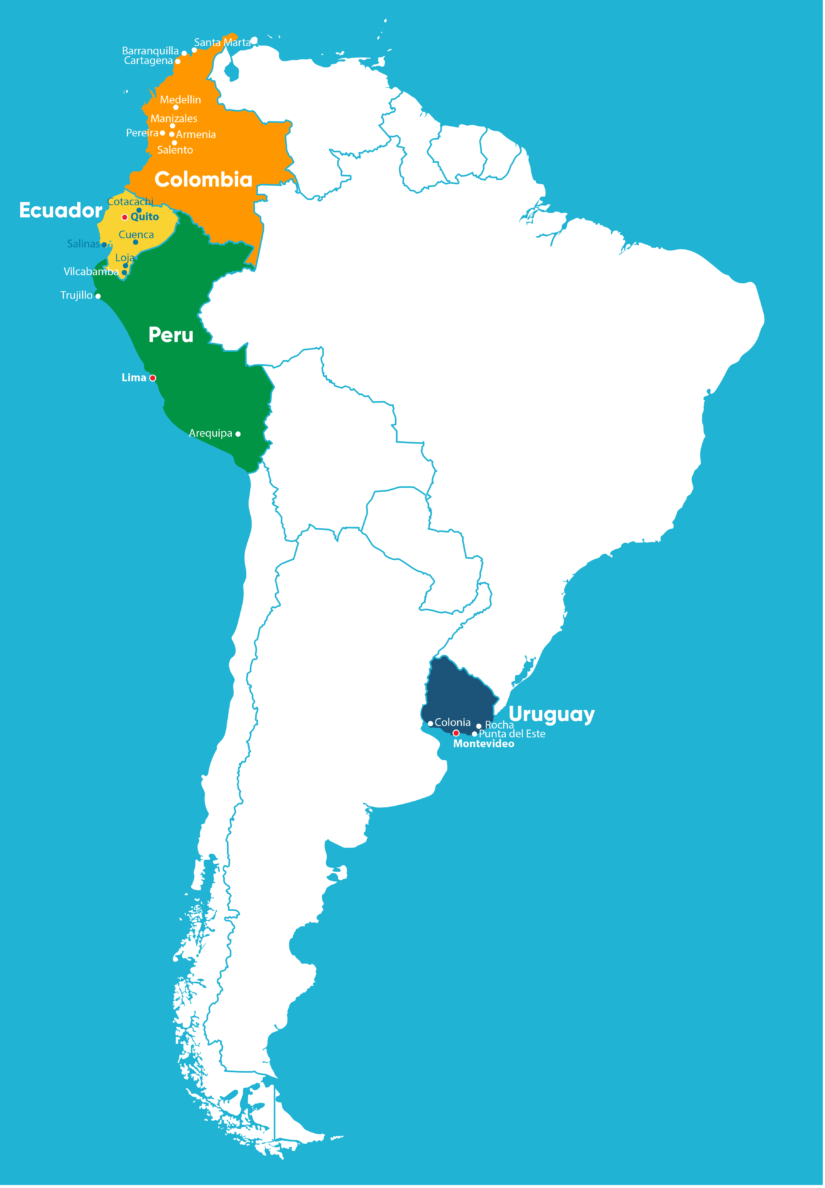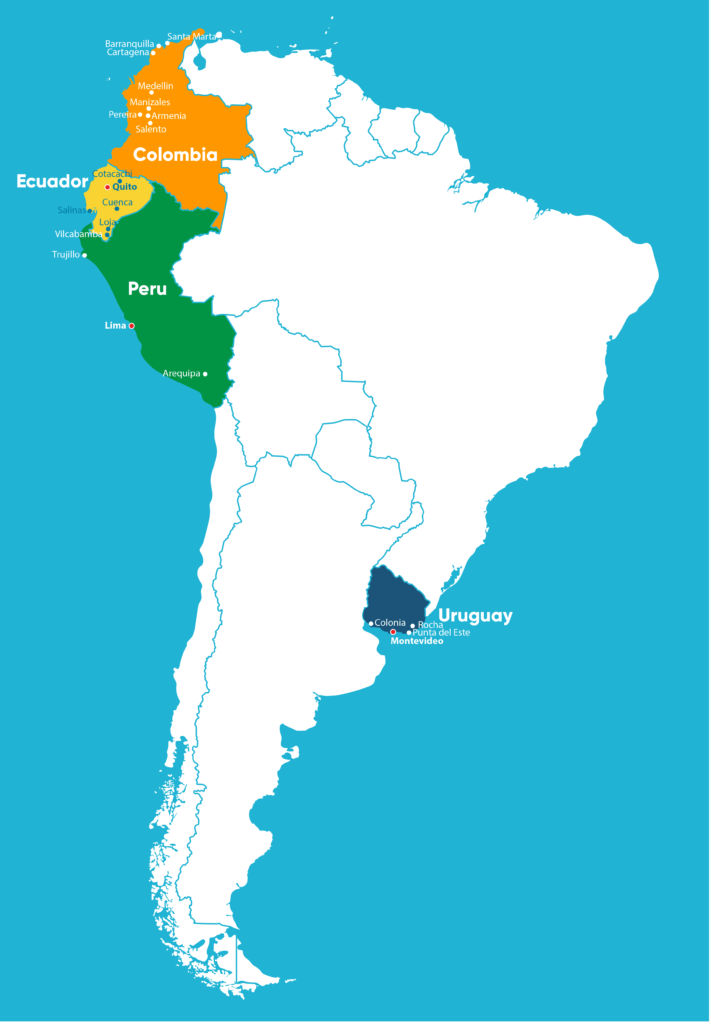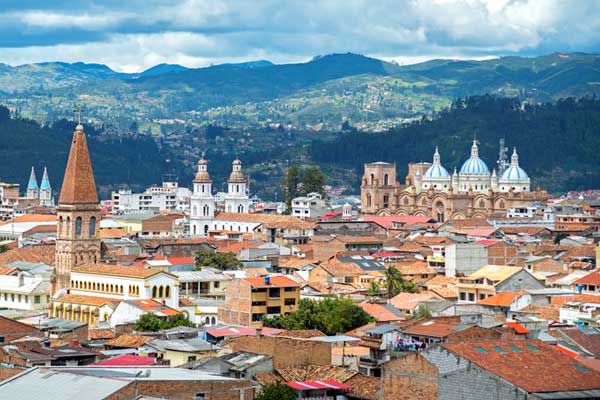 Ecuador has been one of International Living's favorite locations for overseas retirement for many years because of the high quality of life it offers expats.
In the major cities like Quito, Guayaquil, and Cuenca, you can enjoy all of the Western conveniences you are accustomed to. New cars abound, including several brands made in Ecuadorian factories. Everyone has cell phones, and internet connections are just as common. World-class restaurants serve excellent meals, yet you'll be hard-pressed to pay more than $50 for a dinner for two, drinks included.
From snow-capped volcanoes to dense Amazon jungle to sun-drenched Pacific beaches to the famous Galápagos Islands, Ecuador offers something for everyone. Whether you want to live, invest, vacation, retire, or simply relax in Ecuador, you'll find the perfect combination of climate, culture, and affordability to help make your dreams come true here.
Many couples report they live comfortably in Ecuador on a monthly budget of $1,500 to $2,000.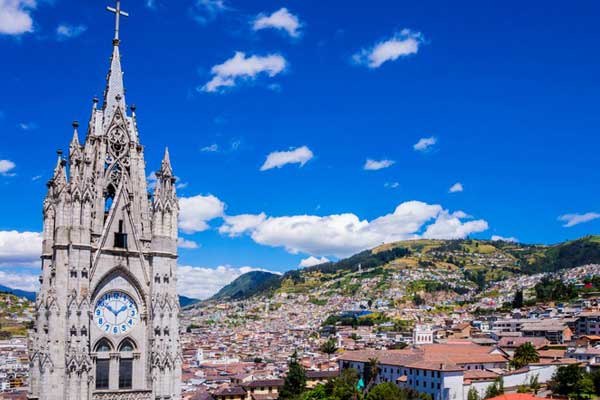 Quito is a world-class metropolis with happy surprises tucked in so many corners. Often referred to as the most beautiful big city in South America for its location in the palm of a valley cupped between towering Andean peaks, Quito has so many parks and plazas, it's hard to pick a favorite.
The 14,000-acre Parque Metropolitano, bordering the city's Bellavista neighborhood, is the largest urban park in South America. Hiking here, in the maze of forested paths, is a nature lover's delight—the air smells of eucalyptus and pine, and from atop the eastern ridge, the views of Quito to the west, and to the east, the valley and volcanoes beyond is something you'll not soon forget. On a clear summer day in Quito, you'll see the snow-topped Antisana, Cotopaxi, and Cayambe volcanoes looming over the city.
Eating out and entertainment is affordable as well. For example, dinner at a high-end Indian restaurant in the Mariscal District of Quito will cost less than two-thirds what it would at a similar establishment in the U.S. But many low budget options abound as well. A lunch complete with soup, salad, rice, potatoes, chicken, and juice can be had at any number of diners for $3.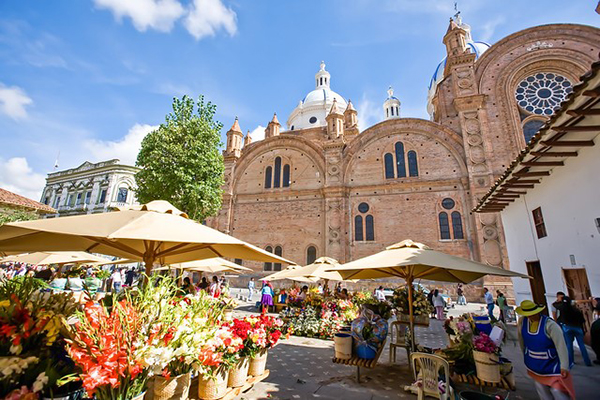 Cuenca has long been known for a rich intellectual, artistic, and philosophical tradition that matches its colonial architecture. It is famous for colorful festivals, distinctive food, and breath-taking scenery. Because of its history and state of preservation, Cuenca is one of Ecuador's five UNESCO World Heritage sites (the others include Quito and the Galapagos Islands).
To many Ecuadorians and travelers alike, Cuenca represents the best in city life in Ecuador. It's smaller than Quito, with fewer of the typical big-city problems, but is still big enough (with a metropolitan population of more than 500,000) to have many of the cultural and infrastructure conveniences that most foreigners appreciate.
Founded in 1557, Cuenca was not connected to the rest of Ecuador by a paved road until the early 1960s, a fact that helped preserve both its architecture and its heritage. On the other hand, Cuenca has developed rapidly since then and today has a strong infrastructure and efficient transportation system. Cuenca boasts plenty of supermarkets and malls, great restaurants, handsome condominium projects, and comfortable suburbs.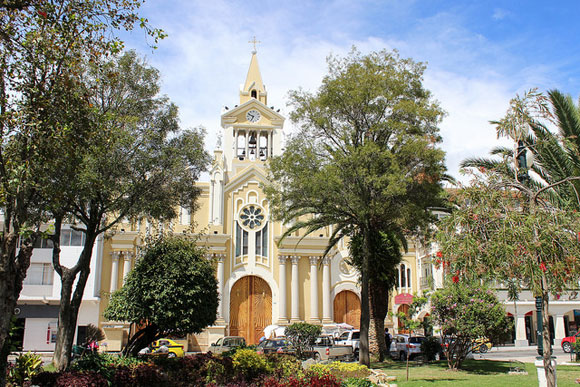 Loja is best known for its cleanliness and its attractive parks, rivers, and churches. About a third the size of Cuenca, Loja feels like a small U.S. Midwestern city. It is located in one of Ecuador's southernmost provinces that borders Peru.
Loja is called "the most overlooked city in Ecuador," and even most Ecuadorians haven't been there, despite the fact that it is one of the country's oldest and most historic cities. With about 185,000 people, Loja is smaller than Cuenca. The colonial center is tidy, and there is an abundance of shady plazas and parks to while away the hours.
Expats in Loja are also made to feel very welcome in their new home, with many remarking on the kindness and friendliness of the locals. So if you're looking for an affordable, friendly, cultured city, you won't go far wrong in Loja.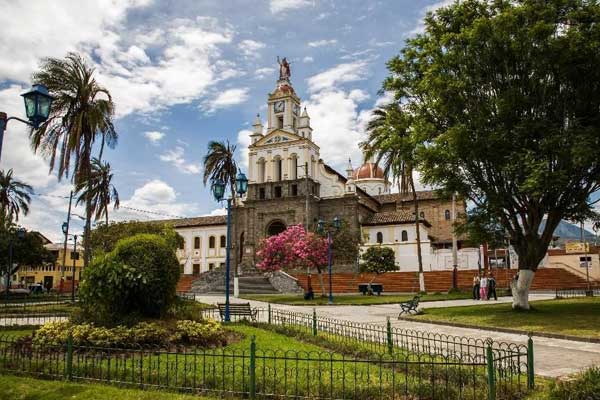 Cotacachi has become one of Ecuador's most active expat communities in recent years, as many foreigners have chosen to locate here. It's a small, mostly indigenous town with a strong sense of community.
It is also a fabulous place to improve your health. The moderate climate with little variation throughout the year means that nearly every fruit and vegetable can be grown within a hundred miles. Not only is healthy produce readily available, but it's also very affordable. With avocados priced at three for a dollar, lettuce at 25 cents, and six plump carrots for 50 cents, there is no monetary reason not to eat right.
If you want to enjoy good weather, clean air, great scenery, and rich indigenous culture, then retirement in Cotacachi could fit the bill.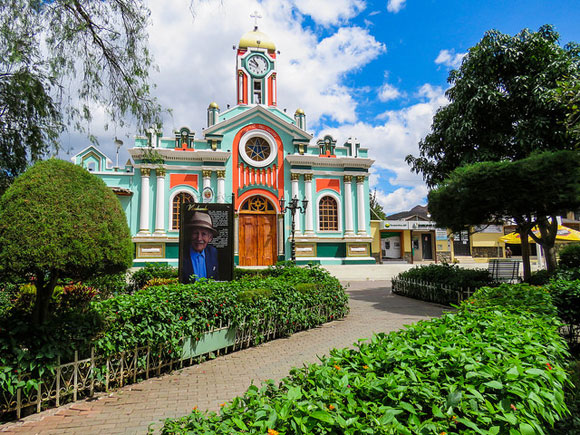 Backpackers and adventure travelers have known about Vilcabamba for years, and it was only a matter of time before expats caught on as well—and now more people are coming to retire in Vilcabamba.
Vilcabamba is clean, small, and friendly. Its dreamy, well-maintained town square is one of our favorites in Ecuador. With their jagged peaks rising on all sides, the surrounding mountains are breathtaking. Crystal-clear streams splash down from the nearby cloud forest, providing the area with clean water. Its climate is one of the best in Ecuador. At a perfect altitude of about 5,000 feet, Vilcabamba enjoys glorious weather all year with temperatures in the 70s and 80s and moderate rainfall.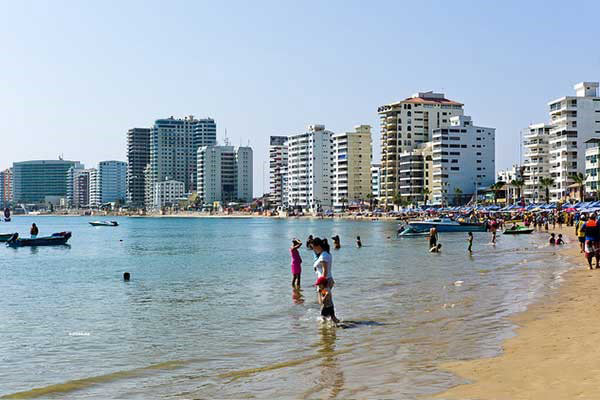 Salinas is a fully-fledged beach resort—among Ecuadorians, it's probably the country's best-known resort. This is the place for those who like having all the necessary amenities at their doorsteps: modern condominium buildings (which line much of Salinas's miles-long beach), restaurants, coffee shops, bars, and discos.
The beach here is wide, sandy, and clean, bordered by the blue, calm Pacific waters. To the left, the sun is gleaming off a few dozen motor yachts and sailboats parked in the marina. To the right, the curving shoreline stretches for miles into the distance, with scores of modern, tall buildings mixed with old-fashioned apartments and seaside restaurants.
So if you're looking for an upscale beach lifestyle at an affordable price, then Salinas might be the perfect destination for you.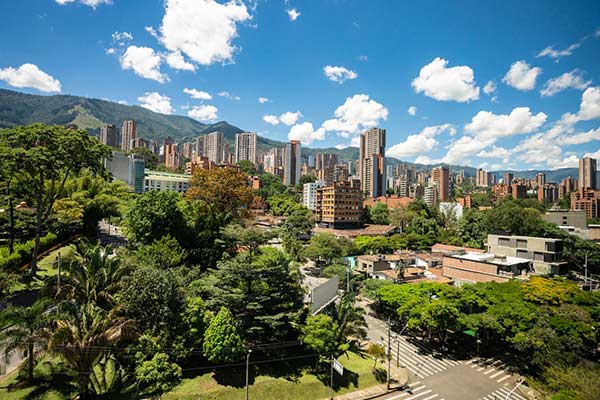 Located at the tip of South America, Colombia is where the Pacific and the Caribbean collide with the Andes and the Amazon. It's a country that is more beautiful, dramatic, and diverse than nearly any other. It offers sparkling colonial cities in the highlands and world-famous resorts along the Caribbean.
What's more, Colombia boasts beautiful areas where the cost of living is low. Expats report that their monthly costs are a third of what they were paying at home.
But Colombia has a lot more to offer than just low costs. Expats who live here can also take full advantage of inexpensive properties, great healthcare, and colorful and rich culture. You can find sophisticated cities, colonial towns, spring-like weather high in the Andes, steamy tropics, or the "perfect" weather in between… Unless you've got your heart set on snow, you're almost certain to find your ideal spot in Colombia.
Your cost of living in Colombia will depend on the city and neighborhood in which you choose to live. For example, a couple living comfortably in Medellín's Laureles neighborhood can expect to spend $1,278 a month.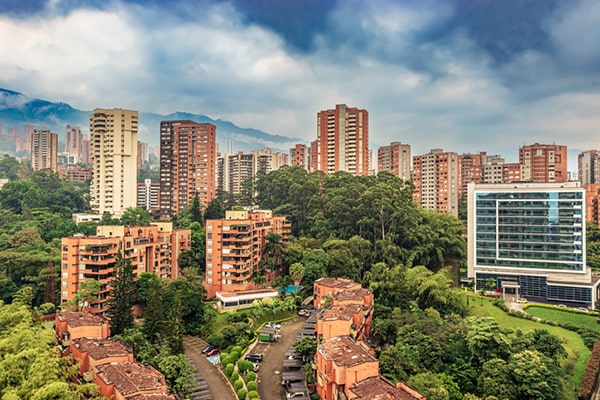 Nestled in the valley between the western and central ranges of the Andes Mountains is Colombia's second-largest city, Medellín. Blessed with perfect year-round spring-like weather, excellent healthcare, and First-World infrastructure, it is attracting more and more expats who want to have a great quality of life.
The city has a very cosmopolitan feel. It is filled with museums, art galleries, concert venues, restaurants, and places to whet your whistle. There are also more than 30 universities, which add even more cultural events. And although there are nearly three million inhabitants, the city really feels more like a lot of neighborhoods connected to each other by parks and green spaces.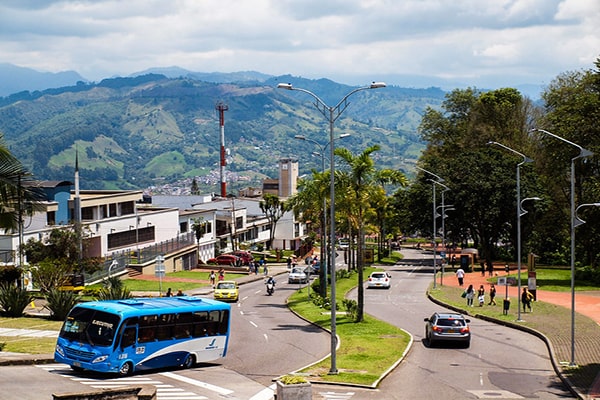 Located four hours south of Medellín, the mountain city of Manizales sits like a jewel atop a crown. Often referred to as the "San Francisco of Colombia" for its steep hills, Manizales is the capital of the Caldas department and in many ways the quintessential Coffee Triangle city. Rich green carpets of coffee fields surround the city, making the coffee culture always within reach.
Around 450,000 people live in Manizales, which is home to six universities, including the University of Caldas and satellite campus of National University. Manizales' sense of style seems rooted in its history and unique culture. It's a well-developed city, where the lifestyle is genteel and sincere politeness rules.
Manizales offers the best of urban living, surrounded by spectacular natural environments. And with an abundance of cultural festivals year-round, life here is always exciting.
The residential population of about 1 million people, Cartagena is the fifth-largest city in Colombia, and the second largest in the coastal region. At 221 square miles, it is just slightly smaller than Chicago.
The city is a UNESCO World Heritage Site. While it gained its independence from Spain on November 11, 1811, Cartagena still retains much of the original, colonial architecture. As you walk through the old city you'll find narrow, cobble-stoned streets, old churches, museums, and restaurants and shops housed in colonial buildings, making you feel like you've stepped back in time.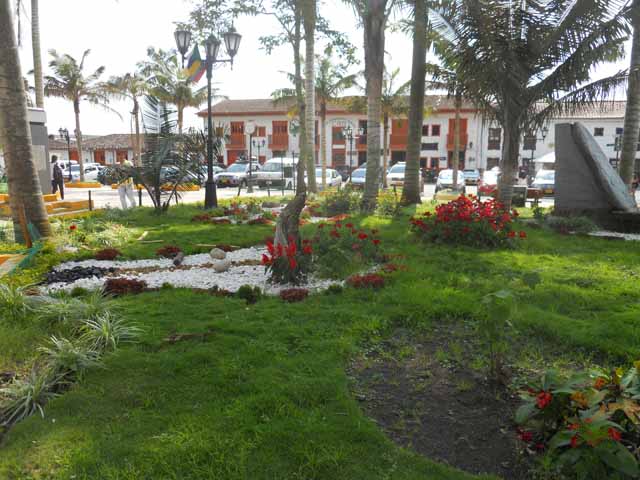 Salento is a quaint pueblo (town) in Colombia's Andes mountain coffee region. With a population of only 8,000, the town covers just 12 by 10 blocks. Like many Colombian pueblos, life centers around the main square—Plaza de Bolívar. Our Lady of Carmen church is the main focal point and towers over the palm trees, flowering plants, rustic benches, and of course, the statue of Simón Bolívar.
On weekends the plaza becomes a marketplace filled with food stalls, souvenir vendors, and pop-up restaurants. Walk a few blocks from Plaza Bolívar and you'll be out in the countryside, surrounded by coffee fields, rolling green hills, cattle ranches, and distant mountains.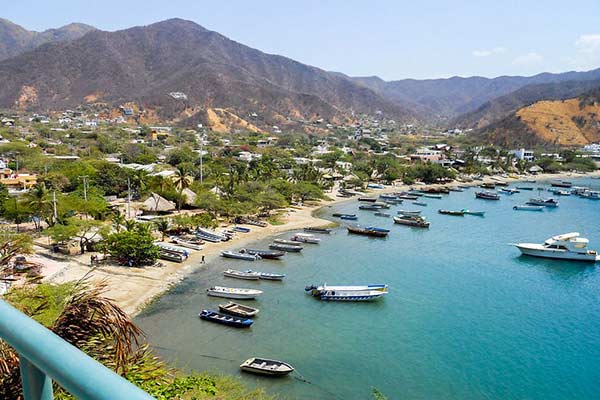 Located on Colombia's Caribbean Coast in the department of Magdalena, Santa Marta is quickly becoming a sought-after destination. With an average daytime high of 90 F and an evening low of 75 F, the warm, tropical climate is a magnet for those wanting an outdoor, ocean-focused lifestyle. The greater Santa Marta area offers history, beautiful white-sand beaches, water activities, ecotourism, trendy restaurants, and a growing nightlife.
Restaurants, bars, coffee shops, and bakeries surround the plaza. The sounds of salsa, vallenato, and classic rock all blend together and make it difficult to keep your feet still. From Thursday to Saturday night the park is a mecca for those wanting to sample the eclectic cuisine, watch street performers, or purchase crafts from street vendors.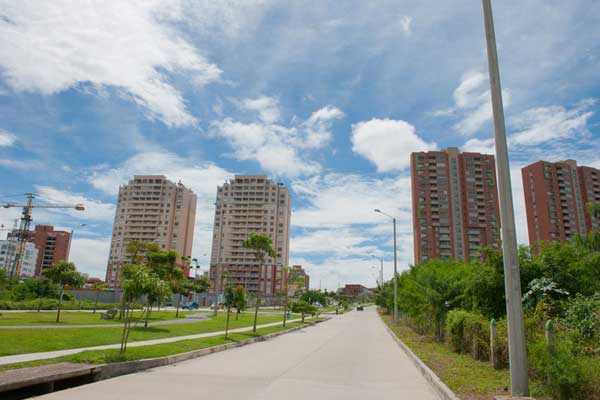 Barranquilla is Colombia's fourth-largest city with a population of about 1.2 million people. It's a major port city located on the north side of Colombia along the Caribbean coast about equidistant between Santa Marta and Cartagena. Strategically situated along the Magdalena River just five miles from the Caribbean Sea, Barranquilla is a port for river and maritime transportation within Colombia. It is also the main industrial, shopping, educational, and cultural center of the Caribbean Region of Colombia.
Barranquilla is nicknamed "Colombia's Golden Gate" because it was the gateway for progress in Colombia. Aviation, telephones, radio, trains, and fútbol (soccer) all came to Barranquilla first.
Armenia, part of Colombia's coffee triangle, is one of the country's lesser-known destinations. Unlike larger cities like Cartagena, which have been changed by heavy tourism, Armenia remains a faithful representation of Colombian culture.
Armenia's low cost of living and seemingly unending vegetation make it a perfect escape for nature lovers and adventurers alike.
The year-round 80 F weather makes Armenia a great place for lovers of the outdoors. With coffee plantations, ranches, and forests surrounding the city, you'll be able to see nature from your front door. You'll never feel suffocated by city life.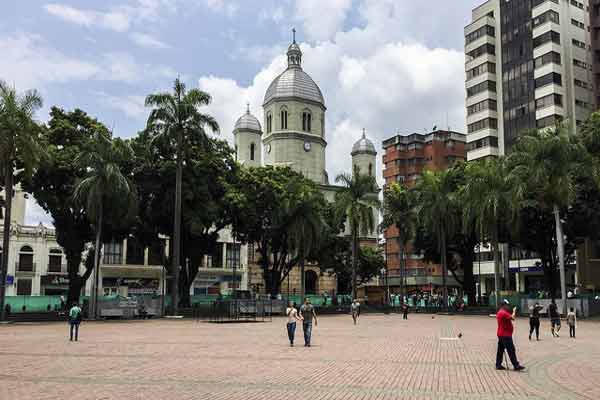 Pereira is the largest of the three cities that make up the Coffee Triangle (eje cafetero) in the heart of the Andes mountains. With a population of 700,000 people, the city offers a sophisticated lifestyle with all the creature comforts: hotels, shopping malls, fine-dining, open-air nightclubs, cafés, quality healthcare, and good public transportation.
Generally, Pereira has a sophisticated feel. It's a place where it seems almost everyone is moving up the economic ladder, from working class to middle class, and from the middle class to wealthy. Due to Pereira's reputation for welcoming outsiders, it has earned the nickname "The City without Doors."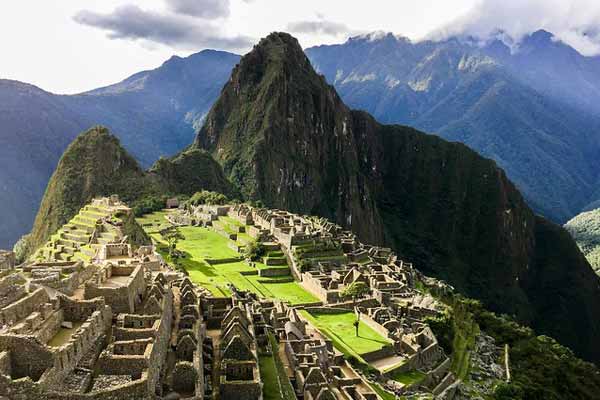 Peru is so much more than just mystical Macchu Picchu—the land of the Incas has lots to offer and is oozing with culture and adventure.
From the ancient Incan cities to the depths of the Amazon rainforest; from over 1,500 miles of undeveloped sandy coastline to the jagged peaks of the Andes, this diverse, exciting, and historic country will keep you busy for as long as you have a sense of adventure. And you'll be able to enjoy one of the lowest costs of living in Latin America, with property prices to match.
What's more, you're just a hop away from over a thousand miles of beautiful Pacific coastline. Peru's indigenous heritage is strong and unparalleled in our hemisphere and—for the adventurous expat—will make for years of exciting travel. The present-day Andean culture is fascinating, and will add a rich layer to the expat's everyday life.
If you don't mind leaving some of the niceties of the First-World behind in favor of an exciting new life of adventure and travel in your new country, then Peru could well be for you.
Peru is one of the least expensive countries to live in South America. You can cover your basic expenses for $2,000 per month or less in most areas other than in Lima. If you own your own property, $1,500 per month would be more than enough to live on.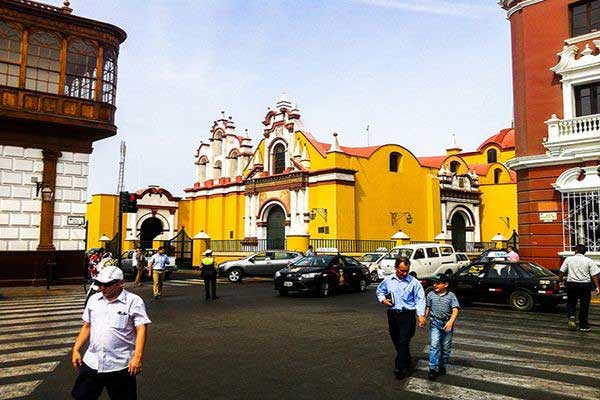 Located about 300 miles north of Lima, Trujillo is Peru's third most populous city, just slightly behind Arequipa in terms of numbers living there. You won't find a lot of expats here—at least not yet—but you will find year-round spring weather, exciting art and culture, a popular surfing beach nearby, and amazing food.
Strolling toward the central Plaza de Armas, you pass brightly painted blue and yellow colonial buildings along the way. Ironwork and wooden bay windows with balusters look out at the street below. Several balconies are totally enclosed with intricately fretted wooden shutters and lattice trellises that add to their charm.
The stunning 400-year-old, bright yellow cathedral dominates one end of the central Plaza de Armas. Polychrome Spanish-colonial buildings housing a variety of government offices, restaurants, hotels, and other businesses surround the rest of the large square.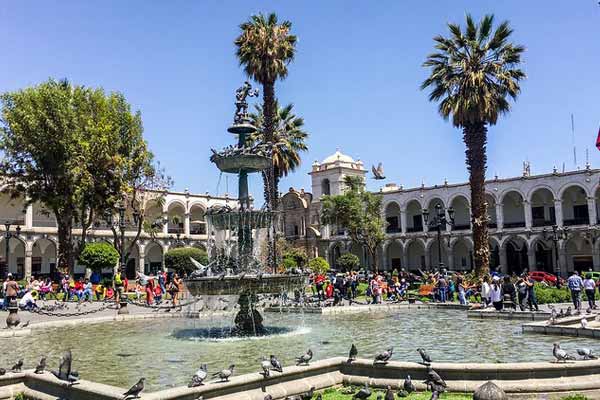 Arequipa is set against a backdrop of three volcanoes, two active and one inactive. Isolated from the rest of the country for centuries, many locals feel that they are Arequipeño first, Peruvian second. Set in a high-altitude sierra, Arequipa enjoys 300 days of sunshine a year, with only a bit of rain in January and February. And aside from colder months in June and July, temperatures are in the low to mid-70s F year-round during the day, dipping into the 60s F and high 50s F at night. Perfect for a day at the park or sitting at a café watching the world go by with a coffee…or a hoppy craft beer, brewed right in town, in the company of local beer aficionados.
Arequipa is a tourist stop, although it receives fewer visitors than Peru's better-known attractions, such as the Inca ruins at Machu Picchu. You get to enjoy the benefits of a tourist hot-spot, like nice restaurants, without all the noise and hassle that goes with one. Or the cost. And outside the historic area, you have a bustling, modern metropolis with shopping malls and large supermarkets with imported items—the best of the Old and New Worlds.
Arequipa is also known for its sublime regional cuisine, full of colorful vegetables and copious amounts of spice. And with meals available for $5 or less, it's very easy to try everything the local menu has to offer.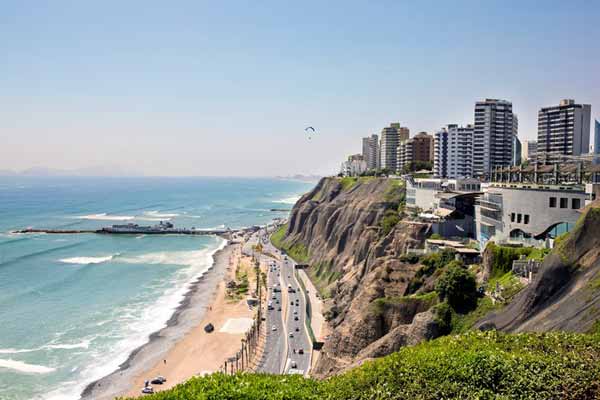 The smoky aroma of grilled meat in the air is crying for my attention. Too bad I have just finished several freshly made picarones; sweet potato batter swirled into a loop, fried in hot oil, and deftly removed with a long stick before being smothered in honey. In Lima, it only takes a couple of dollars to more than satisfy your snack attack.
Food may be part of Lima's appeal, but there's a lot more to it. If you're looking for a large city on the Pacific with thousands of years of history, a vibrant culture, an active expat community, and food to die for, then Peru's capital is an outstanding choice. It also makes for a great urban hub, chock-full of all the amenities you'd expect of a capital city, from which to explore the rest of this wonderful country.
Most visitors pass through Lima on their way to better-known destinations such as Machu Picchu and the Sacred Valley of the Incas. But there is much to see and do in this "City of Kings." Centuries-old colonial architecture, the colorful neighborhood of Barranco, sprawling beaches, world-famous restaurants, a plethora of fascinating museums, and archaeological treasures… These are only a few reasons to spend time in this center of South American culture.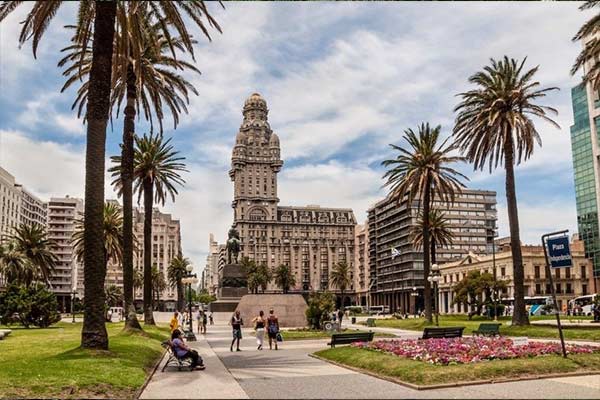 Uruguay was a well-kept secret for a long time—at least with respect to North Americans—but it looks like the secret is out. The small South American country is sure to enchant you with its cordiality, sociability, and courtesy. The atmosphere is warm, relaxed, and hospitable…you're sure to feel at ease from the moment you arrive.
Uruguay will appeal to people who are ready to retire, invest, or buy a second home abroad but who are also looking for a country with similar cultural values to their home country. A place with good infrastructure and reasonable prices, but without the culture shock they might experience in a Third-World venue.
Uruguay truly has a lifestyle and a region for everyone. Whether you want to live downtown in a world capital, in the heart of an old colonial city, in one of the world's famous beach resorts, or on a sprawling ranch of 1,000 acres in the heartland, you can be sure that Uruguay has a place for you.
How much does it cost to live in Uruguay? It depends on a number of factors, such as where you live, your lifestyle, and the performance of the dollar. But to give you an idea, a couple renting a one-bedroom apartment in the Pocitos area of Montevideo can expect to pay $3,034 a month.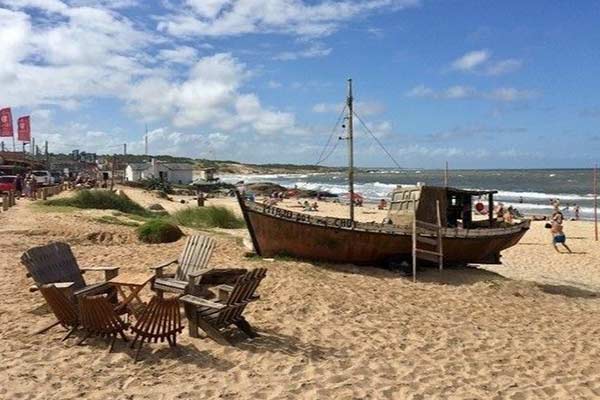 The department of Rocha is where you come to find Uruguay's last, vast stretches of undeveloped beaches. The ocean here is clear and blue, the sand white, and the beach relatively deserted. Between José Ignacio and Brazil—with a few notable exceptions—you'll find little development. But the area feels much more remote than it really is; the highway is not far away, and you're still within three hours of the international airport in Montevideo.
True beachfront land is rare in Uruguay, and there are few places where you can build adjacent to the water. But in Rocha, you'll find more land like this than anywhere else.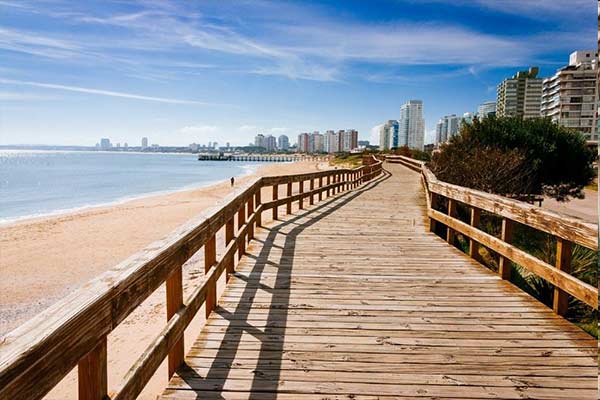 Punta del Este is South America's premier beach resort. It is often compared with France's Saint-Tropez and The Hamptons of Long Island, New York.
Punta del Este has a year-round population of approximately 20,000 that jumps to hundreds of thousands during the summer high season (Christmas through February). Most of the summer vacationers are from Argentina, Brazil, Paraguay, and Chile. There is also a regular contingent from Europe and North America who escape the Northern Hemisphere winter to enjoy summertime in Punta del Este.
As well as being a summertime resort, Punta del Este is developing into a real city. Adjoining Punta del Este is the city of Maldonado, a middle-class city of 55,000. Just about anything a full-time resident could need is available in either Punta del Este or nearby Maldonado.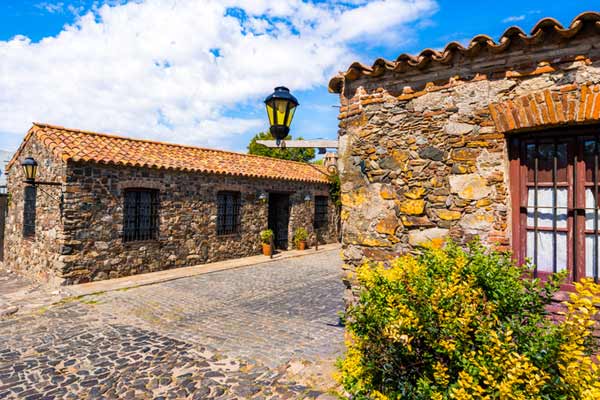 Colonia del Sacramento is the oldest European settlement in Uruguay. It has a population of 26,000, and is the capital of Uruguay's Department of Colonia. It was founded as a Portuguese port in 1680 by Manuel Lobo. The original port settlement of Colonia is located at the end of the San Gabriel Peninsula.
The original port community of Colonia del Sacramento is now a historic district known as Barrío Histórico. This is a six by eight block area and was designated as a UNESCO World Heritage Site in 1995.
Unlike much of coastal Uruguay, which is quiet in winter, Colonia del Sacramento is "open all year." There's a summer high season between December and March, but even in July you'll find the nicer hotels booked solid on the weekends, especially with Argentines who find Colonia an easy and safe weekend getaway.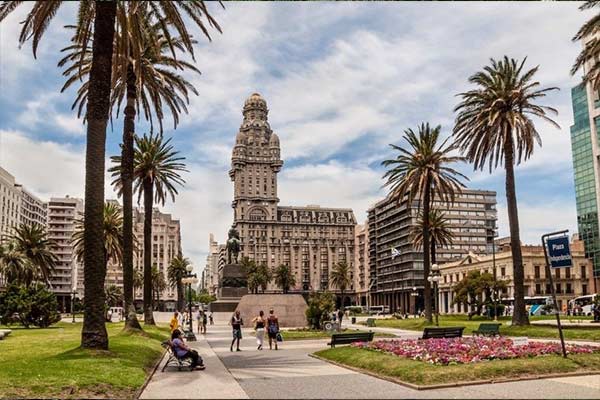 Montevideo is a coastal city on the Rio de la Plata. It's Uruguay's capital city with a population of 1.4 million (almost half of Uruguay's population), and is the country's main commercial and cultural center.
Along the Montevideo waterfront is the rambla, the road and wide sidewalk that run along the city's coastline. The city has many large parks, plazas, tree-lined streets, sandy beaches, and wide avenues. The city also has pedestrian streets, unique neighborhood shops, restaurants, and cafes.
Click here to return to Home Page for The World's Best Towns and Cities For Retirement, or click on the Previous or Next buttons below to explore more regions…
Previous
Next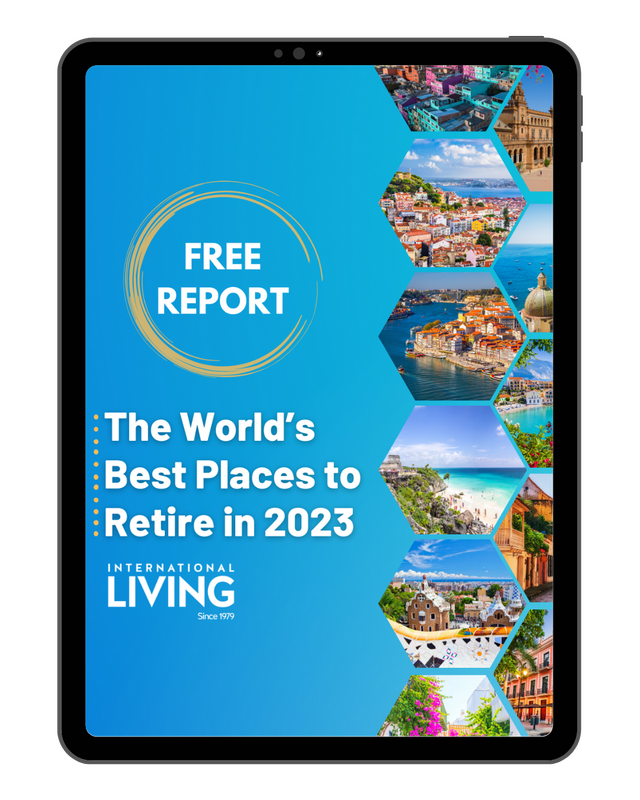 Get Your Free Report on the World's Best Places to Retire:
Learn more about the best places in the world to retire in our daily postcard e-letter.
Simply enter your email address below to sign up for our free daily postcards and we'll also send you a FREE report on The World's Top 10 Retirement Havens, plus access to over 10 more free reports. Our gift to you, on our favorite destinations.