By Steve LePoidevin
The City of Eternal Spring

The desert city of Trujillo is located on the coast of Peru about 300 miles north of Lima. Less than an hour by air or five hours by road from the capital region, it is surprising that more people have not discovered this pleasant area to live. Because of its year-round sunny weather, Trujillo is known as the "City of Eternal Spring". Temperatures range from the low 60s F in the winter to the high 80s F during the hottest months of January through March.
With a population of almost one million people, Trujillo competes with Arequipa for being Peru's second largest city. It is also one of the country's oldest settlements. For almost 7,000 years, residents have used the waters of the Moche River that passes to the south of the city. There is evidence of the Moche civilization dating back almost 2,000 years tapping into the river for irrigation purposes. Today, the ruins of the 800-year-old Chimu city of Chan Chan on the outskirts of the city are one of the remnants of this ancient culture. It is believed that this ancient adobe capital was once home to 100,000 residents.
Other nearby archaeological sites include the Sun and Moon Temples and El Brujo (Lady of Cao). These spectacular Moche sites date back to as long ago as 800 B.C. The Temple of the Sun is still being actively researched so it is not open to the public. However, the Temple of the Moon provides a detailed look back in time. Millions of adobe bricks were used in its construction, many marked by family symbols, including probably the oldest "happy face" in existence! Recently uncovered colorfully painted friezes that tower several stories high are the highlight of visiting this site.
Economically, asparagus, sugarcane, shoes, and breweries are some of the main products of the area. Peru is the world's leading exporter of asparagus and a lot of it comes from this part of the country. The areas around Trujillo are among the largest exporters of white asparagus in the world. This translates to bargain prices at the local markets where you can also pick up three or four avocados for a dollar. And, of course, there is always lots of cheap asparagus available.
Located in Huanchaco, about minutes from the center of Trujillo, the busy Capitán FAP Carlos Martínez de Pinillos International Airport provides regularly scheduled domestic flights. It is an inexpensive one-hour flight to Lima where regularly scheduled international flights depart to worldwide destinations.
The Historical Center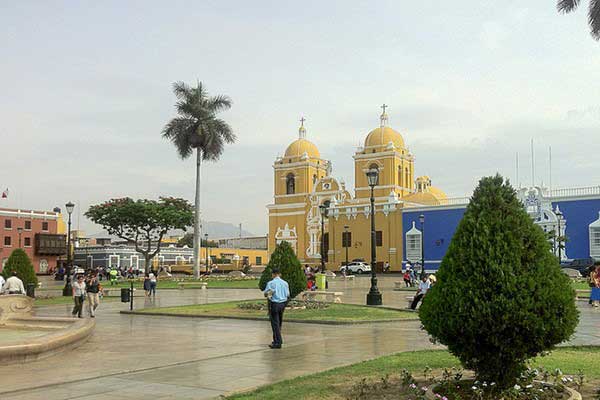 Where a protective stone wall once stood is now a major road, Avenida Espana, which encircles the old center of the city. The elliptical shaped Wall of Trujillo was built in the 17th century to protect the city against attacks from pirates and privateers. Although it was torn down towards the end of 19th century as new neighborhoods were built, there are still a handful of original sections remaining.
As with every other Latin American city, the Plaza de Armas is located in the center of the old part of town. It is easy to be impressed as you stand in the Plaza, gazing at the large yellow Cathedral and collection of brightly painted colonial and republican era buildings that surround the main square.
Of particular interest are the beautiful lattice and intricately carved wooden balconies that date back to the 17th and 18th centuries. Two centuries later, they still provide privacy as well as air circulation for residents. Historic houses in this part of Trujillo include the 16th century Casa del Mayorazgo or Casa Tinoco built by the owners of the first sugar factory of Facalá.
From the eastern corner of the Plaza, the pedestrian Pizarro Street stretches in a northeast direction, passing the 17th century La Merced Church, one of Trujillo's oldest buildings. A little further along the same street you will come to Casa de la Emancipacion, where the city's declaration of independence was signed in 1820.
Along with an assortment of retail shops and casinos, the bustling pedestrian street is also home to numerous restaurants offering some of the best of northern Peru's cuisine. A couple would be hard-pressed to spend more than $20 for a typical meal. Local dishes include a hearty soup called shambar, spicy marinated fish ceviche, and causa, a cold pie that combines layers of mashed potatoes, onions, garlic, spices and grilled fish or meat. Adventuresome souls can feast on ajiaco, a guinea pig stew with potatoes. And a quart of delicious Trujillo beer goes for less than $2 at most pubs and restaurants.
Two and three-bedroom rental units can be found in the old part of the city for under $500 per month. Studio apartments are available for less than half as much. With the large number of inexpensive collectivos and taxis, it is not necessary to own a vehicle. Almost anywhere in the city can be reached for less than $5. And with the huge amount of cheap fresh fruits, veggies, and fish available at all the large markets in the metropolis, you won't go hungry.
The Beaches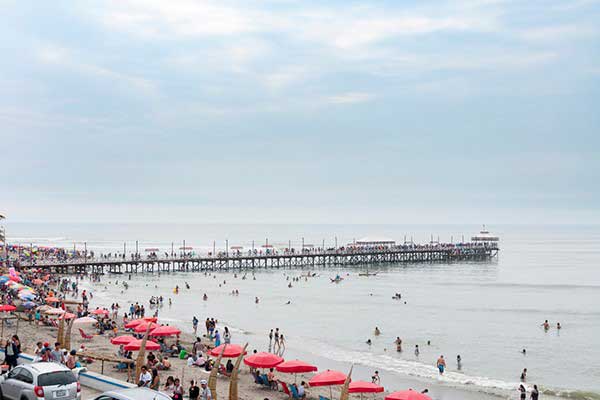 You won't find white-sand and warm water in this part of Peru but there are plenty of nice beaches for sunbathing, surfing, and people watching. Although almost empty during the off-season, international tourists make their way to the coast during the North American summer months of July and August and locals show up in increasing numbers on weekends and the hottest months of December through March.
The small community of Las Delicias is located about 10 minutes south of Trujillo. Historically, it was an upscale beachside residential neighborhood. Today, it is still a very clean, quiet area with many nice older homes and apartments. Because of coastal erosion over the years, the beach itself has decreased in size but is still a popular local hangout.
For a more commercial, touristy location, with plenty of restaurants and accommodations, Huanchaco is the place to be. It has the best of both worlds; a small, safe friendly town on the beach located only minutes from all the amenities of the big city of Trujillo. Here fishermen have been building and using the same types of small reed fishing boats for hundreds, if not thousands, of years. Rents for modern furnished two and three-bedroom apartments start at $500. Average home prices are in the $100,000 to $150,000 range.
Within a half hour drive north or south of Trujillo, there are other huge expanses of smooth sandy beaches. Those who live in the area all have their favorite beachside locations for R & R.
Local Festivals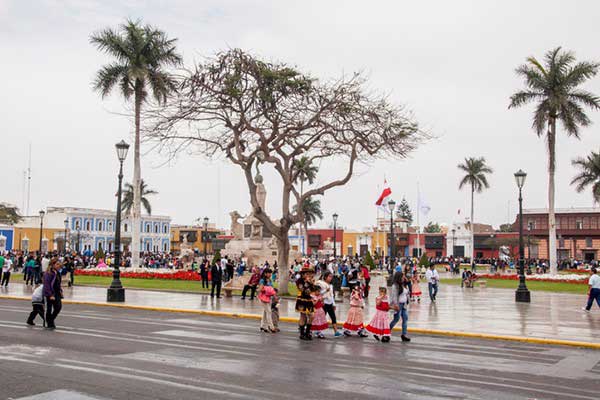 Trujillo has a lively arts community and sponsors several national and international cultural events throughout the year. Combining a visit to the area with one of these major festivals would be a great way to see Trujillo in all its splendor.
The National Marinera Festival is held annually in the Gran Chimu stadium during the last week of January and draws contestants from all parts of the country. The elegant marinera dance involves complex choreography and footwork, and a lot of twitching white handkerchiefs.  Men wear a traditional wide-brimmed hat and poncho; the women wear intricate Moche lace dresses.
The festival also features a large parade, crowning of the festival queen and lots of celebrating and dancing in the main Plaza by residents. It all takes place at the peak of the summer season so there is always plenty of sunshine and warm weather.
The annual Trujillo Spring Festival takes place between the end of September and beginning of October. It one of the largest in the country and attracts thousands of national and international tourists. Highlights include a large parade, Paso horse shows, crowning of the festival queen, and numerous art and music presentations.
Retire in Trujillo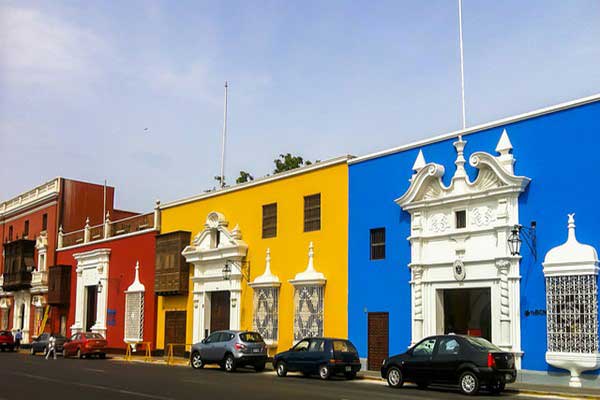 Trujillo is a relatively inexpensive city. As stated above, rentals can be found as low as $200 per month but $500 to $700 would be more realistic for a modern furnished apartment. In Las Delicias, tiny 500-square-foot homes are now being built that sell for $30,000 but regular two or three-bedroom houses tend to start around $150,000.
With two large modern malls and hundreds of other national and international retail shops, you will find everything you need in Trujillo. The huge Mayorista and Hermelinda markets are great sources for fresh produce, meat and fish where a week's supply of produce can be purchased for a fraction of what you would pay in the U.S. or Canada. In addition, a large cheese market features hundreds of local cheeses several days a week.
Cost of Living in Trujillo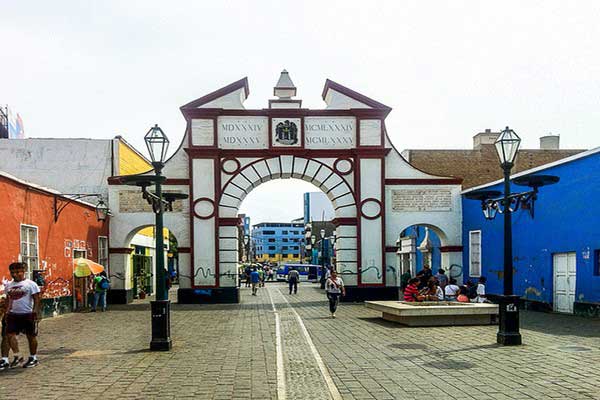 Other than rent, costs for most day-to-day items are fairly similar throughout Peru.
Quality healthcare is available in Trujillo's private clinics and hospitals with well-qualified doctors and up-to-date advanced technologies and treatments. Consultations generally start at $20.
At least two dozen private companies offer healthcare insurance packages but usually the cutoff age for applying is 65. Hospital networks such as San Pablo also have a large variety of packages available that cover inpatient and outpatient costs. There is usually a small copay fee, but the monthly costs are very affordable. Plans start at less than $70 but become pricier as you approach 65 and beyond.
And hiring full-time domestic help is also very affordable with monthly costs starting at less than $500. Wages will depend on whether they live in your house or not. Hiring a cleaner for one or two days a week is going to be quite inexpensive.
The following table provides a sample monthly budget for a couple in Trujillo in the more popular districts.