An Insider's Guide to Living in the Enchanted City of Cusco, Peru
Cusco is more than just the gateway to Machu Picchu, one of the Seven Wonders of the World. It is full of hidden treasures, culture, cuisine, and a place where one can experience today's modern world, or the way of the Incan tradition. Once considered the capital of the Incan empire, Cusco is nestled over 11,000 feet or 3,300 meters above sea level in the Andes Mountain range. Known for its marvelous colonial architecture brought by the Spanish empire in the 1500s, Cusco still maintains its main square, or Plaza de Armas (Parade Square), as the center and heartbeat of the city.
The Plaza de Armas is where, if I hadn't naturally gone during the week for an amazing meal, I walk every Sunday to sit near the fountain statue of Inca king, Pachacutec. Surrounded by wonderfully manicured gardens, the infamous Cusco Cathedral, and the church Iglesia de la Compañía de Jesús, the Plaza de Armas is what I term the "plaza that never sleeps" for its seemingly never-ending activity.
Different from many other plazas that attract tourism, the Plaza de Armas is populated daily by local residents, Peruvian tourists, and, of course, international tourists. A true "melting pot" of local and international people. Roughly 1.5 million people pass through Cusco annually. As the country's second largest city and the gateway to Machu Picchu, many travelers stay a night or two before moving on to one of the many attractions Peru has to offer. Though Cusco is a very touristic city, I have never felt overwhelmed by tourists. I have learned to avoid those restaurants and shops that are primarily set up to attract the temporary traveler. With this article, I hope to give you my view as an insider of the Cusco version of living.
Lifestyle in Cusco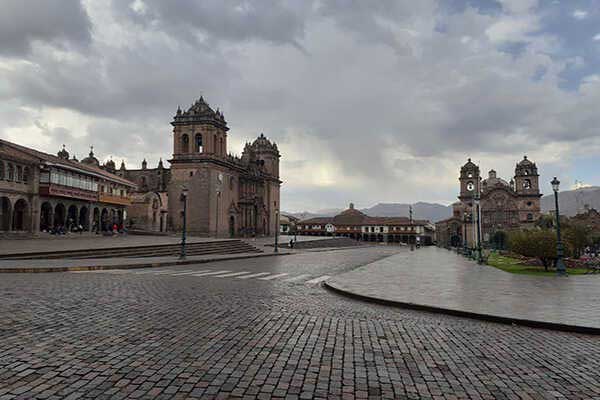 The sun usually rises in Cusco between 6 a.m. and 6:30 a.m. (It will set about the same time every day, 12 hours later.) As it peeks over the 12,000-foot mountains surrounding the city, people start moving about. Markets open, people head to work, kids go to school, and locals go about the normal routines of a bustling city. Around half a million people live within the city limits of Cusco which stretches about 150 miles squared. To my standards, the city is not densely populated—it is spread out to where one never feels "crowded."
When the swarm of tourism descends on Cusco during the busy months of May to September, the cultural composite changes somewhat. The center of Cusco becomes a multinational hub welcoming people from most all parts of the world. I thoroughly enjoy five or six months of tourism as it is much like changing homes every six months. For six months I am living in a city with a relatively calm pace and then for another six months a lively pace; therefore, nothing ever seems monotonous.
A very common thing to do in the morning is to go to one of the various fresh markets in or around Cusco. I live a five-minute cab ride, or 20-minute walk, to the center, or Plaza de Armas. From my house, it's a 10- to 15-minute walk to the Wanchaq fresh market. One of the largest in Cusco, the Wanchaq market sells fresh produce, fruit, dry foods, fresh meat, fish, and all things related to a household. You can have keys made, shoes repaired, find watch batteries, or simply buy a few kilos of fruit and vegetables brought in from one of the most fertile areas of Peru.
A Typical Day in Cusco
My routine, other than shopping for the day's lunch and dinner, is to stop at one of many fresh juice stands. For less than $2, the vendor will prepare about a half-liter from a multitude of ingredients to choose from. On most days, papaya, mango, banana, carrot, and beet are my ingredients, but there is at least another dozen options to pick from. All fresh, all cut in front of you, and pressed into a juicer. Again, for a little under $2.
After doing the day's shopping and returning home, I reach out to a group of other expats. We're in a social and learning group to learn Spanish. Phones and phone plans in Cusco are very, very inexpensive compared to most Western standards. There are also many Samsung options that work very efficiently here in Peru. For a relatively modern Samsung with a plan, I pay roughly $30 a month. I get unlimited data and local calls, and calls to the United States and Canada are included in the plan. The beauty about Peru is it's not so straight across the board—with so many international people in Peru, one can probably find a plan that works for your individual needs.
After a quick WhatsApp to my Spanish group (WhatsApp is the most common form of communication within Peru), we agree to meet for a coffee prior to class. While not commonly known, Peru has world-class coffee that is produced in and around Quillabamba, a city surrounded by fertile land and located an hour from Machu Picchu, or six hours from Cusco city. We typically meet at a wonderful, quaint café named Café Wasi. A five-minute cab ride for me and only a couple blocks away from the center, or as it's commonly known, La Plaza. For my choice of latte and a small grilled ham and cheese sandwich, I pay as little as $5.
We make our way to our class on foot. Cusco is a very pedestrian-friendly city with sidewalks and crosswalks. No matter, being very careful when crossing is a must as most drivers do not automatically stop for pedestrian crossers. There are many options for taking Spanish classes in Cusco. My tailored course covers topics like shopping, ordering food, dealing with repairs around the house, or basically anything we agree upon. We venture out on weekly excursions to put what we learn to practice.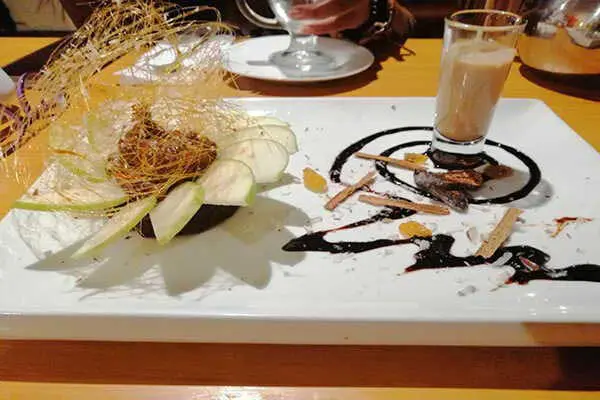 After class we all part our separate ways. Some usually head off for lunch or make plans to meet later for a beverage or dinner. In Peru, the larger meal is consumed at lunch, much like in Spain. At dinner, most restaurants will still serve bigger portions to accommodate the non-Peruvian needs, but for Peruvians, it's usually a different menu. Lunch here starts around 12:30 p.m. and ends around 3 p.m. A very hearty lunch will cost $15 to $20. A lunch with wine $25. For a good lunch, and even a "menú" or set course meal, $5 is a fair price. This is usually the best option on a daily basis. The menú normally includes a soup or salad, a choice of entrée, a small dessert, and usually a fresh fruit beverage. Passion fruit or maracuya juice is very popular. The most popular plates include chicken, beef, or pork with many varieties of sides. A vegetarian option is also available. As a rule, you can eat very healthily in Cusco. There is not an overabundance of sweets from my experience. Vegans, vegetarians, and all others on a special diet can manage easily here.
Cost of Living in Cusco
Housing
Apartment living is the most common form of accommodation in Cusco. Any building with more than five floors is considered "tall." There aren't a large number of high-rises blocking the wonderful slopes surrounding Cusco. I've lived in a number of apartments ranging from one to four bedrooms, all fully furnished. Knowing enough Spanish and the market can help you negotiate with the owner directly to lower the monthly price. Staying longer will get you the "Cusco rate." Whereas if you're a tourist, the "tourist rate" will apply. The highest monthly rate I paid was $600. This was for a three-bedroom with a private rooftop terrace, five minutes to the Plaza. I was surrounded by shops, restaurants, and medical facilities if needed. It was very, very convenient. On that note, there's about a 5-mile radius from the center traveling west or south where the most modern apartments are found. Heading north or east will take you up the mountain which is not recommended due to the climb back and forth to your home. The most popular areas include: Centro Historico, Huancaro Residencial, Mariscal Gamarra, Ttio la Florida, Wanchaq, Marcavalle, Santa Monica, and Magisterio. Although there are other neighborhoods, these are the ones I feel comfortable recommending. The last three are the furthest from the center but still only 15 minutes by cab which costs less than $3 per trip. Public buses are also available for less than $1.
In an apartment expect to find the normal fully furnished necessities, much to Western standards. It's important to note that you won't find a dishwasher, dryer, nor central air conditioning in more than 90% of apartments. Dishes are washed by hand or there are many options for housekeepers that will charge you roughly $15 to $30 a visit. As jobs are still very hard to find for many locals, many are thankful to do housekeeping work.
Grocery Shopping
As mentioned earlier, I do my produce and fruit shopping at the fresh markets. For meats and those other necessities, I use two reliable supermarkets: Orion and La Canasta. Both are very conveniently located around Cusco and well stocked. Meats, dry goods, and specialty items are easily found here. Although both have toiletries like shampoo and toothpaste, I find myself stopping in one of many pharmacies scattered all over Cusco for these items.
Healthcare
In my four years in Cusco, I've been fortunate to have found a very modern, reliable clinic where I've received top-notch care. The SOS Medical Group, conveniently located centrally in Cusco, is led by Dr. Grover and his brother and sister, also doctors. If they're unable to provide the necessary care, they know the right doctor in Cusco to do so. For very specialized care, they also have a network in Lima for those issues. The Medical Group accepts almost every international insurance and, if not, they will still treat you and sort out insurance later. There are many good insurance companies that will cover A to Z. In the end, depending on your health and potential prior health needs, it is necessary to have insurance in order to be protected for possible health-related issues.
As previously mentioned in this article, Cusco sits at an elevation of almost 12,000 feet. It is a good idea to make sure you're able to adjust to this altitude before settling for good. Only a small percentage are not able to; these people usually move a short distance away to the Sacred Valley, around 3,000 feet lower than Cusco.
For vision and dental care, I do not subscribe to insurance as most dental care and eye doctor visits are relatively inexpensive.
Sample Monthly Budget for a Couple Living in Cusco:
| | |
| --- | --- |
| Expense |  U.S. $ |
| Rent (two- to three-bed, two-bath, furnished apartment) |  $500 |
| Electricity |  $25 |
| Water/Sewage |  $10 |
| Gas for Hot Water/Stove |  $20 |
| Cell Phone |  $30 |
| Internet |  $32 |
| Groceries/Cleaning Supplies |  $150 |
| Transportation |  $50 |
| Health Insurance (an estimate) |  $99 |
| Cleaning Service (weekly) |  $30 |
| Entertainment (twice per week) |  $135 |
| Monthly total: |  $1,081 |
An Insider's Guide to Cusco, Peru including 10 Tips
So you've finally decided to visit Peru and cross Machu Picchu off your bucket list. Before you rush off to the famous picturesque mountaintop citadel, be sure to spend some time exploring the city of Cusco, the former historic capital of the Inca empire.
Getting there
There are many options to get to Cusco. Dozens of direct flights leave daily from Lima's Jorge Chavez International Airport with ticket prices for the 90-minute flight starting at about $80.
Long-distance buses are another great way to travel to the ancient city but don't necessarily cost that much less. One of the safest and most reliable companies, Cruz del Sur (www.cruzdelsur.pe), leaves regularly from Lima. Prices for the 21-hour journey start at $60.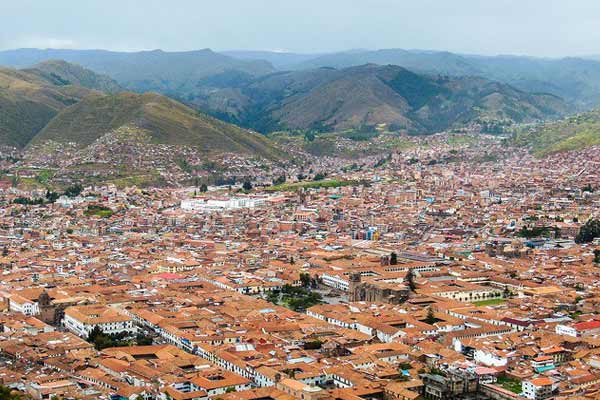 For those that have time to visit a few other places along the way, Peru Hop (www.peruhop.com) offers several bus trip itineraries. You can choose from several three and four-day packages that include such popular stops as Huancayo, Ica, and Arequipa along the way.
For the ultimate train trip, you can book the Belmond Andean Explorer (www.perurail.com/trains/belmond-andean-explorer) from Arequipa to Cusco. This two-night trip includes luxury accommodation, onboard meals and beverages, entertainment, and several excursions along the way.
Here are 10 tips to help you enjoy your stay in this unique part of the world:
1. Purchase a Boleto Turistico
The Boleto Turistico is a pass that allows access to 16 ruins, museums, and other sites in the Cusco region. The full ticket is about $46 and is valid for 10 days. Less expensive partial tickets cover fewer sites and are valid for one or two days. They are all available at the entrance of most sites or at the COSITUC office in Cusco (www.cosituc.gob.pe).
2. Try to Visit During the Dry Season
Cusco's high altitude and fairly close proximity to the equator combine to make for an interesting climate. If you headed north from the equator for the same distance, you would end up in tropical El Salvador or Honduras. But Cusco's altitude of over 11,000 feet results in a year-round mixture of warm days and cool nights.
The best time to visit for the most sunshine and least amount of rain is from May to October. Rains don't really begin in a big way until November.
3. Use the Local Transportation
Taxis – There is never a problem finding a taxi in Peru and Cusco is no exception. Despite the stories circulating about the dangers of taxis in Peru, I have never had a problem. Although they are unregulated for the most part, i have found most cab drivers to be friendly and helpful. They don't have meters, so it is important that you agree on a price before you get into the car.
Buses – These are less expensive than taxis but can be crowded and nerve-racking. When you need to get off just yell "Baja" several times until the driver stops and lets you off. And keep an eye on your valuables because crowded buses are prime areas for pickpockets, especially during busy times in peak seasons.
Combis and Collectivos – These are large shared vans and the cheapest way to get around the city and to neighboring towns in the Sacred Valley. You can travel for a couple of hours for only a few dollars. There are no set schedules for the most part and they leave when they are completely full. They can be crowded but this is the best way to experience the local flavor. Large items of luggage get thrown on the rooftop, sometimes including live animals stuffed into potato sacks.
They are the least expensive way to get around the city and to travel to neighboring towns such as Pisac, Chinchero, and Urubamba.
4. Hang Out in the Plaza de Armas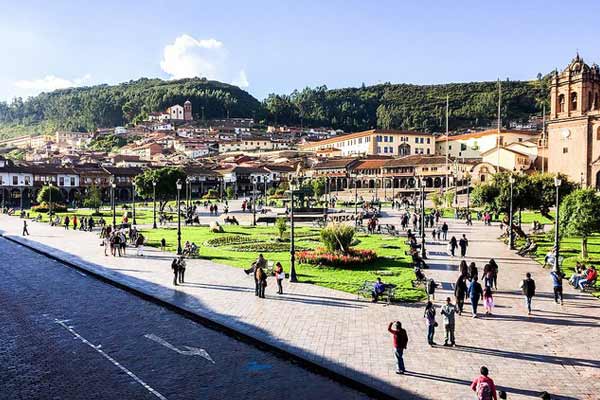 Any trip to Cusco will probably begin in the Plaza de Armas, the hub of the historic part of the city. The striking 16th century cathedral is a great landmark to begin your exploration of the city and the surrounding area. Disregard the numerous vendors around the square who will attempt to empty your wallet for everything from a shoeshine to a bus trip to nearby brothels. Just be forewarned that any quoted prices will probably be much less than you will end up paying when all is said and done.
5. Visit Picturesque San Blas
Spend time exploring the traditional old neighborhood of San Blas where you will find narrow and steep streets, colonial houses built on Inca stone foundations and numerous art galleries, shops, restaurants, and pubs. Start at the southeast corner of the main Plaza and walk past the magnificent Cusco Cathedral up Calle Triunfo.
This soon changes to Calle Hatunrumiyoc, one of the best-preserved original Inca roads in Cusco. Here you can view the famous 12-Angled Stone that is part of the impressive wall that was once part of Palacio Inka Roc'a. At the top of the hill, Plaza San Blas is a great starting point to explore the narrow streets of the neighborhood and all its charms.
6. Eat and Drink like a Local
You don't need to spend a fortune to enjoy a three-course meal in Peru and Cusco is no exception. Only minutes away from the hectic tourist center you will find a plethora of local restaurants offering great dishes for low prices. Feast on such favorites as Lomo Saltado, Cuy al Horno, Rocoto Relleno, and Aji de Gallina along with a jug of Chicha Morada, a non-alcoholic drink made from purple corn.
And don't forget to enjoy a Pisco Sour, made with Peru's most famous alcoholic beverage…Pisco. The unofficial national soda of Peru is Inca Kola, a bright yellow drink with a flavor somewhere between bubble gum and cream soda.
7. Walk or Ride up to the Saksaywaman ruins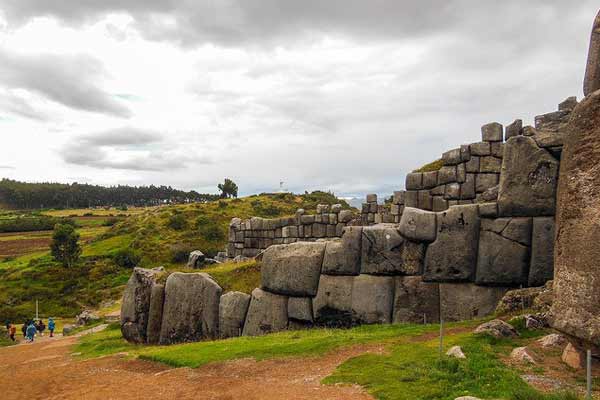 If Machu Picchu is the King of Inca ruins, then Saksaywaman is the Queen. This impressive fortress covers acres of hills on the outskirts of the city. It is a steep 40-minute hike up to the entrance from the Plaza de Armas but a 10 soles ($3) taxi ride will only take you a few minutes. This huge complex is a great showpiece of typical Inca architecture using huge polished stones that are fit perfectly together. You can even ride down a centuries-old polished rock slide.
8. Have Lunch at the San Pedro Market
Only a short walk from the Plaza de Armas, this is Cusco's traditional open-air market. You'll find freshly made juices, breads, fruits, veggies, grains, nuts, cheeses, fish, and all kinds of meats along with a smattering of tourist trinkets. Don't be afraid to bargain. But this is probably not the best place to purchase high-quality alpaca textiles…you will be better off in one of the shops in town.
Outside the city:
9. Spend a Night in Aguas Calientes
Head to Machu Picchu the night before so you can relax for an evening and spend some time exploring the small town of Aguas Calientes. My favorite dining spot is the colorful Indio Feliz restaurant located in the center of town. Here you will be treated to a good variety of Peruvian and French dishes in a pleasant setting set back a bit from the touristy main street. It's also fun to people watch from one of the many restaurants overlooking the main square.
10. Tour the Sacred Valley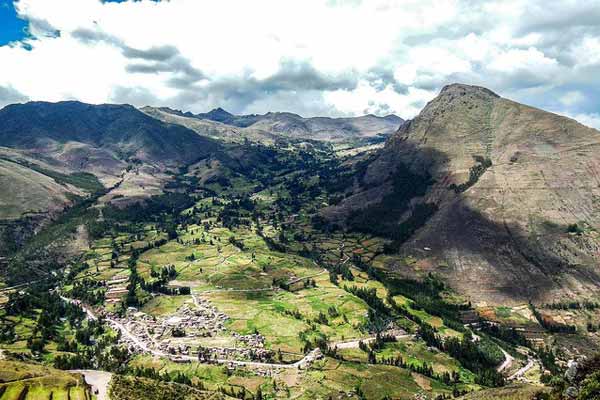 The Sacred Valley of the Incas stretches for 60 miles along the Urubamba River from Machu Picchu to Pisac. Take part in a day tour or spend some time in one of the many ancient villages in the valley.
Dotted with Inca ruins, interesting hiking trails, outdoor markets, wonderful crafts, and a haven for alternative food and medicine, the Sacred Valley is a great place to explore history as well as yourself. For the heart of traditional textiles, visit the small town of Chinchero.
The traditional salt mines of Maras and the ancient terraces of Moray should also not be missed. You can book tours from Cusco or take a cheap "combi" to the main turnoff where you can hire an inexpensive driver for a couple of hours to tour both sites.
Just past the small town of Pisac, the Parque de la Papa awaits. This hidden gem is run by a group of six Andean villages, growing and harvesting more than a thousand varieties of pure-bred potatoes using techniques and breeds that date back to ancient Inca times. As you take in the rolling hills, soaring mountains, and ancient terraces, you will get a taste of what Peru was like when the Incas roamed the land. A park restaurant provides visitors with home-cooked meals prepared by the villagers and authentic crafts and textiles are available for purchase. Day tours can be booked from Cusco (www.parquedelapapa.org).
Featured Image Copyright: ©Andres Jacobi/iStock