10 Reasons to Live in Peru & Where to Live
If you are a dedicated foodie, an archaeological buff, or enjoy year-round sunshine, Peru may be the country for you. Long overlooked as a retirement destination, it has much to offer.
You have a choice of sun-baked coastal cities, the spectacular Andean highlands, or even the Amazon jungle. All provide some of the lowest costs of living in the world, with enough interesting sites to keep you exploring for a lifetime.
With its inexpensive, laidback lifestyle and availability of familiar amenities, you can enjoy a great quality of life in Peru for much less than most locations in the U.S. or Canada.
In the city of Arequipa, you have 300 days of sunshine a year with average year-round temperatures in the low 70s F. Head north to Trujillo and you still have clear skies, but warmer temperatures and a nearby surfing village.
The city of Cusco is one of the country's most popular areas because of its proximity to Machu Picchu. Lyle and Lili Walker love their new life outside of Cusco. "You could definitely live here on $1,500 per month and have a high quality life," they say. "There is also a big advantage to living in this region. You can get into all the archaeological sites for free. Even as an expat, you pretty much have the same rights as everybody else."
There is a good network of private health clinics and hospitals throughout the country and more than a dozen national insurance companies offer comprehensive packages for affordable prices. Some even accept new registrations of people in their 70s.
If you're looking for a great place to retire, with good weather, friendly people, and a wealth of interesting sites to visit…this country might be a good choice for you.
Here are 10 reasons to live in Peru.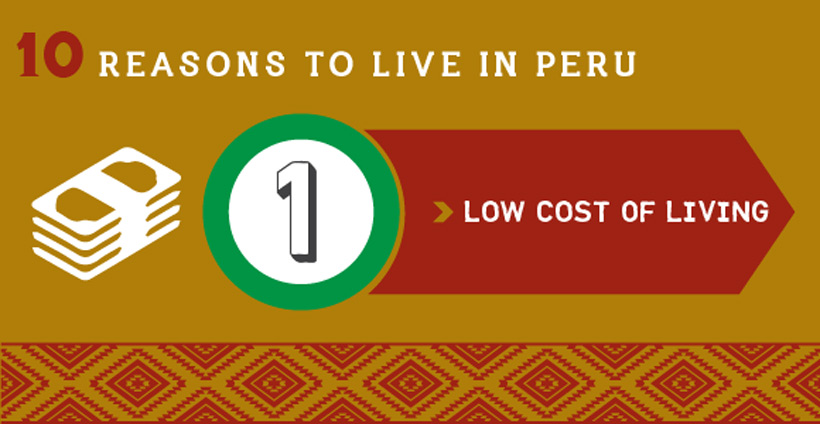 The cost of living in Peru can be 60% to 80% less than that of the U.S. for local goods and services, groceries, and rent.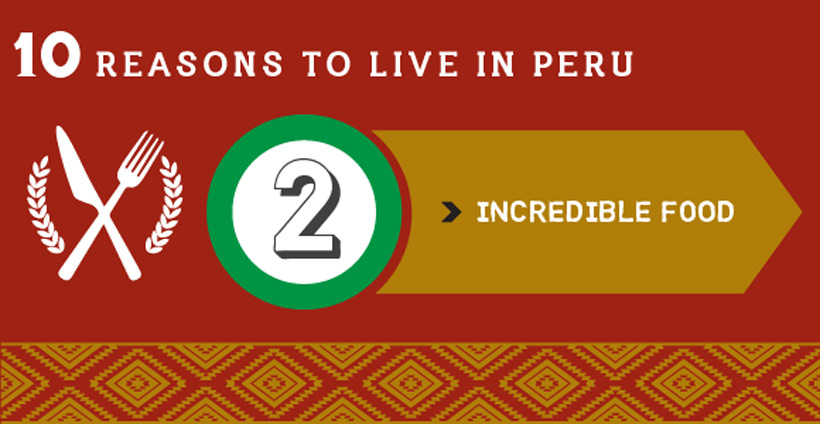 Anyone who visits Peru raves about the food! The Andes, the coast, and the jungle provide a plethora of ingredients that are combined to produce one of the most varied and tasty cuisines in the world.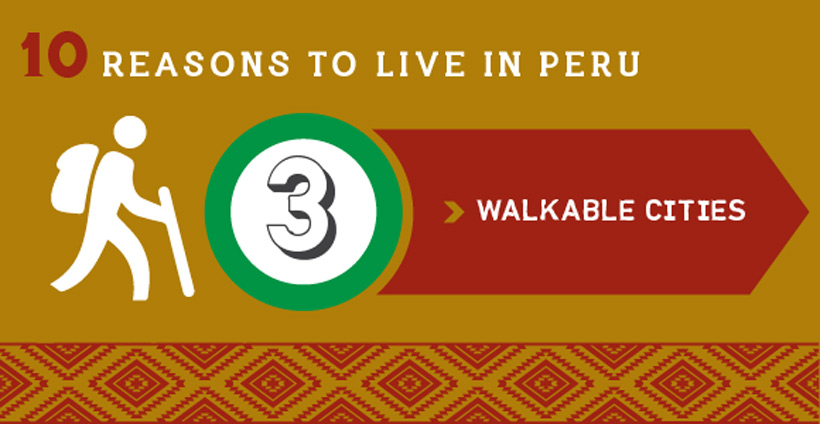 Lima, Arequipa, Trujillo, Cusco…you can get around all of them without a vehicle. Usually shops, restaurants, and apartments are never too far from the central Plaza de Armas, the center of all the action.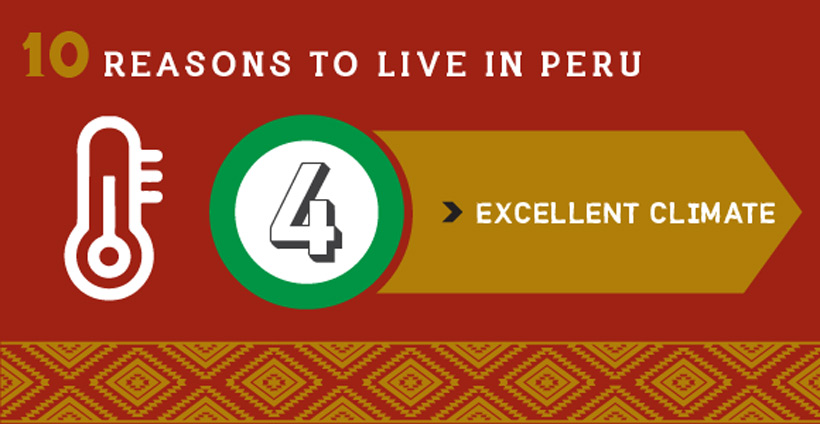 It is not difficult to find locations with year-round spring temperatures and copious amounts of sunshine combined with very little rainfall. Forget about spending money on heating and cooling!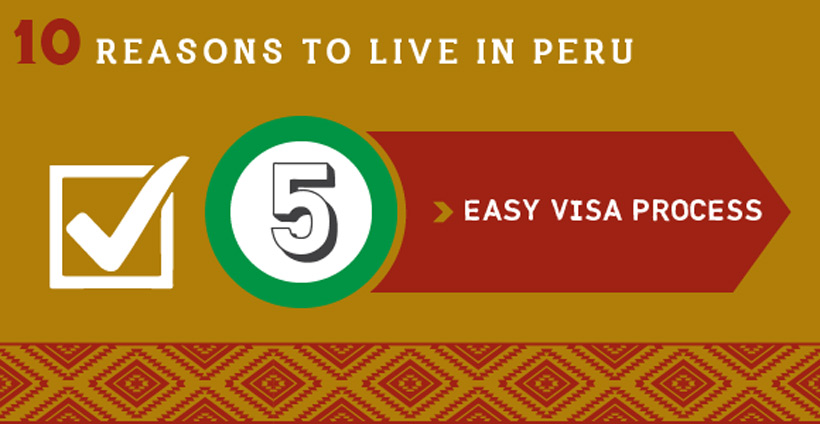 Peru is one of the easiest countries to get a retirement visa, and it is good for life. After three years, you can apply for permanent residence or citizenship.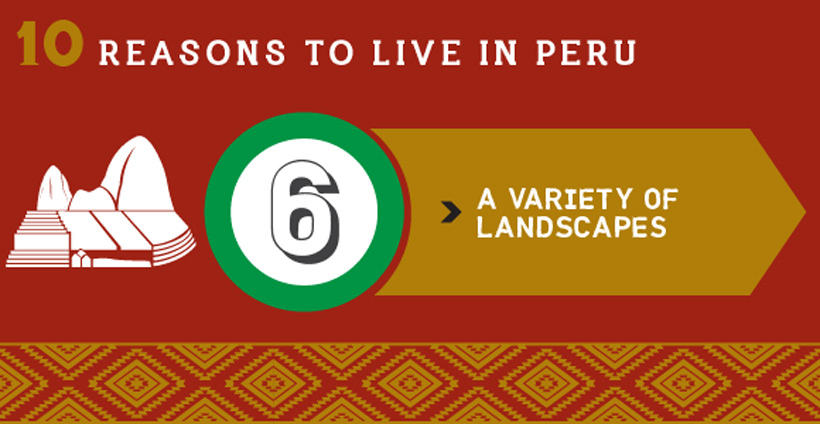 You can choose to live on the 1,500-mile coast, the foothills of the Andes, or even in the Amazon jungle. There is a location to fit every taste and budget.
Peru has a fascinating culture that dates back thousands of years and has hundreds of archaeological sites to back it up. They vary in importance from small local sites to UNESCO World Heritage sites of global importance. And there is a festival almost every week!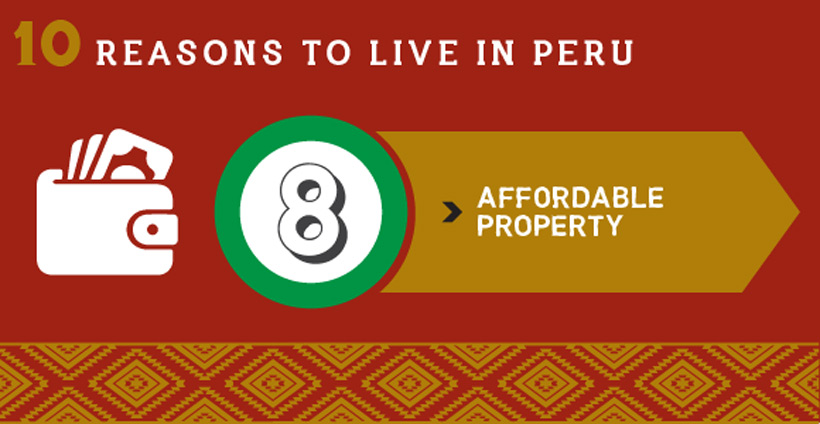 Property and rental prices tend to be lower than what you'll pay in the U.S. And property tax is also low—less than $100 per year is not uncommon.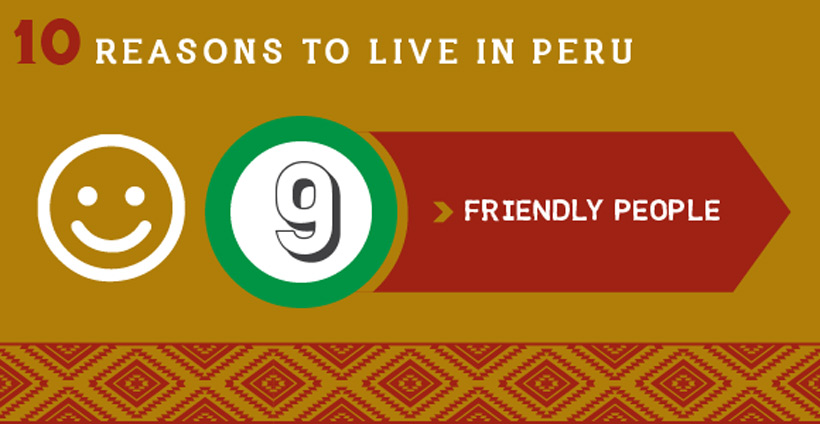 Talk to anyone who has visited South America and they will confirm that Peruvians are some of the friendliest and welcoming people you will meet anywhere. This goes hand-in-hand with their ability to party all night!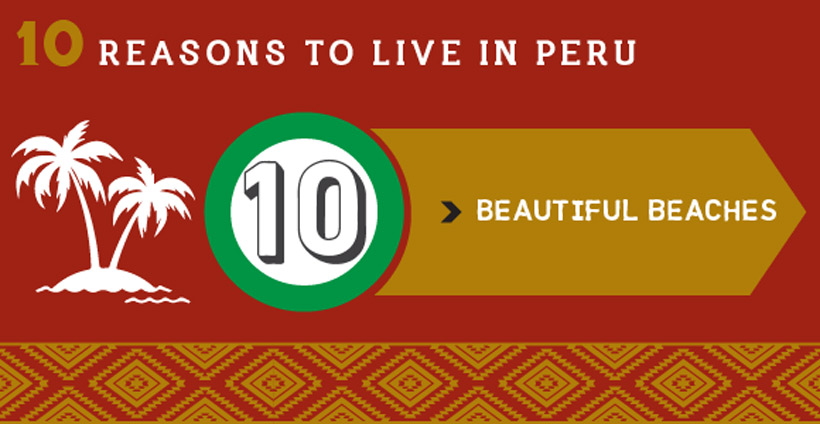 Peru's  miles of Pacific coastline offers a huge variety of desert beaches, some with famous waves sought after by surfers from around the world.
©iStock.com/Robert CHG
Still in the shadow of more popular destinations when it comes to part-time or full-time living, Peru is worth checking out as a retirement location. With its inexpensive cost of living, variety of terrains, temperate climate, and centuries of fascinating history, it's surprising it is still fairly "undiscovered." Most travelers have only seen a very small part of what the country has to offer.
Peru has been a well-known tourist destination for decades with Machu Picchu being the main drawing card. And following "The Gringo Trail" has been the most popular way to see as much of the country as possible in a very efficient manner. Whether it's for one week or one month, the route covers many of the country's most popular sites, including Cusco, the Sacred Valley of the Incas and, of course, Machu Picchu.
The entire "trail" is situated south of the capital city of Lima. In fact, less than 5% of tourists who visit Peru travel north of Lima. Moreover, only a very small percentage explore any part of its 1,500-mile coastline other than the beaches of Lima. Add in the dense jungles of the Amazon Basin, the towering Andes Mountains and plunging canyons and you have almost every climate in the world represented.
Whether you want to stay for a week or a lifetime, visiting Peru is a pain-free process. Tourist visas-on-arrival are issued for anywhere from thirty to ninety days but can easily be extended for up to six months in any twelve-month period. Proof of at least $1,000 per month in lifetime pension income will allow you to obtain a retirement visa known as the Rentista Visa that is good for life. After three years, you can apply for permanent residency. Many other visa options are available for long-term stays.
Where to Live in Peru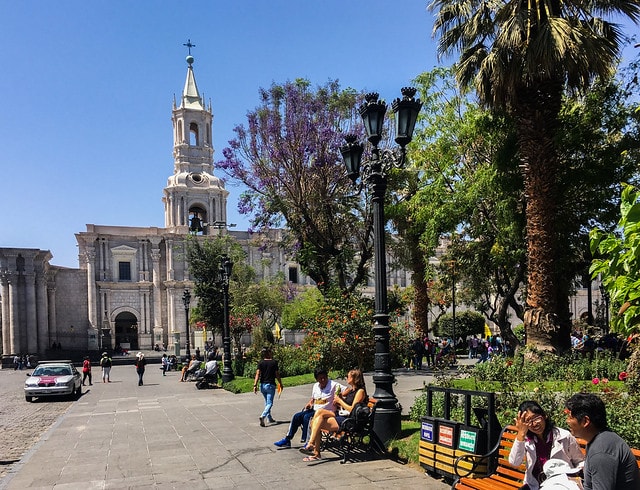 Lima and the surrounding capital district are home to most expats in the country. They are attracted by job and business opportunities, the vibrant cultural attractions, the wonderful cuisine, and often, love. Many Peruvian-American couples can be found around the country and Lima is no exception.
Summers in Lima are fabulous with clear skies and temperatures hovering in the high 70s F and low 80s F. For the other six or seven months, the city is blanketed by low-lying cloud and mist. However, even in the coldest part of the year, the mercury rarely drops below the mid-50s F.
Expats in the city enjoy the large number of beaches, bars, restaurants, theatres, and clubs along with the vibrant cultural scene. Most shop in the local markets where you can buy fresh local produce, meat, fish, coffee, and more for much less than you would pay in the U.S.
Rentals in popular districts such as Miraflores and Barranco start at under $1,000 per month, some with sea views. Much cheaper rentals are available in other districts in the city. A budget of $2,000 to $2,500 per month would provide you with a basic lifestyle in the city. Add another $500 to $1,000 a month and you could lead a very good life in Lima and enjoy everything it has to offer.
Only a one-hour flight south of Lima, Arequipa offers a quality lifestyle in a large city at a low cost. Its Plaza de Armas is one of the most beautiful in South America, ringed by Spanish Colonial white stone buildings and overlooked from one entire side by the huge Arequipa Cathedral. A trio of towering volcanoes offer a stunning backdrop to the city.
It's easy to find modern two or three-bedroom furnished apartments starting at $600 per month in popular areas such as the historic center, Cayma and Yanahuara. Much cheaper unfurnished rentals can be found throughout the city.
With over three hundred days of sunshine a year, average temperatures in the high 60s F and low 70s F, amazing restaurants and an active cultural scene, Arequipa has a lot to offer. And the Pacific coast is less than two hours away by car.
Cusco and the Sacred Valley of the Incas is another popular area of the country. Although many visitors pass through this picturesque region on their way to Machu Picchu, more are looking at options for longer stays. It is easy to be taken in by the rolling foothills that abruptly change to towering mountains rising from the narrow fertile valley that follows the Urubamba River through the countryside.
Residents of the city enjoy all the amenities of a larger city while living in a cultural wonderland. Modern offices are built on Inca stone foundations and narrow cobblestone roads wind past a great variety of galleries, boutiques, restaurants, and historic sites.
Head into the Sacred Valley and you can choose to live in or near a number of ancient towns and villages. Ollantaytambo, Urubamba, Pisac…the names themselves conjure up images of a time long ago. Inca ruins scattered throughout the valley provide a plethora of hiking experiences for those who love the outdoors.
Sitting at an elevation of 11,200 feet, Cusco is the business and tourist center of this historic region of the country. Living in this historic city puts you within arms reach  to Machu Picchu, many other significant nearby archaeological sites and a host of traditional arts and crafts. A wet rainy season during the South American summer gives way to a pleasant summer with blue skies. Nights can be cool but days are often warm and sunny.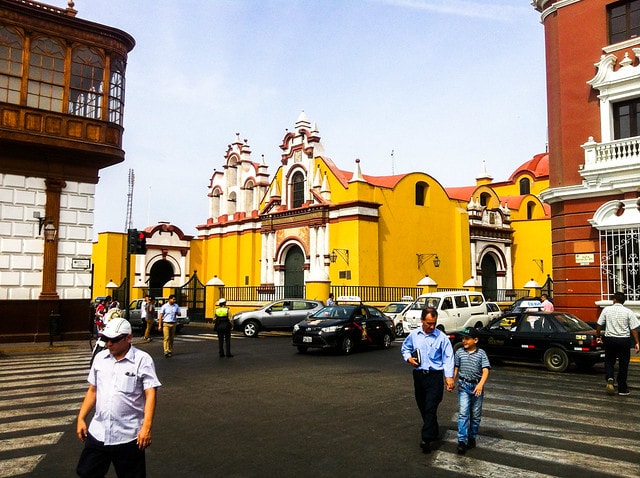 Trujillo and points further north beckon surfers and beach lovers. You won't find huge numbers of expats and those you do find are quite happy with things the way they are. Those who make their way to the northern half of the country often have a hard time leaving.
Only twenty minutes north of Trujillo's city center, the small surfing/fishing village of Huanchaco carries on much as it has for the last few decades. Fishermen still use the same style reed boats that were used thousands of years ago. Kids play in the streets, bakeries provide your daily sustenance, street side cobblers are still at work and the local tailor will adjust any item for a few dollars. The local outdoor market is the busiest part of town during any given morning.
Although Huanchaco is believed to be one of the birthplaces of surfing, you can find surfers along the coast all the way to the Ecuador border. An hour north of town, Chicama offers one of the longest waves in the world.
Temperatures in the area hover around 70 F for most of the year but can reach the mid-80s F during the summer. Unlike more southern coastal areas, you can count on copious amounts of sunshine during the summer months and some weekly sunny days during the winter months. In the northern seaside resort town of Mancora, days are hot and sunny year-round. And it rarely rains anywhere along the coast.
The Adventure Awaits
There are pockets of expats scattered around the country in locations such as Cusco, Arequipa, Mancora, and even the Amazon Basin but no significant large concentrations outside of the capital city.
Few Peruvians speak English so it's important that you learn some Spanish to be able to interact with local residents. There are expats who manage to live in the country for years without learning the language but they miss out on a lot.
If you enjoy the outdoors, appreciate a rich vibrant culture and are looking for a very inexpensive cost of living with an easy visa process, then Peru might be a good choice.