By Jim Santos
The town of Aguas Calientes, located deep in the Cusco Region of the Urubamba Province of southern Peru, is known for two things; first, for the natural hot springs and baths that give the city its name, and second, as the closest access point and de facto gateway to the famous ruins of Machu Picchu.
Founded in 1901 by just a few local farmers, it was for many years used as a camp for railroad workers. It wasn't until the '70s that the combination of the completed railway line, a new hydroelectric power plant, and tourism to Machu Picchu transformed the village into the thriving small town of today. Although the population of Aguas Calientes is only about 1,600 it hosts an average of 10,000 tourists every week.
Getting to Aguas Calientes, Peru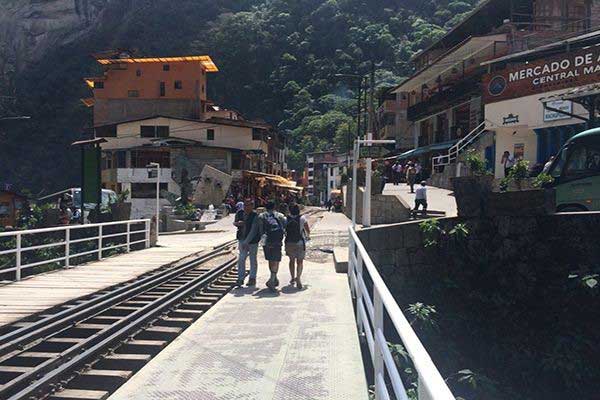 It is hard to over-emphasize the remoteness of this village. It is not connected by any paved roads to the rest of Peru, sitting almost like an island nestled in the deep Urubamba River gorge. You cannot even see the famous archaeological site from here (in fact, Machu Picchu is hidden from the world by seven mountains), instead you are surround by imposing cliffs, a rain forest, and two beautiful rushing rivers.
Local villages can travel back and forth on foot and with donkeys or horses along age-old trails that follow the Urubamba as it twists through the Choquequirao Conservation Region, much like the Incas did hundreds of years ago. For the tourist traveling to Aguas Calientes however, you basically have two choices: the hard way or the easy way. My wife and I opted for the hard way: via the Inca Trail.
The classic Inca Trail Trek begins at mile 50 on a road near the town of Piskacucho, just outside of Ollantaytambo, at an altitude of 8,923 feet. The first day, you are expected to hike almost nine miles to the initial campsite, called Ayapata, climbing to an altitude of 10,829 feet on the way. The next day, which is known to people who have completed the trail as "the worst day of your life", you hike almost straight uphill to the cheerfully named Dead Woman's Pass at 13,779 feet, and then back down to 11,700 feet, where you have lunch. That's right, lunch. The day is only halfway over.
After lunch, you hike back up to the next mountain pass at 13,123 feet, and down once more to 11,800 feet, where you are finally rewarded by getting to sleep on the ground another night, having covered a total of almost 10 miles of trail for the day.
The next day is considered an "easy day", which I suppose it is, in a relative way.  Your task the third day on the trail is to walk for a mere five hours, most of it downhill, where you eat lunch and take the rest of the day off, having hiked only a bit over six miles. You are still sleeping on the ground of course, but only at 8,792 feet.
Lest you think it sounds way to easy now, don't be concerned—your guides will wake you up at 2:30am the next morning to make sure you are ready to go through the final checkpoint at Wiñay Wayña when it opens at 4:30am. This will let you hike the three miles to the Sun Gate as the dawn breaks. For you, the morning of the fourth day is the culmination of all the time and effort you have expended to get there, as you can look down on Machu Picchu while the sun comes up. One last downhill stroll of three miles, and you are finally in the ruins themselves, and can spend the rest of the morning exploring.
After that, the rest is easy: buses run regularly down the final 3.5 miles to Aguas Calientes, although a true die-hard hiker can opt to take the hour-and-a-half walk down into town. Now you can finally relax, enjoy meals at some wonderful restaurants, sooth your aching muscles in one of the hot baths, and reacquaint yourself with sleeping in a bed.
Most people however opt to get to Aguas Calientes the easy way: a comfortable and scenic ride on Peru Rail.
Peru Rail runs trains from just outside of Cusco all the way to Aguas Calientes and back again. There are three service options to choose from; the Expedition, the VistaDome, and the Hiram Bingham.
The Expedition is the budget option, but still a very nice way to travel. The train is comfortable, and there are snacks and beverages for sale. The VistaDome, like the name suggests, has oversized windows and domed viewing areas, so you can get some terrific pictures of the magnificent mountains and valley. A hot or cold beverage is included, and there is also entertainment on board in the form of native dancers and musicians.
The Hiram Bingham (named after the explorer who "discovered" Machu Picchu) is for the luxury seeker. This ride includes lunch or dinner, drinks (both alcoholic and non-alcoholic), entertainment, souvenir displays, pisco sours, a travel bag, and more. The fee for this train also covers your entrance fee to Machu Picchu, bus tickets there and back to Aguas Calientes, a two-and-a-half hour guided tour of the ruins, and even an afternoon tea at the Belmont Sanctuary Lodge.
You can also choose where to catch the train, with most riders selecting either the Poroy Station or the Ollantaytambo Station. Since most travelers are arriving at the Cusco Airport—and by the way, it is a good idea to spend a day or two in Cusco acclimating to the altitude—Poroy Station is the most convenient. It is easy to flag down a taxi and take the 20-minute ride to the train. This will cost you around 50 soles (about $15) for a group of four people. As of this writing, the tickets for a train ride one way from Poroy to Aguas Calientes costs about $55 per person for the Expedition, $85 for the VistaDome, and $450 for the Hiram Bingham and all that it includes.
Ticket prices are the same if you choose to begin and end your trip in Ollantaytambo. So if they are the same you ask, why would anyone choose to catch a train at a stop that is an hour and a half outside of Cusco? Well, there are a couple of very good reasons.
Ollantaytambo is a beautiful destination in itself. It is one of the most easily accessible of the Incan ruins in the area, complete with a Sun Temple, terraces, store houses, quarries, and defensive structures. Dating back to the 15th century or longer, it is one of the oldest continuously occupied towns in South America. Many tourists choose to explore this and other Sacred Valley sites before catching the train to Aguas Calientes.
Even those not interested in spending much time there may choose Ollantaytambo simply because it gives you more options, as more trains start and stop at this station than at Poroy. Also, since it is such a popular attraction, it is easy to get a cab or a shuttle there for about the same cost as a cab to Poroy.
You can find current prices and actually make reservations for the Peru Rail service on their website at http://www.perurail.com/.
Things to Do in Aguas Calientes, Peru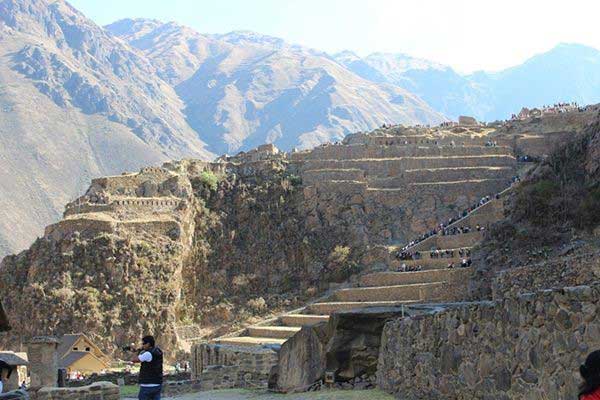 Once you are in Aguas Calientes, there are plenty of things to do before or after visiting Machu Picchu.
Dining – There are at least 100 restaurants, bars, and coffee houses in Aguas Calientes offering anything from Peruvian to French cuisine – and everything in between. True, the prices are a little higher than in other places in Peru, and some have a very "touristy" feel to them, but it is still easy to find a good meal at a reasonable price.
Shopping – Surrounding the train station is a busy and colorful mercado offering souvenirs and handicrafts from all over Peru. You can find some stunning jewelry and impressive art work, sandwiched in between the kitschier fare.
Hiking – Other than the obvious variations on hiking into Machu Picchu, or climbing the neighboring Huayna Picchu, you can also choose to visit the gardens of Los Jardines de Mandor, the Museum called Museo de Sitio Manuel Chavez Ballon, or the butterfly preserve at Mariposario de Machupicchu. More adventurous types can attempt the Putucusi Mountain trail, but be warned—a section of the trail that was previous negotiated by means of rickety wooden ladders has now been replaced by an even more dicey rope, so this is not for beginners.
Hot Baths – Although far from the nicest hot natural baths in Peru, the baths of Aguas Calientes are definitely worth a visit. One popular suggestion from experience bathers—get there early. Once hikers start coming down off the mountains and dipping into the baths, the water tends to lose some of its charm.
Where to Stay in Aguas Calientes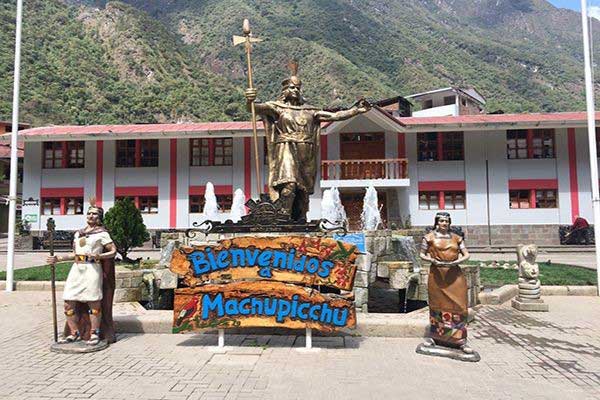 There are almost as many places to stay in Aguas Calientes as there are places to eat. Prices range anywhere from $10 per person per night hostels up to $500+ suites in luxury hotels. There are quite a few good options in the $40 to $100 a night range. Whatever your tastes, online booking sites make it easy to find accommodations to suit your needs and your wallet.
However you choose to get there, and whatever your activities in town, you are sure to find a visit to Aguas Calientes and the Machu Picchu site to be one of the most unique experiences of your life.