The sight of Punta del Este in the distance will make you stop and marvel
Punta del Este is renowned as South America's premier beach resort. Cresting the hill at Punta Ballena, the sight of Punta del Este in the distance will make you stop and marvel. The wide, gentle shoreline, the blue water, and the sparking buildings rising up on the Punta del Este Peninsula paints a beautiful picture.
Simply put, Punta del Este—while more expensive than other Uruguayan resorts—is where you can find the highest quality of life in Uruguay.
About Punta del Este, Uruguay
The Punta del Este Peninsula forms the east point of the Bay of Maldonado. It's the official dividing line between the Atlantic Ocean to the east and the Rio de la Plata (River Plate) to the west.
The west side of the peninsula is called the Playa Mansa (calm or tame beach). The east side of the peninsula, facing the Atlantic, is the Playa Brava (brave or wild beach) where you'll find ocean surf and stronger currents.
Punta del Este's resort development started on the Peninsula. Over the last 50 years it has expanded off the Peninsula, both east and west, along the shoreline. Today the resort development stretches 40 miles along the Uruguayan coast. It includes dozens of neighborhoods and a few small towns, which are often described all together as "Punta".
During the summer high season (Christmas through February), Punta's year-round population of about 25,000 jumps to hundreds of thousands.
Retire In Punta del Este, Uruguay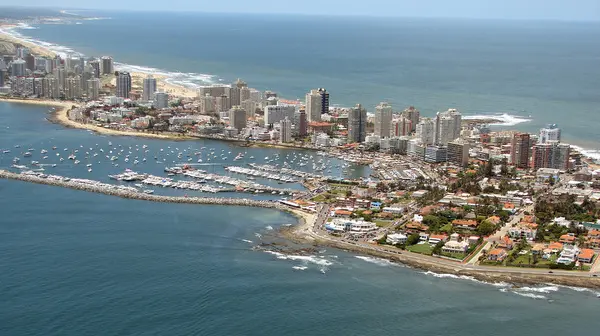 Retiring in Punta del Este will leave you with plenty of time to see what the city has to offer.
The Peninsula is still the heart of Punta del Este. It's where you find the most restaurants, several landmark night clubs, and a casino. It is also the location of Gorlero, Punta del Este's main street, the "Fashion Road", the artisan's plaza, the lighthouse, and the marina.
Just a few miles inland from the Peninsula is a shopping mall called Punta Shopping. In addition to the variety of stores, restaurants, and a multiplex, you'll find a large indoor recreational facility with bowling, pool tables, and rides for children.
Adjoining Punta del Este is Maldonado, a middle-class city of more than 60,000. Just about anything a full-time resident could need is available in either Punta del Este or Maldonado, including bilingual dentists and three hospitals.
Those seeking a high standard of amenities and services are finding a convenient solution in Punta del Este's broad selection of full-service residential towers.
No place suits everyone, but Punta del Este has a pretty broad appeal. If you don't like the crowds, all you have to do is live a short distance from town and you can avoid them.
Part of Punta's coastal development is known as Pinares. While most everyone considers Pinares to be a part of Punta del Este, technically it is in Maldonado where the property taxes are often lower.
Lifestyle in Punta del Este, Uruguay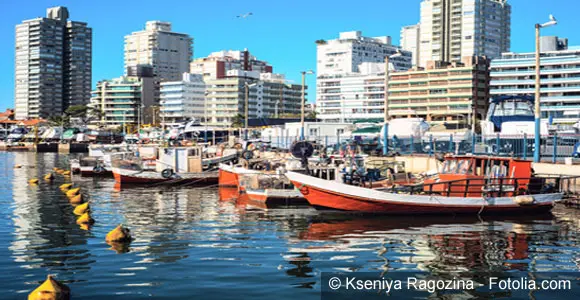 Punta has a growing year-round calendar of cultural and entertainment events. For those who like the outdoors, you'll enjoy a great lifestyle in Punta del Este—there is golf, tennis, cycling, and running. Water sports include sailing, beach fishing, windsurfing, kite-surfing, and board surfing.
One of Punta del Este's most desirable features for both expats and Uruguayans alike is its relative safety. Uruguay is among the safest countries in Latin America, and Punta del Este is one of the safest places in Uruguay.
Living in Punta is relaxing, with residential towers often equipped with gyms, swimming pools, saunas, as well as a variety of indoor and outdoor social areas. Building services can include 24-hour porter/security, daily maid service, beach service, and valet parking.
However, having these amenities on your doorstep comes at a price. If that's not for you, the option exists to live in a less-modern building with fewer services at a lower cost. It enables you to enjoy Punta del Este's great beaches and resort atmosphere for less.
Real Estate in Punta del Este, Uruguay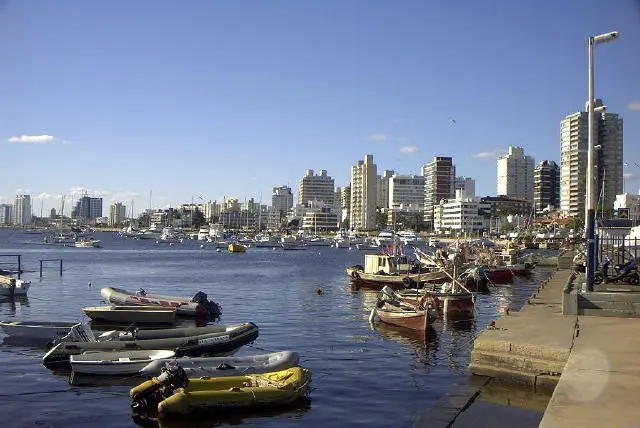 Punta del Este's real estate market offers a broad range of properties. Some are simple four-story apartment complexes built from the 1950s through the 1980s. Others are sleek new luxury towers with lots of amenities and services.
In Punta del Este, where many apartments sell from $350,000 to over a million dollars, it's still possible to find good apartments in older, well-maintained and managed buildings for less than you'd expect.
Here are a couple of examples:
A third-story 430-square-foot studio apartment on the Punta del Este Peninsula. It's near the main plaza and just 600 feet from the water. While in an older building constructed in 1955, it's a clean and bright place with tile flooring, a granite kitchen counter top, and a balcony. The building complex includes a swimming pool and the home owner's dues include maid service. Like most apartments in Punta del Este, it comes fully furnished. Price: $125,000.
A two-bedroom, two-bathroom 667-square-foot front-line apartment with a large balcony on Punta's Playa Brava (east of the Peninsula). It's on the third floor with a view overlooking the beach and the sea. It's another example of finding an apartment in great condition in a building that's a little older. In this case, one constructed in 1980. It's a lovely place, tastefully furnished with tile flooring and modern bathrooms. The separate kitchen has white cabinets, tile walls, and granite countertops. The apartment comes fully furnished and equipped. It also includes a garage space. Price: 250,000.
In addition to apartments, Punta del Este has many suburban neighborhoods of single-family homes set on their own lots. While there is no shortage of luxury homes and estates priced over $1 million, the majority of single-family homes in Punta del Este are priced between $200,000 and $500,000. For example:
On the Playa Mansa (west of the Peninsula) is a single-family home just 150 feet from the beach. The building area is 1,615 square feet, all on one level, on a 4,844-square-foot lot. The main home is three bedrooms and two bathrooms. (The master bedroom is a suite.) The home (which may be around 30 years old) was superbly remodeled in 2018 with laminate flooring and a very modern kitchen and bathrooms. The kitchen includes chrome appliances and black granite countertops. In the remodeled bathrooms you'll find stone wall tiles. In the backyard, a pool and barbecue area. Additionally, the property includes a separate apartment with its own kitchen, bathroom, and laundry service. Price $298,000.
Cost Of Living in Punta del Este, Uruguay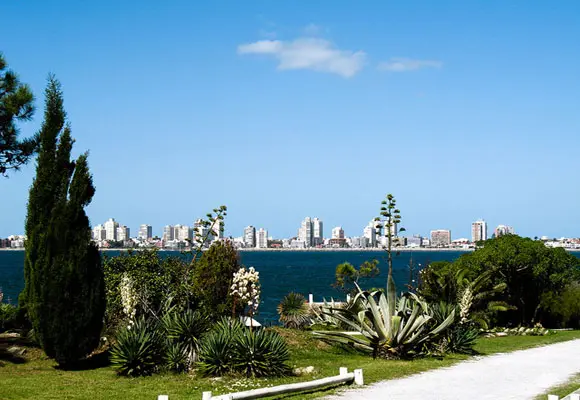 While there's no limit to what a couple can spend in Punta del Este, it is possible to live here at a reasonable cost.
You can save money by shopping for your produce at the weekly farmer's market in Maldonado, buying just-off-the-boat fish from the local fishermen at the harbor, as well as walking and using the local bus service instead of running a car.
One great value of living in Uruguay is the healthcare. If you qualify, you can get comprehensive coverage with no deductible for $100 per month.
Because Punta del Este is a popular beach resort, most of the rental properties are summer vacation rentals. With that said, you can still find places available for an annual lease, including clean well-located apartments for $1,000 per month including the homeowner dues.
Here are some examples of the costs of basics in Punta del Este:
| | |
| --- | --- |
| Item | U.S. $ |
| Rent and common expenses (one-bedroom apartment) | $1,000 |
| Internet | $40 |
| Electrical and gas | $180 |
| Food and household items | $1,100 |
| Healthcare | $200 |
| Dining out and entertainment | $700 |
| Total | $3,220 |
Note: Energy costs can vary a lot depending on the type of heating unit, the size of a place, and how it is used. Some spend less than the estimate, others spend more.