There are many reasons to consider Uruguay as a retirement destination. Uruguay is a small country; only tiny Suriname in South America is smaller. At 68,000 square miles, Uruguay is about the size of the state of Missouri. Its population is small as well, with 1.8 million of its 3.5 million residents living in or near the capital city, Montevideo. So despite its small size, there is plenty of elbowroom. It is located in the fertile plains and hills south of Brazil and east of Argentina, and has a coast along the Atlantic Ocean and the Rio de la Plata.
The geography is very tame, especially by South American standards. No mighty Andes jutting up; the highest point in Uruguay is only 1,686 feet. The countryside is mostly rolling hills, river basins and lakes, and the fertile coastal lowlands—in fact, it is considered some of the most fertile land in the world. Uruguay is also one of the few places in South America with no destructive earthquakes and no volcanoes.
The weather is also very mild. Seasons are reversed in the Southern Hemisphere, and some expats feel its climate offers the best of both worlds: seasonal changes, but no extremes. The absence of major mountains to set up barriers makes the weather similar over the whole country, as fronts move unimpeded across the land.
The growing season is long, and winter is not severe. For example, in Montevideo, the coldest months (June and July) average highs of 57 F (14 C) and lows of 45 F (7 C). In the summer, temperatures in January, the hottest month, average only 84 F (29 C), with nights of 64 F (18 C). Rainfall is fairly even throughout the year, usually between 38 and 50 inches annually in most regions.
Uruguay is a South American country with a European flair. Most Uruguayans are descendant from Spanish and Italian immigrants, who arrived in great numbers in the 19th and early 20th centuries. In Montevideo, around 65% of the population is of Italian descent. With that said, you'll meet Uruguayans with ancestors from every corner of the world.
As a result, many people come for the city living in the capital, Montevideo, with its many restaurants and cultural events ranging from Carnival parades to ballet productions. Still others come to settle in Uruguay's vast countryside, with gauchos still tending their herds…or to live the high life at South America's premier beach resort of Punta del Este.
As for the cost of living, some things, such as energy and imported manufactured goods, can cost more in Uruguay than in the U.S. However, some of the biggest living expenses, such as housing and healthcare, can be much less in Uruguay. And in Montevideo, where you find close-by neighborhood shopping, good bus service, and lots of taxis, its easy to get by without the cost of owning a car.
In Montevideo, it is still possible for a couple to live on $3,000 a month while enjoying an active social life and the security of a solid healthcare plan.
Speaking of healthcare, most expats in Uruguay use a private healthcare plan called a mutualista. Rather than an insurance system, the mutualista is more like a membership club with a particular hospital system. Plans start at around $60 per month, with a small copay at the time of service. Typically, the copay for a doctor appointment is around $6, and things like blood tests may run $15.
Uruguay also has a public healthcare system that acts as a safety net for those who cannot afford a private health care plan.
Expats Living in Uruguay
In decades past, Uruguay was largely unknown among North American expats. However, these days it's caught on. And many North Americans are enjoying the tranquilo lifestyle offered by Uruguay. Here are just a few of the areas most popular with expats. 
City Life in Uruguay's Capital

Montevideo
About half the population of Uruguay, and most of the expats, live in the capital city of Montevideo. You don't need to spend much time there to understand why. Montevideo covers 77 square miles along the Rio de la Plata, and is made up of 62 barrios (neighborhoods), each with its own unique flavor and feel. Consistently rated as the South American city with the "highest quality of life" by the Mercer Quality of Living Survey, Montevideo is a showplace of the way an eclectic mix of cultures can create a place of rich, diverse heritage.
Uruguay's multicultural heritage has given the people a deep appreciation for a diverse range of culture and arts. Montevideo is very much a city of the world, with art museums, ballet, theaters, music halls, and more. Uruguayans enjoy tango, folk music, and jazz, as well as the African influenced drum rhythms of candome. World-class artists, musicians, and other entertainment regularly appear in Montevideo.
Perhaps the most attractive feature of Montevideo is the 14-mile long rambla, a continuous walkway along the waterfront that has parks, bike paths, outdoor exercise pavilions, restaurants, and more. It winds its way around the city and provides access to some of the more popular neighborhoods.
Here's a quick sketch of some of the barrios that expats are discovering in Montevideo.
Punta Carretas
The southernmost point in Montevideo is Punta Carretas, and the neighborhood named for it is one of the most attractive in the city, and not coincidentally, one of the more expensive. Particularly sought-after are the apartments along the Boulevard General Artigas across from the beautiful golf course. The Punta Carretas Shopping Mall has plenty of shops, a food court, several movie theaters, a major grocery store, and many top-rate restaurants.
There are some hotels in this barrio, and a mix of single-family homes and condo buildings. A unit in one of the newer buildings may rent for $1,200 a month or more, and it is hard to find a two-bedroom for sale under $200,000.
Pocitos
Although right next door, Pocitos has more of a "neighborhood" feel to it than Punta Carretas, with more of the small shops for getting your meats and produce, and plenty of small cafés and lunch spots. In Pocitos, you can find two-bedroom apartments for sale under $200,000.
Cordón
If proximity to the water is not important to you (although you are a mile from the beaches), there are some bargains to be had here. Cordón sits just east of the Centro business district, around the Avenida 18 de Julio. It is home to the University of the Republic, the large State university, the National Library, and many bookstores.
This is a neighborhood in transition. Over the last five years, many specialty shops, unique watering holes, and cafes offering interesting cuisine opened in the southern part of Cordón. It's now one of the trendiest communities in the city—often referred to as Cordón Soho.
Some are taking advantage of the low costs of some of the older buildings for renovation
projects. You also find many new apartment buildings under construction. Rentals are available here at very attractive prices as well, with a selection of two-bedroom rental properties in good locations from $700.
Ciudad Vieja
Montevideo's Ciudad Vieja ("Old City") is a small, 14-bock-by-eight-block peninsula. In it you find beautiful plazas, pedestrian streets lined with the city's oldest architecture, great restaurants and coffee shops with outdoor seating, and the popular tourist spot, the Mercado del Puerto, where you find many landmark barbecue restaurants under one roof.
The restaurants are laid out so that the grills are in plain sight, and the combination of meats and red peppers set out to cook over the wood flames is a treat for the eyes and the nose. On Pérez Castillano, a street extending from the Mercado del Puero, you find stores selling all kinds of souvenirs, clothing, crafts, and art work.
So, it's no wonder Ciudad Vieja is the most visited area of the city by travelers. But besides
that, it's also Montevideo's main economic and financial center. It is the location of the Port of
Montevideo, the highest concentration of government offices, the main branches of most
banks, as well as many professional offices.
If you've got a bohemian side, you may find Ciudad Vieja's unevenness interesting and vibrant. You can enjoy the street musicians playing for travelers. You can take advantage of the great lunch specials targeted to office workers. And It's just a short walk to attend live events in the city's two largest performance theaters. Everything you need is in easy walking distance in Ciudad Vieja, which makes it great for retirees on a budget. It is possible to find nice apartments here for $700 a month, including attractive apartments in restored historic buildings.
The Coastal Towns of Uruguay

Atlántida
Atlántida is a small coastal town known for its many pine and eucalyptus trees. (The trees were planted in 1908 by a group of Uruguayan doctors and medical students as part of a beautification project.) Atlántida is the most developed community on Uruguay's Costa de Oro (Gold Coast), a 42-mile stretch of coastline. It's just an hour's drive east from the big-city conveniences of Montevideo. During the summer, Atlántida's full-time population of about 6,000 more than doubles when summer vacationers arrive to enjoy the area's wide sand beaches.
Punta del Este
Punta del Este is a gleaming strip of high-rises, jutting out into the Atlantic. Further inland, there are neighborhoods like Pinares full of single-family homes. The variety of architectural styles reflects the diversity of the European cultures that make up Uruguay's population.
Punta del Este is Uruguay's largest beach resort city. Geographically, it's comprised of the 16-block-long Punta del Este Peninsula (where the resort development began) and another six square miles on the mainland. While most of the city is residential neighborhoods of second homes and vacation rentals, you find a well-established and growing full-time population that includes North American expats. The types of properties, here, include simple low-rise apartments, luxury apartment towers, and suburban single-family homes with yards.
The Punta del Este Peninsula is the official dividing point where the Rio de la Plata (a large sea-like estuary) ends and the Atlantic Ocean begins. On the east side of the Peninsula facing the Atlantic is the Playa Brava (brave or wild beach) with stronger currents and surfing waves. On the west side of the Peninsula, is the Playa Mansa (calm or tame beach) with protected waters good for children and small boats.
In addition to a resort town, the Punta del Este area is growing as an education center, with six university campuses.
Apartments in Punta del Este range from $125,000 studio apartments to luxury places that sell for over a million dollars. Besides the purchase price, monthly common expenses (like HOA fees) for apartments in Punta del Este are often $600 per month and up. Besides building upkeep, these monthly fees often cover additional building services and amenities, such as porters, daily housekeeping for your apartment, gyms, and swimming pools.
If you're interested in a nearby housing option that's more affordable, consider an apartment in the city of Maldonado. It's a middle-class city next to Punta del Este where you can find newer apartments between $90,000 and $150,000 without the extra hotel-like services and the high monthly fees that go with them.
Piriápolis
Piriápolis is a coastal town between Punta del Este and Atlantida. It was the very first seaside resort development in Uruguay—modeled after resorts in southern France near the turn of the 20th century. It stands out for its waterfront centro with a coastal promenade. And it's the only coastal area of Uruguay with hills.
The majestic Argentino Hotel, which at the time of its construction was one of the largest in all of South America, and the rounded tower of the Hotel Colón are just two of the most recognizable landmarks. Behind the yacht club, you can see the pink towers of the chair lift up to Templo de San Antonio marching up the hillside.
Like other beach towns in Uruguay, it's year-round population of 9,000 goes way up in the summer when vacationers arrive.
Christina Robles de Thomas, who moved to Piriápolis with her husband Terry from California years ago, loves their life there. "About 40,000 people show up, but it's only for the high season," she says. The rest of the year they enjoy the small-town atmosphere. "We wanted a quiet place to live. The people are always friendlier in small towns," Christina says They enjoy being able to use their bicycles to get around town, and that even in low season they get along just fine. "Everything is practically in the same street. Bank, store, cleaners, barbershop, bus terminal etc. We are very happy here."
Uruguay truly has a lifestyle and a region for everyone, depending on what you're looking for in the way of a new life abroad. Whether you want to live downtown in a world capital, in the heart of an old colonial city, in one of the world's famous beach resorts, or on a sprawling ranch in the heartland, you can be sure that Uruguay has a place for you.
10 Reasons to Live in Uruguay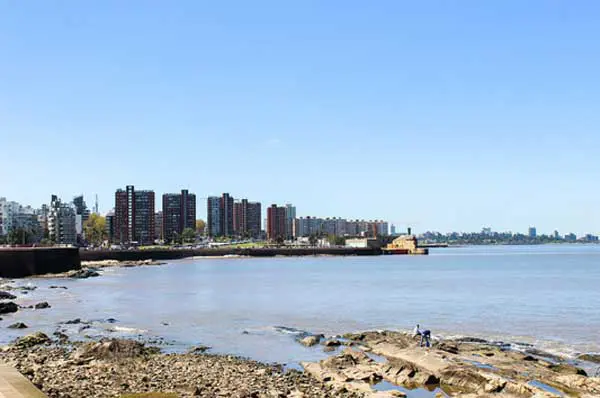 Are you searching for beautiful beaches, four distinct seasons, affordable real estate, and quality healthcare at a reasonable cost? It may seem like a lot to ask for, but here at International Living we have just the place for you.
Uruguay has the highest rate of fiber-optic internet penetration in Latin America. And it's one of the freest countries on our beat, a place where residence is easy to get, and income from outside of Uruguay, such as a retirement pension or social security, does not need to be reported in Uruguay.
With a wide variety of lifestyles and cultures, Uruguay has much to offer…
Expat Kristen Harden found she was welcomed immediately. "The locals are friendly and welcoming. We have had more than our fair share of help from them over the years."
The lovely beaches are a huge perk for Kirsten and her family. "The coastline has different kinds of beaches and wildlife. We walk on the beach at least once a week, if not more."
Roly Jasquith, a native of England has never looked back since moving to Uruguay. "I found new opportunities that I didn't know existed, like living a country life on a beautiful beach with lots of free time for family…"
Karen Michele has also found life in Uruguay means more time for what's truly important… "Families here make sure they have time together. It's why you work, so you can have a barbecue with your family and friends on the weekend," And enjoying life is so important for Karen: "People here are less self-conscious, and able to have fun."
These expats love their life in Uruguay and you can join them. Enjoy mild seasons, walks on the beach, quality healthcare, friendly locals and much more in Uruguay.
See below for 10 reasons why you should consider a move to Uruguay.