By David Hammond
What's your idea of the perfect place to live?
If it's a coastal town set in a rural region with pristine beaches and a low cost of living—then, you need to know about La Paloma, Uruguay.
About La Paloma, Uruguay
La Paloma is 60 miles east of Punta del Este, Uruguay's largest and most sophisticated beach resort. It's 150 miles east of Uruguay's capital, Montevideo. And it's 90-miles west of the Uruguay/Brazil border.
Because Uruguay is in the Southern Hemisphere, the seasons are opposite of North America. La Paloma's average summer high temperature (in January) is 80 F. The average summer low temperature is 66 F. In winter, the average high temperature (in July) is 58 F. And the average low is 46 F.
La Paloma is in Uruguay's Department of Rocha. (A department is like a small state or province.) It's a mostly rural department with more than 100 miles of coastline fronting the Atlantic Ocean.
The full-time population is about 3,500. In January and February, when the vacationers and snowbirds arrive, the population can jump up to 30,000.
La Paloma's centro is on the Cape of Santa Maria. The main avenue, Nicolás Solarí, is lined with stores, restaurants, and hotels.
At the end of the cape is a lighthouse (built in 1874) and a large bay with a sand beach called Bahía Grande. A small bay, called Bahía Chica, is notched out of the larger bay. Just off the entrance of the smaller bay is Isla la Tuna (Tuna Island).
If you drive west of La Paloma's centro on the coastal road, you'll see beach neighborhoods developed with hotels, single-family homes, and low-rise apartment buildings.  These include the communities of Balconada, El Cabito, Los Botes, Anaconda, and Solarí.
If you go east along the coast from La Paloma's centro, you pass Bahía Grande, large campgrounds, and the Port of La Paloma. East of the port you come to the coastal communities of La Aguada, Costa Azul, Antoniópolis, and Arachania.
Retire in La Paloma, Uruguay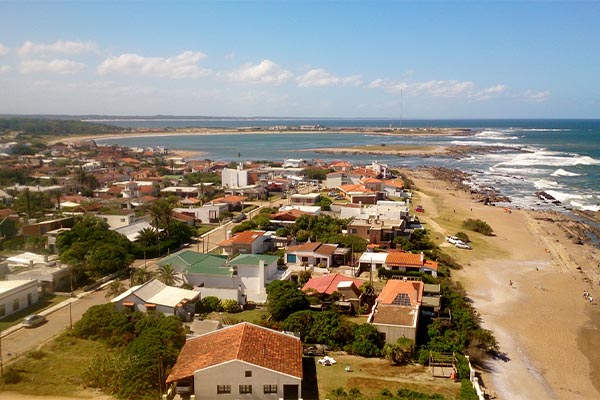 While you find other coastal towns in the Department of Rocha, La Paloma offers the most infrastructure and services. These include regular garbage pickup, a gas station, banks, and medical clinics.
Most things you need on a day-to-day basis are available in La Paloma. However, expats here go to Punta del Este or Montevideo to see an English-speaking medical specialist or dentist; or to stock up on things not sold in La Paloma.
You find several good restaurants in La Paloma. One of the most popular is Las Rocas Restó, a casual place that many say serves the best seafood in town.
While many people in La Paloma own a car, I've spoken with expats who live near centro and get around by bicycle. Several buses per day leave La Paloma for Punta del Este and Montevideo.
You find few English speakers in La Paloma. So, to live a comfortable life here, you'll need to learn some basic Spanish.
Because La Paloma is in a less populated rural region, you meet fewer English-speakers here than you do in either Punta del Este or Montevideo.
Lifestyle in La Paloma, Uruguay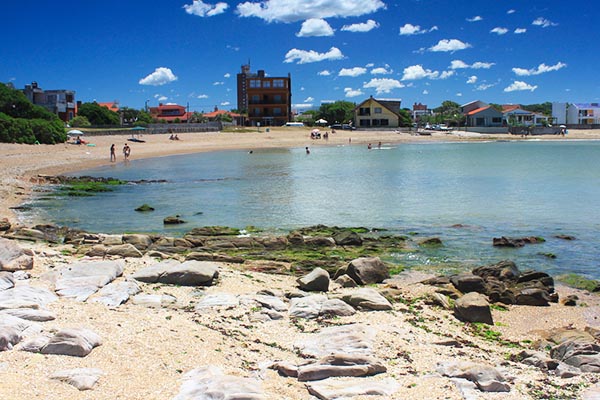 In summer, life in La Paloma revolves around the beach, where both residents and vacationers relax on the sand, socialize, and play volleyball.
Water sports on the bay include kayaking, standup paddleboarding, and kite surfing. When the conditions are right, you find good surfing spots in La Paloma. For all these water sports, you find local places where you can take lessons, as well as buy or rent gear.
During the off-season, La Paloma is quiet. It's when full-timers enjoy things like walking on the beach, horseback riding, and fishing without the summer crowds.
Besides the beach, a good place to walk or ride is along the Rocha Lagoon, a 45-square-mile body of water, just west of La Paloma. The bird species you see here includes geese, swans, and flamingos.
Real Estate in La Paloma, Uruguay
Real estate in La Paloma includes apartments and single-family homes. Following are examples of properties on the market to give you a sense of what your money can buy.
A 1,292-square-foot two-bedroom one-bathroom apartment across the street from Arachania Beach. Look out over the sand and sea from this roomy second-story unit. In the kitchen and bathroom, you find white cabinets, black kitchen countertops, and large porcelain tile flooring and wall cladding. The master bedroom includes a walk-in closet. In the living room is a fireplace. Price: $110,000.
An 860-square-foot single-family country-style home located one-and-a-half blocks from Solari Beach in La Paloma's Anaconda neighborhood. It's a lovely cottage-style home with a thatch roof and wood-frame french windows and doors. It sits on a neatly landscaped 5,650-square-foot lot. On the ground floor, you find the living room, kitchen, dining area, bathroom, a master suite, and a second bedroom. Upstairs is an attic room with a window and three single beds. Price: $160,000.
A 3,230-square-foot single-family home on an 8,070 square-foot lot just two blocks from Balconada Beach. On the ground floor, you find a living room with a fireplace, a dining room, a kitchen with a breakfast table, a master suite, and a service bedroom (like a maid's quarters) with a bathroom. Upstairs is a second master suite and two additional bedrooms and another full bathroom. The home is double-wall brick construction with a French tile roof. The flooring is wood and flagstone. The doors and windows are wood with French window panes. The kitchen counters are a light-colored marble with dark wood cabinets. In the ground floor suite is a jetted tub. In the backyard is a covered patio with a brick barbecue and outdoor dining area. Price: $300,000.
Most rentals in La Paloma are vacation properties. The per-night rate for a well-located, two-bedroom, one-bathroom home in good condition is often between $80 and $120.
While it's less common, you do find homes available as year-round rentals. With an annual lease, a two-bedroom, one-bathroom home may rent for $500 to $600 per month.
Cost of Living in La Paloma, Uruguay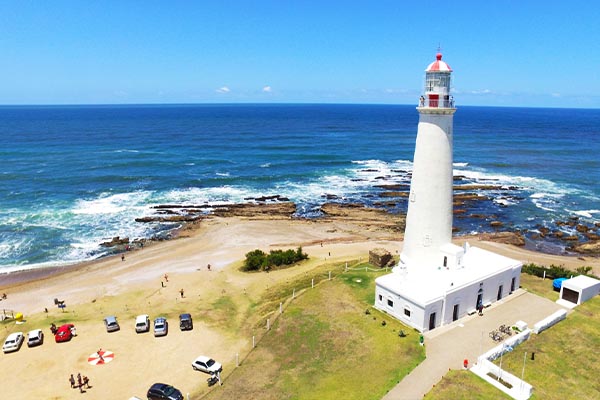 Following is a sample monthly budget for a couple renting a two-bedroom single-family home in La Paloma. It includes the cost of running a car.
| | |
| --- | --- |
| Item | U.S. $ |
| Rent (two-bedroom house) | $600 |
| Utilities (electricity and gas for cooking) | $160 |
| Internet | $30 |
| Transportation (running a car) | $325 |
| Two healthcare plans | $110 |
| Food and household supplies | $720 |
| Entertainment and extras | $320 |
| Total | $2,265 |