By David Hammond
You may already know it's in South America. But perhaps you can't point to it on a map.
If that's the case, I don't blame you.
It's not a place you hear about all that often.
On the surface, it's simply a small agricultural country on the east coast of South America. But as you look closer, I think you'll agree Uruguay is definitely worth knowing about. It may even be a place you'll want to visit.
In Uruguay's capital, Montevideo, you'll find historic architecture and cultural events ranging from Carnival parades to ballet. When you're done in the city, you can visit a summer beach resort, stay at a guest ranch, or relax at a hot spring retreat.
The country of Uruguay borders Argentina to the west and Brazil to the east. The southern border is the coastline of the Rio de la Plata (River Plate) and the Atlantic Ocean.
The River Plate (technically an estuary) is like a large bay off the Atlantic Ocean where Uruguay and Argentina meet. More than 200 miles of Uruguay's south coast fronts the River Plate.
As the River Plate reaches the ocean, Uruguay's southern coastline curves to the northeast, stretching another 125 miles along the Atlantic to the Brazilian border.
About the size of Washington State in the U.S., Uruguay is the second smallest country in South America (Suriname is the smallest).
The total population of Uruguay is about 3.5 million. For perspective, that's less than one third the population of the Brazilian city of São Paulo.
Uruguay is located in the Southern Hemisphere's temperate zone. It has four seasons, although opposite those of the Northern Hemisphere. So, when it's winter in North America and Europe, it's summer in Uruguay.
Average summertime high temperatures along the coast range between 78 F and 82 F. Winters get cool, but not cold enough for ice and snow.
Uruguay's time zone is GMT-3. It's just a little ahead of New York at GMT-5.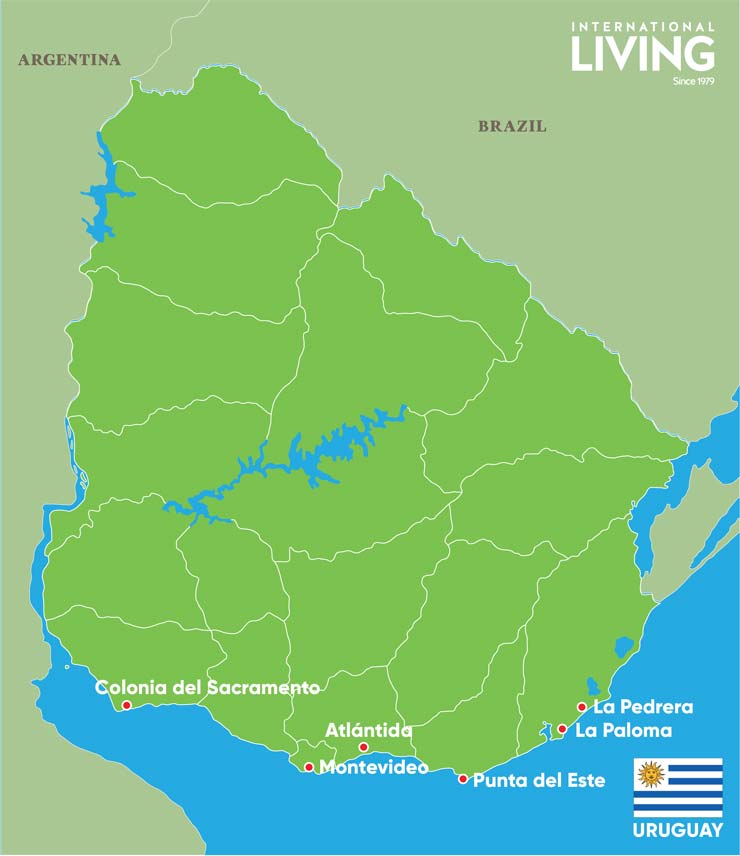 Language
The language of Uruguay is Spanish. It's a dialect known as Rioplatense Spanish spoken in the region of the Rio de Plata (River Plate) in Uruguay and Argentina. It's characterized by intonations similar to Italian.
Major Industries
Uruguay's top industries are agriculture and tourism.
The most famous agricultural product of Uruguay is grass-fed beef—a popular export to many parts of the world. Uruguay also produces a variety of row crops and fruit including some citrus.
People from all over Latin America and the world vacation on Uruguay's beaches in the summer. Each coastal town has its own unique character. Accommodations range from campgrounds where you can pitch a tent to luxury apartments.
Cuisine
The most popular restaurant offerings in Uruguay are barbecued beef, Italian food; and in coastal areas, locally-caught fish.
Uruguay produces world class wines. These include Tannat, a full-bodied red that pairs well with beef, and Albariño, a light-bodied white.
We can divide Uruguay into three regions:
• The coast fronting the River Plate – the most populated area of the country
• The coast fronting the Atlantic Ocean – a mostly rural area
• The interior – gently rolling plains used for cattle grazing and farming.
Uruguay's Coast Fronting the River Plate
Montevideo – Uruguay's largest city and cultural center
Along the coast of the River Plate, you find Montevideo. About half of Uruguay's population live in or near Montevideo. It's known for the Rambla (its coastal road and walkway), its many large parks, sycamore-lined streets, and sand beaches.
Ciudad Vieja (Old City) is the neighborhood where Montevideo got its start in 1726. It's where you find the city's original plazas and early architecture, as well as many museums.
Cultural activities in Montevideo include street tango, a 40-day Carnival celebration, and an annual ballet production.
Colonia del Sacramento – Uruguay's oldest colonial city and ferry service to Buenos Aires
One hundred twelve miles west of Montevideo, is Colonia del Sacramento. Founded in 1680, it's the oldest European settlement in Uruguay.
Colonia del Sacramento's Barrio Histórico (Historic Neighborhood) is a UNESCO World Heritage Site where you see the original stone streets and homes.
Not far from Barrio Histórico, you'll find regular ferry service across the River Plate to Buenos Aires, Argentina. Some of the ferries are large catamarans that complete the 32-mile crossing in an hour.
Uruguay's Coast Fronting the Atlantic Ocean
Punta del Este – Uruguay's largest and most prestigious beach resort
Seventy six miles east of Montevideo is Punta del Este—a summer beach resort that bustles with hundreds of thousands of vacationers during the summer month of January.
The Punta del Este Peninsula is the official dividing point between the River Plate and the Atlantic Ocean. On both sides of the peninsula, you'll find long sand beaches.
Outdoor activities in Punta del Este include standup paddle boarding, volleyball, tennis, and golf. Entertainment options include an annual car race through the streets and top-flight fashion shows.
Summer vacation rentals in Punta del Este include units in apartment towers with services similar to a full-service hotel.
Department of Rocha – Uruguay's Rural Coastal Region
East of Punta del Este is the Department of Rocha. Its entire 100-mile-plus coastline fronts the Atlantic Ocean.
In Rocha, you find pristine beaches, huge lagoons, lush pastures dotted with palm trees, and forests of pine and eucalyptus.
Many of Rocha's small towns, such as La Paloma, La Pedrera, and Punta del Diablo, are geared toward summer tourism.
Uruguay's Interior
In Uruguay's interior (part of South America's pampas) you'll find many large cattle ranches.
Some ranches accept paying guests, giving you the opportunity to ride with gauchos and experience the country life.
Salto – Uruguay's second largest city in a region of hot spring resorts
You'll find Salto in the northwest part of the country, across the Uruguay River from Concordia, Argentina. It's the second largest city in Uruguay with a population of about 105,000.
The city center is vibrant with well-kept plazas and a main street with shops, street vendors, and places to eat.
Due to the nearby hot spring resorts, the Salto area is a popular wintertime destination. Facilities range from campgrounds with a hot-spring pool to all-inclusive resorts.
How to Get to Uruguay
Most flights to Uruguay arrive at Carrasco International Airport located on the eastern edge of Montevideo (airport code: MVD).
You'll find direct flights to Uruguay from Miami and Madrid. The flight from Miami is about nine-and-a-half hours. The Madrid flight takes 12 hours and 45 minutes.
Many non-direct flights to Uruguay make connections in regional airport hubs, such as Buenos Aires, Santiago, and São Paulo.
From Carrasco Airport, it's a 30-minute drive west to Montevideo's city center. It is a 90-minute drive east from the airport to Punta del Este.
Featured Image Copyright: ©iStock/xeni4ka