Excellent Real Estate And Property In Uruguay
Are you looking for an international real estate opportunity in a country where it's safe to invest; where you, as a non-citizen, can hold full title to a property; and where you can choose from a variety of interesting property types and price ranges?
If your answer is yes, you need to know about real estate in Uruguay.
Uruguay is a Safe Place to Invest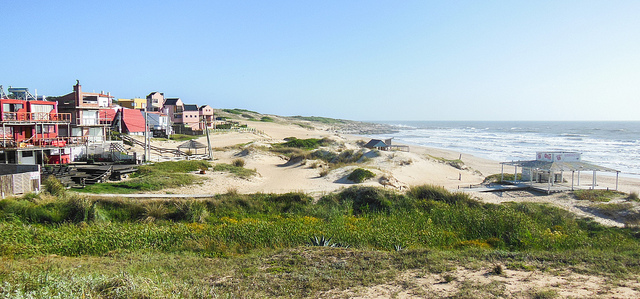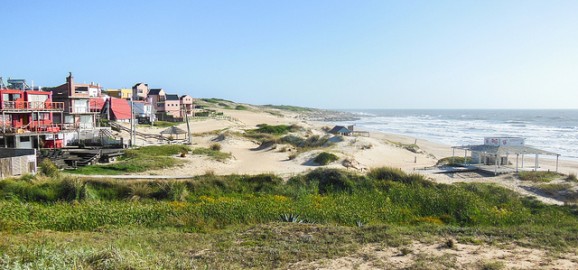 Uruguay is known for its stability. It's one of the main reasons many Brazilians, Argentines, and investors from around the world buy real estate in Uruguay.
Most real estate in Uruguay is bought and sold in U.S. dollars. This eliminates the cost of converting purchase and sale proceeds from one currency to another. It also removes the risk of changes between currency values during a transaction.
In Uruguay, non-citizens can own full title to real estate without jumping through hoops
In Uruguay, you, as a foreign individual, can buy and hold real estate in your own name. You don't need a local partner, a trust, or a corporation. You don't even need to become a legal resident or get a Uruguayan tax identification number. And you can own any type of real estate, the same as a Uruguayan citizen. That includes property near a coast and agricultural land.
Uruguay Offers a Variety of Interesting Properties
Real estate opportunities in Uruguay include:
City apartments
Beach resort apartments
Single-family homes in a beach resort
Single-family homes in small coastal towns
Beach lots
Executive homes in private communities
Country estates (called chacras)
And farmland.
The most popular real estate investment among foreign buyers is apartments in the capital, Montevideo. The second most popular is apartments and single-family homes in the beach resort town of Punta del Este.
Montevideo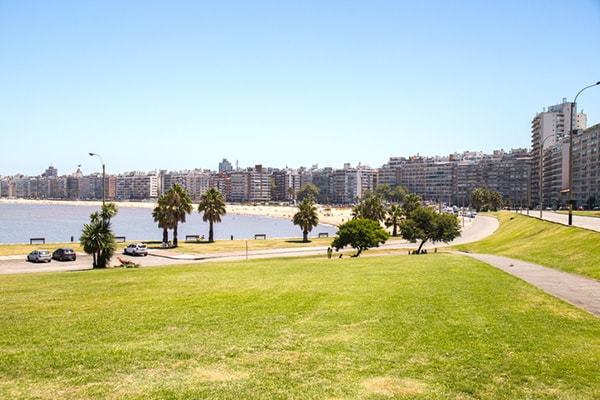 Montevideo is Uruguay's commercial and cultural center with a population of 1.4 million. It's a city with picturesque plazas, sycamore-lined streets, and sand beaches. A wide walkway called the rambla runs the full length of the city's coastline. In Montevideo, you'll find plenty in the way of dining and entertainment. Cultural events include Carnival parades, rodeos, and opera.
The most popular part of Montevideo for part-time and full-time living is the Pocitos Area. It's where you find a long sand beach, an 18-hole golf course, two shopping malls, large parks, and a lighthouse.
To give you an idea of what your money can buy in Pocitos, here's an example:
A one-bedroom 430-square-foot apartment is for sale. It's on the eighth floor of a newer building just three-and-a-half blocks from Pocitos Beach. Features include tile and laminate floors, a kitchenette with a granite countertop, and a balcony off the bedroom. Building amenities include a laundry room and barbecue area. Services include a part-time porter. Price: $147,000 (includes a parking place). Monthly HOA fees: $82.
An area of Montevideo popular with many cost-conscious investors is Ciudad Vieja (Old City). It's an eight by 12 block neighborhood where Montevideo was founded in 1730. It's a community filled with interesting period architecture, plazas, and museums.
Prices for apartments in Ciudad Vieja tend to cost less than in the Pocitos Area. Here's a sample of the types of properties you can find:
A 516-square-foot apartment close to Ciudad Vieja's Plaza Zabala. It's in a historic building restored in 2009. On the main level, you find wood flooring, a wood stove, and a balcony. Upstairs is a sleeping loft and the bathroom. Price: $100,000. Monthly HOA fees: $60.
Punta del Este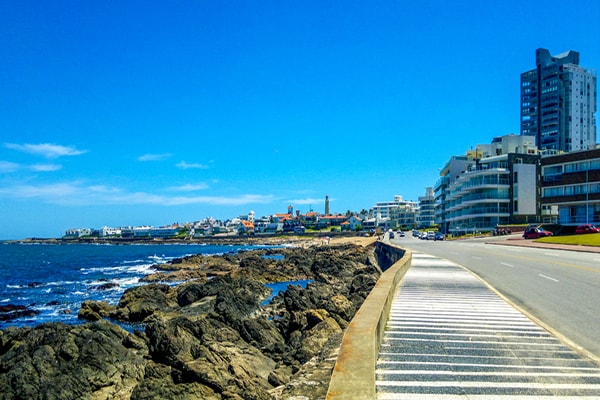 An Apartment in Punta del Este for Vacations and a Seasonal Getaway
Punta del Este is a summer beach resort. While it's most popular with Argentine and Brazilian vacationers, it also attracts well-connected North Americans and Europeans.
In the 1950s and 60s, visitors to Punta del Este included Frank Sinatra's Rat Pack and Brigitte Bardot. These days, summer guests include Ralph Lauren, Tommy Hilfiger, and Shakira.
But what may be most unique about Punta del Este is this. While it attracts jet setters it's not exclusive. What do I mean by that? Here's an example. It's customary to go to the end of the Peninsula, by the marina, on Sunday evenings to watch the sunset.
Some watch from the flybridge of a yacht or a patio table of a high-end restaurant. But just yards away, others, with smaller budgets, watch the sunset, too. They watch from blankets on the grass, from folding chairs in the sand, or from where they sit along the seawall. All enjoy the same sunset. All sense they are somewhere special.
The real estate market seems to reflect the social scene. You have plenty in the way of multi-million dollar apartments. But you also find more affordable properties in the same desirable neighborhoods. Places a little smaller, a little older, or a little further from the beach.
What can a value-conscious real estate buyer find in Punta del Este? Here's an example:
It's a two-bedroom two-bathroom apartment just a few blocks from Punta del Este's popular Brava Beach. This 850-square-foot place is on the 10th floor of a residential tower constructed in 2014. Inside it's light and bright with a black granite countertop in the kitchen, tile flooring, and a balcony. It also comes with a parking place. Building amenities include a heated outdoor pool, gym, sauna, and barbecue area. Building services include 24-hour porter and maid service. (Maid service is daily in the high season and weekly in the low season). Price: $208,000. Monthly HOA fees: $500.
A Single-Family Home near Punta del Este for Year-Round Living
What if you love the beauty of Punta del Este but prefer a single-family home with a yard? If that's the case, consider Pinares. It's a neighborhood six-and-a-half miles west of the Peninsula. Pinares looks and feels like it's part of Punta del Este. But it's actually within the city limits of the adjoining middle-class town of Maldonado. So, it's more affordable.
Here's a property sample in Pinares:
It's a 2,000-square-foot two-story home on a 7,300-square-foot lot. Inside you find three-bedrooms two-bathrooms. The living room boasts a floor-to-ceiling slate-clad fireplace. The master bedroom is a suite that includes a jetted tub and a balcony. In the back yard, you find a swimming pool and barbecue area. Price: $220,000.
Get Your Free Roving Real Estate Investor Report Now

Sign up for the FREE Roving Real Estate Investor e-letter and get a valuable report (free for a limited time) on The 5 Best Places in the World to Own a Home From $150,000.