By David Hammond
The coast of Uruguay is dotted with summer beach resort towns.
The very first one was Piriápolis.
Now, 100 years after it took hold with vacationers, Piriápolis is an old-fashioned seaside resort town with a laidback feel. It's famous for its esplanade, a beach-side walk known in Uruguay as a rambla. Across the street from the rambla is Piriapolis' centro (downtown). Piriápolis is the only coastal area in Uruguay with nearby hills.
About Piriápolis
Piriápolis is located in the Department of Maldonado. It's 61 miles east of Montevideo, and 25 miles west of Punta del Este. (Punta del Este is the largest beach resort town in Uruguay.)
Uruguay is in the Southern Hemisphere. So the seasons are opposite of the U.S. and Canada. January is a summer month. July is a winter month. The average summer high temperature in Piriápolis is 82 F. The average summer low temperature is 63 F. In winter, the average high temperature is 59 F. And the average low is 43 F.
The year-round population of Piriápolis is around 9,000. But that number takes a big jump in the summer when vacationers arrive.
Just east of Pirapolis' centro you find San Antonio Hill. You get to the top by driving up a winding hillside road or by taking a chairlift that starts at the Piriápolis marina.
Both west and east of Piriápolis' centro, you'll find residential beach communities. Going northwest along the coast, you'll pass through Playa Grande, Playa Hermosa, Playa Verde, Las Flores, and Bella Vista. The beaches in these communities are popular for sunbathing, socializing, and swimming.
Going southeast from Piriápolis' centro and San Antonio Hill are the coastal communities of Punta Fria, San Francisco, and Punta Colorada. Punta Fría and Punta Colorado are rocky points popular with beach fishermen.
If you keep going east along the coast and you'll come to Punta Negra. You'll see surfers in the area when the waves are up.
The History of Piriápolis
In 1890 Don Francisco Piria purchased a large parcel of land. On the property, Piria mined for granite, grew grapes, olives, and walnuts. Then, inspired from a visit to the South of France, he set out to develop a Mediterranean-like beach resort. To get the ball rolling, he constructed a luxury hotel, a seaside promenade, the port, and subdivided the land. By 1920, many private homes and more than 20 hotels were constructed.
Piria was a risk-taker. And he risked everything on his last building project—the Argentino Hotel. After 10 years of construction, the Argentino Hotel opened on December 24th in 1930. In its day, it was the largest hotel with the highest standard of service in all South America.
Retire in Piriápolis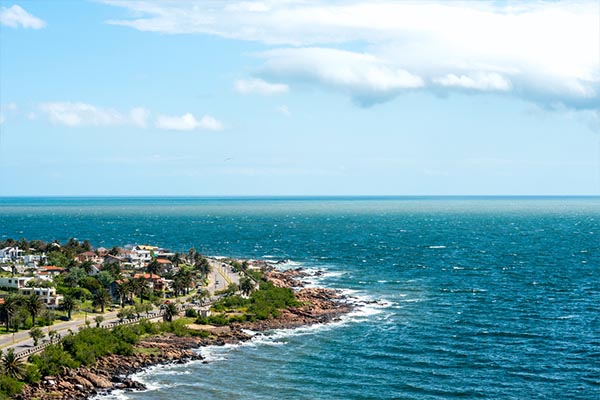 In Piriápolis, you find a small-town atmosphere, with stores and shops that provide everything you need on a day-to-day basis. You also find public and private hospital facilities, and medical clinics.
If you want to buy something beyond the basics, or you want to see a movie, Punta del Este is just a 30 to 40-minute drive away.
Compared to Punta del Este, fewer English speakers live in Piriápolis. So, to live comfortably here, you'll need to learn some basic Spanish.
If you live in Piriápolis' centro, you may be able to get by without a car. You can walk or ride a bicycle around town and take a bus to either Montevideo or Punta del Este. But, most expats in Piriápolis prefer to own a car.
Lifestyle in Piriápolis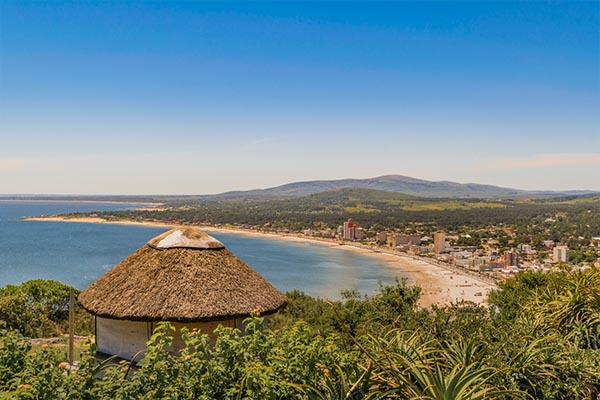 In summer, when the vacationers and part-time residents are in town, the beaches fill up. On the main street in centro, large awnings stretch out over the wide sidewalk providing shade for shoppers and outdoor diners. Altogether, you find more than 80 restaurants and cafes in and near Piriápolis.
While summer is a busy time, ideal for meeting new people, the off-season is quiet. It's a good time for reading, hobbies, and meeting other year-round residents for a chat over lunch or a coffee.
Nice days outside of high season can be good for hiking. The most popular hiking trail in the Piriápolis area goes from the Reserva de Fauna y Flora (a zoo with local wildlife) to the top of Sugar Loaf Hill.
When Piria developed Piriápolis, he included some points of interest including the Fountain of Venus and the Fountain of the Bull.
The Fountain of Venus is a replica of the Greek temple of Venus in Italy's Villa Paravichi. It's set in a park on Camino Arrayanes.
The Fountain of the Bull is a bronze statue of a bull Piria imported from France. It's located at the end of Mariano Moreno at the base of Cerro del Toro (Hill of the Bull).
Real Estate in Piriápolis
Most homes in the Piriápolis area are detached single-family homes with yards. Besides large homes and luxury homes in Piriápolis, you usually can find a selection of smaller one- and two-bedroom homes priced less than $150,000.
You also find apartments in Piriápolis, both downtown and along the side of San Antonio Hill, just east of centro.
The following are a few examples of properties for sale to give you a sense of the market:
An 893-square-foot two-bedroom one-bathroom single-family home in Playa Grande, just west of Piriápolis' centro. While the interior is a little dated, it's a solid place with a brick facade and a tile roof. Inside is a fireplace with a flagstone front. This home sits on its own 3,444-square-foot lot with a nicely kept backyard. Price: $128,000.
A 1,593-square-foot four-bedroom three-bathroom two-level home in Piriápolis' centro, just three blocks from the beach. It's tastefully remodeled place, originally constructed in 1960 with some craftsman-style details, such as stone accents and wood built-ins. Price: $300,000.
A 592-square-foot two-bedroom one-bathroom apartment located one block from the beach and close to the Argentino hotel. In this apartment constructed in 2005, you find beige tile flooring, dark wood cabinets, and white walls with a balcony.Price: $165,000
While most rentals in Piriápolis are short-term vacation rentals, you also find homes and apartments for a long-term lease. With a little looking, you can usually find a clean well-kept place for around $700. per month.
Cost of Living in Piriápolis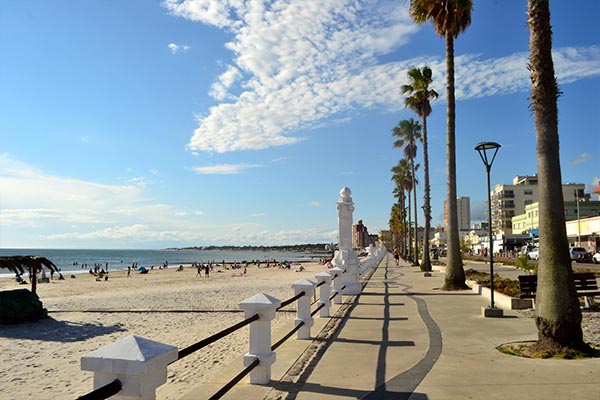 Here is a sample monthly budget for a couple living in a two-bedroom apartment in Piriápolis:
| | |
| --- | --- |
| Item | U.S. $ |
| Rent (two-bedroom apartment) | $700 |
| Utilities (electricity and gas for cooking) | $160 |
| Internet | $30 |
| Transportation (running a car) | $325 |
| Two healthcare plans | $110 |
| Food and household supplies | $800 |
| Entertainment and extras | $360 |
| Total | $2,485 |