By David Hammond
Maldonado is a middle-class city 80 miles east of Montevideo, Uruguay's capital. In colonial times (when Spain and Portugal struggled for control of the region) the Maldonado area held strategic importance. Ships found good anchorage in Spanish-controlled Maldonado Bay. And they took on fresh water where the Maldonado stream enters the Atlantic. To help fortify this area against a Portuguese takeover, the Spanish established a population center (which became the city of Maldonado) in the 1750s.
Today, the city of Maldonado (population 70,000) is the administrative center of the Maldonado Department. It's a region that includes several beach resort cities and towns. And it borders Punta del Este, the country's largest beach resort city. Maldonado is a growing area. It attracts new residents from other parts of Uruguay and from abroad—including a contingent of expats from the U.S. and Canada.
About the City of Maldonado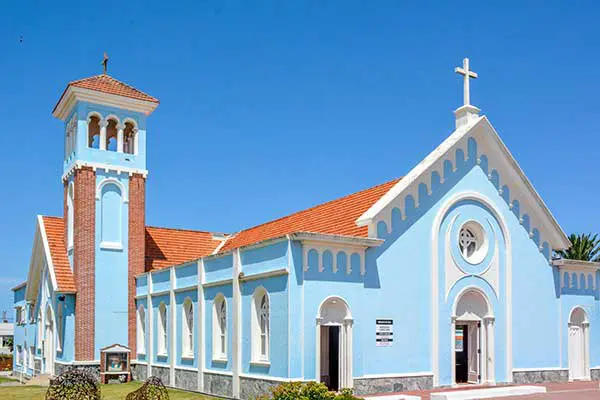 Maldonado's Economy
The largest source of employment for residents of Maldonado are industries that sustain the region's resort activities. These include:
Hospitality (hotels, restaurants, and casinos)
Real estate (property sales, vacation rental management, and property administration)
Vacation property construction (many apartment towers are under construction)
Vacation property maintenance (cleaning, landscape maintenance, and painting)
High-end retail (designer clothing, accessories, and furniture)
In addition to the resort industry, Maldonado and Punta del Este, together, form an education center with 12 private schools and six universities between them.
The Relationship Between Maldonado and Punta del Este
A long time ago, the two growing cities of Maldonado and Punta del Este merged. While each city possesses unique characteristics, they are connected, with a lot of back and forth activity between them. People who live in Maldonado enjoy Punta del Este's beaches. And people from Punta del Este (both resort guests and full-time residents) dine, shop, and attend cultural events in Maldonado. If you live in either Maldonado or Punta del Este, you'll likely have friends and favorite spots in both cities.
Maldonado's Climate

Uruguay is in the Southern Hemisphere. So, the seasons are opposite. January and February are summer months, when the region's resort areas fill with vacationers. July and August are winter months, when the resort areas are quietest.
In Maldonado, the average summertime high temperature is 78 F, cooling down to 66 F at night. The average winter high temperature is 58 F, cooling down to 47 F at night.
Two Maldonado Neighborhoods Popular With Expats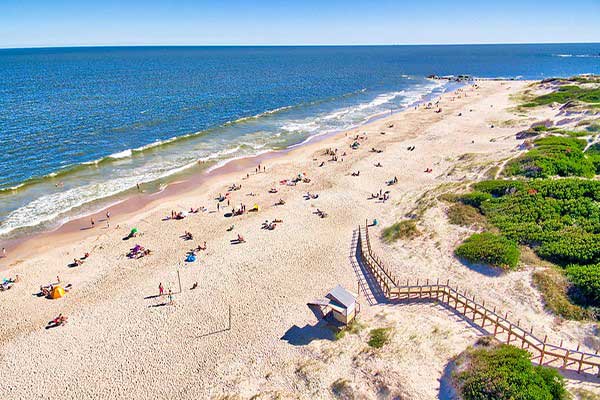 In Maldonado, you find a wide range of neighborhoods. Two popular with expats include:
Pinares, a suburban community of single-family homes
Maldonado's centro
Suburban Living in the Maldonado Community of Pinares
Pinares is a coastal resort neighborhood of attractive single-family homes with well-kept yards. It looks like a suburban neighborhood in Punta del Este, except it's within the borders of Maldonado. (Pinares is 6.5 miles west of the Punta del Este Peninsula, the resort city's epicenter.)
Among expats seeking a suburban setting, Pinares is the most popular neighborhood in the Maldonado/Punta del Este conurbation. Why is that?
For one reason, you find more full-time residents in Pinares than other suburban resort neighborhoods in the area. So, you can enjoy a greater sense of community.
Another reason is, during the high season, you don't need to go into the crowded areas of Punta del Este if you don't want to. The sand beach in Pinares is large and beautiful. And Pinares is super close to Maldonado's centro for off-the-resort everyday shopping.
Affordable Apartment Living in Maldonado's Centro
Maldonado's centro is a 12-block-by-12-block street grid of mostly low-rise buildings and homes. At the center is the Plaza San Fernando de Maldonado, with its fountain and palm trees. North of the plaza is Sarandí, a pedestrian street lined with shops and cafes.
In recent years, a growing number of modern apartment buildings have been going up in the centro area, creating an ownership option that's more affordable than in next door Punta del Este. (More about this coming up under Real Estate in Maldonado.)
Besides relative affordability, living in Maldonado's centro is convenient. You can shop and go out to eat on foot. And for some, another plus of Maldonado's centro is living among full-time residents, as opposed to living in Punta del Este with its seasonal population swings of summer residents and vacationers.
Retire in Maldonado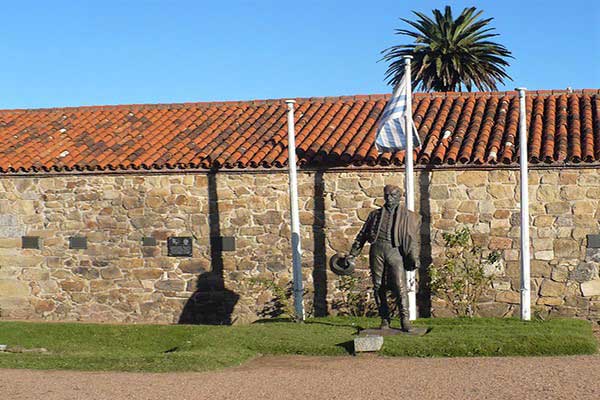 Shopping
In Maldonado's centro you find neighborhood grocery markets and a wide range of shops. For a huge selection of fresh produce, a large street market sets up just outside of Maldonado's centro on Sundays.
Not far from Maldonado is the Punta del Este shopping mall. Besides stores, the mall brags a multiplex and recreational areas that include bowling.
Medical Care
In Maldonado, you'll find a private and public hospital. In next-door Punta del Este you'll find another private hospital and several clinics. There are also several good dentists in Maldonado and Punta del Este.
Transportation
From Maldonado's centro, there is a bus service that can take you to the mall, medical services, and beaches. Buses are clean, safe, and come by frequently. The cost is a little over $1 each way.
If you live in Pinares, you'll need a car to get around.
English-Speaking Assistance
In the Maldonado/Punta del Este area, you'll have no difficulty finding English-speaking service providers. Among them are relocation specialists, who can help you become a legal resident, open a bank account, and get signed up with a health care plan. You can also find many English-speaking real estate agents who can help you find a place to rent or buy.
Assisted living and retirement homes
Retirement homes and nursing homes are rare in Latin America. However, you find a growing number of them in Uruguay. In the Maldonado/Punta del Este area there are several to choose from.
Lifestyle in Maldonado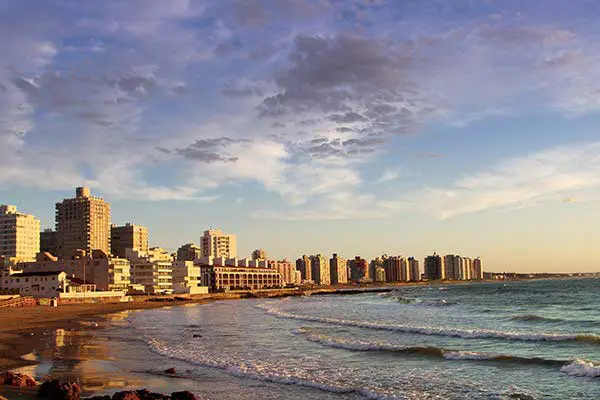 Dining
In Maldonado, choose from traditional Uruguayan barbecue restaurants, lots of pizza places, and cafes with tempting pastries. And next door in Punta del Este, you can enjoy some of the finest restaurants in Uruguay.
Recreation
In Maldonado, you live close to world-class resort beaches where you can sun, play volleyball, or fish from the shore. Water sports include surfing, standup paddle boarding, and kite surfing. You also find three golf clubs and three tennis clubs within 10 miles of Maldonado.
Cultural Activities
Once you learn a little Spanish, you can take classes offered at Maldonado's cultural center. The center is divided into different schools. These include a visual arts school, a theater production school, a dance school, and a music school.
The visual arts school provides painting, ceramic, and sculpting classes. The music school offers lessons for guitar, violin, French horn, trumpet, piano, drums, and accordion.
Day Trips
If you like the outdoors, take a day (or more) to explore Uruguay's Rocha Department. It's a rural region of pastures, lagoons, and forests east of Maldonado. It's where you can visit two huge national parks and small picturesque beach towns.
If you enjoy good wines, you can visit one of the nearby wineries: Alto de la Ballena, Viña Edén, or Bodega Garzón. All three produce world-class wines.
Real Estate in Maldonado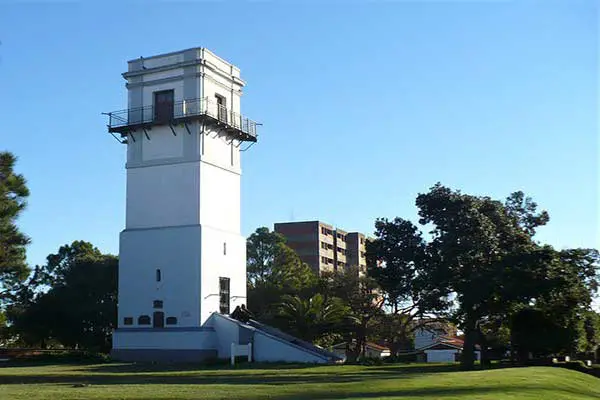 Single-Family Homes in the Suburban Neighborhood of Pinares
In Pinares, many of the homes were built in the 1980s. It was a time when suburban building lots were larger and home construction included materials and craftsmanship that would be cost prohibitive today.
Here's an example of the type of house your money can buy in Pinares.
A 2,000-square-foot home on a roomy 9,900-square-foot lot five blocks from the beach. This two-level home is a traditional style with a red brick exterior and brick chimney. The doors and window frames are custom milled from rich-colored hardwoods.
On the ground level is the living and dining area with a vaulted open-beamed ceiling and a large stone fireplace. Also on the ground level are two bedrooms with a bath and a social bathroom. This home also includes service quarters (for live-in help) with a bathroom. Upstairs is a suite with a balcony overlooking the backyard with its covered barbecue area, built-in swimming pool, and large lawn. The price is $380,000.
You also find newer homes in Pinares. In some cases, a builder subdivides a lot in order to build two smaller (and more affordable) homes. Following is another example.
A new 1,270-square-foot, two-bedroom, one-bathroom home on a 4,250-square-foot lot two blocks from the beach. It's a modern cube-style with a stucco exterior. This home includes slate interior and exterior accents and a fireplace. In the backyard is a pergola-covered barbecue area. Price $183,000.
Modern Apartments in Maldonado's Centro
Ownership costs for an apartment in Maldonado can be much less than in Punta del Este. This is mainly due to lower gastos comunes (common expenses). Monthly gastos comunes fees pay for your apartment building's upkeep and operating costs (like condo HOA fees in the U.S.).
For most apartments in Punta del Este, gastos comunes also cover hotel-like services that come with the apartment, such as porters and daily housekeeping for your apartment. So, the gastos comunes may range from $600 to $1,800 per month.
However in Maldonado's centro, you find nice apartments in well-kept buildings, but without the hotel-like services. So, the monthly gastos comunes are usually less than $100 per month.
Here's an example of the type of apartment your money can buy in Maldonado.
A modern 538-square-foot, one-bedroom, one-bathroom apartment in Maldonado's centro. Inside, there is a galley kitchen with granite countertops and a laundry-area balcony. The flooring is tile in the kitchen and bathroom. In the living room and bedrooms, the flooring is laminate. The price of $98,000 includes a garage space.
Here's another example.
An 882-square-foot, two-bedroom, one-bathroom apartment with a balcony. It boasts a spacious living and dining area with a kitchenette. The flooring is large porcelain tiles. The price of $160,000 includes a parking space.
Cost of Living in Maldonado
To give you an idea of the cost of living, here is a sample budget for a couple renting a two-bedroom apartment in Maldonado's centro.
| | |
| --- | --- |
| Item | U.S. $ |
| Rent (twobedroom apartment) | $600 |
| Homeowners Association Fee | $85 |
| Electricity | $160 |
| Water, sewer, garbage | $30 |
| Internet | $31 |
| Transportation (using the bus) | $90 |
| Two cell phone plans | $44 |
| Two health care plans | $100 |
| Food and household supplies | $900 |
| Dining Out and Entertainment | $500 |
| Total Budget: | $2,540 |
| Owning in Maldonado | $2,015 (Plus $75/month property taxes) |
Featured Image Copyright: ©David Hammond