"Things change."
It's an adage that applies to most everything.
And the cost of living in Uruguay is no exception.
In 2006, Uruguay was among the least expensive countries in Latin America.
But these days, that's no longer the case.
So, if you're looking for rock-bottom living prices, Uruguay is probably not for you.
However, if you're search is more about good value for your money, Uruguay may still be your place.
That's because the little country of Uruguay offers a big choice of lifestyle options.
Want to get outside for a little exercise? In Uruguay, choose among golf, tennis, or a long walk on the coastal promenade, known as the rambla.
Feel like an evening of entertainment? Your options in Uruguay include going to the movies, street tango, a variety of live club music, or the ballet.
What about a day trip or weekend getaway? In Uruguay, you can select from a variety of destinations. Visit unique beach towns in the summer, hot spring resorts in the winter, and esteemed wineries any time of year.
And while Uruguay isn't the cheapest place to live in Latin America, it still offers some significant ways to save on your living costs. For example, with the well-organized bus system and plentiful taxis, most people get by fine without owning a car. And the affordable healthcare plans are a big plus, especially if you're from the U.S.
Sound interesting?
Then, read on.
About Uruguay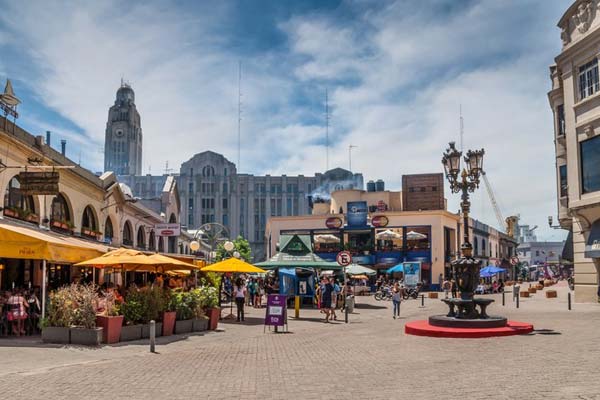 Uruguay is a little smaller than Washington State. It's located on the east coast of South America between Brazil and Argentina.
The total population of Uruguay is about 3.5 million. About half the population lives in and near Montevideo, the capital city.
The country's biggest industry is agriculture, which includes cattle and a variety of plant crops.  Another big industry is tourism. Uruguay's beaches attract vacationers from all over the region and the world.
Uruguay is often described as socially stable. All citizens have access to affordable healthcare. Education through university is just about free. And workers receive many benefits, including a pension and 20 days per year of paid vacation.
The Pocitos Area of Montevideo—a Good-Value Lifestyle
Many English-speakers who move to Uruguay start out in Montevideo, where you find bilingual residency services and Spanish language schools.
One of the most popular areas of Montevideo for both locals and the international crowd is the Pocitos area (technically, the neighborhoods of Pocitos, Punta Carretas, and the western part of Buceo).
Pocitos is a residential area of apartment buildings with a long sand beach, several large parks, and an 18-hole golf course.
Shopping
In the Pocitos area, you find two shopping malls and modern supermarkets. You'll also find a variety of small neighborhood businesses, such as produce stands, butchers, bakeries, cafes, and hardware stores.
Another place to shop is the ferias (like farmer's markets). Ferias set up once or twice a week in most Montevideo neighborhoods, including neighborhoods in the Pocitos area. It's where you get the best buy on fresh produce and other whole foods.
On a recent visit to my neighborhood feria, I bought half a kilo of fresh local fish, loaded up on vegetables, and bought half a pound of quality cheese. The total cost was less than $15.
Once you become  a regular in local stores and feria stalls, your shopping experience will likely include a warm greeting and personalized attention.
Transportation around Town
Most people in Pocitos get by fine without a car. The bus system is reliable. And it's a simple matter to get a taxi or an Uber Ride.
To see a doctor, it's a three-mile bus or taxi ride from Pocitos to most of the major hospitals and clinics.
For a bit of culture, it's a four-mile bus or taxi ride from Pocitos to Montevideo's Ciudad Vieja (Old City). It's where you find the city's original plazas, period architecture, most museums, and the two largest performance theaters: the Solís Theater and the National Auditorium of SODRE.
Transportation out of Town
From Pocitos, it's just a couple of miles to Tres Cruces, Montevideo's main bus terminal. Here, buses go and come from destinations throughout the country. Most city-to-city buses in Uruguay are clean and modern with large luggage bays, reclining seats, air conditioning, and WiFi.
To give you an idea about the rates, a two-hour bus ride from Montevideo to Punta del Este, Uruguay's most visited beach resort, costs less than $10. The six hour ride to Salto, near the hot spring resorts, is less than $35 each way.
Sample Cost of Living Budget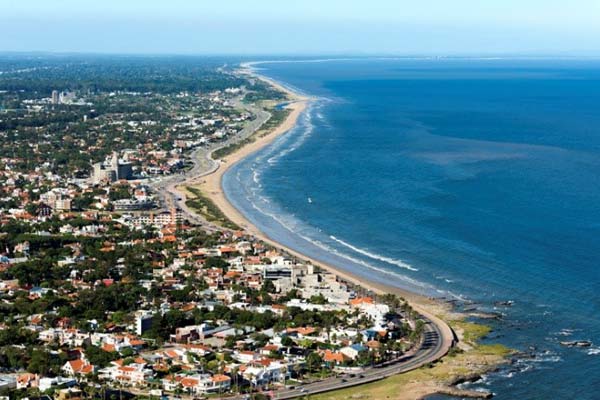 How much does it cost to live in Uruguay? It depends on a number of factors, such as where you live, your lifestyle, and the performance of the dollar. But to give you an idea, here's a sample budget for two people renting a one-bedroom apartment in Pocitos.
| | |
| --- | --- |
| Expense | U.S. $ |
| Rent (one-bedroom apartment in Pocitos) | $900 |
| HOA fees (common building expenses) | $160 |
| Transportation (Taxis, buses etc.) | $138 |
| Gas (for cooking) | $5 |
| Electricity (assumes use of AC and heat) | $160 |
| Water | $16 (may be included in HOA) |
| Internet (packaged with phone | $35 |
| Cell phone (two basic cell phone plans) | $60 |
| Health Care (two basic health care plans) | $200 |
| Food and home supplies | $960 |
| Entertainment | $400 |
| Monthly Total | $3,034 |
Apartments
Most Uruguayans are descendants of Italian and Spanish immigrants. And in the European tradition, most Uruguayans are accustomed to smaller living spaces than what is typical in the US and Canada. Many one-bedroom apartments in Montevideo are around 538 square feet.
If you decide Uruguay make sense for the long term and buy an apartment instead of rent, your monthly living costs will be less.
Healthcare
While you find a variety of healthcare options in Uruguay, the most popular and affordable option is a hospital membership plan called a mutualista.
As a mutualista member, you go to your hospital or one of its satellite clinics for all your care. It covers your doctor visits, tests, treatments, surgeries, emergencies, and hospital stays. Besides your monthly payment (often less than $100) your only cost is a small co-payment for each visit or test. Many mutualistas also provide discounts for medications.
Electricity
The cost of electricity can vary a lot depending on the efficiency of your heating or air conditioning unit, how you use it, and the size of your apartment. Because of this, actual costs can range from significantly less to significantly more than the sample budget estimate.
For example, my electrical costs are much less than the budget estimate. I currently live in a 45-square-meter apartment in Montevideo and am careful with energy. In the summer, I'll wear shorts and open windows to create a cross draft. In winter, I dress warmly. I only use heating and air conditioning when it's uncomfortably cold or uncomfortably hot.
However, others with larger homes (125+ meters), with electric in-floor heating systems, that set a thermostat to keep an even temperature, will likely pay significantly more than the budget estimate during the winter months.
Internet
The internet plan listed on the sample budget is for unlimited use over a fiber optic line with an approximate download speed of 48 Mbps and upload speed of 12 Mbps. The service includes an incoming phone line with phone number.
What about living in a rural area?
People living in rural areas of Uruguay often pay less for rent, groceries, and other household items. However, they'll likely have the additional expense of a car or truck. So the monthly cost of living in a rural area often comes out to around the same as living in Montevideo.
What about other areas of Uruguay?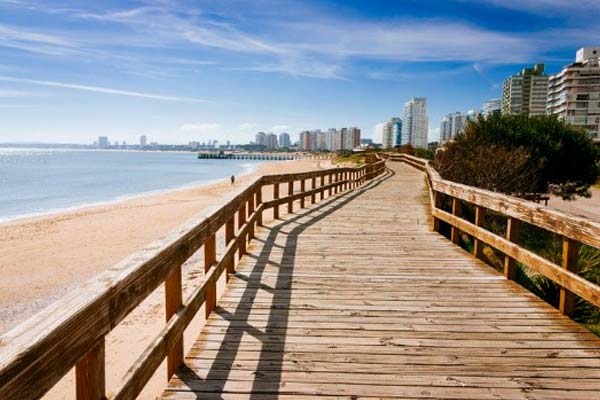 Other places in Uruguay popular with English-speaking expats include Carrasco, Punta del Este, Atlántida, and Piriápolis.
On the eastern edge of Montevideo is the neighborhood of Carrasco. And further east, outside the city limit, gated private communities, such as La Tahona.
These areas, popular with business people and embassy workers, are characterized by large single-family homes, elite sports clubs, and top-flight private schools. The cost of living is more than Pocitos, with many household budgets north of $100,000 per year.
Another area popular with expats is Punta del Este, often called the Saint-Tropez of South America. It's a well-developed beach resort with both single-family homes and residential towers. Most of the homes are summer places. However, a growing number of both expats and Uruguayans live here full time.
While Punta del Este is famous for many things, being inexpensive isn't one of them. Groceries and home supplies cost more than anywhere else in Uruguay. And restaurant prices rival those of New York City.
With that said, it's still possible for a couple to live in this beautiful area for just a little more than $3,000 per month.
That's because if you look around, you'll find apartments for rent in older, but well-located, buildings for less than in Pocitos for the same size of place.
You also find mutualistas for affordable health care, a feria for good deals on whole foods in nearby Maldonado, and reliable public bus service to get around. (Beware of taxis, though. They cost more than double those in Montevideo.)
With this budget, your waterfront dining experience will likely involve your own folding chairs and ice chest. But you'll enjoy the same beaches, sunsets, and resort atmosphere as those paying much more.
Two additional areas popular with expats include Atlántida and Piriápolis. Both are peaceful coastal towns in areas of natural beauty.  Atlántida, 28 miles east of Montevideo, is known for its many trees. Piriápolis, 25 miles west of Punta del Este, is known for its hills and boat harbor.
Like Punta, many of the homes are summer places—though smaller and more modest. And like Punta, more expats and Uruguayans come to live in these communities full time.
In both Atlántida and Piriápolis, you can rent a two to a three-bedroom single-family home with a yard for less than $900 per month. It's a low-key lifestyle with the potential to cost less than Pocitos. However, it usually ends up costing about the same because most expats in these smaller communities own a car to get around.
Consider Budgeting for Spanish lessons
One expense not included in the sample budget you may want to consider is Spanish lessons. Learning some basic Spanish helps you get by, shows respect, and increases your social opportunities.
To get off to a good start in Uruguay, you might begin with a home course before you make the move. Then, when you arrive in Uruguay, take a month or two of intensive lessons at one of Montevideo's Spanish language schools.
The Takeaway
So, there you have it. The cost of living isn't as low in Uruguay as it used to be. However, many find the lifestyle opportunities, combined with affordable health care, add up to a value that's just the ticket.