Montevideo, Uruguay
Montevideo is Uruguay's capital city as well as the country's main commercial and cultural center. It sits on the Rio de la Plata (River Plate). The population of Montevideo's Metro Area is close to 2 million—more than half of Uruguay's population.
The city is known for its many large parks, tree-lined streets, sandy beaches, and wide avenues. Along the Montevideo waterfront is the rambla, the road and wide sidewalk that run along the city's coastline. As you explore, you'll notice pedestrian streets, as well as unique neighborhood shops, and restaurants.
The people in Montevideo take their leisure fishing from the rambla, chatting with friends in plazas and cafés, and browsing in outdoor markets.
Retire in Montevideo, Uruguay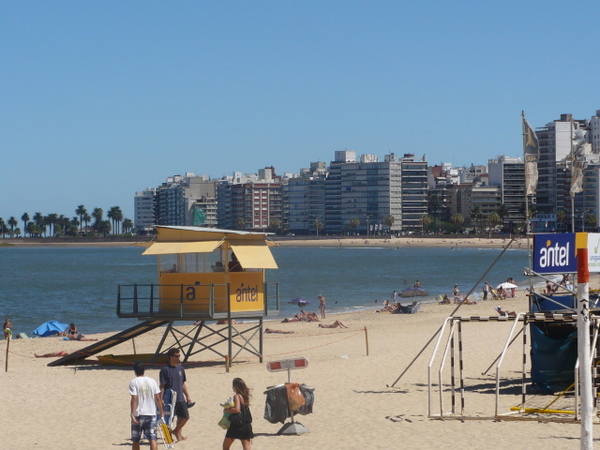 The Uruguayan people are generally calm, laidback and tend to show patience, which adds to the relaxed feeling of the country and will help you settle in retirement.
At night there is dining, tango classes, theater, and various nightclubs. This includes nightly outdoor entertainment at Parque Rodo's summer amphitheater during the 40 days of Uruguay's Carnival.
While Montevideo's seven-mile coastline is not technically "oceanfront," it looks like the ocean, with wide and sandy beaches. During the Southern Hemisphere summer (January and February) Montevideo's beaches are thick with sunbathers.
The average summer high temperature is around 83 F. On the hottest summer days it can reach the mid-90s F. In the middle of winter, the average high temperature is 58 F. Suffice to say that while you won't need a snow shovel, you will need to use heat in the winter and occasional air conditioning in the summer.
Lifestyle in Montevideo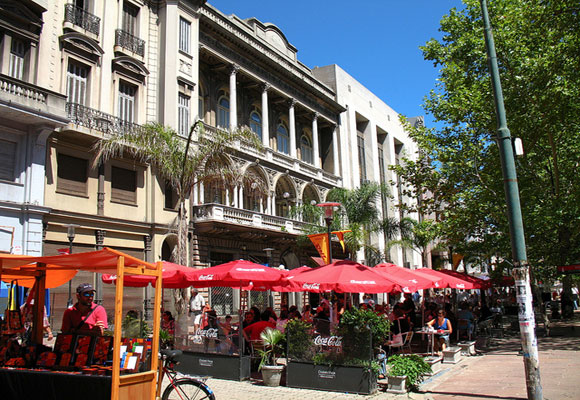 You can enjoy a great lifestyle in Montevideo. With its pleasant outdoor areas, convenient shopping, and many entertainment options, Montevideo is an easy place to settle in.
Uruguayan foods are also a specialty in Montevideo. Gnocchi is a popular food in Italy and is also a favorite in Uruguay (where it's called ñoqui). Parrillada is one thing that any true meat-eater must try when visiting Montevideo. Many parrillas (from "grill", in Spanish) are quite large—often up to six feet long.
Uruguay offers an old colonial city, a sparkling beach resort, and a world-class capital. But it also has huge expanses of rolling ranch land, miles of uncrowded and undeveloped beaches, and a variety of small towns.
Uruguay's music traditions include candombe, tango, and the local variation of murga; all of which developed in the Río de la Plata basin, and are now Montevideo favorites.
When people mention theater in Montevideo, the first place that comes to mind is the Teatro Solis (Solis Theater). It is a beautiful neoclassic building completed in 1856, located on the east side of Montevideo's Ciudad Vieja. The Solis maintains a full and vibrant schedule of interesting events.
You'll also find amazing performances at Montevideo's modern Auditorio Nacional Adela Reta (Adela Reta National Auditorium). Completed in 2009, the Adela Reta has the largest stage in Montevideo with seating for 2,000 people. Operas, symphonies, ballets, and other significant productions are held here.
Montevideo is also full of culture and history. Montevideo's Old City, Ciudad Vieja, is an eight-by-12 block area, which was once the entire original city of Montevideo, founded in 1730. Here, you'll find the Metropolitan Cathedral, dating from 1790, gracing the plaza, and rows of tall trees shade wooden benches around a white gargoyle- and cherub-decorated marble fountain.
Real Estate in Montevideo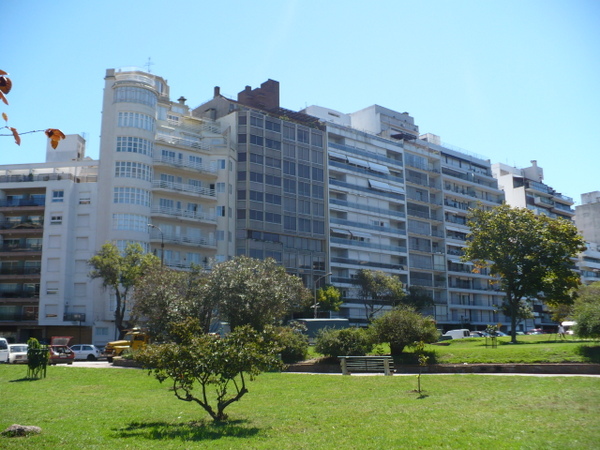 As mentioned, Ciudad Vieja is the oldest community in the city of Montevideo. The biggest question about any property in Ciudad Vieja is whether it is located in a building that has been restored.
The safest investment in Ciudad Vieja is to buy an apartment in a restored building on one of the three main plazas: Plaza Independencia, Plaza Matriz, or Plaza Zabala. Or to buy on the Sarandí pedestrian street between Plaza Independencia and Alzaibar Street.
As an example, there is a one bedroom one bath apartment in a beautifully restored building. It's located near Plaza Matriz. While the building maintains its original look, the recently remodeled apartment is all modern with wood and tile flooring. The price is $150,000.
Adjoining Ciudad Vieja is Centro. Here you'll find apartments for sale in both period and modern buildings. The most popular locations in Centro are on Avenue 18 de Julio (Montevideo's main avenue) near one of the plazas.
There is a three-bedroom one-bathroom apartment on the fifth floor of a building constructed in 1927. It's near Plaza Fabini (also known as Plaza del Entrevero). The apartment is in good condition and maintains its original charm with wood flooring, paneled walls, and French windows. Price: 190,000.
The Pocitos neighborhood is two-and-a-half miles east of Centro. It was originally an independent town from Montevideo that finally merged into the growing metropolis. During various building booms, growth in Pocitos continues by removing single-family homes and replacing them with residential towers. Today, Pocitos is the most densely populated community in the city.
In Pocitos there is an eighth-floor one-bedroom one-bath apartment in a new building just two-and-a-half blocks from Pocitos Beach. Inside, you'll find laminate flooring and a kitchenette with a granite counter top. Price: $172,500.
Cost Of Living In Montevideo, Uruguay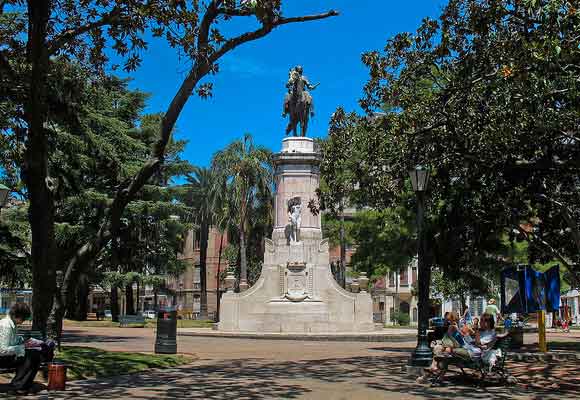 The cost of living in Montevideo isn't the least expensive in Latin America. However, when you consider the quality of life, you may find it a good value for your money. For a couple owning an apartment, the cost of living in Montevideo can be a little over $2,000 per month.
Here is a sample of a monthly budget for a couple living in Montevideo:
| | |
| --- | --- |
| Item | U.S. $ |
| Rent (one bedroom apartment) | $900 |
| Homeowners Association Fee | $160 |
| Transportation (bus and taxis) | $138 |
| Utilities (electricity and gas for cooking) | $165 |
| Internet | $35 |
| Health plan | $200 |
| Food and household supplies | $960 |
| Entertainment | $400 |
| Total | $2,958 |
Living in Montevideo, Uruguay: Three Neighborhoods to Consider
by David Hammond
Living in Montevideo, Uruguay is becoming increasingly popular for expats looking for an urban environment with a year-round menu of dining, entertainment, cultural events, and social opportunities.
However, Montevideo is a big city covering 200 miles with 62 different neighborhoods.
The three areas most popular with English-speaking expats include
Ciudad Vieja and Centro
The Pocitos Area
Carrasco.
This is not an all-inclusive list of good places to consider in Montevideo. There are other great neighborhoods, and special little spots to discover. However, these three areas are a good place to start.
(Before you read on, take a look at the video I shot of the neighborhoods in Montevideo I write about below.)
Living in Montevideo's Ciudad Vieja (Old City) and Centro
The two oldest neighborhoods of Montevideo are Ciudad Vieja (Old City) and Centro. Ciudad Vieja was the original city of Montevideo when it was founded in 1730. Centro was the first addition to the Old City in 1861.
Ciudad Vieja and Centro are Montevideo's main business and cultural centers. This is where you find historic architecture, the city's original plazas, and public monuments. This is also the location of the most hotels, restaurants, theaters, art galleries, and museums.
Ciudad Vieja has the highest concentration of government, financial, and professional offices in the city. Approximately 100,000 people come to Ciudad Vieja to work on the weekdays, while only 16,000 people live in the area. For this reason, there is little happening in the evenings and on Sundays.
The exception is the east edge of Ciudad Vieja, near Plaza Independencia and the Solis Theater, where there are fine restaurants and popular bars open at night. In Centro there is a lot going on, at night as well as during the day.
The biggest attractions of Ciudad Vieja and Centro for English-speaking expats living in Montevideo is:
The opportunity to live in a renovated apartment in a historic building
Being close to the city's best dining, theater, and other cultural events
The lowest average property prices of the three areas discussed in this article.
Living in Montevideo's Pocitos Area
The Pocitos area is a secondary and more modern city center comprised of the three adjoining residential neighborhoods of Punta Carretas, Pocitos, and Buceo. Outside of Centro, the Pocitos area has the most restaurants, hotels, and nightlife. All three of these communities have unique characteristics, but for the purposes of this overview, we will lump them together.
The attractions of the Pocitos area are:
The largest selection of apartments to rent and buy in the city
Two large shopping malls
Lots of green space including two large parks and an 18-hole golf course
A long sandy beach is good for sunbathing, swimming, and beach volleyball in the summer
The largest community of English speaking expats and other foreigners living in Montevideo.
Living in the Montevideo Neighborhood of Carrasco
A third area popular with expats is Carrasco. Carrasco is located on the western outskirts of Montevideo. It is different from Centro and Pocitos in that it has a much lower housing density.
Most of the homes in Carrasco are large single-family homes and spacious low-rise apartment buildings with large yards. It is near the Carrasco International Airport (Uruguay's main airport).
The attractions of Carrasco are:
The availability of large single-family homes on their own large lots in a suburban setting
A long and wide sandy beach
A large modern shopping mall and large box-type stores
A Polo Club, which includes a renowned rugby team, and a lawn tennis club.
Neighborhood Living
While a part of the greater Montevideo metropolis, Ciudad Vieja, Centro, and the Pocitos area, are comprised of connecting neighborhoods, each with their own markets, butcher shops, hardware stores, and cafés. Things you need on a regular basis are usually just a short walk from where you live. This lends itself to a type of old-world living where you do not need a car, and you get to know the people who own and operate the small businesses and cafés in your neighborhood.
Ferias: Shopping in Montevideo
Most Montevideo neighborhoods have ferias (fairs). Ferias are farmer's markets, which are set up once or twice a week. This is where people living in Montevideo get the freshest whole foods at the best prices. Some ferias also have vendors selling a variety of goods as well as food. Some of the larger ferias have just about anything you can think of—from clothing to framed prints to hand-crafted cookware; it's all there, usually at below store prices.
Transportation in the City
The majority of people living in Montevideo do not own a car. When they need to go beyond their own neighborhood, they take the bus or a taxi.
You'll find regular and well-routed bus service between all the areas discussed in this article. People from Pocitos regularly come to Centro and Ciudad Vieja for business at government offices, professional appointments, discount shopping, and for a variety of theater, music, and cultural events. And people who live in Ciudad Vieja and Centro regularly come to the Pocitos area to go to the mall and the beach during the summer.
You'll find buses that go all the way across the city connecting Carrasco with the Pocitos area, Centro, and Ciudad Vieja. With that said, Carrasco is much more of a car culture, with the majority of homeowners driving to the places they need to go.
Where to Find the Hospitals
Most hospitals are located in or near an area of Montevideo known as Tres Cruses. It centrally located, and you'll find regular and convenient bus service from most all areas of Montevideo.
Spanish Schools
Montevideo is known for its good Spanish Language schools. For English-speakers new to living in Montevideo, Spanish lessons are recommended. The Spanish Language schools in Montevideo are in Ciudad Vieja and Centro area.