When the waves break on the rocks near Aphrodite's Beach in Cyprus, some insist that the resulting foam resembles a human form—perhaps that of the Greek goddess, Aphrodite. According to mythology, it was here at Petra tou Romiou that Aphrodite, the goddess of love and beauty, was born.
Cyprus is located at the crossroads of Europe, Asia, and Africa, and throughout history has been ruled by diverse civilizations. The Phoenicians, Assyrians, Ancient Greeks, Romans, Byzantines, Franks, Venetians, Ottomans, and the British have all left their mark. Today, this complex history is reflected in Cyprus' fascinating cultural sites and its rich cuisine.
More than 300 days of sunshine annually.
Many visitors come to Cyprus for the castles, churches, food, and wine. They are also drawn to the island's plentiful sunshine—it has more than 300 days annually. The island also has mountainous pine and cedar forests, seaside towns, and landscapes dotted with hot-pink bougainvillea and white oleander.
I've visited Cyprus twice. Each trip has left me wanting to explore more of this island nation and its 10,000 years of history. Here are a few highlights.
Paphos: Sun, Sea, and Archaeology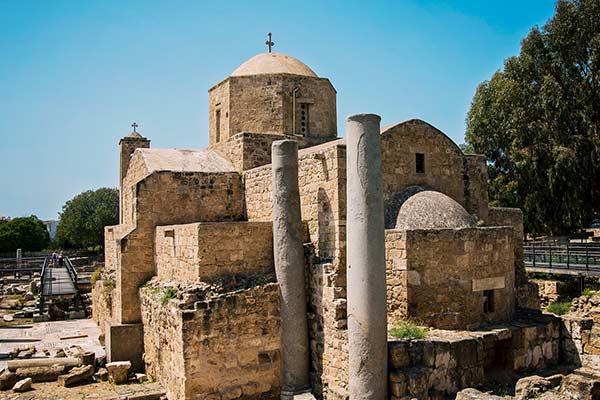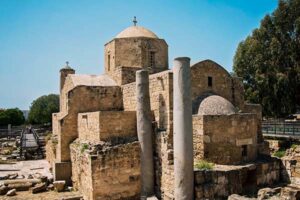 Built around a natural harbor that's overlooked by a small, honey-colored fort, Paphos is home to several Blue Flag beaches and some of the Mediterranean's finest mosaics.
The Paphos Archaeological Park contains mosaics, as well as the remains of four Roman villas, an agora, a theater, and a basilica. Several mosaics inside the House of Dionysus depict the villa's god-of-wine namesake. In his hand are a bunch of grapes, painstakingly assembled by a mosaicist more than 1,700 years ago. In total, thousands of square feet of mosaics adorn this site. Incredibly, the mosaics were not discovered until the mid-20th century, when a farmer was plowing his field.
While parts of the archaeological site are protected with shelters, many of the attractions are located outside. Despite having been long exposed to the elements, the mosaics have generally fared well. You, on the other hand, will want to bring sun protection. You can easily spend a couple of hours here. Tickets cost about $5.
The Tombs of the Kings are an ancient necropolis located about one mile from the mosaics. The remains of Paphos' rulers were buried here as far back as the 4th century BCE.
Cut out of living rock, some of the subterranean architecture mirrors what you would have seen above-ground thousands of years ago. There are Doric columns and ornamental niches, as well as evidence that parts of the tombs were even painted with frescoes.
Today, newer construction is visible in the area. However, you can visualize what the tombs would've looked like when sea views and palm trees were the only distraction. Tickets are $2.60.
The Tranquil Troodos Mountains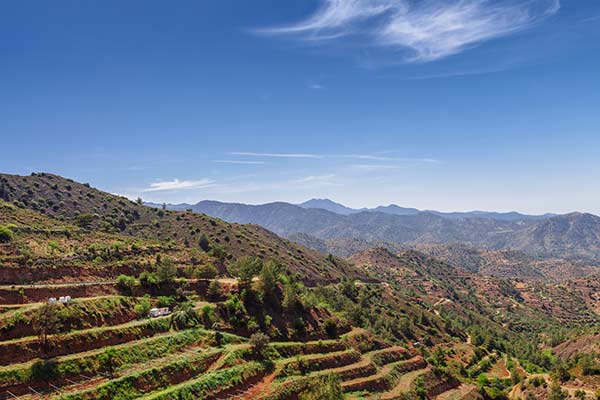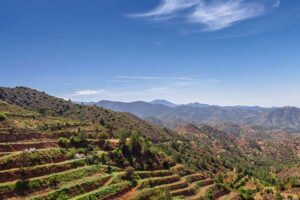 The Troodos Mountains loom in the center of the island and are the country's largest mountain range. Pine, golden oak, and cedar trees cover parts of the range. When it's sizzling-hot in the low-lying areas, these forests offer a cool sanctuary from the heat.
As you explore Troodos, you'll encounter sweeping island views as well as charming mountain villages and historic Orthodox Christian places of worship. These include the Kykkos Monastery, as well as smaller churches. UNESCO awarded World Heritage status to 10 of these churches in 1985 on account of their elaborate Byzantine murals.
Copper has been mined in these mountains since ancient times. The name Cyprus comes from the Greek word for the element: kyprios.
Nicosia, the Multicultural Capital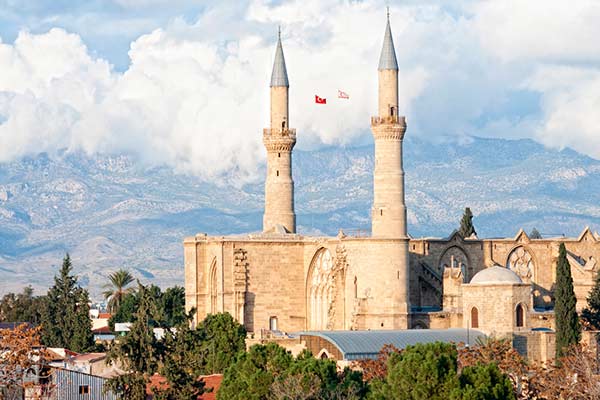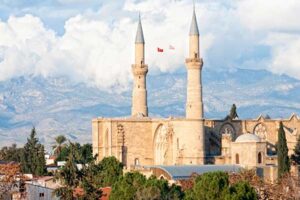 Nicosia is the world's only divided capital city (see sidebar). As a result, it is a complicated and fascinating place. The city has been continuously inhabited for more than 4,500 years, and since 1974, it has been divided into two. The southern part is called Nicosia in the Latin script, and Lefkosia in Greek. Turkish-Cypriots, however, refer to North Nicosia as Lefkosa. You can visit both parts of the capital, but you'll have to pass through the UN Buffer Zone (also known as the Green Line) and passport-controlled checkpoints.
16th-century Venetian walls surround the city.
Venetian walls encircle the city and were built in the 16th century to deter the Ottomans. The walls are visible on both sides of Nicosia. Defensively speaking, the fortifications were unsuccessful, as the Ottomans took the city in 1570.
South Nicosia is the Republic of Cyprus' capital and is home to government buildings and museums. The Old Town is a great place to people-watch and enjoy a cold coffee.
On the other side of the border, North Nicosia has a distinctly Ottoman feel with its hammams, bazaars, and mosques. You can visit the Selimiye Mosque, which was formerly a Catholic cathedral. The Gothic-style structure was built in the 13th century and originally called St. Sophia Cathedral. In the 16th century, the Ottomans converted it into a mosque. Eventually, it was renamed the Selimiye Mosque and two minarets were added.
Another historic site in North Nicosia is the Büyük Han—a caravanserai that is now home to cafés, souvenir shops, and arts and crafts workshops.
Cypriot Cuisine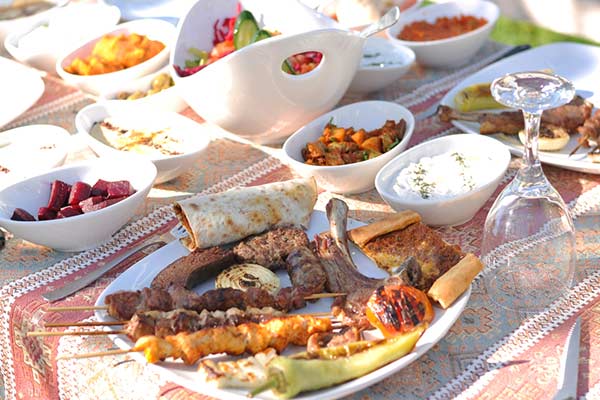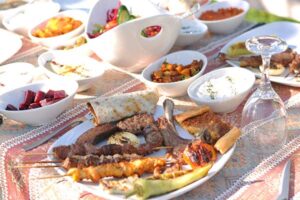 If Greek food—with a twist—sounds appealing, you'll be pleased with what Cyprus has to offer. Popular dishes include fresh seafood, souvla (skewered chicken, lamb, or pork), grilled halloumi (salted goat's and sheep's-milk cheese), and stuffed vegetables.
Keep your eyes open for dolmades, which are vine leaves filled with rice, ground meat, and a dash of lemon juice, cinnamon, and mint. You'll also find peppers, tomatoes, or zucchini filled with herb-flavored rice.
Small plates of varied offerings called meze include salads, flavorful dips, seafood, and meat. An impressive selection of meze might even constitute a meal. Depending upon the season, you're bound to encounter an abundance of locally grown grapes, figs, pomegranates, prickly pears, olives, cherries, and apples.
Cyprus produces some delightful wine, including well-known varieties like Merlot and Syrah. It also has native varietals such as Maratheftiko and Xynisteri. The island has a wine-making history that goes back about 5,500 years, making it one of the oldest wine-producing territories in the world.
These were my favorite eateries:
Agios Georgios Alamanou Fish Tavern (near Limassol). Located on the windswept southern coast of Cyprus and halfway between Larnaca and Paphos, this restaurant has nice views of the sunset. My Cypriot host recommended the Divina Salad and said that it alone was worth the visit to the island. The salad had a bed of lettuce topped with juicy cherry tomatoes, dried figs, walnuts, pomegranate seeds, and was drizzled with honey and balsamic vinegar. I also had incredible platters of grilled shrimp, fish, oysters, calamari, pita bread, and tyrokafteri—a cheese spread made with feta, lemon juice, garlic, peppers, olive oil, and yogurt. A plate of watermelon proved to be the perfect dessert.
Porto Bello (Paphos). Though it might seem unusual to go to an Italian restaurant while in Cyprus, some local friends took me and my husband, Shawn, here. I loved the pollo fiorentina, a chicken breast served with spinach, a creamy white wine sauce, tomato, and golden, crispy mozzarella ($17.50). Shawn enjoyed the gongorozo, a thin-crust pizza with sun-dried tomatoes, Gorgonzola cheese, pepperoni, and olives ($17).
Atlantida Fish Tavern (Geroskipou, near Paphos). With a lovely seaside location and massive portions of fresh seafood, you'll leave here well-nourished. We ate sea bream, shrimp, dips like hummus, tahini, tzatziki, and tarama (made with olive oil, lemon juice, and salted, cured roe). For a sweet finish, we had a dollop of glyko karpouzi—yellow watermelon rind that's been preserved in honey and lemon juice.
Zorbas Bakery (Paphos). My travel companions raved about the pastries from Zorbas. Shawn couldn't stop talking about the cardamom-infused baklava, and our friend, who lives in Paphos for part of the year, adores the galaktoboureko, a custard pie made with flaky phyllo dough.
Get Your Free Report on Europe Here:
Learn more about countries in Europe and other countries from around the world in our daily postcard e-letter.
Simply enter your email address below and we'll also send you a FREE report - All the Charm and Romance of Europe…at a Price You Can Afford.
Related Articles
In Pictures: The Best of Mediterranean Malta
Bargain Living in a Vibrant Spanish City by the Mediterranean
Exploring Chania: Peaceful, Sun-Soaked Bliss on Greece's Largest Island
Upcoming Conferences
The Only 2023 Fast Track Costa Rica Conference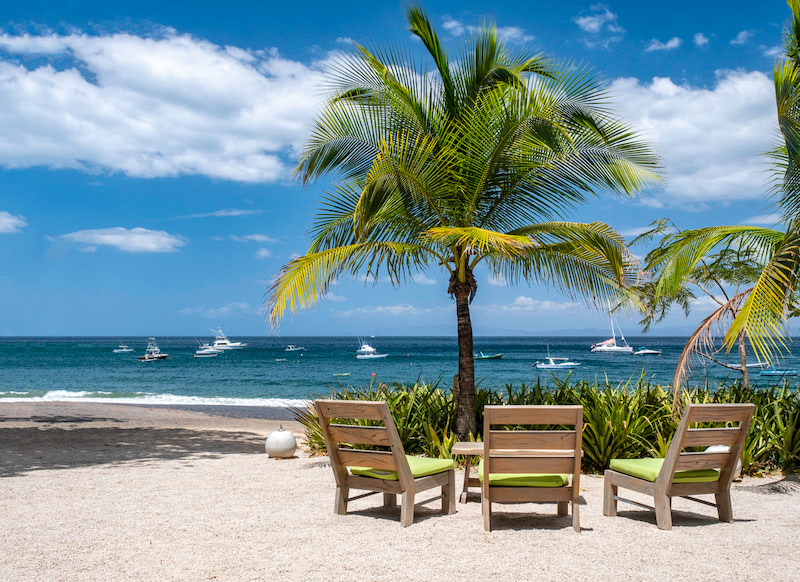 If your dream retirement involves stunning beaches… lush green mountains… a perfect year-round climate… first-rate healthcare… incredible value for money (a couple can live well on $2,109 a month—including rent!)...
Join our Costa Rica experts and expats in June and discover true Pura Vida.
REGISTER NOW, SEATS LIMITED: EARLY BIRD DISCOUNT HERE
---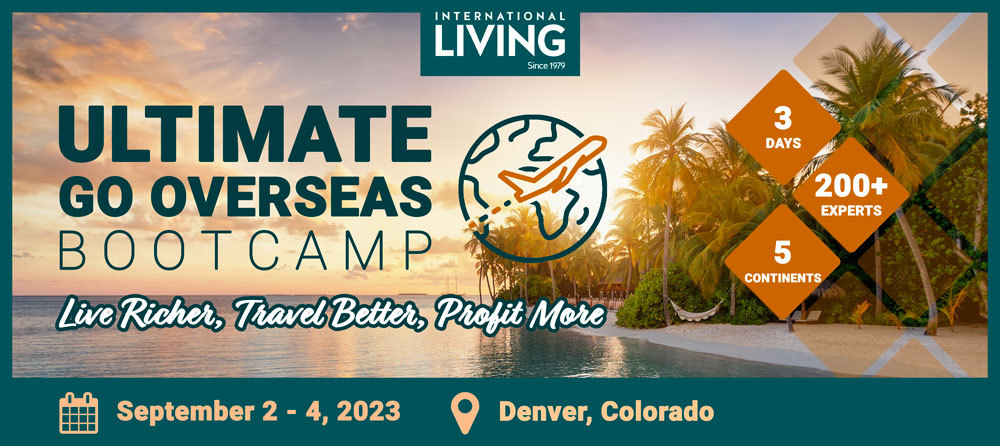 Most Popular Products