As a globetrotting writer, I love basing myself in the countries of former Yugoslavia. For a digital nomad, this region has so much going for it. Each country is unique in its own way: Croatia is sunny, island-studded, and touristy, Montenegro is tiny but packed with rugged beauty, and Belgrade, Serbia's gritty capital, has a fun-loving vibe and rocking nightlife that can't be ignored.
Rich history is everywhere, including in the faces of the locals, many of whom lived through the Balkan war in the 1990s and still carry the scars. Thankfully, the area has left its conflicts well behind and now welcomes visitors with its impressive natural wonders, friendly vibe, and some of the cheapest prices in Europe.
Of all the countries I've visited here, the one that charmed me the most was Bosnia and Herzegovina (most English-speakers just refer to it as Bosnia).
From Split, Croatia, it's a pleasant journey across the Bosnia border by bus (around $20), arriving at the small city of Mostar along the banks of the rocky Neretva River.
Here you can walk across the Stari Most (Old Bridge), originally built by the Ottomans in the 16th century and one of the most photographed bridges in Europe. It was destroyed by bombs during the Balkan War but painstakingly rebuilt soon after.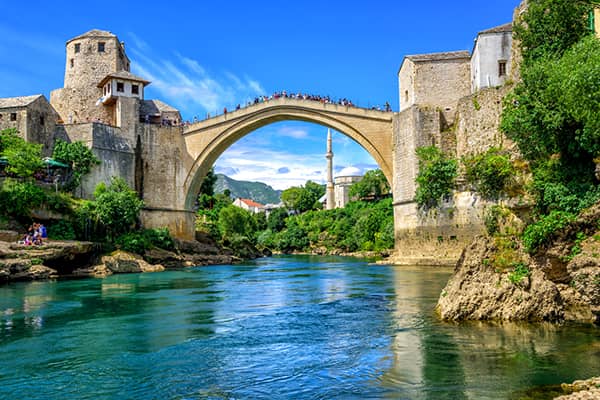 The first things you notice about Bosnia are (a) how incredibly friendly the people are, (b) how much cheaper it is than already-cheap Croatia, (c) how hard the Bosnians are working to encourage sustainable tourism and, (d) how yummy all the food is.
There's a wonderful fusion of East-meets-West in Bosnian cuisine; a heavy Turkish influence and lots of locally grown produce combine to create foodie heaven. You must try Bosnian coffee, served on an ornate tray in the traditional style. It's strong but good—the perfect way to wash down that lunchtime burek (cheese-filled flaky pastry) or cupavci (coconut cake).
Mostar isn't the kind of place you should rush through. I'd recommend spending at least a week there. Go on a low-key car tour with one of the locals, taking in the Turkish House museum, the spectacular Kravice waterfalls, and some of the local wineries. More than 40% of Bosnia is forested and the countryside is breathtaking.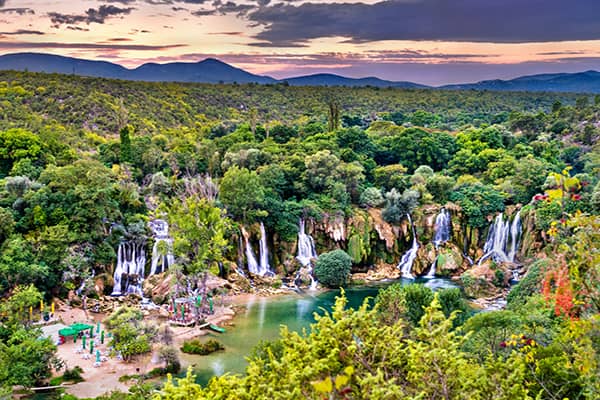 From Mostar, it's about a three-hour bus trip to Sarajevo, a thriving capital that almost makes you feel like you're in Vienna one moment and Istanbul the next. Sarajevo is attractive, easy to walk around, and one of the most affordable capitals anywhere in Europe. I never paid more than $30 for a quality dinner here and my centrally located Airbnb apartment averaged out at around $42 per night.
Trams, taxis, and local buses make getting around Sarajevo a breeze. I mainly used the colorful trams—they're dirt-cheap and will take you anywhere you want to go—you can buy multi-ride tickets too.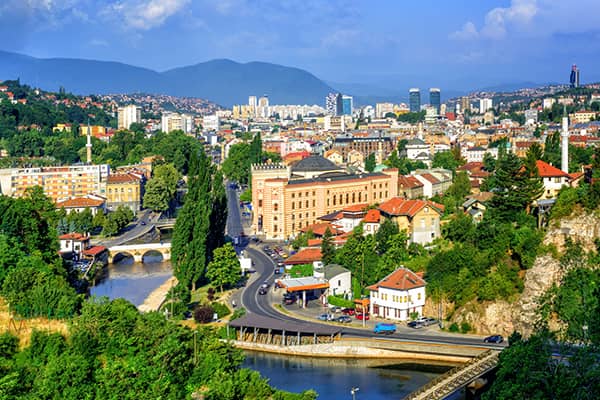 If you're after fresh, local produce, you won't want to miss a visit to the farmers' market at Pijaca Markale—I left there with a week's worth of fruit and veggies for a grand total of $17.40. I was pleasantly surprised at the wide selection available.
You could spend a month or more in this lively capital and never run out of fascinating things to see and do. There are walking tours, bike tours, war-history tours, and even tours that invite you into the homes of locals to share their evening meals.
Because Sarajevo was such a focal point during the Bosnian conflicts, it's well worth your time to absorb some of the history that surrounds that violent time while you're here—if you're unfamiliar with the details of the war, it will be an eye-opener.
Because Sarajevo is centrally positioned in Bosnia, it's the perfect place to base yourself while exploring the rest of the country on day trips. My top day trip recommendations are: The lovely town of Pliva (with its own little waterfall), the Dervish House in Buna Springs, the wild and beautiful Una River for rafting and kayaking, and the area around Janjske Otoke for hiking, camping, and mountain biking. Bosnia is chock-full of breathtaking winter sports locations too—in 1984, the Olympic alpine skiing events were held here.
It sounds like a cliché, but in Bosnia it's true—it's the people who really make this place so special. They combine a fierce pride with a charming humility, all overlaid with the kind of spontaneous warmth and hospitality that makes you feel like you're their very best friend, even if you just met them 10 minutes ago!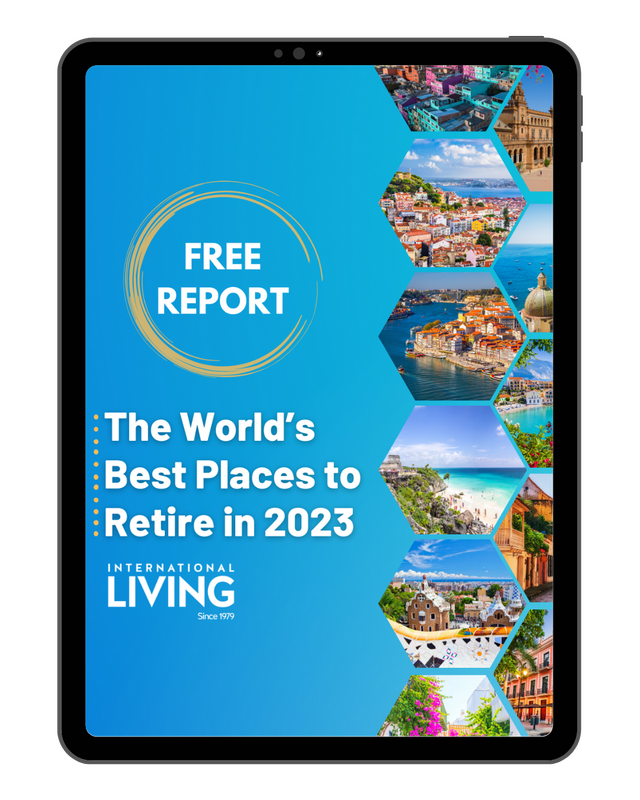 Get Your Free Report on the World's Best Places to Retire:
Learn more about the best places in the world to retire in our daily postcard e-letter.
Simply enter your email address below to sign up for our free daily postcards and we'll also send you a FREE report on The World's Top 10 Retirement Havens, plus access to over 10 more free reports. Our gift to you, on our favorite destinations.
Related Articles
Europe's Top 5 Affordable Retirement Havens
The Best Towns and Cities to Retire in Europe
Planning Your Roving European Retirement
Popular Articles You May Also Like