Within a month of arriving in Costa Rica to live, my wife and I had discovered that we could enjoy one of our favorite Sunday traditions: brunch.
Just down the road from our home in Grecia was Atenas, and the famous (at least among local expats) Kay's Gringo Postres. There were heaping helpings of French toast, bacon, biscuits and gravy (I've never seen them anywhere else in Costa Rica)…and never-ending coffee…for $10 each.
As we enjoyed these traditional American favorites, we met a dozen or so local expats, mostly retirees but also families and young couples. The more experienced were eager to pass on advice about renting a home or buying a car and to share contact information for great contactors and service providers like mechanics and plumbers. You know, the really important stuff you need to know when you move to a new place. Personal recommendations go a long way.
In short, it was a crash course in Costa Rica expat life. Not to mention a start to our social circle with all the invitations to join the various clubs and groups active in the area or to join new friends at one of the local eateries for a tasty $5 lunch during the week. As newcomers, it really helped us feel welcome and a bit less confused with our new life abroad.
It's a great example of how easy it is to "fit in" as a new expat in Costa Rica. And we've had similar experiences throughout the country. From the happy-hour hangouts in the beach town of Tamarindo where $2 mojitos went well with the sunset views, live acoustic guitar jams…and conversation with a mix of beach-loving locals and expats we just met. Or in Escazu, a suburb of the capital, San José, where we got help navigating the big city and found fast friends for ourselves and our kids by joining a Facebook group just for families in the Central Valley region.
We're still very active in that Facebook group. It's a great way to stay connected and meet new people. There are several…and even if you don't live in Costa Rica yet, you are welcome to join and post your questions. (Or come over to the IL Community site and ask me—and other Costa Rica expats—questions directly.)
A country with a long history of safety and stability, with a growing economy and democratic government, Costa Rica has been attracting retirees for more than 30 years. They come for great weather, a low cost of living, bargain real estate, affordable and high quality healthcare, and other amenities.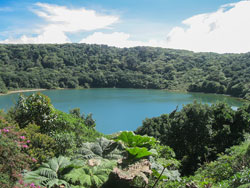 This track record with expats means that there is a well-trodden path for new arrivals to follow and plenty of well-established expat communities like Atenas and Tamarindo to become a part of. It's easy to make friends and join in the fun. Expats in Costa Rica are a social bunch, with plenty of parties, clubs, dinners out, and other get-togethers.
But if you move to Costa Rica you won't just be warmly welcomed by expats. Ticos, as Costa Ricans call themselves, are friendly and family-oriented, with a culture—though charming and unique—increasingly influenced by North America. So you'll have a lot of common ground. Because everybody is so used to foreign neighbors, newcomers can quickly become a big part of local celebrations, festivals, and more. And although learning to speak Spanish is advised—it's polite and helps you navigate your new world—many locals speak English, or at least enough for you to get by.
The people—both local and expat—are what will keep you in Costa Rica. But it's worth mentioning the icing on the cake: although a developing country, Costa Rica has plenty of modern conveniences. You can have cable and satellite TV with many shows in English, as well as favorite products in the grocery store. That can go a long way to making your feel at home, especially at the beginning.
And, by the way, it's all come full circle. We've been privileged to help many new arrivals in Costa Rica get acclimated to their new home, just like those expats did at Kay's Gringo Postres nearly three years ago.

Get Your Free Costa Rica Report Here:
Learn more about Costa Rica and other countries in our daily postcard e-letter. Simply enter your email address below and we'll send you a FREE REPORT – Costa Rica: The Land of Pura Vida
This special guide covers real estate, retirement and more in Costa Rica and is yours free when you sign up for our IL postcards below.
Related Articles
Best Places to Live in Costa Rica: Five Top Expat Havens