"Ireland is the friendliest country in the world," says retired American, Angela Byrne, who has lived there for almost two decades.
In 2003, Angela, a U.S. citizen born and raised in Cleveland, Ohio, arrived in Ireland intending to stay permanently. She'd married David Byrne, an Irish citizen she met when they worked together in a Washington D.C. hotel, and they were starting a new life across the pond.
Upon arriving in Ireland, Angela recalls the relief she felt that everyone she met spoke English, albeit with an Irish accent. Ireland has its own official language, Irish, which appears on signposts, official correspondence and the like, but only a tiny percentage of the population speak it as a first language. And even then, mostly in the west of Ireland. Plus, that tiny percentage also speaks English.
Angela says, "Irish people are warm, friendly and sincere. They genuinely want to know you, but it's up to you to go out and meet them. They are naturally good humored, and their expressions can be amusing."
Are you interested in retiring abroad? Yes | Not Sure Yet
Once, forgetting that the Irish drive on the left, she stepped into the path of a speeding Jaguar before a friendly hand yanked her back to safety. Thanking her savior, he replied, "Sure, you couldn't be run over by a nicer car."
Angela has immersed herself in Irish life and culture. She joined her local theater to act and takes part in annual performances, a dance group which puts on shows, she takes yoga lessons and involves herself in charity work. She goes out of her way to make friends, and the Irish respond wholeheartedly so that she is never without a listening ear, a helping hand, or a friendly word of advice.
The cost of living, she says, is lower than in the States, though house prices and rentals are quite high, but the costs decrease the farther away you are from the big cities.
They bought a home for $500,000 near Greystones in County Wicklow in the east of Ireland. This small seaside town is about 20 miles south of Dublin, to which it is well connected by rail, road and bus. It's in a gated complex with 15 other similar houses and overlooks parkland, a small river, and a lake with wildlife. The house has three bedrooms, two bathrooms, a large utility room with plenty of cupboard space, and parking for two cars.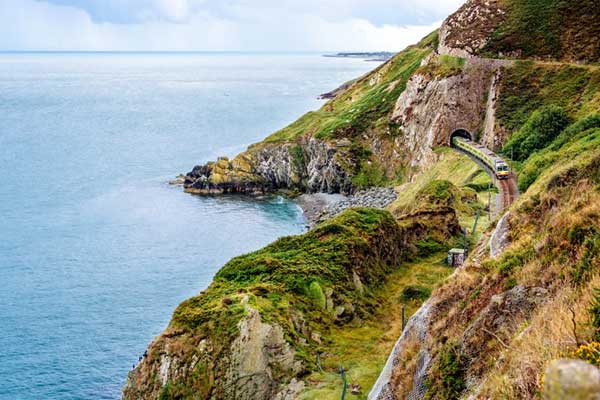 Property tax is about $400 per year, while home and contents insurance costs about $450. They pay roughly $1,000 per year to the management company which takes care of everything from garbage disposal to cutting the lawn and trimming the hedges. Boiler servicing is $120, car insurance about $500 and…well that's pretty much it for annual expenses. There are no water charges.
Then there are the monthly bills. Electric and gas (depending on usage) about $200 per month, Sky TV at $56 and mobile phone bills at $20 each per phone, health insurances comes in at $330 per month for them both, which they use to avoid the sometimes long waiting times in the free public health service.
But the real benefit to life in Ireland, Angela says, is the sense of community. The postman knows everyone by name and will often stop to chat. As she puts it: It's like stepping into Mister Rogers' Neighborhood with lilting Irish accents.
There are several grocery stores, all in or close to the town of Greystones. Dunnes, Tesco, Lidl and Aldi are the biggest ones. If you prefer to shop online, some will deliver. There are numerous coffee shops, some of which are exceptionally good. Avoca is an upmarket store and café which offers delicious home-cooked food. Award-winning Firehouse Artisan Bakery in Delgany bakes its own delicious bread and pastries, and the Harbour Café, which looks out over the waterfront, is a great place to meet friends for good coffee and offers reasonably priced food.
The weather in Ireland is best described as unpredictable. It's warm rather than hot in summer, and cool rather than cold in winter. In a good summer you might get several sunny days with temperatures in the 70s F, but they're sure to be followed by a week of cloud-cover.
Some of the beaches near Greystones are Blue Flag, meaning the beach, bathing waters and environment are all of the highest quality. Some beaches are stony, others are sandy, so take your pick. Whichever you choose, they are just the place to chill out on the occasional sunny day.
The location of the island of Ireland—just off the EU's western seaboard—and the reasonable cost of air travel, means that all European countries are easily accessible. The budget airline, Ryanair, flies to a large number of European destinations and Angela says she can leave home at 6 a.m., and by noon enjoy her lunch in a restaurant on the Costa del Sol in southern Spain. Paris is just a hop, skip and a jump from Dublin, the short flight taking just under two hours, while a flight to Venice or Vienna takes just under three hours.
Angela recommends that, if you're a U.S. citizen wishing to retire in Ireland, you must do your homework first. Make sure you can afford the costs of the move and your new home. For the good of your own happiness and well-being, be prepared to adopt the Irish culture and try to fit in. Return a smile with a smile and always be ready to stop and chat.
You will be rewarded by céad míle fáilte (one hundred thousand welcomes), a truly enjoyable lifestyle, and a decision you will never regret.
Related Articles
A Full Breakdown of What it Cost to Live in Ireland
Ireland Itinerary: How To Spend 7 Days in Ireland
Popular Articles You May Also Like