By John Morris
County Wicklow, around 22 miles south of Dublin on Ireland's east coast, is known as the "Garden of Ireland." And with good reason. It's one of the most beautiful regions in the country, offering rolling mountains, a national park, high waterfalls, beautiful sandy beaches, and dramatic, untamed scenery. As if all that isn't enough to attract visitors, the county enjoys a colorful history, dating back to biblical times, and the 5th-century arrival at Brittas Bay of St. Patrick, the patron saint of Ireland.
Whatever persuaded me in making my decision to retire in Wicklow, it certainly wasn't the weather. As I gaze outside on this chilly day, I see rain-skies, cloud, and drizzle—all of which are responsible for the country's celebrated fifty shades of green.
I arrived in Ireland from the U.K. in the year 2000 and worked in Dublin until 2015. Shortly before I reached the pivotal moment of retirement, I found myself obliged to seek a destination best suited to my final years, modest finances, and particular requirements.
My wife, and I, were now grandparents with all the responsibilities that this new status involved, and since our children lived in Dublin, we sought an affordable property within easy driving distance of their homes.
So that's what brought us to Wicklow, specifically a beautiful new townhouse on the grounds of Druids Glen's championship golf course. Here we are fortunate to live amongst our friendly and welcoming neighbors, overlooking the 14th tee and, beyond that, a grassy island on the Knickity River. In the distance are the twin peaks of the Great and Little Sugarloaf mountains, rising above a rolling pastoral landscape.
Wicklow offers a wide choice of excellent pubs and eateries, and whilst this is predominantly a rural community, it is served by a variety of local supermarkets and Dundrum Shopping Centre (one of Europe's largest shopping centers) is less than 20 miles away in Dublin.
The cost of a modest three-bedroom house in Wicklow can be in the region of $561,000 to $785,000. You can find two-bedroom apartments for $280,000 to $392,000. Rental costs are quite high, for a three-bedroom house you can expect to pay $1,500 a month. Utilities, including gas and electricity cost around $230 a month, internet and phone around $70 a month, and groceries around $400 a month.
Things to do in Wicklow

There are numerous places of interest in Wicklow but these are my top picks.
Glendalough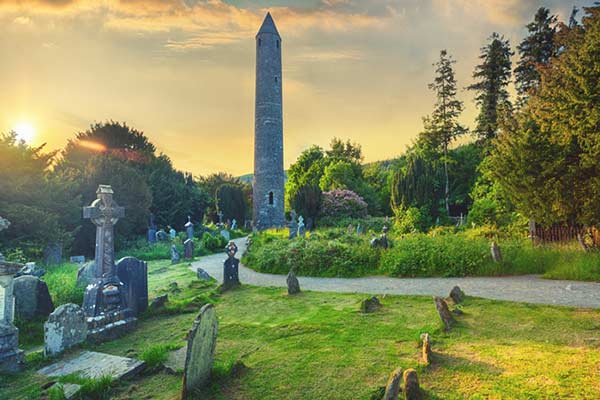 Glendalough, or Gleann Dá Loch meaning 'Valley of two lakes,' is an early medieval monastic site with a long numinous history dating back to the 6th century. It has a great recreational area with easy parking, an information center, and large grassy areas ideal for picnics on warm sunny days.
There is a great deal to see and do here, both for the active and perhaps for the not so active too. Visitors may view, amongst other curiosities, the Round Tower; a stone-built building about 100 feet high. It is thought to have been built almost 1,000 years ago by monks who lived in St. Kevin's monastery. Today, its original purpose is lost to antiquity, but it may have been a lookout for enemies, a storehouse for food, or a place of refuge in times of danger. You decide!
As its name suggests in Gaelic—there are two lakes at Glendalough, the Upper and the Lower, and there are walking trails around both. There are, in fact, several marked trails of varying degrees of difficulty. The trails which lead around the lakes are generally flat, but that one leads up to Poolanass Waterfall, is fairly steep. Glendalough also marks the end of Saint Kevin's Way, an 18-mile medieval pilgrimage that starts in Hollywood on the other side of the Wicklow Mountains.
Wicklow Jail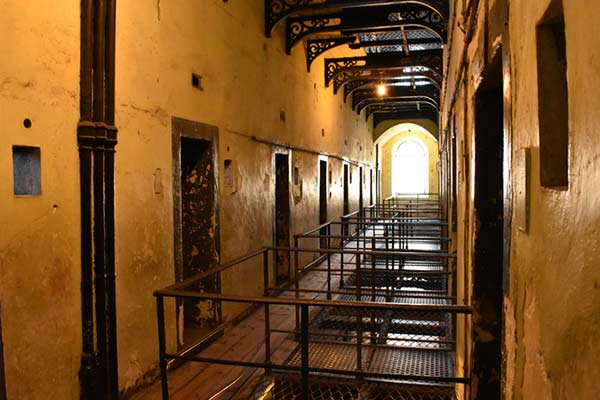 Wicklow Jail is described on its website as Ireland's best interactive jail, "…an unforgettable journey through an original prison building, [with real character actors] telling the stories of the men, women, and children imprisoned here under British rule…" I suggest this is a trip best saved for a rainy day.
Powerscourt Country Estate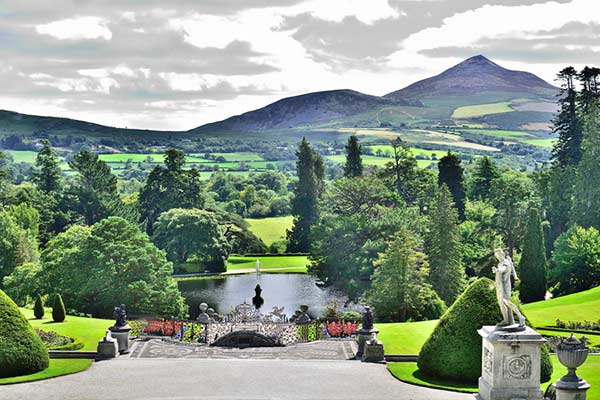 Powerscourt Country Estate is an 18th-century country house with magnificent gardens to explore, and the nearby eponymous waterfall—a delightful place to visit and picnic. For those who like walking, the cliff walk from Greystones to Bray is both spectacular and challenging.
Brittas Bay
Brittas Bay is a splendid three-mile stretch of beautiful powdery white sand dunes, and a spotlessly clean and easily accessible bathing beach. It has Blue Flag status and is completely unspoiled.
Belmont Demesne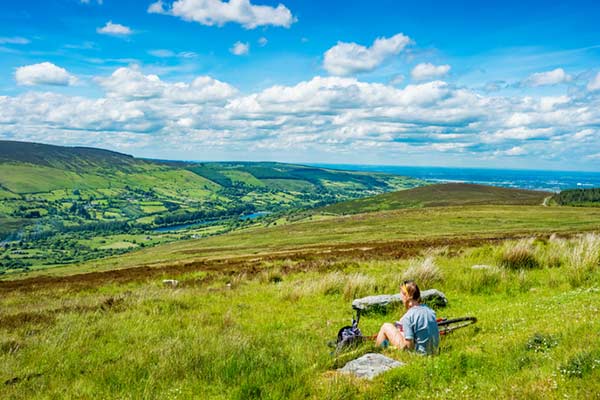 Just off the Greystones to Bray road, is the site of an old country house, now demolished but the grounds remain, and are open to the public. Here you will find walking and cycling trails up to two miles long. Bikes are also available to rent.
Greystones to Bray Cliff Walk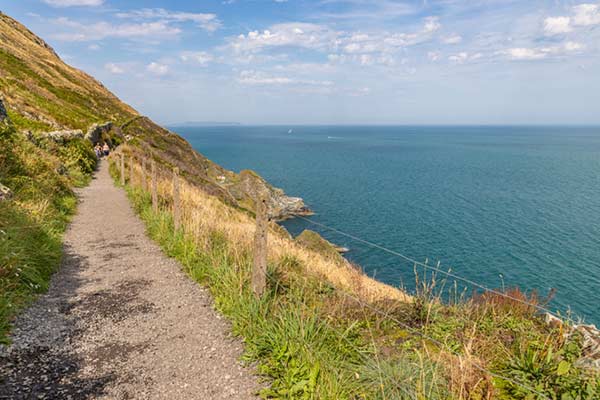 This is one for those who like hiking through spectacular scenery. This is a sometimes challenging, but always rewarding, walk about six miles between Greystones and Bray. The cliff walk follows the line of the single-track railway at an average height of about 328 feet above sea level. This gives walkers amazing views of heather and gorse clad slopes right down to the rocky bays below. Here, you may spot seals and even sharks in the clear blue waters, while gulls and terns wheel and dive and whoop above you. At Bray you may take the train back to Greystones enjoying the same breath-taking views a second time.
Where to Eat in Wicklow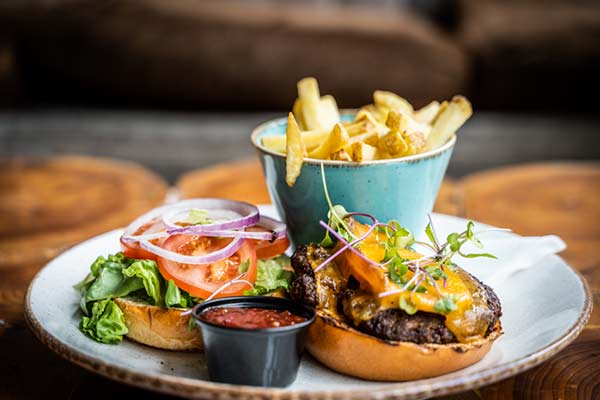 If all this effort gives you an appetite, Wicklow offers a wide choice of excellent pubs and eateries. From the Lounge Bar, and Hugo's restaurant in Druids Glen Hotel (within easy walking distance) to the popular Hungry Monk, The Pigeon House, and for those who enjoy Indian food, Chakra restaurants in Greystones. There are also a number of artisan bakeries and coffee shops—The Firehouse Bakery in Delgany, which offers hand-crafted loaves, freshly baked pizzas, and a variety of home-made, mouth-watering pastries. At Kilmacanogue, Avoca is well worth visiting offering everything from men's and women's fashion to homeware and gifts, and from children's toys to beauty products and books. Avoca's Fern House and Sugar Tree cafes offer a wide range of delicious homemade foods. The Hollywood Inn is an epicurean gastropub on the other side of the Wicklow Hills via the beautiful Wicklow Gap. Excellent home-cooked food, definitely not to be missed.
Benefits of Living in Wicklow and Ireland
The cost of living here is not as expensive as you might once have thought, and there are in fact, a number of benefits to persuade you that Ireland, or rather Wicklow is the place for you.
Free travel pass
There are a number of valuable benefits for those on a pension living in Ireland, not the least of which is free travel on public transport; train, Dart, Luas (Dublin and suburban tram) bus, and air coach.
TV Licence
Over 65s are entitled to a free TV license for the household they live in.
Medical Card
Since a trip to see your local G.P. would normally cost you $80 for the appointment alone (never mind the cost of any prescription drugs) a medical card will entitle you to a free appointment and either free or a reduced charge for prescriptions. The card also entitles you to free or reduced treatment at the dentist.
The Takeaway
If you can afford to rent or buy, and are prepared to forego hot weather and bargain-basement wines, Wicklow, Ireland might very well be the place for you. It certainly is for me!