By John Morris
With a colorful heritage dating back to the 12th century and its 14 ancient tribes, Galway has evolved into a cosmopolitan city offering the best craic (fun) to be found anywhere on Ireland's west coast. Birthplace of the great Hollywood actor, Peter O'Toole, this harbor city, with its perpetual party atmosphere, is located where the River Corrib meets the Atlantic Ocean.
Retire in Galway
Galwegians, as the locals are known, have the best of all worlds; culture, international festivals, colorful parades, superb eclectic foods, traditional Irish music, horse racing, great shopping, and, on warm sunny days, gorgeous sandy beaches. It has good rail and road connections also, though the nearest international airport, Shannon, is 50 miles away.
Marking the approximate halfway point on the Wild Atlantic Way—Ireland's spectacular coastal trail Galway is a joy to explore and discover: from winding cobbled lanes and defensive stone walls to intriguing quirky shops and quaint offbeat pubs; from city squares steeped in history to art galleries and museums; from stone-built coffee shops to superb restaurants, seafood and oyster bars.
The locals are warm, welcoming and friendly, and they have a wry sense of humor, too. An Englishman, stepping into the path of an oncoming Jaguar, was yanked to the safety of the pavement by a local who told him, "Sure, you couldn't be run over by a nicer car."
Considering a move to Galway? You'll find everything here in this bustling, vibrant city that you could ever want or need. But could you actually live here?
Lifestyle in Galway
Eyre Square Shopping Centre, in the city center, has more than 60 outlets, among them, Dunnes Stores, Penneys, Flying Tiger, and Claire's. There are various eateries and coffee shops: Pizza Point, Subway, Costa Coffee, and Starbucks are just some of them, to give you the rest and refreshment you deserve.
"A wide range of shopping all under one roof," states a sign advertising Galway Shopping Centre. Situated on Headway Road, this plaza does indeed play host to a wide range of brand-name, and other, stores, restaurants, cafes, coffee shops, and bookstores—there's even a barber and a locksmith.
There's a choice of cinemas: IMC cinemas are in both the city and Oranmore Business Park; the Omniplex is in Salthill; and the Pálás cinema is at 15, Merchants Rd. Lower.
For foodies who like to eat out, and that's probably most of us at one time or another, Galway is probably the gastronomic capital of the west of Ireland at least. Each year, an international symposium for chefs takes place here—Food on the Edge attracts to the city an international clique of top chefs enabling them to meet, share new ideas, and discuss food culture.
The home of numerous top-drawer restaurants–including two which hold Michelin stars: Loam Restaurant and Wine Bar, and Aniar Restaurant which prides itself on its locally-based cuisine—Galway offers numerous quality eating establishments with all the character and atmosphere you would expect. Gourmet pubs tend to serve good wholesome food in a convivial atmosphere, and there are several excellent seafood and oyster bars too. If it's food you want, Galway has something to suit all tastes and pockets.
Cost of Living in Galway
Rent in Galway, on average, is around 30% lower than Dublin. These reduced figures are reflected right across the board meaning that your money will go much further here than it will in Dublin or Cork.
NB. The examples which follow are for illustrative purposes only. Prices will vary depending on requirements, individual circumstances, and funds available.
| | |
| --- | --- |
| Rent per month | |
| One-bedroom apartment in the city center | $1,190 to $1,430 |
| One-bedroom apartment outside the city | $1,012 to $1,200 |
| Three-bedroom apartment in the city center | $1,905 to $2,143 |
| Three-bedroom apartment outside the city | $1,667 to $1,906 |
| Buy Apartment | |
| Two-bedroom apartment in the city center | $190,000 to $297,000 |
| Two-bedroom apartment outside the city | $119,000 to $238,000 |
| Local property tax (depending on the value of the property) | $297 to $715 per year |
| Apartment insurance | $357 to $715 per year |
| Apartment maintenance | $120 to $1,200 per year |
| Boiler/equipment maintenance | $120 per year |
| Gas and electric | $238 per month |
| Internet connection/telephone | $60  to $95 per month |
| Private healthcare for two people | $3,571  to $4,762 per year |
| Car maintenance/service/tires | $238  to $357 per year |
| Car tax varies. For a recent 2.2 liter | $321 per year |
| Car insurance fully comprehensive | $476 to $595 per year |
| Food for two people | $713 a month |
Conclusion
The overall cost of living in Galway, city or county, is generally cheaper than living in Dublin or Cork. The pace of life is slow and relaxed. Galwegians are friendly, welcoming, and helpful, and the crime rate is low. There is always something to do and somewhere to go, and you'll find as much craic as you can handle. Retirement in or near Galway has all the big city benefits with none of the disadvantages. Summing it up: Galway is a great place to retire.
10 Amazing Things to See and Do in Galway, Ireland
A lively harbor city on Ireland's Atlantic coast, and Ireland's sixth most populous city, Galway lies between the River Corrib and Galway Bay. Known for its exciting, vibrant lifestyle and contribution towards the arts, it was named the European Region of Gastronomy in 2018, and the European Capital of Culture in 2020.
1. The Galway Races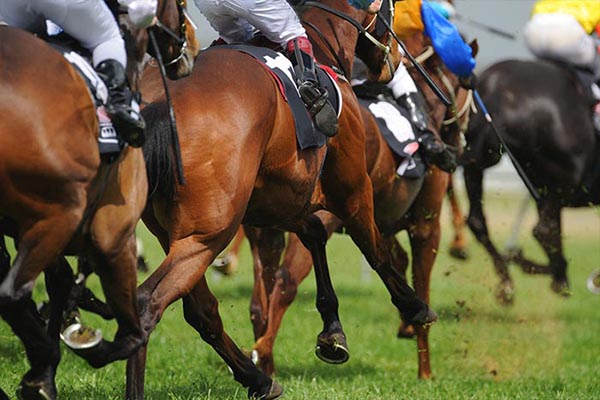 Think of Galway and the chances are that the first things that spring to mind are the races.
This horse racing extravaganza, which takes place at Ballybrit Racecourse less than four miles northeast of Galway, starts on the last Monday of July and lasts for a week
And what a week! Some quarter of a million visitors descend on this relatively small city of 80,000 people, and while courts, offices, and businesses generally close down for the duration, pubs, cafes, takeaways, and restaurants thrive as they knuckle down to cope with the huge—but very welcome— demand.
About 50 races are run with over $2 million prize money offered. The most popular event, the Galway Plate, was established in 1869. This exciting race is two miles, six furlongs, and 111 yards in length, with fourteen fences. Ladies Day, held on the third day, always attracts fashionistas with flamboyant outfits, and colorful, inventive hats, the razzmatazz, and of course, the paparazzi are never far away.
But there's more to Galway than horse racing. Unfortunately, this year's Coronavirus pandemic has led to the closure or postponement of many events, so if a trip is planned, it is important to ensure that the attraction will be available and open.
2. Eyre Square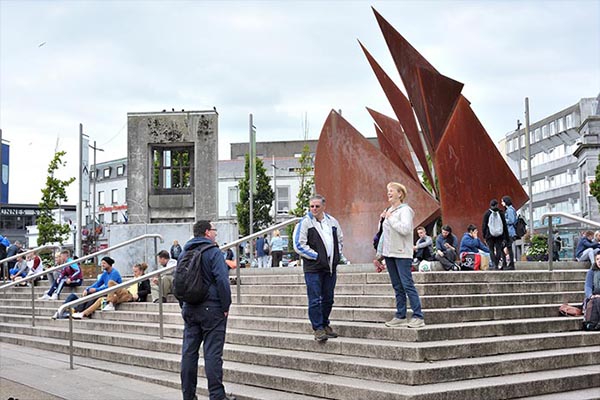 In the center of the city, you'll find its beating heart, Eyre Square; the city's main public space. Its true name, the John F. Kennedy Memorial Park, commemorating a speech made by the U.S. President in 1963, is rarely used.
Once a town green in front of the old city gates and used for markets, this award-winning square is today a modern plaza with neatly trimmed lawns and flower beds. It displays a fountain depicting the Galway Hooker—a traditional local fishing boat, artworks, sculptures, and a row of colorful flags representing the 14 ancient tribes of Galway. There are benches and places to sit where you can watch the world go by. Close to the city's tourist office, railway station, and a bustling shopping center.
3. Galway City Museum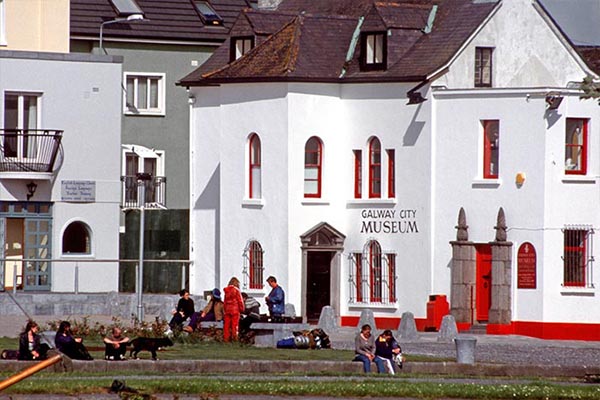 Located by the Corrib and Spanish Arch—part of the city's defensive system—the Galway City Museum hosts fascinating displays of permanent and touring exhibitions. Divided into two sections, one tells the interesting history of Galway and Claddagh village; its archaeology, history, and art. The other celebrates Irish artists from the second half of the 20th century.
4. Spanish Arch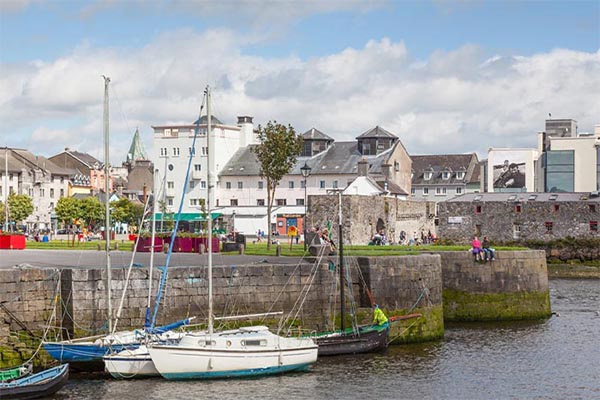 These are all that remain of Galway's formidable stone walls dating back to 1584. They were once part of the city's defenses running from Old Martin's Tower to the Corrib and its quays.
5. Nora Barnacle Museum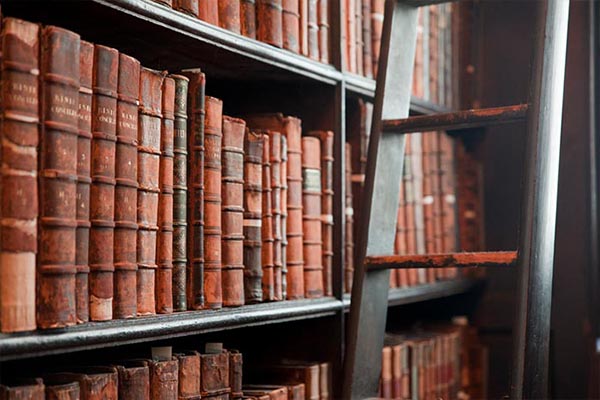 Muse, and wife of James Joyce, Nora Barnacle lived with her family at 8, Bowling Green—the Barnacle family home from 1894 to 1940. The smallest private museum in Ireland, it is open only during the summer months. Step back in time and view the many photographs, objects, and memorabilia that were familiar to the couple.
6. The Latin Quarter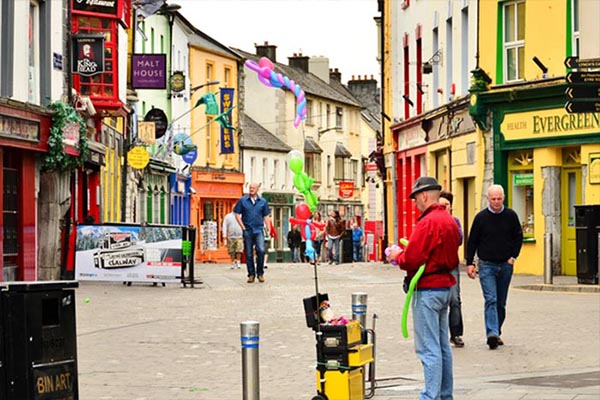 Galway's answer to Dublin's Temple Bar, this is where you'll find the 'craic'. The Latin Quarter in the city's old center occupies the left bank of the Corrib from O'Brien's Bridge to Spanish Arch. Here, on either side of the cobbled narrow streets, you'll find small colorful shops, traditional lively pubs, bijou cafes, bars, affordable restaurants, obligatory street performers, and non-stop music.
7. Kirwan's Lane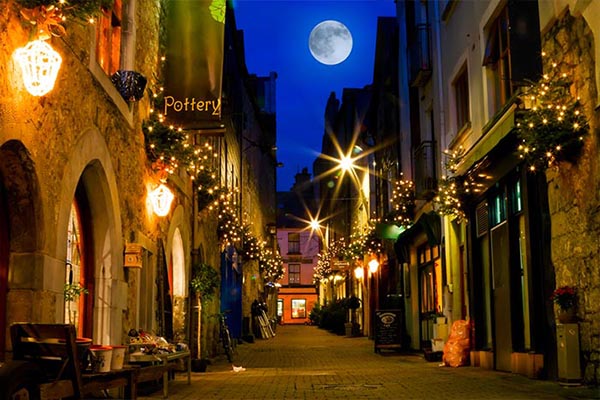 A wonderful atmosphere, friendly and fun, Kirwan's Lane—named after one of the 14 tribes of Galway—is always good to visit either day or night. This narrow walkway displays its heritage by the rustic stone houses—now shops, restaurants, cafes, and pubs—which crowd the footpath adding to the lane's unique character and charm.
8. Claddagh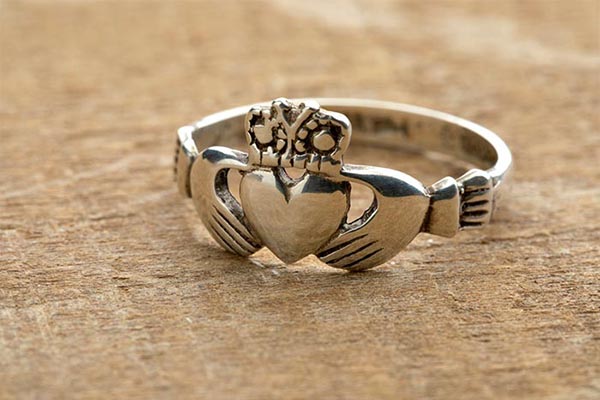 "Claddagh has a lovely feel, a buzz, a sense of our past…" wrote one visitor on Trip Advisor. Indeed, this early Irish-speaking fishing village and harbor evokes all of that. This small community stands at the mouth of the Corrib on its west bank a 5-minute walk from the city.
This is where, three centuries ago, the world-famous Claddagh ring originated; its entwined symbols representing love, loyalty, and friendship. Walk the quay, breath the sea air, feed the swans, find a coffee shop, buy yourself, or someone special a Claddagh ring. It's all here waiting to be discovered.
9. Salthill Promenade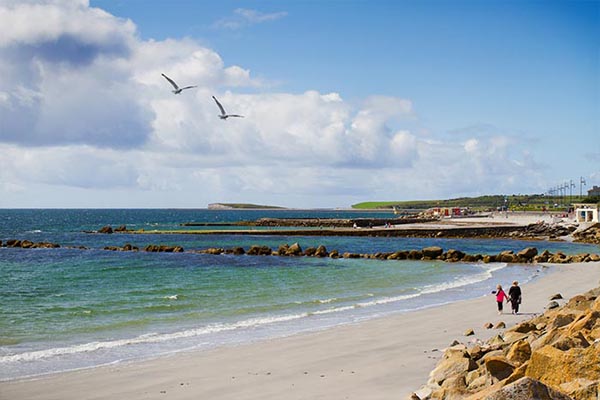 From here, on a clear day, you can see the peaks of Connemara, or so they say. Meaning the sharp-peaked summits of the Twelve Pins mountain range in Connemara National Park 31 miles to the north. Within walking distance of the city center, Salthill Promenade offers a bracing one-mile seaside walk. Here you will find lively bars, restaurants serving the local catch of the day, and cafes. You can drop into the local aquarium, Atlantaquaria to discover the sea life, or watch the boats and yachts playing the clear blue waters of the bay.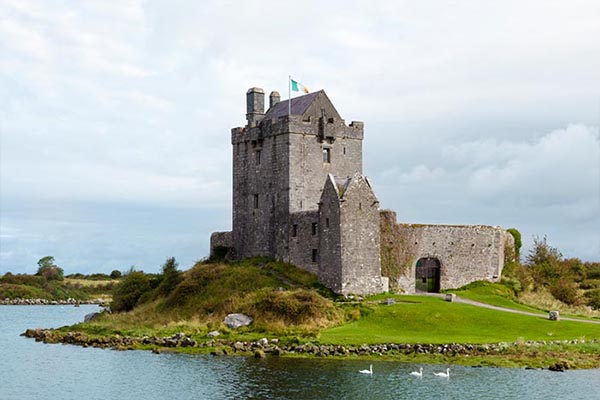 This picture-perfect castle, located near Kinvara village on the south shore of Galway Bay, is a half-hour drive from the city, and the journey is well worthwhile.
Built in 1520 by the O'Hynes clan the 23-meter tower and its encircling walls occupy a rocky outcrop surrounded on three sides by water.
After falling into disrepair, the castle was restored in the 1920s by Irish poet and raconteur Oliver St John Gogarty who entertained his literary contemporaries here; among them W.B. Yeats and George Bernard Shaw.
Today, the castle is open to the public who wish to explore its history and, perhaps, enjoy a banquet of medieval-style fare whilst enjoying live music and hearing readings of poetry by Yeats, Gogarty, and Shaw.
10. Forthill Cemetery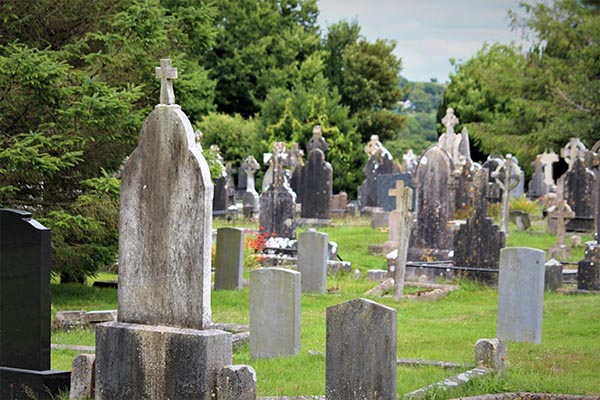 Hauntingly beautiful and dating from the 1320s, Forthill Graveyard is notable due to its association with the Spanish Armada. From 1588 to 1589 it became the final resting place of more than 300 shipwrecked soldiers and sailors, men, and boys, executed on the orders of William Fitzwilliam, viceroy under Queen Elizabeth I.