The sheer limestone cliffs burst up from the Tyrrhenian Sea as we sail along the coast of the small island of Capri. I lean over the railing, gazing into the water and instantly fall in love; rippling, shifting shades ranging from light turquoise to a deep iridescent, electric blue. With the wind coursing through my hair, and the refreshing salt spray kicking up with each deft cut of our little vessel, I realize Capri might just be one of the most naturally enchanting places I've ever visited.
Are you interested in retiring abroad? Yes | Not Sure Yet
Scenic walking trails litter the island, enticing you to explore. You can trek out from the town center to the Arco Naturale lookout point to the east; an incredible natural limestone arch, 60 feet tall, originating from the erosion of a Paleolithic cavern. In the opposite direction, venture out to Villa Jovis, the remnants of Emperor Tiberius' personal villa. With Tiberius being a notorious sadist and deviant, the villa comes with a dark, albeit fascinating history.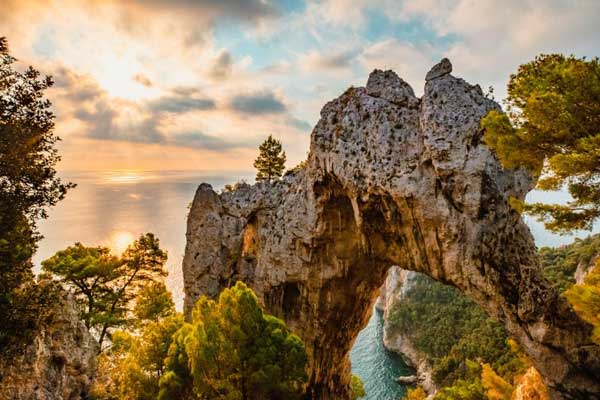 Further trails allow you to hike up to Mount Solaro, starting at the Marina. This is a more challenging walk; a 3.5-hour, four-mile round-trip trek coupled with some steep places, although you have the option of taking the chair lift one way.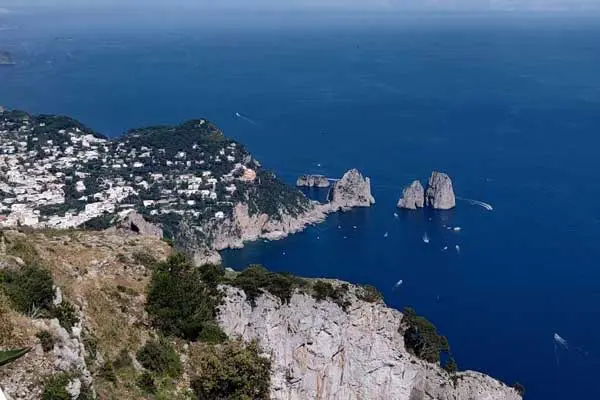 If you don't fancy all that walking, I had great fun traversing the island via scooter. It was the perfect way to hop off the beaten path, and escape the charming, but also expensive taxi cabs. We rented one from Oasi Motor, just steps from the ferry landing on the Marina Grande. For $65, we were able to enjoy the scooter for a full 24 hours, allowing us ample time to discover all the navigable corners of the island on the twisty, hairpin turn, heart-pounding roads.
Despite the walking trails, and thrilling scooter excursion, I have no doubt that the best way to see this spellbinding island is by boat. I was staying at a small boutique hotel, the Relais Maresca, right along the docks of the impressive Marina Grande. I spent hours sitting out at the marina, basking in the sunshine, but also tracking the steady trawl of maritime traffic. I witnessed an endless stream of ferries, cruise ships, and incredible private yachts navigating into the harbor daily; from sunrise to the creeping shadows of early evening.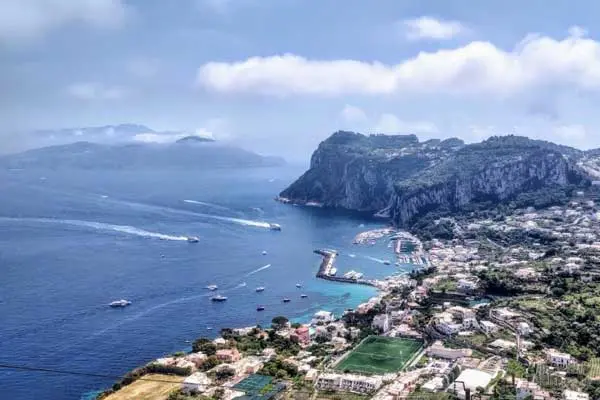 If you didn't steam into port on your friend's $92 million luxury-super yacht, you have a few other seafaring choices. There are larger sightseeing boats for the low price of $21 (picture crowded bench seats and up to 100 people on board). You can also take smaller tours that will cost about $70 and will include a limoncello (the famous Capri liquor) and seats 12 people. In my attempts to avoid the crush of humanity, we opted for a private boat. There are a great number of boat captains at the marina who are happy to customize a tour just for you. Stopping when you want, allowing for a swim, and giving you one-on-one history and geography lessons in English. The original price we found was set at $200 for two hours, but we managed to negotiate to $140 with Alphonso, the owner. A splurge, but worth it for us and yes…solitude on the high seas!
Back on the boat, I eventually pull my eyes from the glittering blue oasis all around. I saunter over to our captain, Luigi, a Capri native. He trained as a first mate on his family's boat at the tender age of 8. I nudge him, and I ask him for his insider tips. I press him for a travel tidbit, a place free from the roaming groups of tourists, a local secret that will give me the true Capri experience. He throws back his head and laughs, before telling me that no such places exist on Capri. "Oh c'mon. What about a secret local bar? Somewhere you can play bocce ball? Shops where you pay local prices, not tourist ones?" I inquire. He shook his head; no.
But don't let this stop you from visiting! Here's some advice for you to minimize your interactions with large tourist groups. Day tours are the most common way that tourists visit Capri. So, if you choose to stay on the island, you already have an advantage of the evening crowd thinning out. Don't let the $400 to $1,200 (and above) nightly rate on a hotel internet search deter you. There are pensione style hotels and Airbnb properties which you can find for under $125 per night. Okay, you may not have a sea view, convenient location, and complimentary robes, but hey, it's Capri! You are staying on the island and have already outsmarted a big percentage of tourists.
By escaping the town center, you can find spots that aren't quite as overrun. If you journey to Faro beach on the southwest point of the island you will find a couple of restaurants and a concrete platformed swimming area. It's known as the sunset spot on the island, but if you go during the day, it's not as crowded. There is also a lovely lighthouse and a nice walking area around it. This is a great spot to use your scooter to zip out to.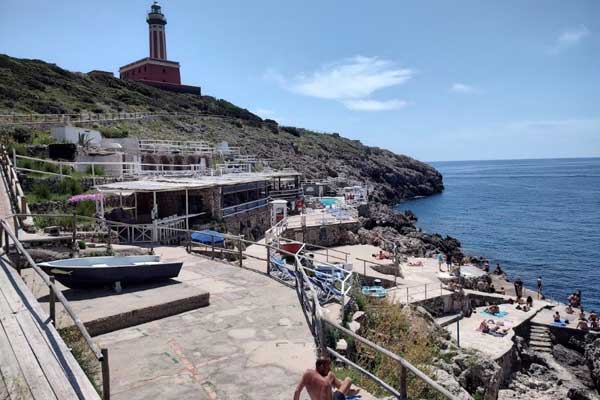 On the opposite (south) side of the island from the Marina Grande (the big marina) there is Marina Piccolo—or the small marina. Here you will find a rocky beach at the bottom with a snack shop (and nicer restaurants up the hill, including a Michelin starred one). It was not heavily touristed while we were there.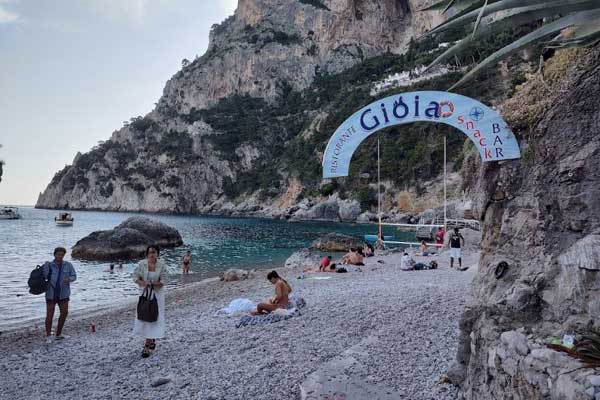 The town of Anacapri isn't quite as hectic as Capri town. Although busy with restaurants and shops, you can escape for a while on the open-air chairlift Seggiovia. This single-chair, 13-minute ride silently pierces the sky above the island and stops at Monte Solaro, the highest point on Capri. Here the views are unparalleled. Although, you may need to wait a few minutes to extract people from your photo frames.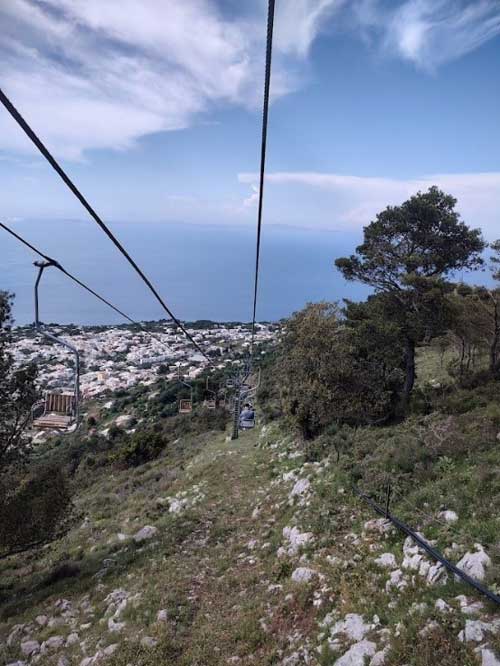 Capri might not have any real local secrets left, as it does a roaring tourist trade. But it remains one of the most naturally beautiful places I've ever been to, so enjoy Capri for its reality and still prepare to be wowed.
Related Articles
Sorrento, Italy: Everything You Need to Know
Popular Articles You May Also Like