I declare "Mission Italy" a go!
Italy is jam-packed with incredible bargains and now, post-pandemic, there are more of them than ever.
That's why, this month, me and my team are making it our mission to bring you as many of them as we can…
Entire towns in Italy are for sale in the countryside. One of my dream projects is to find and renovate one such entire town.
And I'm going to show you how to find apartments close to historic attractions in Venice, Rome, and Florence that could be your Italian base and make you money.
Two of my scouts, Eoin Bassett and Paul O'Sullivan are ready to go. Their flights are booked, their itineraries planned, and their bags are packed…
I'm sending them to scout as much of Italy as they can cover…to dig out bargains, find opportunities, and report back to us right here in Your Overseas Dream Home.
The guys travel to Rome on September 17 and then split up to cover more ground…Florence, Venice, Pisa…and as many stunning historic towns and villages as they can find in between.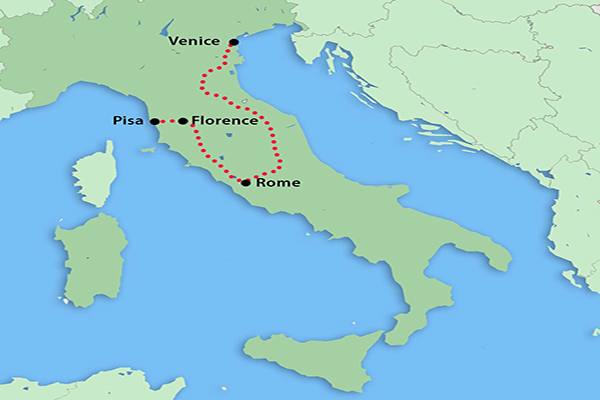 Before the pandemic, Italy's economy was fragile. Bargains could be found throughout the countryside. I personally found overlooked opportunities to make handsome income from apartments rented short-term in historic cities like Rome, Venice, and Florence.
And that was before the pandemic…
Now, because of the hit to Italy's tourism dependent economy, the opportunity is amplified.
Due to the crisis, we have a chance to buy money-making rentals in cities like Rome for as much as a third less, with values on rural properties dropping to near zero.
I've given my scouts their mission:
Find overlooked properties in blue-chip cities (Rome, Florence, Venice) that can throw off double-digit rental yields when tourism bounces back…and also act a personal base for the owner.
Find historic boltholes and bargain pocket-money escapes in Italy's stunning medieval hill towns.
Find country villas and estates with enough land for an olive grove or small vineyard. A tranquil escape with the potential to develop as a B&B or a boutique hotel.
Find a town participating in a €1 homes program and check out their offerings.
My guys are in research mode right now but next week their boots will be firmly on the ground in Italy…
"Mission Italy" is an adventure you don't definitely won't want to miss…so stay tuned…
In the meantime, I recommend you prepare yourself for what's to come.
You can get caught up on my research to date in my special report on our Italy opportunity. Just following the link to get your copy:
***Own a Profit-Making Home in Historic Italy***
Get Your Free Real Estate Report Now
Sign up for our free daily Postcard e-letter and get a valuable free report on the The 5 Best Places to Buy Real Estate In 2023.
Related Articles
Italian Rentals From $422-a-Month