When my husband Bryan and I first moved to Italy, we had the extreme good luck to have friends here who offered us the use of their beach house in the coastal city of Anzio for a few months.
We knew it was temporary, and it wasn't where we wanted to land long-term, but it was a great ease-in to life here while we worked through the necessary burocrazia.
Having taken an intensive language course in the splendid city of Ascoli Piceno, we decided that it would be a great place to settle in and call home. But how to find a rental? That was the question…
We had searched online and had visited a local rental agency, but came up empty with both.
The internet listings were all out of our price range, and the rental agency wanted a minimum two-year contract and an unbelievable amount of deposit money upfront. So, we took to the streets, wandering the cobbled lanes of the centro storico (downtown area) and calling the phone numbers listed on the affittasi (for rent) signs affixed to doors.
We found a furnished apartment, just a few minutes from the main piazzas, in a 300-year old building on a quiet lane, with the best landlords we ever could have imagined.
They invited us to partake of barbecues in their rustic taverna, to accompany them to their country property to pick fruit from their orchard, and helped us with the paperwork for residency.
We were so fortunate to find them and we learned an important lesson: In Italy, it is often about tenacity, or who you know. Or both.
That was more than a decade ago, though, and there are a lot more options now.
With more online portals, and shorter-term rentals having become more common, if you don't want to commit to a two- or four-year lease, you're in luck. The traditional rental agencies are still there to serve those who want a longer-term commitment, but many real estate offices now offer short-term rentals as well.
Types of Rental Contracts
There are several options for rentals and leases, from long-term that can be automatically renewed, to short-term, informal agreements. It depends on your situation as to which is best for you.
The contratto di affitto ordinario is very popular with Italians as it gives renters more stability and long-term rights. It is often called a four plus four, meaning that the term of the contract is for four years and can be automatically renewed for another four years, unless either the renter or the owner provides ample notice to terminate the contract (often six months).
The owner and renter decide the terms and conditions together as to what are the responsibilities and costs to each party. Often, they are not furnished.
The contratto di affitto convenzionato (also sometimes called concordato) is similar but with lesser terms, for three years that can then be renewed for another two years, with terms and conditions set by the city and associations that represent the rights of both owners and renters.
It's not as negotiable as the other types of contracts, and is used primarily (though not exclusively) in larger cities.
The transitorio contract is becoming much more common, and is an especially good option for new expats who are still deciding where they want to be, or are buying and/or renovating a property.
Also referred to as affitto breve or contratto a termine (contracts with established termination), it allows for a contract term of six to 18 months. The contract cannot be renewed.
Negotiating directly with the owner gives more flexibility on contract length; many are now more willing to rent for one year.
Private, short-term rental agreements are common. You'll find rent-by-owner listings online and signs tacked on doors around town. It would be prudent to have a lawyer or agent look at any contract before signing, though.
Where to Find Rentals
There are many online options now for short-term and long-term rentals alike. For many just starting out in Italy, it may be preferable to engage a shorter term, like a year, to try on a place and see if it fits the lifestyle, location, and ambiance you're seeking.
It also gives you the opportunity to immerse yourself in the community, get to know people, and find more suitable longer-term options.
Here are some good resources, through agencies and by-owner listings.
Mio Affitto: www.mioaffitto.it
Casa da Privato: www.casadaprivato.it
Solo Affitti: www.soloaffitti.it
Bella Umbria Immobiliare: www.bellaumbriaimmobiliare.com
it (national site): www.immobiliare.it
it (national site): www.casa.it
If you have a specific city already chosen, you may also want to look at realtor websites in that location for rentals they broker, too.
Examples of Rentals
There are a wide range of rentals with various sizes, amenities, and styles—something to fit every taste and budget. Here are a few I found that would be attractive to expats…
Outside Assisi, a splendid medieval art town, there is a two-bedroom, one-bathroom, furnished apartment in a stone building that is part of a castle complex. There is a big brick fireplace in the living room, a garden in front, shady trees, and a lovely ambiance. Price: €500 ($603) per month.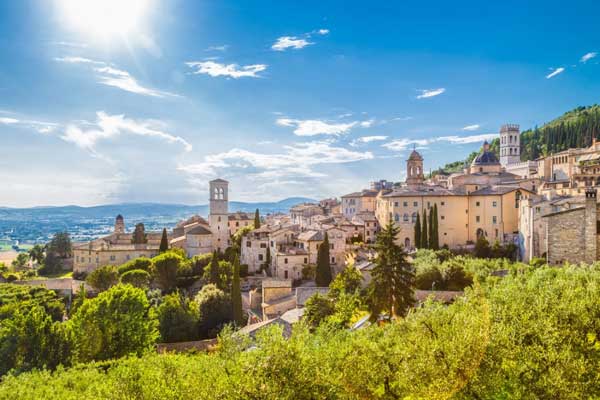 In the old town center of pretty Città della Pieve, a glorious artful hill town in Umbria near the Tuscany border, a 1,300 square foot apartment is for rent right on the main street, with shops and services in easy reach.
It has three bedrooms, two bathrooms, and is on the second floor, with a panoramic covered balcony. It has been recently renovated and has a bright and airy great room, a fantastic open kitchen, a separate laundry room, and nice furnishings. Price: €500 ($603) per month.
Just outside Città della Pieve on a country estate is a restored brick one-bedroom, one-bathroom apartment with a covered loggia for a bistro table, a fireplace, vaulted wood beamed ceilings, countryside views and tranquility, and a community swimming pool. Price: €350 ($422) a month.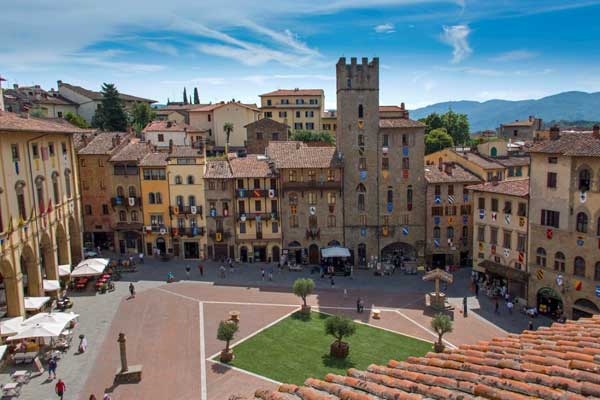 Near Arezzo, Tuscany, a fully renovated farmhouse hamlet has been turned into a beautiful resort-like complex where a two-bedroom, two-bathroom, ground floor home is for rent.
It has terracotta floors, wood beam ceilings, and is furnished. It comes with a curated garden and community swimming pool. Price: €600 ($724) a month, which includes the garden and pool maintenance fees.
Related Articles
Best Places to Live in Italy From $1,700 Per Month
Two Beautiful Small Towns to Live in Italy
Is Italy a Safe Place to Live?
Upcoming Conferences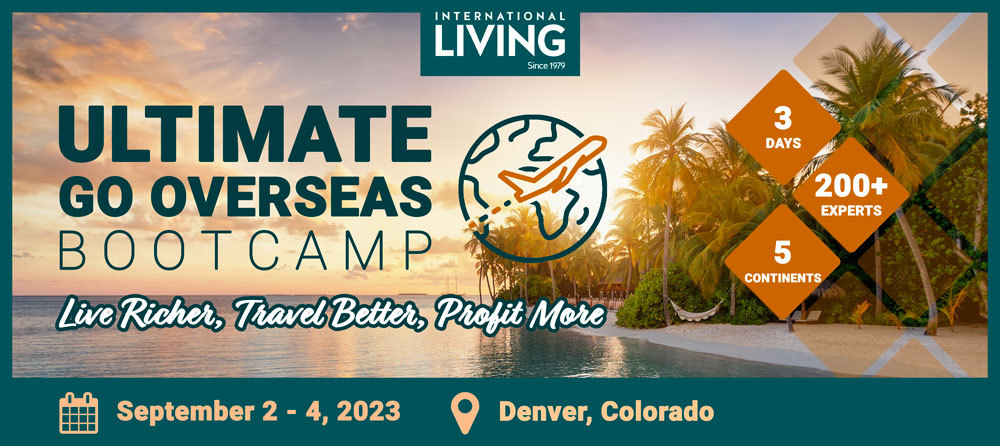 Most Popular Products
Popular Articles You May Also Like