Admittedly, my perspective of what constitutes a "small town" has changed since moving to a village of 600 souls about 10 years ago. What most people call small is, to me now, practically a metropolis! In fact, my region's largest city—the capital city of Potenza—claims just 67,000 residents.
I realize that most folks don't want the intimate village feel we've found, but the bulk of Italy really is populated by thousands of small towns that don't come up short on amenities, services, or lifestyle. It's easy to find appealing towns everywhere, but here are two that are especially high on allure and that tick a lot of boxes.
Citta della Pieve, Umbria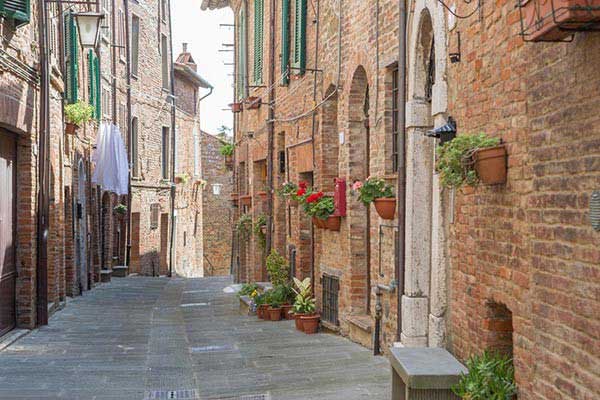 Where Umbria's soft hills melt into Tuscany's, there is nothing to distinguish the difference except an arbitrary border with a sign. The hill town of Citta' della Pieve is every bit as beautiful as those across the valley—maybe even more so for the lack of crowds.
Unfolding across a ridge, it is classy and upscale, yet homey and casual at the same time. The birthplace of Pietro Vannucci, better known as Il Perugino in the painting world, is an art town adorned with frescoed masterpieces by the hometown Renaissance hero. Amber-hued bricks give the place a warm and harmonious aspect, and the streets are sprinkled liberally with shops, coffee bars, excellent eateries, and all the things you need for daily life, but with an elegant feel. It is a hill town, but not so steep that your lungs and legs protest, and overlooks let you admire the classic, beautiful landscapes. Citta' della Pieve is, above all, lived in and loved by its local residents, but holds enough art and culture to make it appealing to travelers and expats.
A jewelry box-style theater, art exhibits, wine bars, and town events keep things lively and cultural, and Citta della Pieve is in easy reach of Tuscany's celebrated towns and hills. It is also close to dramatic Orvieto and urban Perugia, and the shore of Lake Trasimeno. The nearby train station at Chiusi lets you get to Rome or Florence in an hour-and-a-half.
Living costs are reasonable, too. A two-bedroom apartment can be found for $550 a month, and there are good ones to choose from. Town homes to buy are in reach; as an example, a pretty two-story renovated townhouse with wood beams, parquet floors, a fireplace, along with a storage attic and garage is listed for $83,642.
The climate gives you four seasons, without temperature extremes on either end. Summer temperatures average around 83 F, while winter months will see daytime temperatures in the 40s F edging toward 50 F. A dusting of snow isn't uncommon.
Ostuni, Puglia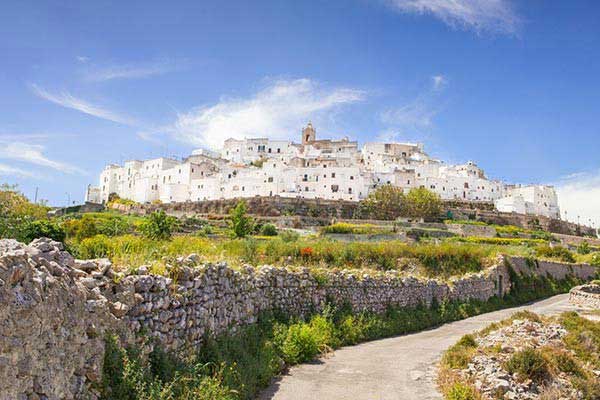 The town hovers like a fluffy white cloud above a sea of olive groves, almost like an apparition. Called the "white city" for its gleamingly painted buildings, only the cathedral at the top of Ostuni stands out in its natural stone hue. It looks more Greek than a typical Italian hill town, as many towns in Puglia do, with the founding history going back to Magna Grecia colonies on mainland Italy. It gives the place an exotic aura.
Ostuni encircles the hill, winding up to the top with loads of charming stair-stepped streets leading off, many sprinkled with tucked-away cafes and bistro tables or throw cushions right on the steps. The town has a joyful, carefree vibe where folks meet for a coffee or glass of wine, which may then turn into lunch or dinner in one of the small but fantastic trattorias. This is a place for those who enjoy good food and wine, with a great selection of places that offer a range of dining choices using the region's sun-ripened produce, and world class vintages.
Another benefit is its close proximity to the Adriatic Sea; you can reach the reef- and cove-dotted shoreline in 15 minutes. (And of course, the seafood restaurants at the coast are fantastic!)
Puglia is a good choice for those who don't want cold winters, as it's one of the mildest places on mainland Italy. Winter temperatures stay mainly in the 50s F, dipping into the 40s F at night. Snow is extremely rare and a big occasion for the local kids when a dusting does hit. Summers are hot, in the upper 80s F, but it is a rather arid summer climate.
Located in the intriguing Valle d'Itria, this is the land of those curious conical-roofed structures called trulli. They are found all over the countryside here and the area's surrounding towns. A robust weekly market, interesting nooks and crannies to explore, a few museums and historical sites, and plenty of towns to see in the area keep things interesting. Plus, the Pugliesi people are extremely welcoming and vibrant, turning any small occasion into a festive party atmosphere.
You can find furnished one-bedroom rental homes here for $537, and two bedrooms for $716. Purchase prices are reasonable here, too. A renovated two-bedroom loft in the town center is listed for $70,498. A restored trullo house in the country surrounded by olive groves is listed for $131,438. There is also a completed renovated palazzo in town that has been converted into a four-bedroom and four-bathroom B&B, ready to go, for $418,212.
Related Articles
Best Places to Live in Italy From $1,700 Per Month
Move to Italy and Enjoy La Dolce Vita (the Sweet Life)
Is Italy a Safe Place to Live?
Upcoming Conferences
Live Better, Spend Less, Retire Sooner
IL's Retire Overseas Bootcamp
October 21-23, 2022 in Atlanta, GA

In safe, warm, welcoming communities abroad, as little as $1,700 a month can bankroll a good life... this fall, our experts will show you where—and how.
Early Bird DISCOUNT—Save $100 When You Register by Sep. 29
Details Here IL's Retire Overseas Bootcamp
---
Registration Now Open for the Best of Europe Private Screening

In the Right Spots in Europe, You Can Retire in Style—in an Historic, Sun-Drenched Locale—for as Little as $2,300 a Month or Less—Especially Now With the Dollar and Euro at Parity for the First Time in Two Decades.
And We'll Show You How, October 1-2, During the Special All-Online Best of Europe Private Screening.
---
The Income Revolution Forum
What if You Had the Freedom to Enjoy the Good Life Anywhere in the World You Wanted to Be...and Get Paid While You're There?
We'll show you how—with hands-on guidance—you could beat inflation...secure your retirement...ditch your commute...and turn a skill you already have into a portable side income of $300, $600, even $3,000 or more a month.
Popular Articles You May Also Like