The Italian lifestyle is undeniably alluring. A nation that puts emphasis on good food, human interaction, and simple pleasures is definitely doing something right. The key is finding a location that is appealing and on the rise, but where properties are still at bargain prices and the rental market is not already saturated.
If you know where to look, it's easy to avoid elevated tourist prices and visiting crowds and, instead, enjoy lower costs and a rich cultural experience, complete with UNESCO-recognized sites, first-class shopping, and the friendly, low-key lifestyle Italy is known for.
Here's a list of five good-value locales where you can live for less than $1,800 a month.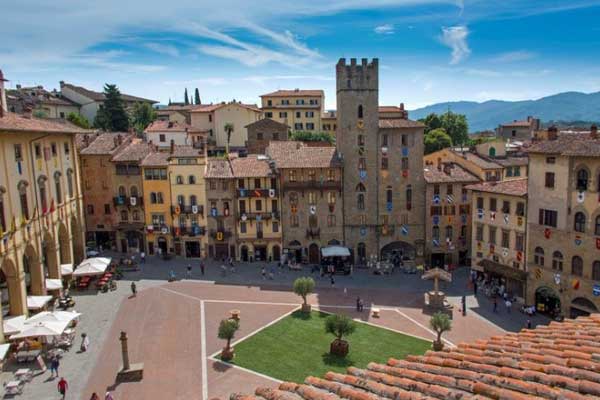 Elegant yet unhurried, the city of Arezzo brings together the best of old and new Tuscany with an easy-going lifestyle and fewer tourists than you'd expect in a culturally-rich and attractive city.
The historic center is the dazzling drawing room of Arezzo, still partially enclosed by protective walls with its monumental gates intact. At the summit of town, the ruins of the Medici fortress survey the panoramas of picturesque Tuscan countryside awash with olive groves and vineyards. The lower, newer town has its charms and services, keeping the city from stalling in the Middle Ages and making Arezzo both modern and historic—a fine mix for everyday life.
Arezzo is at the eastern point of a triangle formed with Siena and Florence. The dreamy Tuscan countryside sprinkled with fairytale towns is in the middle. In fact, it's at the eastern fringe of the Chianti wine zone and the Val di Chiana valley where Arezzo produces notable wines as well as the famed Tuscan beef known as Chianina, for those decadent thick Fiorentina steaks.
The climate here is like most of Tuscany's with relatively hot summers and chilly, damp winters. July and August can see temperatures around 90 F during the day, but evenings cool down for relief, and winter highs tend to be in the low 40s F with colder nights. Rainy season is from October through February, and the city is the occasional recipient of some snowfall.
Arezzo's cost of living is in line with the rest of Italy in terms of general prices for everyday goods and services. A couple can live well in Arezzo, renting a two-bedroom apartment, for about $1,520 per month.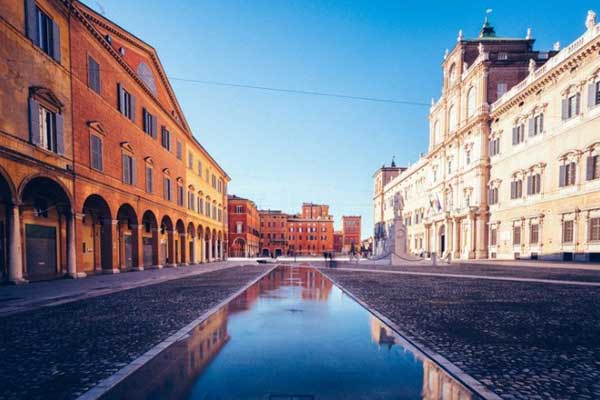 Modena's fame comes from fast cars and balsamic vinegar, but there's much more to this city than its racy reputation—it's one of the most underrated in Italy. Its classy historic center packs a cultural punch with its monuments, museums, art, and entertainment. No wonder Modena consistently ranks high on Italy's quality of life index ratings.
Modena is a medley of contrasts—industrial might and traditional crafts; high-powered cars are made here yet most people use bikes. It's refined and yet provincial. It gave birth to classical tenor Pavarotti but also rebel rocker Vasco Rossi. Its culinary hallmarks range from humble but beloved gnocco fritto (fried dough) to the celebrated restaurant Francescana, heralded as the best in the world. The city is vibrant, but just 10 minutes away lies bucolic countryside striped in vines and dotted with castles. In short, Modena has it all.
Weather-wise it's not blazing hot or extremely cold in Modena, but it can be humid in most seasons. Summer highs run around the mid-80s F while winter temperatures will hover around 40 F, though the nights will dip down towards freezing. The rainy season, predictably, is in spring and fall.
The overall cost of living in Modena is in line with most of northern Italy's cities. The markets, local food shops, and supermarkets will give you plenty of options to keep your grocery bill around $300 a month or less for a couple. All told, including rent for a two-bedroom apartment, a couple can live comfortably in Modena for about $1,600 per month.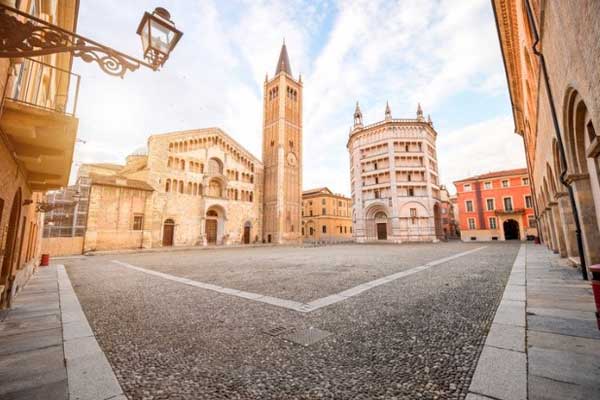 Overlooked Parma is a real charmer. Positioned in the northern region of Emilia-Romagna, a center of arts and central to everything, Parma rests between the Po Valley and the foothills of the Apennine range. It is also located along the ancient Via Emilia, the Roman road that ran the length of the vast valley from Piacenza to Rimini. Sliced in half by the Parma River, which lazily meanders through it, Parma is best experienced at a slow pace.
Parma is a vibrant and sophisticated city that is consistently ranked as one of most livable cities in Italy. With a university to keep things youthful but also enough cultural pursuits for every age group, Parma is a city that appeals to a wide range of people. There are dozens of museums, dramatic theaters, gloriously decorated churches, and plenty of art, both classic and contemporary. Parma will hit a high note with music lovers, as it gave us Paganini, Toscanini, and Verdi, and serves up operas, and a fine philharmonic orchestra.
With a population of about 190,000 the city is large enough to offer lots of services and small enough to walk across in around a half-hour. The city's focal point is the grand Piazza Garibaldi with the art-filled cathedral, home to many masterpieces, and its tall layer-cake baptistery next door. Sidewalk cafes grace the perimeter, and from here Strada della Repubblica unfurls, hosting antique palazzi and posh boutiques. But all over the centro storico (historic center) are clean, well-tended neighborhoods with piazzas, cafes, shops, and restaurants offering the gamut from humble trattoria to fine dining.
Despite its ranking among the top five most livable cities in Italy, prices here aren't astronomical. A couple can live well here, including rent for a two-bedroom apartment, for about $1,660 per month.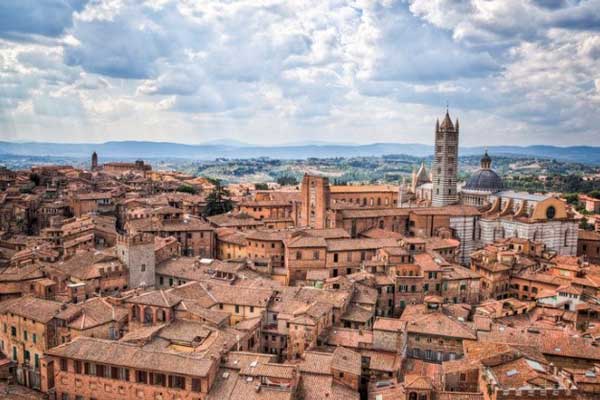 Wrapped in medieval grandeur, Siena has kept the urban plan and appeal it built when it was a mighty city-state that waged war with Florence. And, to this day, the two cities still spar a rivalry.
In fact, it tops Florence for best quality of life in Tuscany, and ranks in the top tier for livability in Italy. Of course, its setting amidst the Tuscan hills, and its proximity to Florence make it a desirable city, but its own breathtaking views give it an extra edge.
Siena is a city that invites you to wander and soak in the ambiance among its pretty cobbled lanes. Here you'll find artisan shops, upscale boutiques, delectable pastry shops, and neighborhood delicatessens tucked in among the brick buildings, so uniformly colored that it gave the name to the hue "sienna".
The climate is like most of Tuscany, with hot summers and chilly damp winters, and mild in-between seasons. The hot season doesn't last too long, mostly just July and August, and the winter's chill doesn't usually take the daytime temperature much lower than 46 F. Night-time temps go down closer to freezing in February. The rainiest months are February, March, and May, while summer usually sees a long, dry, sunny cycle.
Even though Siena is in the heart of Tuscany, it's remarkably affordable. A couple renting an apartment in Siena can live well on around $1,530 per month.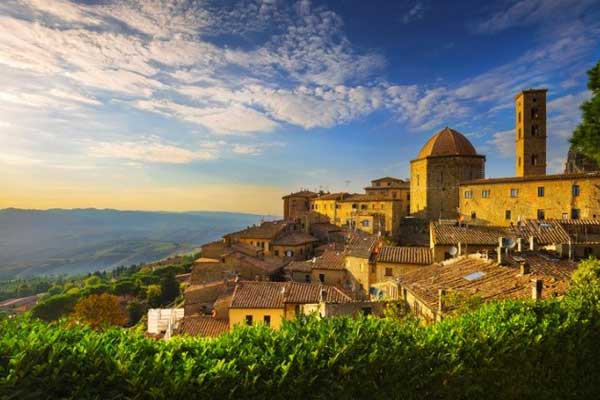 Called the City of Alabaster, artisans have been mining and crafting the stone in Volterra since the Etruscans and have honed it to a fine art form. It is also consistently listed among the most beautiful towns in Tuscany, ranking along with better-known Cortona and Montepulciano. But while tourists find their way here, it does not have the high tourist numbers found in other parts of Tuscany, leaving Volterra with a sense of local life and identity all its own.
Olive groves, cultivated fields, and vineyards punctuated with stately cypress trees give that classic Tuscan landscape, while the town itself preserves its Old World splendor—but with high speed internet, a hospital, and cultural offerings.
With about 10,500 residents, Volterra offers a small-town ambiance with all the things needed for daily life Tuscany-style. There are supermarkets, delicatessens, wine bars, coffee bars, and a plethora of restaurants.
The climate in Volterra is like most hill towns, with warm, dry summers and cool, humid winters. Average summer highs are 77 F, typically, falling to 65 F at night for easier sleeping. The wettest months are October and November. Winter highs average 45 F during the day with night temperatures around 38 F. Spring and fall are pleasantly cool with average temperatures of about 60 F.
While a lot of areas in Tuscany are expensive, Volterra is still one of the exceptions. Despite having a high quality of life, pleasant atmosphere, a stable economy and lots of local business activity, the real estate prices aren't through the roof, and rentals are reasonable. With apartment rental, a couple can live in Volterra comfortably on around $1,700 per month.
Related Articles
3 Reasons Why Abruzzo, Italy is a Must-See Destination