If you're someone who is looking for the conveniences of a good-sized city close to the beach and the mountains, I may have found the sweet spot for you. Especially if you are a trailblazer—someone who would enjoy the experience of immersing yourself in a new language and culture.
Machala, Ecuador is a city of 250,000 people that has stayed off most expats' radars. Even local tourists rarely visit. But whether you're just visiting or looking for a full-time retreat, this city is worth checking out.
It's home to a diverse culinary scene, as well as to all the other amenities (malls, healthcare, and more) you'd need for a comfortable life, without being too big or overcrowded. It enjoys warm weather (think 70s F and 80s F) year-round, and easy access to a pristine beach just 30 minutes offshore, on Isla Jambelí.
Big bonus: Machala is an affordable place to live. Rents in the downtown area for a three-bedroom apartment or condo range between $350 and $500 a month. Newer rentals in the city's eastern section run about $100 more.
If you'd rather own your own home, you also have options here. I found a four-bedroom, three-bathroom condo in the downtown area, blocks from a large supermarket, listed for $70,000. A newer, furnished home with three bedrooms, three bathrooms, a garage, and a pool is priced at $159,000.
Public transport is cheap and readily available, so you won't need a car. And a couple can expect average electric bills of about $55 a month. All told, this means a couple who are renting can live very well on $1,200 to $1,500 a month.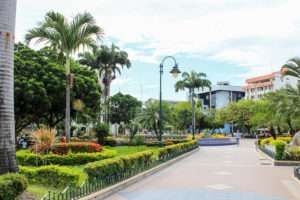 Machala's downtown is very attractive and very walkable. The sidewalks are wide and clean, and as the climate is very plant-friendly, there's a lot of greenery and flowers.
The square in the center of town has a beautiful church at one end and government buildings at the other. The church has a soaring clock tower in its center, and smaller domes spire on either side. Clear and stained-glass windows in all three columns create stunning effects out of the sunlight.
Banks and shops complete the blocks surrounding the park. It is a lovely space, with lush landscaping and a central fountain. Wide walkways with colorful geometric patterns give you ample room to roam about the square, enjoying the flowers and trees.
For a city with no tourism, there's a great selection of restaurants in Machala. There are plenty of coffee shops and places with local food, but there are also pizza joints, burger places, Chinese restaurants, and more. We had a great meal at a Tex-Mex place called the Red Bean. The food was delicious and the margaritas cold and strong. On our visit, I had a combo grill platter that included a large piece of chicken, a steak, fries, and a salad, served on a wooden cutting board. My wife had a huge chicken burrito, and we each managed to drink two large margaritas (we were walking the two blocks back to the hotel). Our bill, with tip, was still just under $30.
To get to Isla Jambelí, local beachgoers take a ferry for $1.50 that follows a small river on the island to a dock on the other side, near the beach. Once you disembark, you find an oasis of tranquility far removed from the city bustle. Since there is no road traffic, the beach is very quiet, with beautiful white sand and a gentle surf. Visitors tend to be locals with their families, so it feels very much like a private beach.
If you're more of a city mouse than a country mouse, Machala could be the place for you.
Get Your Free Ecuador Report Here:
Learn more about Ecuador and other countries in our daily postcard e-letter. Simply enter your email address below and we'll send you a FREE REPORT - Ecuador: Live Well on Your Social Security.
This special guide covers real estate, retirement and more in Ecuador and is yours free when you sign up for our postcards below.
Related Articles
Move to Ecuador for Its Wealth of Charms
An Overview of Traditions and Culture in Ecuador