It's been two years since Dean Kaufman took early retirement and set off overseas, and taking the time to visit and revisit his chosen spot—the northern Thai city of Chiang Mai—in the run-up to his move definitely paid off.
"The number one thing that drew me to Thailand is the people," says Dean, 48. "They're so kind, happy, thoughtful and caring, and they live a balanced life.
"Compared to where I've been living for the past 20-plus years, there's far less stress, less crime, less focus on consumerism and status, and it's easier to make new friends, especially with expats.
"You automatically have things in common with an expat here, such as an appreciation of the country, a willingness to travel, and enjoyment of a simple life."
Dean began his overseas adventures aged 25, when he landed a job on a cruise ship. He spent the last 14 years working in real estate.
"I was living and working in the U.S. but began exploring the idea of moving overseas," he says. "Choosing to relocate to Thailand allowed me to retire much younger and enjoy my freedom for a longer period."
Exploring is high on Dean's agenda. He's now the proud owner of his first motorbike—a 900cc Triumph Street Scrambler.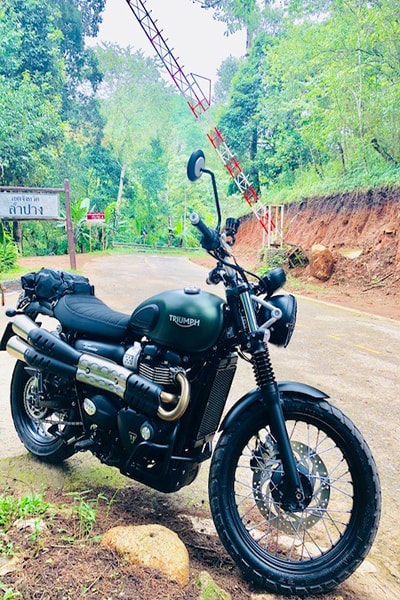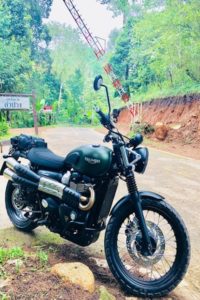 "I love exploring the towns and mountains surrounding Chiang Mai. I thoroughly enjoy exploring and discovering new places and in this area a motorbike is the perfect vehicle," he says.
"I've already found many great rides, have shared them with friends, and just started a blog to make them accessible to others who enjoy exploring on two wheels."
So, what does day-to-day life here cost Dean?
His monthly budget is approximately $1,800, excluding plane travel to other parts of Thailand or overseas. Dean says he probably spends a bit more than the average retiree, but researched extensively before moving to ensure there were no surprises.
"I live in a luxury one-bedroom apartment that I rent by the year," he says. "It costs $870 per month, but this is one of the most expensive condo buildings in Chiang Mai. That price includes all furniture, down to the cutlery, fast WiFi, and use of the gym and swimming pool.
"The low cost of living means that I focus less on price. Sometimes a meal or small purchase will be underway here before the price is discussed, because you know it's going to be reasonable.
"At restaurants, I typically spend around $4 on lunch and about $6 on dinner. Sometimes I'll spend half that if I'm eating at a local restaurant."
Dean has some advice for others thinking of making the move to Thailand: Try before you buy.
 "If you haven't visited, book your ticket today and get over here ASAP," he says. "It's a healthy, safe, affordable, and fun place to live. I've met countless people who, like me, visited here on a holiday and eventually made the move.
"If you have been here before and are unsure about whether it's ideal for retirement, you can gradually transition by spending increasingly long holidays here. Airbnb offers the chance to live like a local, so spend weeks or months here in a house or apartment instead of a hotel to get a sense of life as a retiree.
"You'll learn what it's like to go shopping for groceries (the supermarkets are good), get a bank account (easy), pursue your hobbies (I play tennis and the local players are wonderful), and experience the various seasons."
Sounds like a plan.
Related Articles
Find Your Dream Retirement in Thailand
Fun & Interesting Facts About Thailand