Crossing one bridge beyond Florence's Ponte Vecchio, then a short climb along cobblestone streets to the hilltop Piazzale Michelangelo, my expat friends and I tucked in at our favorite outdoor café—readying for nature's dazzling sunset overture.
We were anticipating our aperitivo (happy hour) cocktails, which would come with the night's complimentary smorgasbord, brimming with hors d'oeuvres and plated traditional foods. Fresh baked breads, garlic, and tomato aromas beckoned us to indulge after the show.
Gradually, the sky presented a rainbowhued sunlight, spotlighting bridges, river banks, and Renaissance-era church towers.
I've enjoyed many nights like this enchanted Florentine evening while living part-time in Nice, Florence, and Barcelona.
I'm not quite ready to live full-time overseas, but I love scouting fabulous locations for when I will be. In the last few years I've enjoyed three-month trial stays in top cities, grabbing tons of fun for today, not waiting for tomorrow.
At first blush, staying in Nice, Florence, or Barcelona screams "expensive" But it needn't be.
I wondered whether I could match my Florida budget on the Riviera. I worried that high-end destination costs could threaten my dream of living wherever I wanted. But it's perfectly possible to live affordably.
For my time abroad, I aimed at staying within the following monthly $2,700 budget: rent, $1,700 (including all utilities); groceries, $600; restaurants, $400.
To help pick my live-abroad destination, I used a self-profiling checklist of "must haves" to narrow options. I decided that I needed to:
• Live city-center near the ocean or a river, with easy access to pedestrian areas.
• Have fresh, healthy food readily available.
• Belong to an expat social community in the city (such as Internations.org).
• Stay near bus and train transportation.
• Make sure interesting day-trip destinations were within a couple of hours on local transportation.
An affordable Europe emerged—after some strategizing. Traveling in low season for three months at a time; renting an apartment rather than booking a hotel; shopping like a local, not a tourist; and using city discounts made a live-abroad pocketbook happy.
Every time I went overseas, I rented a furnished, one-bedroom apartment in the city center, WiFi and utilities included, for three months in low season. It cost about the same as a one-month hotel stay in high season.
I used small, local online services to find rentals: Nice Pebbles in Nice (see: Nicepebbles.com), Friendly Rentals in Barcelona (see: Friendlyrentals.com), and Poggio Imperiale in Florence (see: Poggio-imperiale-apartments.com).
Renting a smaller unit, staying longer, or going a little outside the city center could lower rental costs even further. For example, my one-bedroom in central Florence cost $1,060 a month, whereas a studio just outside the city wall costs only $750.
Once in the country, I adopted a live-like-a-local lifestyle. It lowered expenses for fresh produce, quality cheap wine, household items, eateries, happy hour deals, and more. I also tried out some local vocabulary, which invited easy conversation with neighbors and vendors, who proudly advised on the "best" and "cheapest" of everything. In Nice, that local knowledge steered me toward places where I could get a glass of good wine for $3 to $4, a small bag of potatoes for just $1.50, with a dozen oranges for $1. If I didn't want to cook, the local supermarket could provide a rotisserie chicken for $5 or a simple but satisfying quiche slice for $1. All the places I stayed had their own version of "dollar stores" for simple household items at low prices.
Barcelona, Florence, and Nice exceeded expectations, leaving me with indelible memories, stunning moments, fun stories, and new friends. Here's a glimpse of why each holds a piece of my wanderlusting heart, and why I'd recommend them all for a short-term adventure.
Riviera Dreaming in Nice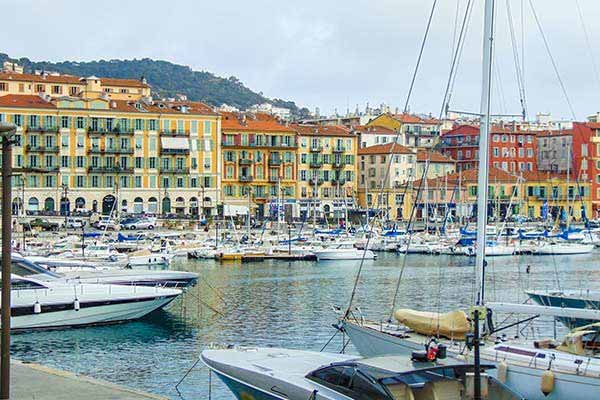 The locals in Nice gratefully reclaim their city when the tourism onslaught subsides in September, revealing a delightful, provincial lifestyle. Staying off season in the fall ensures pleasant temperatures for most activities (including swimming in the sea and dining on the beach), averaging 75 F in September, 68 F in October, and 61 F in November.
Simply exiting my apartment ($1,055 a month) onto lively Place St. Francois whetted my appetite, daybreak through evening, thanks to lingering smells from crêperies, cafés, and pastry shops. Succumbing, I always took time to relish my $3.50 breakfast before walking to the idyllic Mediterranean seascapes along the four-mile Promenade des Anglais.
From there, I could head to the restaurants ringing the Cours Saleya (the covered outdoor market) for a plat du jour (three-course meal at $12 to $16), or stay seaside and order a salade Niçoise (an $8 lunch "with a view").
With plenty of museums, art galleries, and historic buildings scattered throughout, and chic stores lining Rue Masséna (Nice's Champs-Élysees), enjoyable afternoons passed quickly. Sometimes I circled back seawards to savor a demi-carafe of wine at the Lido beach café ($5), while listening to the sea's gentle ebb and flow.
For visiting museums, you can purchase a $22 week-long museum pass for 14 museums. If the walk is too far, hop on the bus or tram, which costs just over $1 per trip if you buy a 10-pack pass for $12.
Day trips by train to destinations outside Nice are inexpensive. You can strike out for the classic Riviera towns of Cannes, Antibes, Menton, or Monte Carlo easily, or head east to the perched castle city of Èze for spectacular views of the Riviera. France offers seniors over 60 the opportunity to purchase a $70 Carte Senior that provides 25% to 40% discounts. Additionally, you can get a 75% discounted day pass, the Carte Zou, for traveling along the Riviera.
Renaissance Living in Florence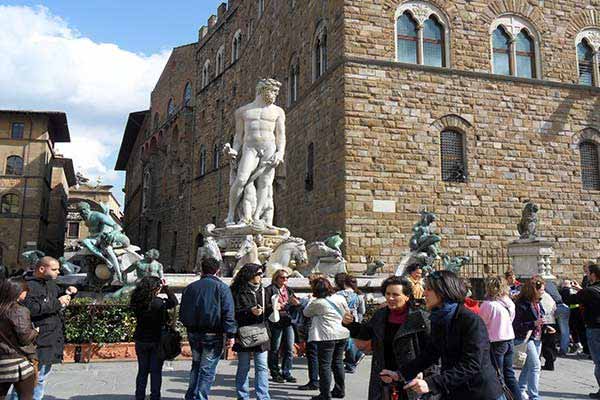 Florence charms, delights, and teaches like no other city. The sheer depth of the city's history challenges you, regardless of how long your stay is. Almost every wall resonates with Renaissance architecture (or Roman, or Etruscan), and masterpieces by Michelangelo, Raphael, Da Vinci, Donatello, and Botticelli decorate the city at every turn.
I won't easily forget the Via dei Fossi apartment I rented in Florence for $1,060 a month, close to a cornucopia of famed attractions. Just 15 minutes' walk from the city center, stepping left or right from the front door dictated which crooked cobblestone lanes I'd wander. Either way delivered major sites like Florence's Cathedral (Duomo), or museums packed with breathtaking, big-name artworks.
The cheapest way to visit those museums is by going on the first Sunday of the month, when over 20 of them have free entrance. If I visited a nearby hilltop town such as Fiesole for the day, I'd take the bus. It charged $1.30 for a 90 minutes' ride if I bought the ticket at a local coffee shop or tobacco store.
For day-tripping to Pisa, Cortona, Lucca, or other Tuscan destinations, the train is the best option. Italy offers a Carta d'Argento (Silver Card) to senior travelers over age 60. The card costs $37.25 (free for travelers over 75) and is valid for one year.
With the Carta d'Argento, you can save 15% on most Italian train tickets.
As long as I headed a few blocks away from any major attraction, reasonable lunches wouldn't break the bank. But a short bridge crossing to Oltrarno, Florence's less touristy "other side," presents a bevy of traditional food restaurants at even better prices. Particularly fun and economical, the Piazza di Santo Spirito, lined with picnic-benched cafés, offers reasonable three-course, fixed-price menus, or menus a prezzo fisso ($8 to $12), typically with larger portions.
I often met friends for aperitivo, where a $4 to $7 cocktail included the night's complimentary buffet, brimming with traditional foods such as eggplant and barley salad, polenta dumplings stuffed with creamy cheese, butter and anchovy mini-toasts, bruschetta, meats, and cheeses. When I wasn't joining friends, my neighborhood riverside café enticed me with a happy hour-priced glass of prosecco and olive and chips nibbles ($3.50). I always accepted.
A favorite Florentine memory is an early morning walk through winding lanes, dueling with bell-ringing bicyclists, ninja-inspired motorcyclists, and bully cars competing for space. Suddenly, glorious opera singing passionately erupted from a cyclist singing his way forward. As his beautiful baritone trailed, I wished he could have slowed, or I could have sped up, to continue the lovely serenade.
Zig-Zagging in Barcelona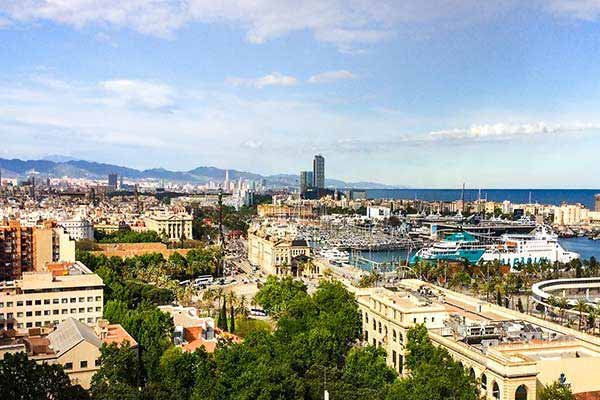 From my sea-view balcony only 500 feet from the turquoise Mediterranean, the Barceloneta neighborhood brightly awoke, promising a sun-kissed coastline and, more importantly…a fresh, flaky ensaimada (Mallorcan pastry) and one large latte ($3). Navigating some six miles of crescent coastline at a brisk walk, I eventually landed at the beach café where breakfast awaited.
From the beach-side apartment I rented for $1,323 a month, mornings were filled with discovery walks in and around beach suburbs and enjoyment of the laidback, beach café culture. For afternoon exploring and shopping, I'd walk 15 minutes along the pretty sailboat-packed port inlet to Barcelona's lively medieval barrios (neighborhoods).
They're among the few places I know that combine so many pleasures—something for everyone—sprinkled throughout.
Barcelona is a popular hot spot for European travelers, as well as for those from farther afield. So it's best to avoid its crowds in the high-season summer months (June through August).
Instead, visit the city around November or April for balmy days without the crowds.
There's lots to see, and it's easier to enjoy it off season. For museum-hopping,the city offers a discounted 12-month Barcelona Museum Pass, at $40 for major museums. Better yet, for day trips outside Barcelona to nearby spots such as the coastal fort (and party) town of Sitges, or Girona, or Valencia, Spain's transit system offers senior travelers over 60 the Tarjeta Dorada (Gold Card), which gives a 25% to 40% discount for train tickets.
Hours-long cobblestone strolls typically found me zigging and zagging through a serpentine maze of tapas bars, historic churches, world-renowned museums, and well-preserved Roman ruins…eventually dropping me on the Ramblas.
This pedestrianized thoroughfare throbs to the city's heartbeat and is a great place to share a sunset cocktail ($3) with friends.
Get Your Free Report on Europe Here:
Learn more about countries in Europe and other countries from around the world in our daily postcard e-letter.
Simply enter your email address below and we'll also send you a FREE report - All the Charm and Romance of Europe…at a Price You Can Afford.
Related Articles
Europe's Top 5 Affordable Retirement Havens
5 Places in Europe Where You Can Retire on $35,000 a Year