In March, I put boots on the ground in Puerto Vallarta on Mexico's Pacific coast.
It's a place I've been returning to since I set foot there for the first time in 2005.
This bustling beach town is stunningly beautiful…
Verdant, jungle-covered mountains cascade dramatically to mile upon mile of golden-sand beaches and an expansive bay home to leaping humpback whales and frolicking dolphins…
It's an attractive, walkable town with world-class shopping, dining, and entertainment…
But March was a special trip…
I was there to view the land for a new condo project in the heart of the city.
The views blew me away. The plans impressed me. And the developer's track record showed that they could deliver something truly unique. I wanted it for members of my Real Estate Trend Alert group.
But only at the right price. The kind of price you rarely see any more in Puerto Vallarta…a price you only get during rare buying moments and only with the group buying power RETA has.
Last week, my legal advisors signed off on the project paperwork. And the developer agreed to discounts of $64,750 for members.
A historic moment for our group…
But before I get into it, let me back up a minute…
Long before I ever set foot in Puerto Vallarta, this town was a rising star.
It's been growing steadily as a destination since 1963. That's the year the steamy thriller The Night of the Iguana was filmed in Mismaloya, just to the south. Star Richard Burton carried on an affair with Elizabeth Taylor while filming; they made Puerto Vallarta their playground. The international tabloid attention caught the eye of travelers from around the world. What had once been a small fishing village and shipping port, discovered maybe by a handful of international and Mexican artists, was set on course to become the famous resort destination it is today. All thanks to Hollywood's original power couple.
Puerto Vallarta was once only accessible by boat, small plane, or mule train, but the Mexican government, sensing the opportunity, put in a paved highway and built an international airport. More American attention came when President Nixon visited in 1970 for treaty negotiations.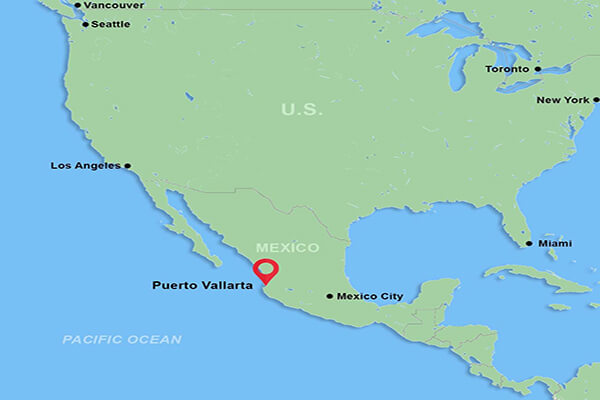 The rest of the heavy lifting was done by its pristine white-sand beaches and sparkling aquamarine waters.
Now, the all-inclusives are here, from Marriott to Rui to Westin to Hilton. There's a whole strip of them on the beach north of Puerto Vallarta proper, and more within the massive residential resort development of Nuevo Vallarta. Cruise ships stopped here every day of the week before the pandemic.
Then there is the town itself. The foothills of the Sierra Madre Mountains rise steeply from the water here. And every place has a view. Over in the Zona Romantica, also known as Old Town, it's flatter. Sleek new construction is going up next to low-slung condo buildings that have been there for decades.
The Zona Romantica is the heart of the action in Puerto Vallarta town, with its bars, restaurants, live entertainment, and dance clubs…but also chic boutiques, cafes, margarita bars, microbreweries, and craft markets.
However, it's maxed out. Puerto Vallarta is a mature market and in its famed Old Town prices are high. Two-bedroom units in Zona Romantica with views and amenities are listing for $500,000…$600,000…or more.
That's why I set to work looking elsewhere. Just a 15-minute walk from the Zona Romantica, you'll find a neighborhood called Centro. It's a place that's gaining traction as more merchants, restaurateurs, and second homeowners turn their attention to it. What was overlooked is now gentrifying …and it's already well on its way…with plentiful shops, eateries, art galleries, and the like.
Importantly, in Centro you're still in the heart of the action, with the same great views and proximity to the beach, but without the through-the-roof prices.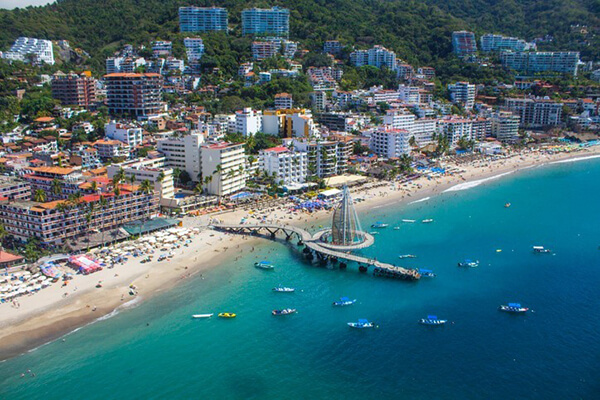 Centro is a place where real estate investors can do well by getting in before gentrification fully sweeps through. And, if you're a RETA member, you can do very well…with the one-two punch of a discount to boot.
I personally enjoy the city. The majestic Sierra Madre mountains, dotted with condos and luxury villas, are the backdrop to a string of golden-sand beaches buzzing with activity.
Puerto Vallarta is Mexico's number two tourism destination after Cancún, hosting 5 million visitors in 2019, that's up from 4.5 million in 2017 and 4.7 million in 2018.
It's one of the most successful expat communities in all of Mexico, in particular for snowbirds—Canadians especially flock here to escape the chilly north. There are said to be 50,000 or so part-time or full-time expats.
There's no shortage of restaurants, nightlife, or fun activities. Big box stores, gourmet and specialty shops; North American-style gated communities; well-appointed condos, often with ocean views, all in the heart of the action. This is a place that has it all for the expats, part-time visitors, and tourists.
Something to note is that there is definitely a high season here, and this is important to real estate investors. During the North American winter, visitors flood in. Rental rates per night can triple. For example, a two-bedroom condo in the Zona Romantica that is available now (low season) for $73 per night, jumps to $300 a night in high season.
That's another aspect to the opportunity in Centro. While capital appreciation builds, the condos RETA member can own are in prime position to earn what I figure will be 9.2% gross rental yield from short-term rentals.
And because Puerto Vallarta is seasonal, you also get to enjoy your condo for a good portion of the year…or let friends and family stay—and you can bet they will want to.
National tourism is also increasing. Expedia's Annual Travel Trends Report for 2021 reports that Mexican tourists put Puerto Vallarta in the top three vacation spots this year.
When my scout Jason Holland visited just last week, he reported a town that was booming even in low season:
"Although I was there in August, which is traditionally Puerto Vallarta's low season, the streets, the malecon, the restaurants…were all busy," says Jason. "The waiters, taxi drivers, and locals I spoke to confirmed that it was odd to see so many people this time of year.
"There were plenty of foreign visitors—couples, groups of friends, and families down for summer getaways, mostly from the U.S. But also, Mexicans from the country's largest and prosperous cities, chief among them Guadalajara, come in numbers, streaming into town for the weekend. This is a year-round phenomenon."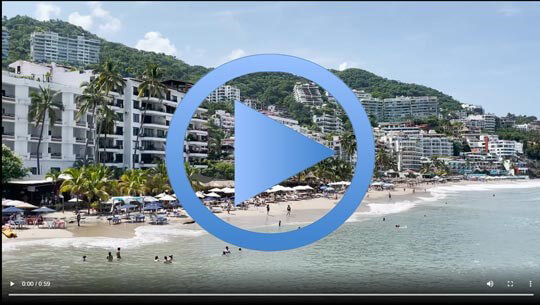 In recent years, you can add another class of foreign visitor: the digital nomads and remote workers, who were sent home at the start of the pandemic to work online and have decided to do so from a beautiful beach. This is another potential rental market for condo owners in town.
Good internet, fun things to do in the off hours, easy access from the U.S. (the international airport, just 20 minutes' drive north of town, offers direct flight from many cities), great weather (it averages from 73 to 83 F year-round)… the beaches. Those pioneering digital nomads will be joined by the thousands whose jobs are now online and who are now free to work from anywhere.
Some will stay for a few weeks, others a few months. All need a place to rent. And they're ready to pay to live and work comfortably.
Back in 2019, a friend of mine made well over $10,000 a month by renting her luxury condo in high season, which runs four months from the end of November. She was able to achieve 80% occupancy, charging $500 to $700 a night.
There is a strong demand at this high end of the market, but it was seasonal. In the post-pandemic world, I expect rentals to depend less on seasonal traffic, as long-term travel becomes a viable option for millions of people.
Like I say, the market has matured in Puerto Vallarta. In the Zona Romantica, I don't see any opportunity.
But in Centro, we can still get in on the ground floor ahead of a wave of gentrification. And, thanks to RETA's group buying power, I was able to negotiate big discounts—$64,750 on two-bedroom luxury condos. Each with panoramic views of the glittering Pacific Ocean.
This is the first deal I've brought to RETA members since I first visited Puerto Vallarta in 2005. What I love about it is that even if you look at the retail price of these condos—the price everyone else pays—it's still a fraction of what other condos in Puerto Vallarta are going for.
These condos are along the Zona Romantica's path of extension, effectively giving you a Zona Romantica experience, at a fraction of the cost.
I predict our condos could see capital appreciation of $131,000 three years after delivery. Combine that with 9.2% gross rental yield and this deal is killer.
I'll be sharing more details with RETA members in the coming days.
If you're not yet a RETA member, you can sign up right here.
Get Your Free Real Estate Report Now
Sign up for our free daily Postcard e-letter and get a valuable free report on the The 5 Best Places to Buy Real Estate In 2023.
Related Articles
Follow the Hipster Money Trail