The temperature in Europe are starting to drop. It's almost time for me to hit the road yet again…in search of opportunity and profit. And it doesn't hurt that my next destination, when I leave Portugal later this month, is one of my favorite places in the world…
On the 22nd of October I'll take a direct TAP Air flight from Lisbon to Cancún, the gateway to the Riviera Maya. I'll divide my time between Playa Del Carmen and Tulum. There are some deals in the works on the Riviera Maya that need my boots-on-the-ground attention.
Things change so fast in this region that I like to make it over there in person a few times a year at minimum to keep up…while keeping in constant touch with contacts who are there year-round.
But right now, I'm in Porto. This city of 200,000 is the second biggest in Portugal after Lisbon.
I've just arrived, so haven't yet got a sense of the market. I'll be out and about over the next couple of days.
Last time I visited, the opportunity in Porto was to get in ahead of the gentrification (you can read what I wrote back then here).
Gentrification has already ripped through Lisbon and driven prices sky high. It's also been happening in Porto, but last time I was here it still looked a number of years behind. However, there were restoration projects happening everywhere.
There are now a lot of one- or two-bed short-term rentals. But I figure there could well be a better opportunity to earn from a medium-size house with a few rooms. You may find your niche catering to large groups, bachelorette parties, families, or families on a weekend break.
On my last trip there I found apartments for around €130,000 in older buildings. Find one in a brilliant location and you could rent for €100 a night.
If this play is still viable, I'll be telling you about it. Stay tuned…
Opportunity in Lisbon?
Earlier this week, I sent you an update from Portugal's capital, Lisbon. I was here to catch up with some contacts and pick up my parents who are visiting from Ireland for a couple of weeks. But I also wanted to see for myself what the market here is doing.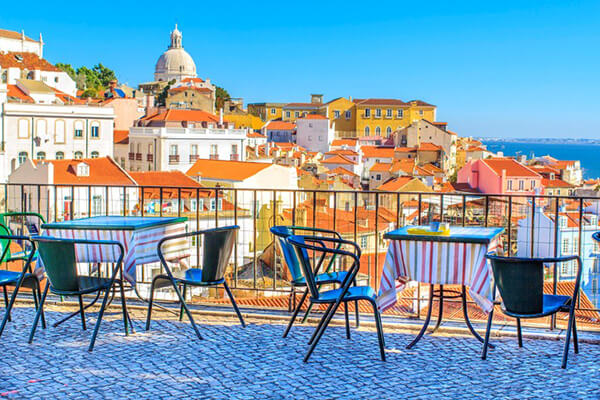 Back in March 2020, I called for a crash here…and though it hasn't happened yet, I believe it's on the way. The house hasn't fallen yet, but it's definitely crumbling. As I said above, prices in Lisbon has gone sky high…much too high to be sustainable.
And changes to the country's famed Golden Visa program happening at the end of the year mean that properties bought in Lisbon won't qualify for the visa any more. I believe that could cause prices to tumble…and create a buying moment for us.
You can read my full report on what's going on in Lisbon, and an update on my own personal plans for Portugal, here.
Beautiful Woman in the Hill Towns of Italy
As I've been scouting around Portugal this week, my intrepid real estate scout, Paul O'Sullivan, is racking up even more miles in Italy. You've already seen his reports from Rome and this week I sent you his dispatches from Italy's hill towns.
Specifically, he was checking out Abruzzo…and got wind of a town that was paying people to move there.
"This is a remarkable little village," Paul says. "About 4,000 feet up in the mountains, it's very well preserved.
"It was a village in decline for decades. Was on the verge of being almost entirely abandoned due to an aging population. But a new kind of hotel operation moved in and has become a catalyst its revitalization."
Paul took a video tour of the town… watch it here.
He also visited a town that the poet Edward Lear claimed had the most beautiful women in Italy!
"That was over 100 years ago, says Paul. "Today, most of the young have left. And, while those still here were surely great beauties in their day, the real head turner now is the village itself.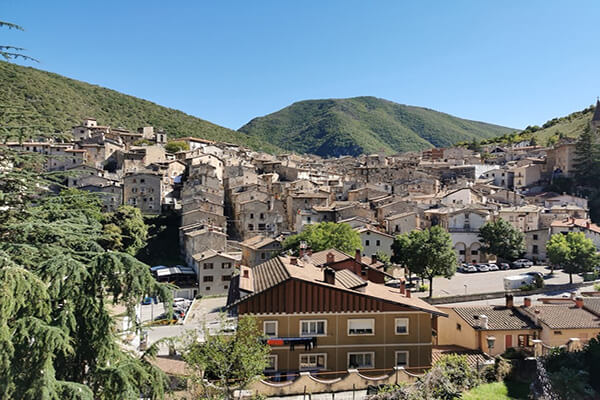 "But this isn't the semi-abandoned medieval village I was expecting. There were buses of Italian tourists arriving, there are pharmacies, tourist shops, shoe stores, and the ultimate signifier that the old borgo was still economically kicking…a bank.
"Yet, despite all this, peppered along every street throughout the historic center were "Vendesi" signs ("for sale" in Italian). Scanno's medieval homes were having a clear-out."
If you missed it, check out Paul's full report from this pretty hill town here.
These are just a couple of places in Italy that Paul has checked out since he landed in Rome three weeks ago. And the dispatches I've been sending you from him, and my other scout Eoin Bassett (who headed Florence and into the hill towns of Tuscany), on the road are just the tip of the iceberg.
So I asked Paul and Eoin to compile all their findings and put them into one definitive research report. We've called it: Mission Italy – The Full Report.
It's stuffed full of videos, photos, listings, and analysis of the real estate market in the regions of Italy they've had boots on the ground in for the last few weeks. Get your copy of this behemoth of a report here.
Get Your Free Real Estate Report Now
Sign up for our free daily Postcard e-letter and get a valuable free report on the The 5 Best Places to Buy Real Estate In 2023.
Related Articles
Seven Places to Retire in Portugal for Under $30,000 per Year