"Mission Italy" continues…
As you know by now, Italy is jam-packed with some of the best bargain real estate in the world, and post-pandemic, the deals are better than ever.
That's why my team are there right now with boots on the ground.
Along with overlooked city apartments, country villas, and pocket-money escapes in Italy's stunning medieval hill towns, I've tasked my team with finding new ways to play the Italian real estate market.
They're hunting for generous new government incentives (like Italy's €1 home program), and new strategies for tapping into Italy's huge tourism draw.
That's why my scout Paul has been scaling mountains in the region of Abruzzo.
He got word of a medieval village that's paying people to move there and he was determined to go check it out.
"Santo Stefano di Sessanio is a remarkable little village," says Paul. "About 4,000 feet up in the mountains, it's very well preserved. It even has a round tower than was entirely rebuilt just a few years ago.
"It was a village in decline for decades. Was on the verge of being almost entirely abandoned due to an aging population. But a new kind of hotel operation moved in and has become a catalyst for Santo Stefano's revitalization.
"Plus, last year the local municipality started paying people to move there and open a business."
You can watch Paul's walking tour of the village right here: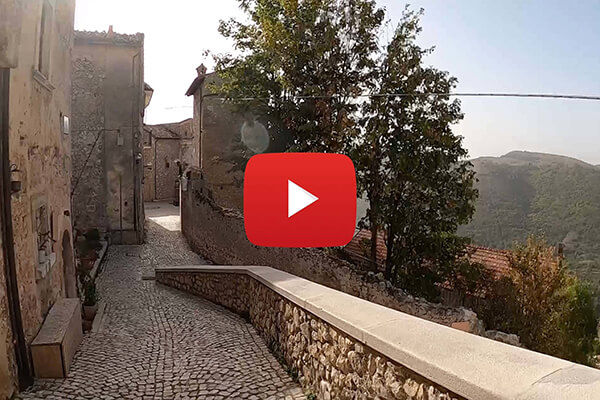 Ronan says:
I absolutely love this distributed hotel idea. First as a consumer, these Italian hill towns are crying out for good accommodation with onsite customer service. The problem I've found with Airbnbs in towns like this is that they can be poorly run. The owner is away in a city somewhere, there's no cell signal from the door, there are language and accessibility issues with who is managing the property. They can be difficult to find as Google Maps might not work in a warren of ancient streets.
These issues go away with a distributed hotel. You have a centrally located reception and you get walked to your room/home. If something isn't working, you deal with it through the reception.
As an investor I love this idea because it's a way to get higher occupancy while charging more. You, or you and friends could club together and buy a few of these homes. Maybe even team up with the local café/bar and they offer reception services and breakfast. You can charge more because you are positioning your offering as a boutique hotel. Airbnbs are really inexpensive in these town, but for the reasons I mentioned I'd prefer the sense of comfort I'd get from a distributed hotel with reception.
P.S. Paul has been on the road now for a couple of weeks, and if you've been a regular reader of this e-letter, you've seen just how much opportunity there is in Italy right now. Way more than we can share with you here.
So over the weekend I asked Paul, and my other scout Eoin Bassett, to slow down and put everything they've discovered during Mission Italy into one comprehensive report. We've called it Mission Italy—The Full Report.
In it, the two guys have drilled down into what they've uncovered…added in their photos and videos and links to listings in the towns and villages they scouted.
This is the definite guide to the real estate opportunities Italy offers right now. In this report, you'll find:
Details of overlooked properties in blue-chip tourist cities (Rome, Florence, Venice) that can throw off big rental yields when tourism bounces back…and also act as a personal base for you.
Listings for historic boltholes and bargain pocket-money escapes in Italy's stunning medieval hill towns.
And what Paul uncovered when he visited one of the towns participating in a €1 homes program.
Plus much more… All the details for getting a copy of Mission Italy—The Full Report are here.
Get Your Free Real Estate Report Now
Sign up for our free daily Postcard e-letter and get a valuable free report on the The 5 Best Places to Buy Real Estate In 2023.
Related Articles
What Two Years of Expat Life in Italy Has Taught Us