Ten years ago it was mainly scuba divers, anglers and adventure travelers who knew of Belize's natural treasures. At that time few tourists could point to Belize on a map. But there's been a growing buzz about Belize for the last few years. The constant press coverage about predictions of what would happen at the end of the Maya calendar (December 21, 2012) catapulted Belize into the international spotlight. Ever since, tourism numbers have been on the rise. And a growing number of Baby Boomers are retiring there.
This little democratic country has one foot planted in the Caribbean and the other in Central America. In addition to an abundance of Belize's natural beauty, it offers one of the best expat retiree programs available. Another major advantage is that English is the primary language.
Belize is comparable in size to Massachusetts. It's fairly easy to travel between districts by bus, car, private van, plane, or water taxi. You could drive from the north border with Mexico to the southernmost district of Toledo in a day. Or you can take a local flight and fly from one region to another within an hour or two. Travel by water taxi from Ambergris Caye to Corozal or Belize City and you'll arrive within two hours.
If you're seriously considering a move to Belize, it's best to take an initial trip to explore the entire country. Then, after you've narrowed down your geographic options, spend a month or more renting—it's the best way to explore Belize's diverse districts and lifestyles in depth. And the cost of lodging drops significantly when you rent for a month or more. The best deals go to those who commit to a six-month or longer rental.
To give you an idea of what's available and prices, here are some options for the most popular districts for expats who wish to rent in Belize.
Corozal District: $400 a Month
Across the border from Chetumal, Mexico, Corozal Town is a tranquil, slow paced town on the tranquil waters of the Corozal Bay. The cost of living is quite affordable in Corozal, so this region is popular with expats who rely primarily on their Social Security income. And the expat community is active.
Many of the rentals in this region are in or near Corozal Town. Others are in the well-established expat enclave of Consejo Shores, 7 miles north of town. Several local real estate companies list some local rentals. Here's an example of a rental on offer in Corozal: A fully-furnished one bedroom apartment with a nice kitchen. The property is located close to town, only one block from the bay. It has an outdoor area to sit and enjoy the flowers. Included in the rent are water, electricity, cable, and wireless Internet. Single occupancy. Price: $400 a month.
Ambergris Caye: $750+ a Month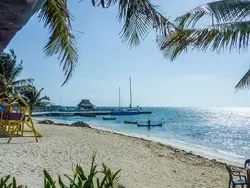 This offshore island is located about 35 to 40 miles southeast of Corozal, offshore across the Corozal Bay. For two years running Ambergris Caye has been voted the world's best island by Trip Advisor members who have visited. The nearby World Heritage Mesoamerican barrier reef and stunning azure Caribbean waters enchant visitors and expats alike. The island itself is over 25 miles long, but the major population live near San Pedro Town, on the south side of the island.
San Pedro is the only town on the caye and it's the hub of activity. Beachfront property has become expensive on this island, as tourism and investment increased. So rents can be pricey unless you know where to look. If you are committed to renting on the beach you'll pay a premium. Rent off beach, or on the back lagoon, if you want to find a better deal.
At the time of writing, a fully-furnished oceanfront one bedroom, one bath unit was available to rent at Royal Palms, about two miles south of San Pedro Town center. The property has a full kitchen, balcony, TV, stereo and two full beds. The complex has a nice pool. Many expats own or rent at this popular complex on the beach. Maximum of four occupants. Price: $750+/month, depending on length of commitment.
Stann Creek: From $550 a Month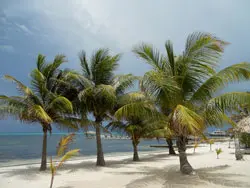 Back on the mainland, the popular expat District of Stann Creek is known for its miles of sandy beaches. The inhabitants of Corozal and San Pedro are mainly Mestizo. But Stann Creek is the focal point for the Garinagu culture and settlements. The Garinagu people are a blend of Carib Indian and Nigerian descent. The Garifuna culture gives Stann Creek its colorful, unique ethnic character.
Placencia is the most popular region in Stann Creek to rent, buy or build a home. Several local realtors offer long-term rentals. Note that it can be challenging to find reasonable long-term rentals in Placencia, but not impossible.
One rental that was recently listed was a two-bed suite (in an up/down duplex) in the heart of the Placencia Village. The suite is fully furnished and gated with a fully-fenced yard. It has parking, Wi-Fi, cable, electricity and water included. Price: $600-$900 a month, depending on length of lease.
Hopkins is a much smaller, charming Garinagu coastal town in Stann Creek, north of Placencia.  A recent rental listed a spacious two bedroom wooden beach house that can accommodate two couples or a family. The house is situated on the beach. Price: $550 a month.
The Cayo: $300 a Month
This lush western region of Belize is home to eco-tourism and Mennonite farmland. Here you'll find a wide offering of archaeological sites worth exploring as well as a variety of eco-tours.  Most expats live in or around the thriving river community of San Ignacio. Off grid homes and developments are no longer unusual and the price for land is still reasonable there. You will find in-town rentals, as well as long-term rentals in the smaller villages of the Cayo.
Many visitors who are thinking about living in the Cayo look for a home base in San Ignacio or Santa Elena. You'll find a number of potential rentals on realtor's websites.
One recent listing I saw was an apartment for rent in Santa Elena. The property has one bedroom and one bathroom. Located in the heart of town, only one block from the main highway, it has a beautiful view of the Maya mountains. It's close to all of the amenities, shops and restaurants of downtown. Price: $300/month, including utilities.
Toledo District and Punta Gorda Town: $600 a Month
This District is often referred to as the "Forgotten Land," since it's at the southernmost end of Belize. Punta Gorda is the primary town. Toledo is rich with Maya culture. Charming thatched-roof Maya villages are nestled between Toledo's rolling green hills. The authentic Maya communities of this region still live a simple life, as they have for centuries.
Toledo is also an eco-adventurer's playground. Its lush rainforest terrain offers exciting options for caving, river rafting and jungle explorations. Typically a two-bedroom house in Punta Gorda, with a yard, will run around $600 a month. Look outside of Punta Gorda, in the villages west of the coast, for lower rents.

Free Webinar: Belize, The Last Affordable Caribbean Paradise
This Special FREE Online Event, The Caribbean's Last Affordable Paradise will show you where you can...
  ➢ Recapture the carefree, contented days of time gone by...spend your time playing in the sea, fishing, swimming, sunning...
  ➢ Rent a luxuriously furnished two-bedroom condo just steps from the beach for just $1,200 a month. Or buy one—furnished—for as little as $139,000.
  ➢ Live all in...rent, utilities, groceries, fun and entertainment included...on as little as $1,700 a month—less than $20,000 a year—and vastly reduce your overall tax burden.
All in a friendly and welcoming English-speaking haven just 2 hours from Miami.
Your Hosts...Two of the Most Qualified Caribbean Experts are ready to share all their insights and first-hand knowledge about this often overlooked, low-cost paradise.
Sign up for our daily postcard e-letter and you'll get FREE and INSTANT access.
Related Articles
Living an Affordable Beach Lifestyle in Placencia, Belize
https://internationalliving.com/enjoy-affordable-island-living-belize/