Ecuador's coast draws people from around the world who are looking to enjoy sun-drenched beaches, crystal-blue waters, and wildlife—including humpback whales during their seasonal migration. You can find all of these things nearly anywhere you visit where the waters of the Pacific meet the country's shoreline.
One coastal town though, Montañita, has even more to offer. It has evolved into a funky little tourist mecca with a vibe all its own. Surfers, backpackers, and artists are found in great numbers here and for the right kind of expat it's a great place to hang your hat.
EleAnn Mulholland is one expat who has fallen for Montañita's charm. "I became fond of the mix of chill vibes and the energy and life of the tourists that travel to and from Montañita daily," she says. "There is never a lack of new and interesting people to meet, whether you run into a familiar face, stir up a conversation with locals while asking for directions, or learn about traveler's adventures while sharing a table at a local restaurant."
Staying healthy and active is very important to EleAnn and she finds it easy to do both in this little coastal village which sits 100 miles south of Manta. "Living on the beach I stay active by surfing and walking everywhere. Surf classes range from $15 to $25, depending on the school," she says. Dancing is also a fun way for her to get moving and she has friends who teach her salsa, bachata, and reggaeton moves.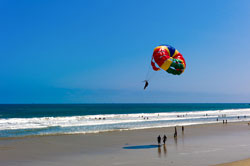 EleAnn splits her time between Minnesota and Ecuador and says that healthy eating is much more affordable in her South American home. "Fresh fish, locally raised chicken and eggs, fresh fruit and veggies…they're all available for pennies on the dollar. I get high quality food for a fraction of the price here, making it easier and more accessible to eat quality foods. One dollar can buy you three apples, a kilo of strawberries, or 20 limes."
She also appreciates the variety of vegetarian and vegan restaurants in town as well as the artisan fairs and markets where she can purchase organic skin-care products and food. The variety of food and restaurants in Montañita is vast considering the small size of the town.
Street vendors sell large bowls of encebollado (fish soup) accompanied by chifles (plantain chips) for just $2. Being by the sea means there's plenty of ceviche available and bowls run between $3 and $6 depending on what type of seafood you order. In addition, there are pizzerias, Italian restaurants, burger joints, and even crêpe and pancake stands.
Sharing in Montañita's vibrant lifestyle is very affordable too. EleAnn rents a one-bedroom cottage in a beachside neighborhood, for $350 a month, including electric. She says similar accommodation near the town center would run between $200 and $250. Taxi rides through town are just $1.50 and if she needs to head to the larger town of Santa Elena, she can get a bus ride there for $1.80.
"The best thing," she says of Montañita, "is the slower pace of life and the ability to relax, which relieves the stresses from back home."
Related Articles
---
The Countdown Is On! Discount Ends June 15
Right Now Is the Best Time in History to Start Earning as a Freelancer
If you crave the freedom and flexibility of a side income that allows you to earn when you want and play when you feel like it...we have a solution for you.
"Remote work" is here to stay, and we can show you how to capitalize on this trend and turn what you already know how to do into a side income online that can help fund a retirement that looks the way you want it to. Can you really afford to miss this?
Online Portable Income Masterclass
June 26-27, 2021
---