A Great Place to Visit, But…
Every year, tens of thousands of tourists flock to the small village of Montañita on the south Pacific Coast of Ecuador. They come from Ecuador and other South American countries, but increasingly, tourists from North America, Europe, and even Australia are making their way to this beach town to surf, swim, and party.
Back in the '60s there were only two cement-block buildings in Montañita; today, it's dozen or so streets are packed with restaurants, bars, hostels, hotels, travel agencies, souvenir shops, bakeries, and more. The buildings are an eclectic mix of bamboo, wood, and stone, and there are colorful murals seemingly on every available surface. Surfing schools abound, and you can also learn yoga, scuba diving, meditation, get a tattoo, or try your hand at parasailing.
Of course you can also just relax and enjoy what started it all—the beach. "Montañita" means "little mountain." It gets the name from the small cliff that separates it from the beach of Olón (more about that later) to the north. From that promontory south to the large parking lots for tour buses, lies over a mile of wide, flat, sandy beach. Breaking on that beach are the waves that make Montañita an internationally known surfing destination. Facing west and angled just a bit to the south, this shoreline provides access to an almost constant series of waves. There are no large rocks to be beware of, and the gentle slope to the beach means you can walk a hundred yards or more from shore to the breakwater, affording plenty of room to ride.
Since those early days, when the beach was just shared by fishermen and surfers, the town has grown into a major tourist destination. While still a mecca for the surf crowd, and a great place to learn to surf, Montañita has become synonymous with "party".
During the day, you can join the crowds browsing the many souvenir, gift, and clothing shops. You will find goods made from all over Ecuador, as well as name-brand merchandise in the crowded streets. There are restaurants and food vendors of all types, including pizzas, burgers, Chinese, Thai, Perúvian, Ecuadorian—if you have a craving for it, you can probably find it somewhere in town.
The beach is a big attraction in its own right, and colorful umbrellas and canvas pavilions dot the shore most days. The water is always a comfortable temperature, and it is very popular with swimmers, waders, and sun-worshippers. You can rent a sunshade and beach chairs for about $10 a day, and a constant stream of vendors will make sure you don't have to leave the beach to look for food and beverages.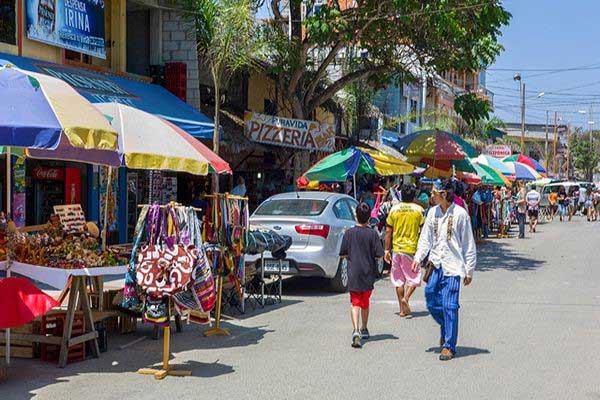 For expats who live on the southern coast, Montañita is a great day-trip destination. Regional buses run every 20 minutes or so, and are very inexpensive. For example, the two-hour ride from the Salinas area costs just $1.90 ($0.95 for 65 and over). It is a fun place to hang with friends on the beach and enjoy a good lunch before flagging down a bus for the ride home.
Once the sun goes down, things are very different. The lights come up, music starts blasting from the bars and dance clubs, and Cocktail Alley opens up. In the Alley, you can get a big plastic cup of your favorite adult beverage from one of many colorful bamboo cabanas. Typically they run 2 for 1 specials, or have their own signature drink to sample. On a recent trip, we enjoyed Mojitos that were $3 each, or two for $5. A common practice is to move from stall to stall, refilling your cup when necessary.
Dance clubs like the prison-themed Alcatraz (decorated with chain link and barbed wire) and bars like the Hola Ola pump out the music and pulsate with colored light and strobes well into the night during the week, and seem to never stop on weekends. Marijuana use is pretty common as well, as Ecuador allows personal possession of small quantities (10 grams). It is illegal however to sell weed in Ecuador.
If you are spending the night here, or more likely looking for a place to crawl into at 4am, there are many options available. There are high-end hotels like the Dharma Beach, easy to spot by it's multi-colored onion dome on top of a tower, where a room for two can run from $150 a night and higher—all the way down to B&B's where you can get a bed and a shared bath for as little as $3 a person per night. There are plenty of very comfortable accommodations that can be found between $40 to $80 as well.
With all of the excitement, lights, partying, and general noise, you can see that Montañita is a fun place to visit. However, with the exception of those looking to start a tourist-related business in town, this is not a very popular retirement spot for expats.
But there are two neighboring villages that have seen a big increase in expats over the last few years. These are places that are perfect for those who want the best of both worlds; a place close to the activities and excitement of a party town, but still allowing a quiet, peaceful life and a good night's sleep. This is the appeal of two "bookend" towns on the coast, Manglaralto to the south of Montañita, and Olón to the north.
Manglaralto
For years, the sleepy little village of Manglaralto was mostly known to the surfing crowd as a quiet place to sleep away from the noise and activity in Montañita—after all, you can walk along the shore between the two towns. Although the beach is just as broad and beautiful in Manglaralto, the offshore topography just does not produce decent surf breaks, so it is often the perfect spot for quietly enjoying the sun and sand.
In just the last few years, expats have been attracted to this village for several reasons. First, as mentioned, it is a short walk up the beach to all that the party town has to offer, but it is also a great place to relax. Second, Manglaralto backs onto the lush protected tropical forest called Dos Mangas, which means lots of non-beach related outdoor activities. Third, and perhaps most important, it is a place where housing can be bought or rented at very attractive rates, and affordable land is available for private homes or development. For example, recent listings in the area show 10,000 sq. ft. parcels of land for less than $30,000, and a fully-furnished three-bedroom, two-bath home for just $135,000.
This is a perfect spot to live a quiet, beachfront lifestyle while still having access to a variety of restaurants and outdoor activities.
Olón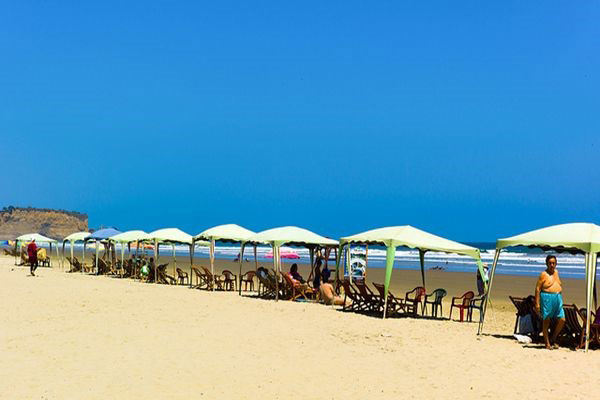 Perhaps one of the fastest-growing villages on the coast, Olón is rapidly becoming a favorite expat location. Like its sister city Manglaralto to the south, Olón boasts a wide and beautiful beach, that is mostly deserted except for holidays and weekends. Olón is the next beach to the north of Montañita, but is separated by the small mountain that gives Montañita its name. So although it is as close to the action as Manglaralto, there is a geological barrier between the two beaches that reinforces that psychological sense of isolation, offering a more peaceful setting.
Olón is known for its seven-mile beach, but it is much more than that. Across the Ruta del Sol from the beach, you find verdant green tropical cloud forest, with groves of bamboo and tropical flowers growing like weeds. The land gently rises on east side, so it is possible to have the best of two worlds—your home in a garden setting with fruit trees, and a view of the beach just a short walk away.
This is one of the friendliest villages on the coast as well, a place where the expats have integrated very well with the locals. You can find some of the hundreds of expats who have made this their home by just visiting one of the many cabanas on the beach for a quick seafood lunch. And if you get tired of living in a tropical paradise, you can always take the five-minute bus ride to Montañita for about 50 cents. Olón also has many attractive real estate deals, with pricing similar to what you find in Manglaralto. Several new developments have sprung up, offering shared amenities like pools and walking paths through community gardens.
Things to Consider
Of course, every area has its pluses and minuses, and the small coastal village life—even with the excitement of Montañita nearby—may not be right for everyone. There are some things to keep in mind before making the move.
The most important fact is that all three of these locations are just that—small coastal villages. You will not find malls, banks, or modern grocery mega-stores. There are plenty of small shops and tiendas (stores) for things like fresh produce, seafood, chicken, and pork. Olón has a small grocery/convenience store, and generally you can find just about all of your day-to-day needs locally. But at this writing, no banks, and only Montañita has an ATM.
There is plenty of shopping to be found in Santa Elena, about an hour and a half away by bus. It will cost you around $2 ($1 if you are 65 or over) to get there, and $25 to $30 to bring your purchases back by cab. Most expats find that they only need to "go to town" once or twice a month, and will sometime pool up with others and make a day of it. Others feel more comfortable owning an automobile.
Medical help is also an important factor to consider. There are farmacias in all three towns, family practice doctors (who make house calls), and a clinic in Manglaralto. However, if you have a serious medical problem, it is either make the trip to Santa Elena, or the major city of Guayaquil, about three-and-a-half hours by bus.
The Takeaway
Whether you are an ardent surfer "dude", or the worst beginner "Barney" on the waves, you owe it to yourself to plan a visit to Montañita. And if you're dream is to live between the golden sands and the green forest hills—while not ruling out the occasional party-town visit—be sure and add Manglaralto and Olón to your must-see list.