When the Nazi soldiers were done filling the bunker with stolen gold, Smiling Albert had them shot to protect the secret. But one soldier, named Willy Vogt, survived and played dead.
After the war, back home in Austria, he told a few people what happened… Then he was murdered. The killer was never caught.
It's a huge secret for this little Italian mountain town to hide.
In fact, when I visited Sant 'Oreste to scout it as an overseas retirement destination, there was a team of Italian historians in town using ground-penetrating radar to search for the gold. (Don't worry, they didn't find it.)
Are you interested in retiring abroad? Yes | Not Sure Yet
German General Field Marshall "Smiling Albert" Kesselring supposedly hid over 115 tons of gold bars stolen from Italian banks in the bunker underneath Mont Soratte—the limestone monolith that looms over the town. About 70 tons are still unaccounted for.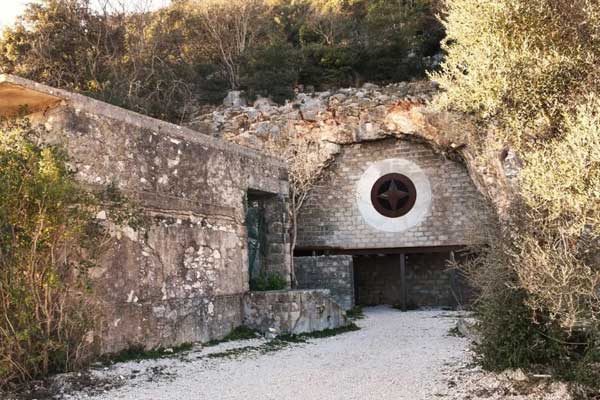 Originally created as a bunker for "El Duce" Mussolini, in the 1930s the Soratte Bunker draws a few tourists from Italy and abroad. But I'm surprised it doesn't draw hordes.
There are boxes and boxes full of papers, still unviewed today. There are WWII era trucks, anti-aircraft guns, tanks, missiles, cars, and an entire underground city still being restored by Mayor Gregory Paolucci and a group of 70 "Bunker Soratte Volunteers."
There's a tunnel with metal lathes for the construction of weapons, a hospital, a movie theater, and even a coffee shop in the "Cold War" section of the tunnels. Everything necessary for survival was incorporated by the Italian engineers into this bunker.
One of the more amazing tunnels houses a Stuka airplane, wings folded, ready to fly directly out of the tunnel for a fast escape.
On May 25 every year, Sant 'Oreste hosts a Festival known as Fire the Mountain, complete with lights, bonfires, and fireworks that make the mountain appear to be "on fire" once again. This festival is in celebration of the Allied bombing attack on May 12, 1944, when over 2000 tons of bombs were dropped in the mountain in an effort to render the "Bunker" indefensible! The bombing failed, as the Italian engineers foresaw this possibility and installed air and oxygen lines throughout the tunnel system.
This massive tunnel complex was also used in the Cold War. Only this time it was prepared for a nuclear war… and to house the heads of the Italian government. The still-hanging biohazard and radiation suits lend a creepy element to the rooms.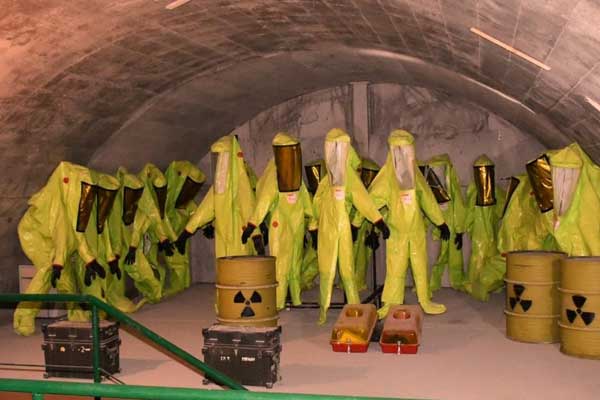 All the walls and the floors of the bunker in this section are separated from the mountain itself to reduce the vibration and impact of a nuclear blast. Again, incredible ingenuity by the Italian engineers of the '50s and '60s. Of course, this being Italy, you can still see a few espresso machines…
The Town of Sant 'Oreste
The town itself is as charming as any you'll find nestled in the Italian hills.
Just 27 miles north of Rome, it's a sleepy collection of cobblestone streets, endless views, and wonderful restaurants. A place to escape the hustle and bustle of Rome, feel welcome, and walk streets steeped in history.
The town you see today is mostly Medieval, lovingly referred to as "The Balcony of Rome," due to the fact that on a clear night you can see the glow of the Eternal City.
There are a few B&Bs in town, catering to those in-the-know tourists who come to see the bunker. I stayed at Panta Rei, nestled amid olive trees alive with chirping birds. It made a calming backdrop to my delicious Italian breakfast, or 'colazione,' of fresh coffee and pastries as I chatted with Giorgia Placidi, the proprietress.
Should you choose to stay in Sant 'Oreste long-term, accommodation options are quite limited but very affordable.
I found only one apartment available for rent on the popular Idealista website. It's in the center of town, on Via San Lorenzo, has two bedrooms, and rents for only €600 ($654) per month. Or, you could buy it for €59,000 ($64,311).
For those wishing to stay for a month or two, tryAirbnb. There are four monthly rentals in and around the town, and you'll pay about €907 ($988) per month.
If you're looking for a peaceful, beautiful town that is steeped in history, Sant' Oreste might just be your kind of place. One hour from Rome, 50 minutes from Viterbo, and 40 minutes from Lake Bracciano, there are lots of things to do and even more to see.
Since this is Italy, you won't be disappointed with the local food and wines. We stayed at Panta Rei B&B for two days (we paid $60 a night with breakfast), and loved the food, much of which came from the working farm on site.
I know Italians don't eat an American breakfast, but you can order eggs, toast, bacon, and good-ole American coffee. Myself, I'll take a double espresso macchiato and a cornetto con crema. The number for this wonderful out-of-the-way B&B is +39 0761 578728. Be sure to ask for Giorgia.
Even if you're just doing a day trip from Rome, this little town might be the highlight of your trip. And who knows, you might even be the one to find Smiling Albert's hidden Nazi gold.
Related Articles
Two Beautiful Small Towns to Live in Italy
Italy Itinerary: A Journey Through Southern Italy
Popular Articles You May Also Like