Serendipity led me to Ljubljana. I'd planned to take the overnight ferry from Italy to Croatia, when my friend, Marcela, suggested looping up and over through Slovenia.
On the bus from Trieste, I was soon glad that I'd heeded Marcela's suggestion. The scenery was lovely, with small towns and farms interspersed among drooping firs and silvery, shimmering broadleaves.
Entering Slovenia was easy. Although formerly part of Yugoslavia, today the country is part of Europe's Schengen Area (and NATO). You won't need a visa to enter. The currency is the euro.
Less than two hours after boarding the bus, we rolled into the capital, Ljubljana (loo-BLAH-nah), an ancient city with a population today of around 280,000. I smiled. Well-manicured little Ljubljana gave a good first impression.
I still had concerns about the language. Slovenian appears impenetrable, with its dearth of vowels and curious diacritical marks. But most under-30s speak excellent English, as do many older people. Also, Slovenians are virtually without exception friendly and helpful—more so than anywhere else I've ever visited.
I quickly became enchanted with Ljubljana and the surrounding area, so much so that I extended my stay. Twice.
Orientation
You should begin your explorations of Ljubljana in the Old Town, parts of which date back to 35 B.C., when the Romans erected the settlement of Emona. Situated within a loop in the Ljubljanica River, and with a high hill located just outside the loop, Emona was easily defended.
Cobbled streets sprout off in odd directions.
Exploring the Old Town is a delight. Buildings and storefronts—even the flagstones—are impressively clean. Cobbled streets sprout off in odd directions. The river wraps around it all. People here sip coffee or wine, enjoy an ice cream, or simply wander.
While in the Old Town, find your way to the city's tourist office, located at the city's distinctive Triple Bridge. Inquire about the "Ljubljana Urbana" card, which provides admission to many attractions.
While Ljubljana isn't as expensive as most other European capitals, it has been discovered. It may soon become more popular, and more expensive. (Something of that sort is fast happening in nearby Croatia.) Following a few best-practice tips will allow you to stretch your budget and extend your days in this lovely little city.
Lodging
The surest way to lower lodging costs is to avoid the July-August high season. Locals maintain that May is optimal. Temperatures are typically in the low 70s F, but the crowds haven't yet arrived. Also, you should miss the late-afternoon thunderstorms of summer. Try to find a room near, but not actually in, the Old Town. Prices jump once you cross the river.
As an alternative to hotels, you'll find many Airbnb rooms on offer. Just ascertain whether a lodging is within walking distance of the Old Town and other sights, or if there is a bus stop nearby.
While you can easily pay more than $200 per night for a hotel room in the Old Town, there are many rooms and studios available in the greater city in the $55 to $90 range—and they cost even less off-season.
Transport
While Ljubljana has an international airport, flight options are limited. Venice, Trieste, and Vienna are all fairly close by. You could fly to any of them and then take a bus or rent a car to reach Ljubljana.
Renting a car can save you a tidy sum if you plan to visit points outside of Ljubljana. A car rental might cost you $55 a day. Many day tours cost around $70 to $80 per person. But many attractions, such as Lake Bled (with it's much-photographed pilgrimage island and alpine backdrop) or the spectacular hikes through the Vintgar Gorge, don't require a guide. You can save considerably by driving yourself and purchasing any admissions required. Roads are generally good (although often narrow), and signage also generally good—though you should definitely opt for GPS. Driving is on the right, as in North America.
If you're not comfortable with driving in a foreign country, buses also run from Ljubljana's main bus station to major points of interest.
Within the city, you have several transportation options. While Uber is not available, taxis and buses provide good coverage. Interestingly, while all taxis are metered, they do not all charge the same rates. Use the metro company's taxis if possible; their meters start at 0.95, with 80 cents (in euros) each additional kilometer (that's around $1.05 to start, and about $1.40 per mile thereafter). Other companies charge almost exactly double this. Metro's local number is 41 240 200.
I also suggest learning which buses pass near your lodging. When you want to return, know that most buses stop on Slovenska Street on the block across from Congress Square, just outside the Old Town. The fare is $1.50 per trip, or free if you purchase a Ljubljana Urbana card.
A great way to explore Ljubljana is by bicycle. The city provides bikes at dozens of locations across the city, which is generally flat. For only $3.50, you can register for the service. Then you can check out a bike free of charge from any location for up to 60 minutes. (See: Bicikelj.si/Howdoes-it-work.) There are charges if you exceed the 60-minute limit. (A hack: Just return your bike, and you can immediately check out a new one.)
Finally, if your feet have given out, you can hail a green ecocab. These electric carts provide free rides within the Old Town area.
Food and Drink
Ljubljana is endeavoring to establish a name for itself as a gastronomic destination. You'll find many fine restaurants in the Old Town lining the Ljubljanica River. Prices can be high here, but a bit of patience will pay off.
On my first night in town, I stumbled on a restaurant named Robba that, contrary to what its name might suggest, touted many reasonably priced dishes on its signboard. I opted for lamb stew, which came with ravioli and was simply excellent. The tab? Only $12. The wine, a full-bodied red, was good, although the pour was a somewhat stingy 100 ml, which I learned is unfortunately standard in the Old Town.
For a filling and inexpensive meal, try a wood-oven pizza, a local specialty. I suggest "La Penelope," with prosciutto ham and mushrooms, at Pop's Pizza and Sports, located on the river. A medium pizza and large draft beer set me back $17.50.
If you'd like to enjoy an evening out at very reasonable prices while relaxing to old rock tunes, visit Parlament (no "i") Pub. Buy two mixed drinks and receive a third free. The pub is located near the Slovenian National Museum. For value, you'll find the best drinks prices in the Old Town, with a view of Ljubljana Castle, at Levstik Pub (Levstikov 9). It's a favorite hangout for locals. Think Cheers, Slovenian style.
Tips are not expected, although always appreciated. If you were pleased with the service—and you'll find it generally to be quite good—you might give 10% in cash to your server.
Note that tap water is quite safe to drink here. It's often offered free in restaurants (remember those days?). In fact, you'll find many drinking fountains scattered about the city where you can refill your bottle, instead of buying another. There's even a fountain sculpted like a kangaroo near the funicular to the castle, but no one seems to know its history…
Things to See and Do in Ljubljana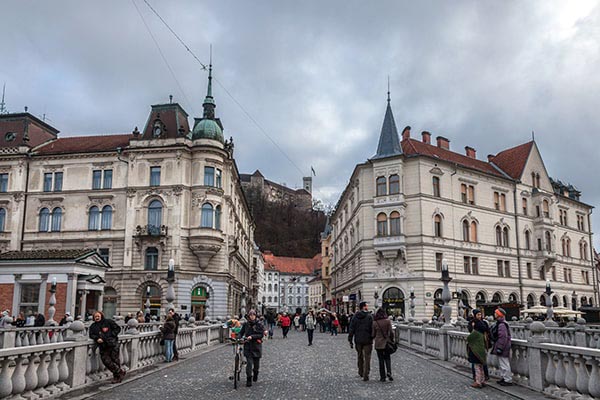 First, I strongly suggest you buy the Ljubljana Urbana card. It includes free admission to a long list of attractions, as well as free use of public transportation. It's a fantastic deal at $30 for a 24-hour card, $38.50 for 48 hours, or $45 for a 72-hour card, if you order online in advance. You then pick up your card at the airport or main tourism office at the Triple Bridge upon arrival. (See: Visitljubljana.com/en/visitors/ljubljana-card)
Definitely take a guided walking tour, included with the card. These tours begin at 10 a.m., 2 p.m., and 4 p.m.. They have slightly different itineraries. I suggest the 10 a.m. tour, which concludes at Ljubljana Castle. You'll find many displays, such as medieval armor and weapons and a well-curated history museum. It also offers sweeping views of the city.
One of the delights of Ljubljana is its diversity. Foodies will appreciate the range of menus, perhaps attributable to the influences of Slovenia's Latin, German, Hungarian, and Slavic neighbors. There are several small-but-good museums (including the rather quirky Museum of Illusions, which I enjoyed immensely). You can take a boat tour or simply lounge at a café or pub. And nearby are many wonders such as Vintgar Gorge or Postojna Caves and Castle. For the active, there are sports from hiking to rafting, kayaking to parasailing.
Slovenia is making a bid to attract more tourists. I hope it succeeds, for no better reason than that it's such a pleasant little spot (the country's population is only 2 million). Besides everything already noted, the country is safe, tidy, and well organized. Locals are exceedingly friendly and helpful.
Finally, I love that Ljubljana is modern and forward looking, while still preserving and valuing its history. It's a mix that works.
Although the secret is out, Ljubljana is not yet swamped with tourists. And, for now at least, it can be enjoyed on a budget.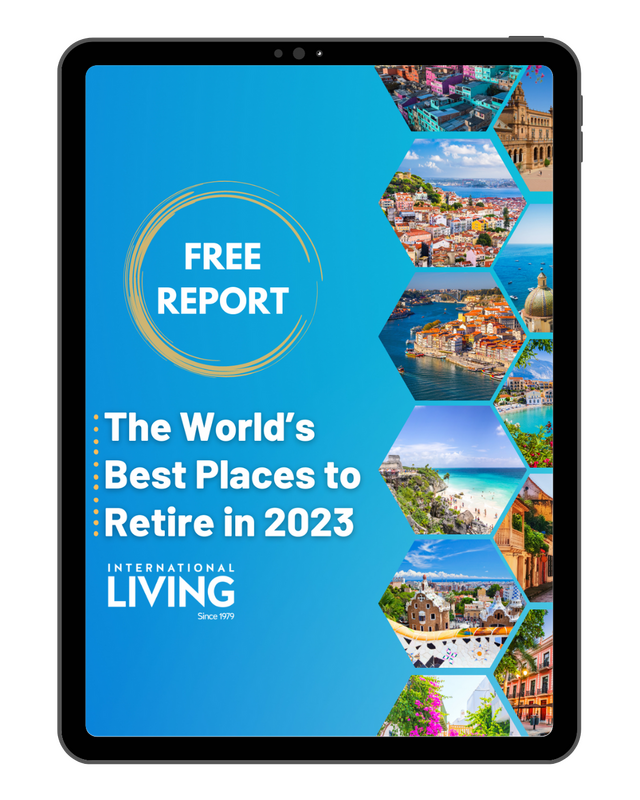 Get Your Free Report on the World's Best Places to Retire:
Learn more about the best places in the world to retire in our daily postcard e-letter.
Simply enter your email address below to sign up for our free daily postcards and we'll also send you a FREE report on The World's Top 10 Retirement Havens, plus access to over 10 more free reports. Our gift to you, on our favorite destinations.
Related Articles
5 Expat-friendly Balkan Nations Ideal for Roving Retirees
7 Reasons I Love Living in Europe
7 Tips for Driving in Europe This Summer
Upcoming Conferences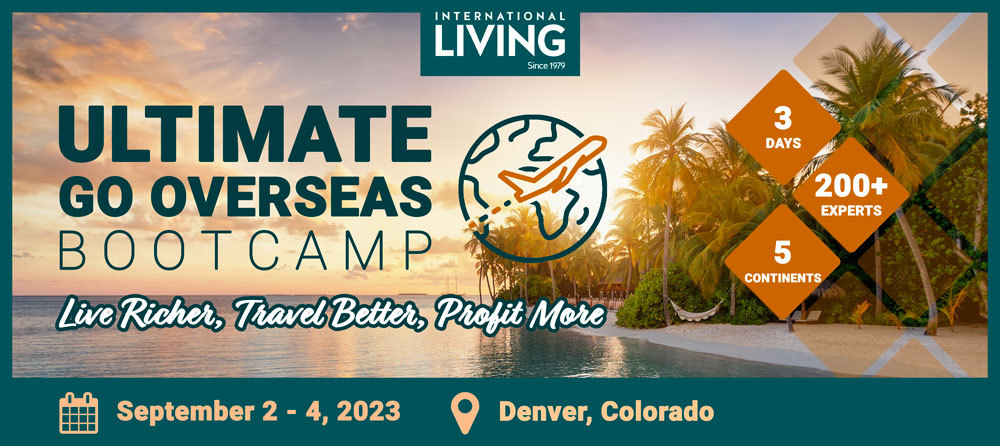 Most Popular Products