Life in Tulum, Mexico comes easily for Carmen Adriana Mantio. She wakes up in the morning without an alarm clock to the sound of birds singing and walks her chihuahua, Chou Chou the Wonder Dog. Then she bikes to a favorite café for a hearty breakfast of huevos motulenos. This classic Yucatan dish includes a smoky tomato sauce drizzled over poached eggs, black beans, and tostadas, with a sprinkling of ham, peas, and fresh cheese. The price for this delicious breakfast is about $7.
The former wardrobe stylist says, "I never thought I'd leave New York City." But after her husband passed away in 2016, she came to Tulum on vacation and fell in love with the place. "I felt at home here."
When she returned to New York to pack up, sell her house and prepare for moving, she said "My friends panicked for me. They thought I was crazy."
But for Carmen it was an easy transition. Caring for her ill husband for six months had changed her outlook and she was ready for something different. Moving to Tulum came easily. "Everything just fell into place for the move," she says.
She bought a small two-level house for $133,000, just a seven-minute walk into Tulum's funky downtown, where hammock shops commingle with hip coffee bars. The house is divided into an upstairs and downstairs apartment, which makes it easy to rent the upstairs for short term rentals and live below in her one-bedroom, one-bathroom apartment with a black and white Art Deco terrace.
Carmen enjoys sampling the local cuisine, which makes sense when a delicious lunch for two is about $10 to $12. She also has a weekly housekeeper, for which she pays just $16 for three hours of cleaning.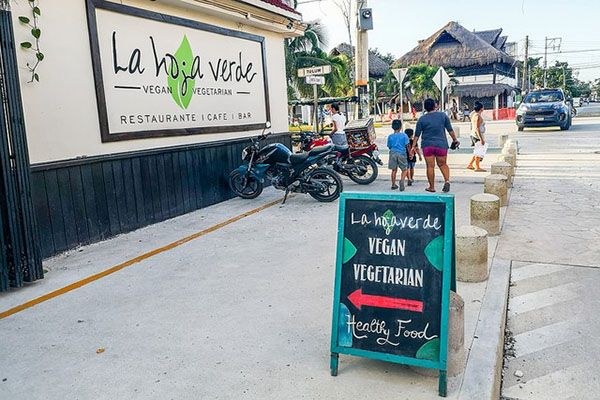 With Tulum just two hours south of the Cancún Airport, Carmen's not the only transplanted New Yorker. In fact, the laidback beach town has acquired a reputation among savvy travelers in recent years. With dozens of award-winning restaurants, luxury hotels, hip boutiques, and native handcrafts along the soft, sandy beaches, there is plenty of opportunity for shopping and relaxation.
Yet, it's not all sophistication along the sea. Tulum still has its share of local eateries including taco carts all within easy biking distance. If you want to head out of town to one of the many cenotes (freshwater sinkholes) that dot the region, the collectivo (public van transport) will take you there for less than a dollar.
The collectivo will also take you to the growing city of Playa del Carmen where Carmen has discovered the fabric stores. A friend brought her sewing machine from New York and she's acquired a mannequin so afternoons are usually spent working on clothing designs. She's even considering opening a small shop. Her social schedule is lively with salsa dancing classes and dinners with friends.
The expat community is growing every day and welcomes newcomers whether it be questions about where to find the best taco or putting together a few friends for a snorkeling trip.
As Carmen says, "I love being in this warm climate in this amazing place. There's not one, single thing that I love over another."
Get Your Free Mexico Report Here:
Learn more about Mexico and other countries in our daily postcard e-letter. Simply enter your email address below and we'll send you a free special report - Why Millions of Americans Are Moving to Mexico.
This special guide covers real estate, retirement and more in Mexico and is yours free when you sign up for our postcards below.
Related Articles
There are Many Reasons for Moving to Mexico