Jan and Chris Schroder are spending a month in Portugal as a trial retirement and reporting on what it would be like to retire in the Algarve. Read the first three installments here: Part One, Part Two, and Part Three. 
As Chris and I walked on the golden sand of Meia Praia beach during our last week in Lagos, we reflected on what surprised us most about our month-long stay in the Algarve. We agreed that one of the things that was a pleasant surprise was how much there is to do here.
We considered what we have done in our few weeks here—we took in the amazing scenery and felt the spray of the ocean on our faces during boat and kayak trips to stunning caves and grottos, hiked on sandy paths lined with greenery along the soaring cliffs, logged dozens of miles on the decorative black-and-white pavements of Old Town Lagos, bought colorful, fresh produce and olives at local farmers markets, learned our way around the grocery stores, and lazed away a glorious day on Dona Ana beach.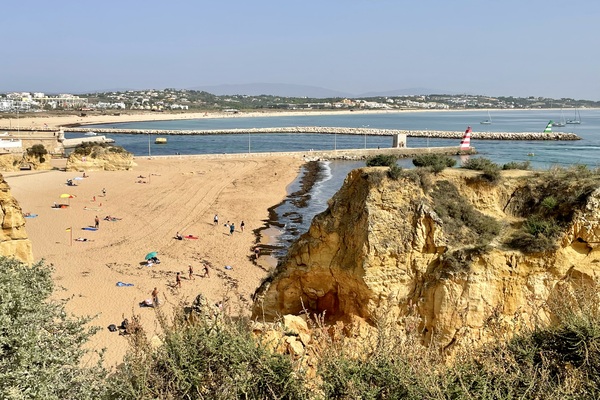 We also trekked for miles to visit an oyster farm, met and purchased artwork from local artists, dined on fresh and delicious food, attended a big band concert at the Lagos Cultural Center, explored other parts of the 100-mile-long Algarve, and shared our favorite things about our temporary home with family and friends who came to visit.
Then I thought about what else surprised me the most about our time here. With its many beaches surrounded by towering cliffs and sea views, I expected Lagos to be beautiful. And I thought I'd find great seafood and wine (although the national obsession with cod from Norway and Iceland is still a bit of a mystery). What I didn't expect is how easy it would be to move here. And I didn't expect to meet people so easily.
We've gone to lunch and dinner with new friends, been entertained in their homes, attended weekly cocktail parties, gone hiking with a group, and have been taken shopping in Lagos. All because we joined a Facebook group.
Finding Community in Lagos
One of the most unexpected benefits of being in Lagos is how easy it is to find a community. As Denise Johnson Luethge, who moved here from Louisville, Kentucky, earlier this year, said, "It's been easier to meet friends in Lagos than it would be if I'd moved to another city in the United States."
Denise was one of the first people we met when I asked a question on a Facebook group about where we could buy pillows. A few people offered suggestions, then Denise did even better—she offered to pick us up and drive us there the next day. She also took us to the nearby town of Praia da Luz where we enjoyed a glass of wine at a restaurant overlooking the ocean.
Another day Denise took us to "The End of the World," the southwestern tip of Europe near Sagres, and to a ceramics shop. She then showed us her neighborhood pizza place where we had lunch and marveled at the meter-long pizza ordered by a nearby table. Another couple offered to meet us at the Wednesday market to show us around and share their favorite vendors.
I'm a big believer in Facebook groups and have found them useful for everything from buying and selling items to helping me with professional development. We even bought a used camper from a Facebook group. So, when I knew we were coming here I searched and found the International Social Group of Lagos, Portugal group, which has almost 1,000 members.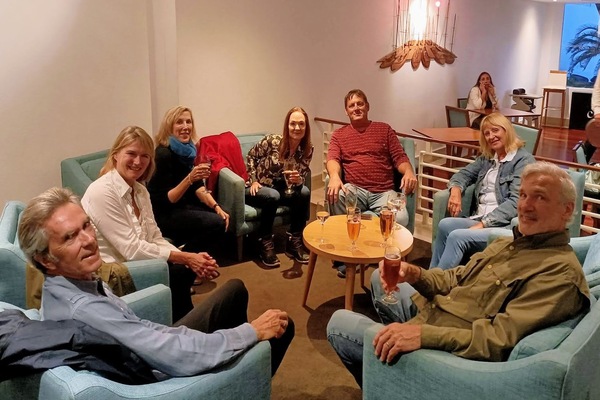 The group hosts weekly happy hours at a local hotel, monthly events, and parties, and is planning a trip to Vienna for the Christmas markets. Most events or outings attract around 30 to 50 people.
I met with Nikki Ducker, who moved with her husband David from Milton Keynes in the U.K. and founded the group in 2019. She had seen a similar group in Portimão, had run a group for professional women in the U.K., and felt the need to form a group for expats in Lagos.
"People have really appreciated being in the group. Many people don't have family here so our group operates as an extended family where they can find advice and support," she said. "I have found for expats the most important thing is not where they are going or where they will live, but whom they will interact with."
Anyone who is in Lagos can join the group, even if you're just staying for a short while or scouting Lagos as a possible place to move. "We have had three to four couples who came to the happy hours and then moved here because of our group," she said.
There are other general Facebook groups, like Living in Lagos and Expats Living in the Algarve as well as those for specific interests, such as Algarve Hiking and Algarve Dog Events, a weekly dog walking group.
There are other ways besides Facebook to make friends, such as joining a golf club, gym, or tennis center, or taking some of the many classes available.
Why Move to the Algarve
As our month draws to a close from our own experiences and those of other expats, we've found these are a few of the advantages of moving to the Algarve:
Warm, sunny climate
Low cost of living and good public healthcare
Gorgeous scenery
Walkability and public transportation
English is widely spoken
Ease of travel to other parts of Europe
Fresh food and delicious affordable wine
So, are we ready to move to Lagos and into our newfound community of friendly, welcoming people? Watch their final video below for the answer to that question.
Get Your Free Portugal Report Here:
Romance, culture and adventure awaits in Portugal. Learn more about Portugal and other European countries in our daily postcard e-letter. Simply enter your email address below and we'll send you a FREE REPORT - Explore the Old World in Laidback Portugal.
This special guide covers real estate, retirement and more in Portugal and is yours free when you sign up for our IL postcards below.
Related Articles
Portugal Itinerary: How to Spend 7 Days in Portugal
An Overview of Traditions and Culture in Portugal
Is Portugal a Safe Place to Live?
Popular Articles You May Also Like