Jan and Chris Schroder are spending a month in Portugal as a trial retirement and reporting on what it would be like to retire in the Algarve. Read part one of their adventure here.
I really thought this far into the 21st century we'd all have personal jet packs and be flying our way around town. Instead, I pretty much rely on my car. And I don't love driving. One of the best things about being in Lagos, Portugal, is that we've been able to walk just about everywhere—supermarkets, produce markets, restaurants, and the beach. Last week my Fitbit logged over 100,000 steps.
Are you interested in retiring abroad? Yes | Not Sure Yet
Chris and I have met a few expat couples that don't even own a car and one that just uses a scooter. Jules and Dallas Bogart moved to Lagos from Maui in Hawaii. "As we wished to reduce our carbon footprint in this move and not own a car, easy access to public transportation was a must," Jules said. "The train and bus are a one-mile walk from our apartment, as is nearly everything we need to not just exist but thrive. In one year, we've accessed an Uber or a taxi fewer than a half dozen times, as walking and public transportation are easy."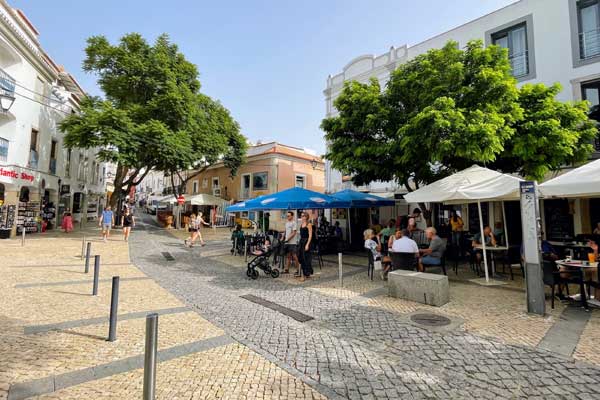 We arrived by train, (well, three trains to be exact), from Porto and can hop on the train to get to Lisbon, Faro, and plenty of other places. We'll fly back home from the airport in Faro, about an hour away. Lagos also has buses that travel within and away from the city and we can take Uber and Bolt if we don't want to walk. We could even take a bus to Spain.
After big trips to the grocery store, we have taken Uber to get back to our apartment, which is near the marina. Yes, I like walking but don't want to hoof it when we're carrying a six-pack of giant sparkling water. Not to mention the 12 bars of chocolate we bought at Lidl.
Lagos has several grocery stores we can walk to, but here it's called the supermarket. We started our stay by heading to Lidl as we thought it would be a good spot for basics for a month-long stay. We've learned that while English is widely spoken where we've traveled, and menus often come with English translations, there is no English in the supermarket.
You can find us hovering over items holding our phones, the Google Translate app open, trying to determine what things are with varying success. I bought a bag of frozen vegetables that contained small white squares in addition to the broccoli, carrots, and cauliflower I could identify. Google Translate helpfully told me the list of ingredients: vegetables. One day I came home with two conditioners and no shampoo.
We sort of figured out the dishwasher but we aren't entirely sure those large pellets we put in there are dishwashing soap. Maybe it's fish food, who knows? And those fizzy waters we bought either have around 1,000 calories each or seven—we aren't quite sure. But with the prevalence of delicious bread, pastries, dumplings, and the aforementioned chocolate, we've put calorie counting on hiatus anyway.
Lagos also has two weekly farmers' markets with fresh produce, a small one on Wednesdays and a bigger one on Saturdays. We had fun walking around and checking out some unfamiliar products. Chris's eyes got big when he spotted the man with the giant buckets of olives and brought home two bags.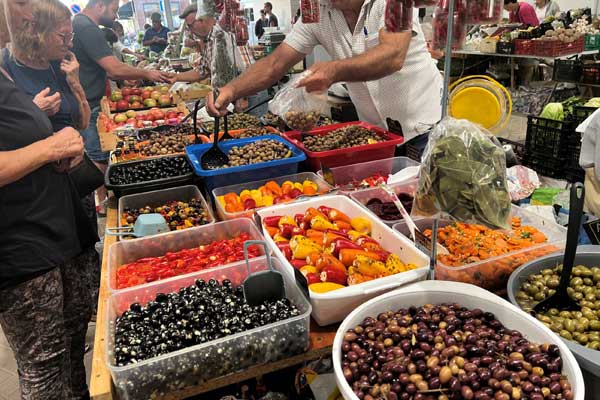 There are a few municipal markets and one has a large fish market. Actress Annie Wersching said, "Portugal has amazing seafood with all the eyeballs staring back at you." This market has thousands of eyeballs that stared at us. We found a large sea bass to take home after the clerk removed the head and the staring eyeballs and filleted it. We stuck it in the oven with olive oil, butter, and garlic, then added lemon juice—delicious!
We can buy wine just about everywhere with most bottles costing less than a 12-pack of Coke at home. There is also Garcias, a very nice liquor store close by, or as our Irish neighbors call it, the bottle shop. Because there is a large British ex-pat population in Lagos, we knew getting gin wouldn't be a problem.
Chris is fond of bourbon, whiskey, and scotch so he checked out to see what options would be for that. "I was surprised how many flavors of Jack Daniels they had. And they had a great selection of Irish whiskey, scotch, and port."
Our apartment is comfortable with a great location close to the marina. We have a large balcony, a necessity in Portugal as there are very few dryers here so it's a common site to see clothes lined on racks in the sun on balconies.
We have a washing machine but I've yet to figure out how it works. I tried Googling a photo of the controls and looking up some of the words but that was no help. I turned Chris's white T-shirt and a pair of socks baby blue—I'm guessing I had the water too hot and it caused my blue linen dress to run.
One question we had before coming was about watching TV. Could we see shows on Netflix, Hulu, YouTube TV, and HBO? Yes, no, no, and yes. We ended up paying for a VPN for one month at just $12.95 through ExpressVPN. Thank goodness I could watch Season 5, episode 6 of "Handmaid's Tale"—what a twist!
We've found good food, cheap wine, a walkable city, and our favorite chocolate. Life is good in Lagos.
Get Your Free Portugal Report Here:
Romance, culture and adventure awaits in Portugal. Learn more about Portugal and other European countries in our daily postcard e-letter. Simply enter your email address below and we'll send you a FREE REPORT - Explore the Old World in Laidback Portugal.
This special guide covers real estate, retirement and more in Portugal and is yours free when you sign up for our IL postcards below.
Related Articles
Guide for Expats Moving to Portugal – How to Move
Everything You Need to Know about The Algarve, Portugal
Is Portugal a Safe Place to Live?
Popular Articles You May Also Like