Germany has many traditions, several of which date back hundreds of years. The endurance and steadfastness of these traditions is nothing short of impressive. This is particularly true of the special events and festivals on offer in Germany—some of which are based on religious and historical events, while others are simply held to have lots of fun.
Are you interested in retiring abroad? Yes | Not Sure Yet
This overview gives you a look at the most famous, the oldest, and perhaps the most unusual German festivities.
Munich: Oktoberfest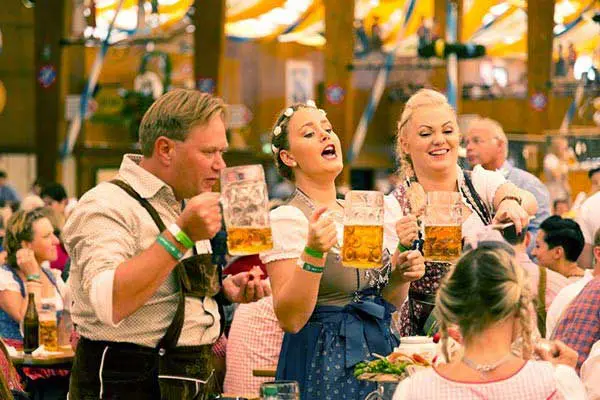 The Oktoberfest—likely the first thing that springs to mind when you think of Germany—has been taking place in Munich since 1810. It was first held to celebrate the marriage of Crown Prince Ludwig of Bavaria to Princess Theresia and has been an annual three-week event ever since.
People come from all over the world to enjoy the Oktoberfest and, while it remains the main attraction, the festival is about so much more than downing liter glasses of beer. There are many traditions connected to the event—the traditional clothing worn (dirndl dress or lederhosen) and the huge atmospheric tents are traditions in their own right. With so much to see and experience, the Oktoberfest is definitely something to plan a full day, or more, around. And—if you can pull yourself away from the German beer and sausages—you'll find that the city of Munich has plenty of other things to see and do.
Next Oktoberfest: For 2021, unfortunately, the Oktoberfest has been canceled due to the Covid-19 pandemic, but plan for it to return in 2022. (Note: The tents generally require a reservation in advance).
Get more information here.
Hamburg: Hafengeburtstag (Harbor Birthday)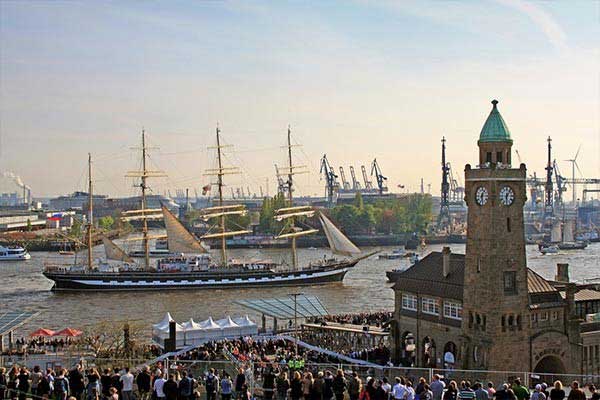 At the other end of Germany, in the far north, a fun festival is held every May to celebrate the founding of Hamburg Harbor on May 7, 1189. A high point of this festival is the parade of more than 300 unique ships, ranging from the historic to modern, into the harbor for the event. Concerts, performing artists, and a slew of booths and stands selling all kinds of food and drink add to the electric atmosphere. To top it all off, all of this takes place along the scenic waterfront—well worth the trip (especially considering Hamburg, like Munich, has a ton to offer besides this festival).
Next Harbor Birthday (the 832nd): May 6-8, 2022
Get more information here.
Southwest Germany: The Bad Dürkheim Wurstmarkt (Wine Festival)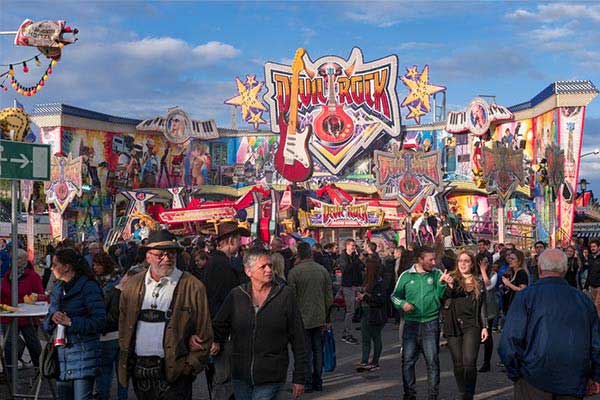 The town of Bad Dürkheim is located in the beautiful Palatinate region of southwest Germany, not far from Heidelberg and the French border. The area boasts wine, forests, hiking trails, and great food. A major event during the year is the Wurstmarkt Wine Festival. "Wurst" means sausage, but there is much more to this event than just that. The festival—held on the second and third weekend of September since 1417—claims to be the oldest and the largest wine festival in the world. There is food and drink galore, carnival rides, and games in a large fairground at the edge of the old town.
Next Wurstmarkt: Tentatively scheduled as usual for the second and third weekend of September 2021 (due to the Covid-19 pandemic, a final decision is planned to be made in early July). Otherwise you'll have to wait until September 2022.
Get more information here.
Frankfurt/Main: Book Fair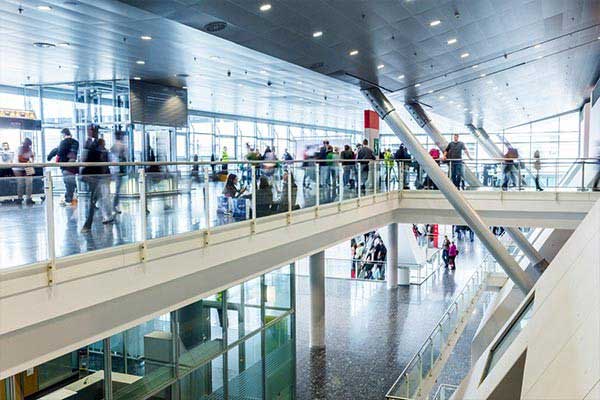 Widely known throughout the publishing world—and boasting close to 300,000 visitors annually—the Frankfurt book fair is the largest trade fair for all aspects of books and printing. Each year the fair focuses on a specific topic or country (this year it is Canada). You can explore the many halls of the Frankfurt Fairgrounds and talk to an array of writers and publishers. Frankfurt itself has a huge international airport, so is easily accessible from anywhere in the world. It is also located near many interesting places to visit, like Heidelberg, the Palatinate, or the Rhine River.
Next Book Fair (the 73rd): Oct. 20-24, 2021
Get more information here.
Throughout Germany: Christopher Street Day (German Pride Events)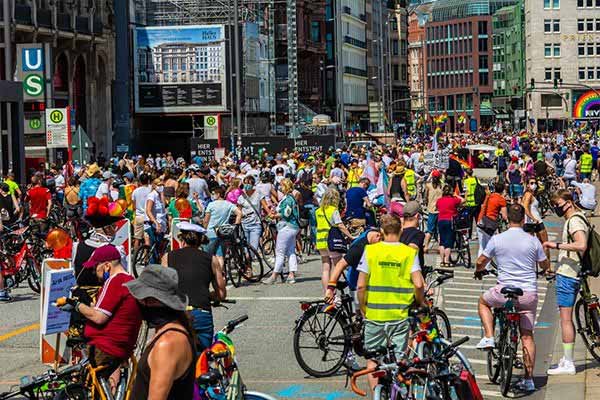 As in many countries, there are annual events celebrating the LGBTQIA+ community. In Germany, and other German-speaking countries, the event is known as Christopher Street Day (or CSD, named after the famous street in the West Village in New York).
Held in cities throughout Germany on various weekends throughout the summer, not just in June, the events celebrate the community and also take a stand against discrimination.
For more information on specific events, check the website for the town or city you will be visiting.
Throughout Germany: Weihnachtsmarkt (Christmas Market)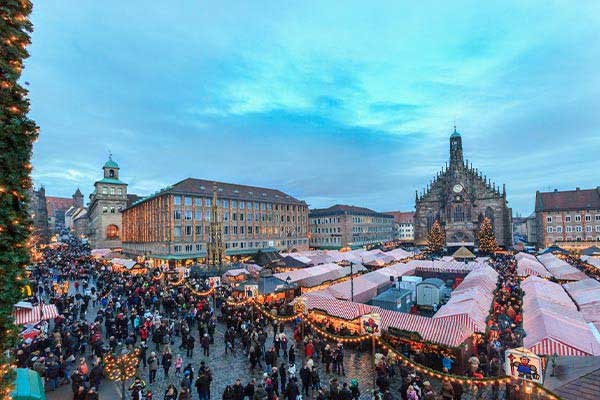 As the weather turns cold and Christmas approaches, there is nothing more enjoyable than a hot mug of mulled wine, some good German sausage, and hot roasted chestnuts. Almost every town and city has at least one weekend of Christmas market from the end of November through to Dec. 23. At one of these markets, you will find endless food and drink stands offering varieties of mulled wine or non-alcoholic fruit beverages. The food choices are just as diverse and there are tons of people selling hand-made crafts, wares, and pretty much everything else you can think of.
One of the most famous Christmas markets is in Nuremberg and is called the Christkindlesmarkt.
For more information on specific events, check the website for the town or city you will be visiting.
Throughout Germany: Town Festivals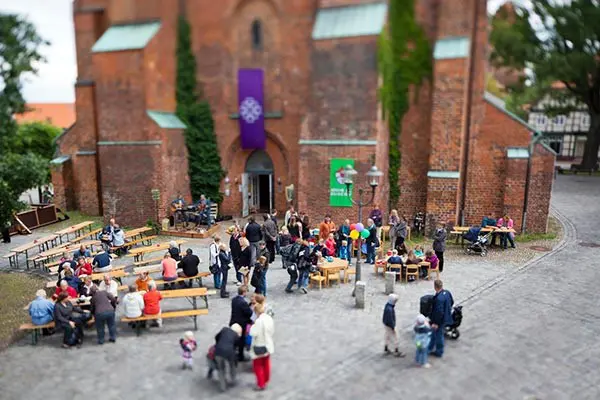 In addition to the events highlighted above, you can find a local festival in almost every German town and city throughout the year. Many take place in summer and fall but there are seasonal festivities in the spring and winter, too: celebrations based on the founding of the town, the harvest, the wine harvest, beer brewing…the list goes on and on. Many towns also hold an annual fest called (among other names) Kerwe—originally celebrating the founding of the local church, this event is now an annual town festival boasting food, drink, music, and lots of fun. Wherever you are in Germany, you will likely have an opportunity to take part in one of these festivals and enjoy a bit of German culture along the way.
For more information on specific events, check the website for the town or city you will be visiting.
Get Your Free Report on Europe Here:
Learn more about countries in Europe and other countries from around the world in our daily postcard e-letter.
Simply enter your email address below and we'll also send you a FREE report - All the Charm and Romance of Europe…at a Price You Can Afford.
Related Articles
Upcoming Conferences
Live Better, Spend Less, Retire Sooner
IL's Retire Overseas Bootcamp
October 21-23, 2022 in Atlanta, GA

In safe, warm, welcoming communities abroad, as little as $1,700 a month can bankroll a good life... this fall, our experts will show you where—and how.
Early Bird DISCOUNT—Save $100 When You Register by Sep. 29
Details Here IL's Retire Overseas Bootcamp
---
Registration Now Open for the Best of Europe Private Screening

In the Right Spots in Europe, You Can Retire in Style—in an Historic, Sun-Drenched Locale—for as Little as $2,300 a Month or Less—Especially Now With the Dollar and Euro at Parity for the First Time in Two Decades.
And We'll Show You How, October 1-2, During the Special All-Online Best of Europe Private Screening.
---
The Income Revolution Forum
What if You Had the Freedom to Enjoy the Good Life Anywhere in the World You Wanted to Be...and Get Paid While You're There?
We'll show you how—with hands-on guidance—you could beat inflation...secure your retirement...ditch your commute...and turn a skill you already have into a portable side income of $300, $600, even $3,000 or more a month.
Popular Articles You May Also Like